Creative Writer Resume: Guide, Expert Tips & Sample
You bend words at your whimsy and get paid not to put the proverbial pen down. Turn your job-seeking woes into fiction by writing a jaw-dropping creative writer resume.
You shock people with how consistently you can pump out creative, original content.
Stories, agendas, creative vision, multi-medium marketing campaigns, media & reporting—regardless of your particular niche, it's time to shock once more.
Show the recruiter with a perfect creative writer resume, and they'll be bedazzled with how their company functioned without you all these years.
Ready?
This guide will show you:
A creative writer resume example better than 9 out of 10 other resumes.
How to write a creative writer resume that will land you more interviews.
Tips and examples of how to put skills and achievements on a creative writer resume.
How to describe your experience on a resume for a creative writer to get any job you want.
Want to save time and have your resume ready in 5 minutes? Try our resume builder. It's fast and easy to use. Plus, you'll get ready-made content to add with one click. See 20+ resume templates and create your resume here.
Sample resume made with our builder—See more resume examples here.
Want to write home about something else? See here:
Creative Writer Resume Sample
Matthew Davis
Creative Writer
MattDavis@zetymail.com
407-553-5217
Linkedin.com/in/1Matt.Davis
Objective
Enthusiastic and eager creative writer with 1.5 years of experience for Annuity Ltd. Helped develop and implement multimedia content campaigns by writing newsletters and blog posts with an outreach of 700K readers a month. Rated as "Most Reliable Writer" among 6 other interns during Fall 2020 internship at Spotify.
Work Experience
Creative Writer
Annuity Ltd., Boston, MA
January 2021–present
Co-writing marketing copy for newsletters and blogs with an outreach of 700K readers a month.
Maintaining all company social media profiles up to date and active, increasing engagement by an average of 28% year-on-year.
Researching material for Senior and Head Creative Writers.
Helped organize creative workshops for clients (up to 14 attendees per workshop) to drive creativity and come up with innovative strategies.
Writing Intern
Spotify, Boston, MA
September 2020–November 2020
Concepted and wrote engaging and effective materials, tactics, and campaigns for business lines partners across various media.
Demonstrated initiative and creativity in identifying client needs.
Worked under supervision of a mentoring writer and received positive feedback on copy and story ideas, being rated as most promising intern.
Education
B.A. in Communications
Boston University, Boston, MA
2015–2019
Minored in: Media & Marketing
Relevant Subjects: Business Communication, Marketing Strategies, E-Commerce 201, Creative Writing, Writing in Business
Other Achievements:
GPA: 3.8
Two-times Dean's List alum
Wrote for a column in the monthly Campus Magazine for over 2 years
Key Skills
Creativity
Content Planning
Effective Storyboarding
SEO & SEM
Teamwork & Communication
Meeting Deadlines
Language Skills
French: Advanced
Spanish: Advanced
Here's the step-by-step on writing a creative writer resume:
1. Pick the Best Format for a Creative Writer Resume
Creative writers adhere to their clients' needs and desires, adjusting their writing to fit the client's agenda, business strategy, and vision. Mastery of the written word (preferably with a portfolio), researching skills, and creativity are musts if you want your creative writer resume to shine.
Speaking of research—
Not doing any before putting a single word down could be considered asinine—you need an outline.
Begin with a creative writer resume outline:
Pro Tip: Some application scanning software cannot parse PDF resumes, but in general, that's the format you want to go with unless it's not allowed. Check the job ad for file requirements.
2. Write a Creative Writer Resume Objective or Resume Summary
You probably know this, but website users only ever read about 20–28% of the words on the page.
The sad truth is, recruiters are much the same.
If you produce an epic novel, no matter how grand, you're in for a disappointment if you think they'll read it and be enlightened.
To them, your wordsmithing matters not (though they would love to use the figurative forge to burn your application!).
Anyway, back to the topic—Why is that?
Simply put, they don't have the time. You need to entice them with a succinct resume profile.
Got more than 2 years of experience as a creative writer? Great, use that to compress it down to a resume summary and mention the most notable achievements. Back them up with numbers while you're at it to make them more tangible.
Just picked up a keyboard for the first time? Write a resume objective, and focus on experience that's still relevant. Try to think of ways it transfers to a writing career, and exude creativity, determination, and ambition to impress recruiters.
Pro Tip: Got completely no experience? Anything you've done in the past, even casual writing (e.g. for school magazines, blog posts, freelance writing jobs), can hold up if you present it the right way. You can also try writing courses on Udemy, Skillshare, or similar websites.
3. Describe Your Experience as a Creative Writer
Great, you got them reading with an engaging resume intro, fantastic.
Now they'll want to read about your creative writing experience in the work history resume section.
And you will blow their pants off. It's what you have to do, if you want to end up in the higher brackets of creative writer salaries.
But only if you know how:
Read more: How to Put Freelance Work on a Resume: Full Guide
4. Talk About Education on Your Creative Writer Resume
Listing education on a resume is a must, despite semi-popular belief.
Learn how to do it right, and reap the rewards:
Creative writers with more than 5 years in the industry will only need to list their school name, highest completed degree, and the year of graduation.
With less than that, beginner creative writers can include additional information like relevant coursework, academic scholarships or extracurricular activities to help make themselves look like Hemingway.
Pro Tip: Should you list your GPA on a resume? Depends: if it's 3.5 or higher, go for it. If not, it won't add anything of value to your application, so you may as well leave it off your resume and use that space for something more relevant.
When making a resume in our builder, drag & drop bullet points, skills, and auto-fill the boring stuff. Spell check? Check. Start building a professional resume template here for free.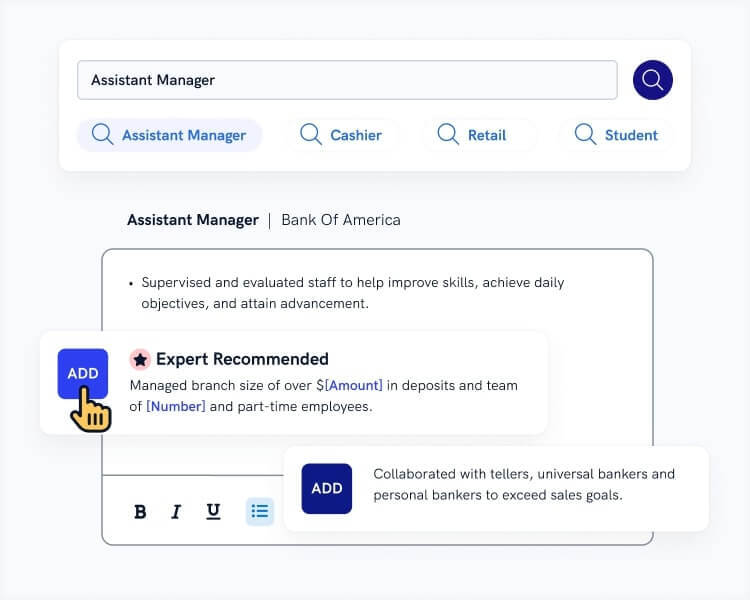 When you're done, our online resume builder will score your resume and our resume checker will tell you exactly how to make it better.
5. Show off the Right Skills for Creative Writers
First, take a gander at this list of desired creative writer skills. These will come in handy for social media, content writing, anything:
Creative Writer Resume Skills
Editing
SEO/Keyword Research
Creating Engaging Content
Content Strategy
Creativity
Design Skills
Research Skills
Social Media
Understanding Audiences
Brand Expression
Excellent Language Skills
Adaptability
Taking Criticism
Imagination
However, instead of using an extensive list that looks more hopeful than George Martin's next book releasing this century, scan the job ad for well-scoring resume keywords. We've already mentioned these: they'll help you tailor your resume to the employer's needs and expectations.
Only add those technical skills, hard skills and soft skills that match those keywords and are thus likely to help your resume pass ATS scans.
Read more: Real Difference Between Hard Skills and Soft Skills
6. Put Extra Sections on Your Creative Writer Resume
As a writer, you know that a little often goes a long way.
And it's just as true for a resume.
Who knows, maybe you did some project management on the side? Or you like to write press releases for a local government office.
Whatever it is, listing extras on your resume could help you stand out from the crowd.
You could list language skills, your hobbies or interests that speak to your skills in some way, special certifications, other notable achievements, the list goes on. The key takeaway is to make yourself look more human.
Read more: What to Put on a Resume
7. Attach a Cover Letter With Your Creative Writer Resume
Yes, even writers need cover letters. They more so than others, even.
Our statistics report makes it clear as day: almost half of all recruiters expect one, come hell or high water.
No point in risking it, is there?
Follow these cover letter ideas to get that creative writer cover letter done in a moment's notice:
Pick the right cover letter format to begin with.
Address the cover letter properly. You don't want to make any blunders in the first 2 seconds they spend looking at your letter!
In the middle section, show off the passion you have for writing and how you want to use it to exercise success for the company.
Using numbers to go hand in hand with accomplishments continues to be a great way of exuding success.
Finally, end the cover letter with a call to action they won't forget.
Read more: Copywriter Cover Letter: How to Write + Examples
Plus, a great cover letter that matches your resume will give you an advantage over other candidates. You can write it in our cover letter builder here. Here's what it may look like: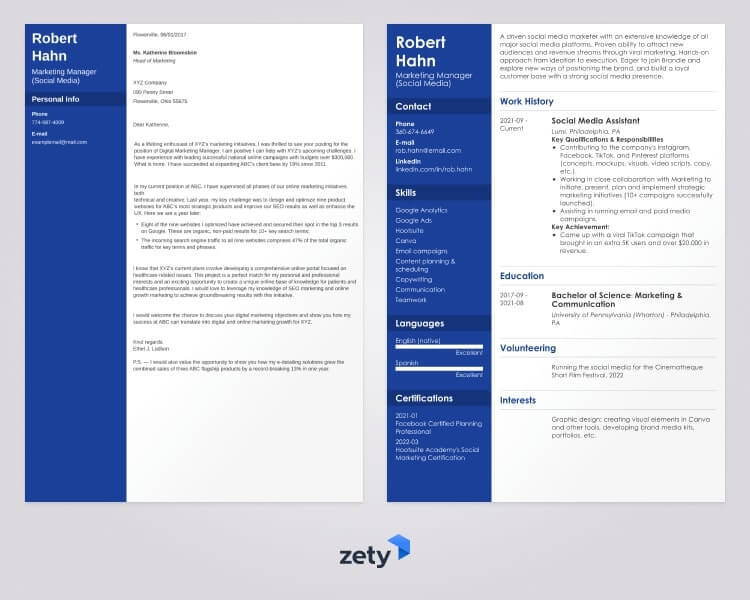 See more cover letter templates and start writing.
Done and dusted!
A complete creative writer resume.
Got any tips of your own that you'd like to add? Not quite sure about your way of listing creative writing experience? Write to us in the comments and we'll get back to you right away!
About Zety's Editorial Process
This article has been reviewed by our editorial team to make sure it follows Zety's editorial guidelines. We're committed to sharing our expertise and giving you trustworthy career advice tailored to your needs. High-quality content is what brings over 40 million readers to our site every year. But we don't stop there. Our team conducts original research to understand the job market better, and we pride ourselves on being quoted by top universities and prime media outlets from around the world.