Copywriter Cover Letter Examples & Writing Guide
Your fingers fly over the keyboard and you churn out fresh, delicious copy employers love. Prove your writing skills are AP-styled with a Hemingway-level copywriter cover letter.
Your copywriter cover letter has to do two things: Tease the writing skills and achievements in your resume and show a flair for words. You're about to get advice from a successful freelance writer and with work featured in The Boston Globe and clients like the Discovery ChannelHP, and Costco.
Ready to knock 'em flat?
This guide will show you a copywriter cover letter sample and the best tips on how to write a cover letter for copywriter jobs step-by-step.
Want to write your cover letter fast? Use our cover letter builder. Choose from 20+ professional cover letter templates that match your resume. See actionable examples and get expert tips along the way.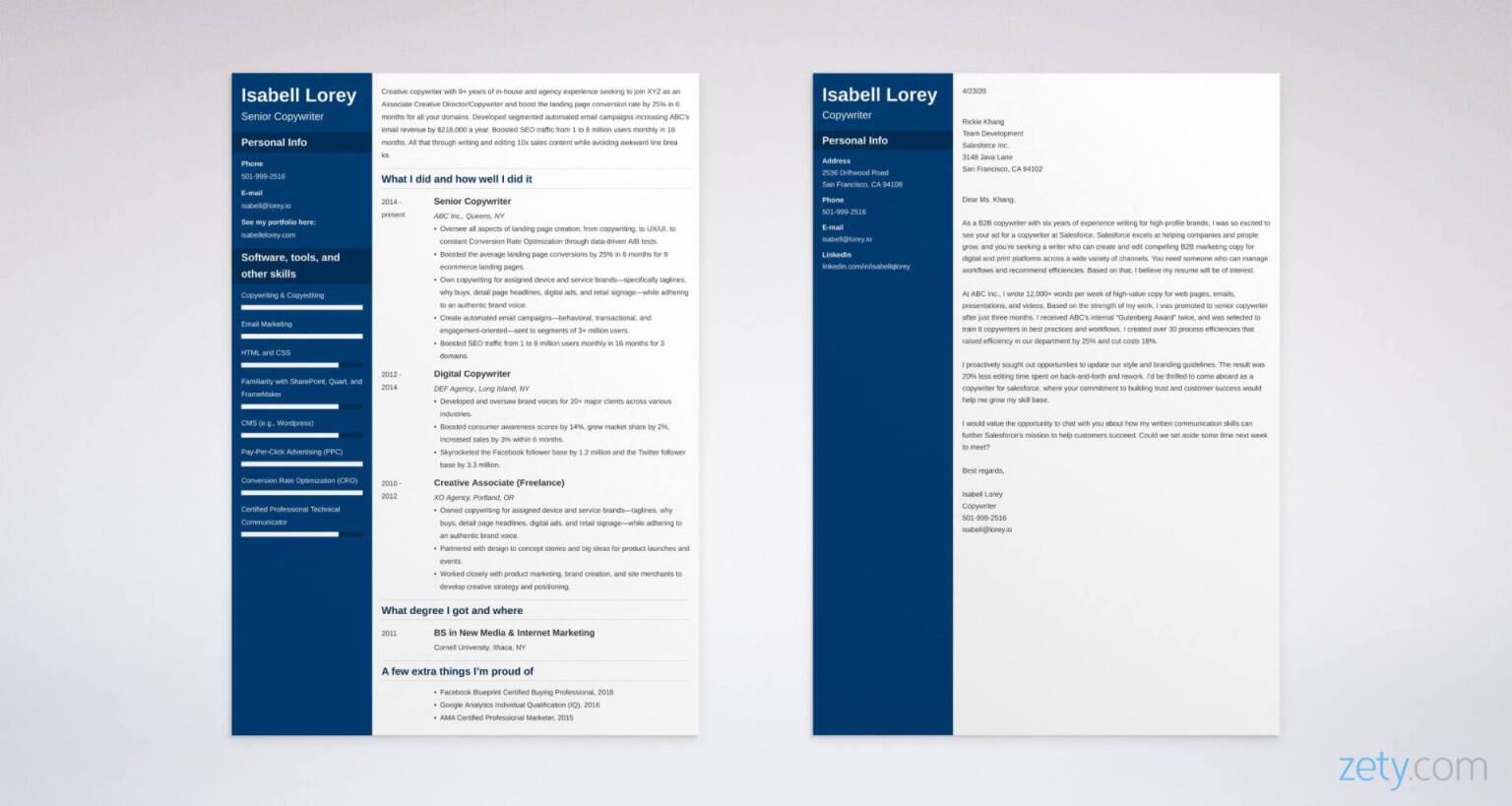 Sample cover letter for a resume—See more cover letter examples and create your cover letter here.
Copywriter Cover Letter Sample
Isabell Lorey
Copywriter
2536 Driftwood Road
San Francisco, CA 94108
501-999-2516
isabell@lorey.io
linkedin.com/in/isabellqlorey
4/23/20
Rickie Khang
Team Development
Salesforce Inc.
3148 Java Lane
San Francisco, CA 94102
Dear Ms. Khang,
As a B2B copywriter with six years of experience writing for high-profile brands, I was so excited to see your ad for a copywriter at Salesforce. Salesforce excels at helping companies and people grow, and you're seeking a writer who can create and edit compelling B2B marketing copy for digital and print platforms across a wide variety of channels. You need someone who can manage workflows and recommend efficiencies. Based on that, I believe my resume will be of interest.
At ABC Inc., I wrote 12,000+ words per week of high-value copy for web pages, emails, presentations, and videos. Based on the strength of my work, I was promoted to senior copywriter after just three months. I received ABC's internal "Gutenberg Award" twice, and was selected to train 8 copywriters in best practices and workflows. I created over 30 process efficiencies that raised efficiency in our department by 25% and cut costs 18%.
I proactively sought out opportunities to update our style and branding guidelines. The result was 20% less editing time spent on back-and-forth and rework. I'd be thrilled to come aboard as a copywriter for salesforce, where your commitment to building trust and customer success would help me grow my skill base.
I would value the opportunity to chat with you about how my written communication skills can further Salesforce's mission to help customers succeed. Could we set aside some time next week to meet?
Best regards,
Isabell Lorey
Copywriter
501-999-2516
isabell@lorey.io
That's a Pulitzer-worthy cover letter sample.
But—your resume matters too. See our guide: Copywriter Resume Sample
Seeking other writing or creative jobs? See these guides:
Copywriter Cover Letter Template
Here's how to write a cover letter for a copywriter job application:
1. Use the right copywriter cover letter format and layout
Here's what a good cover letter should look like:
Read more: Cover Letter Layout
2. Create a professional copywriter cover letter header
Address your cover letter up top.
Write your name, job title, address phone, email, and LinkedIn.
Leave a line, the date, another line, and then the employer's address.
Make sure the header of your resume matches your cover letter header.
Read more: How Should I Address a Cover Letter?
3. Write a personal greeting and an engaging first paragraph
Start with the only right cover letter salutation which is "Dear [Hiring Manager Name],". Never start with "To Whom It May Concern."
Describe the company and the job ad in brief. (See the about page on their website.)
Tell them what position you're applying for.
Use your writing skills to engage the reader.
Show excitement for the job.
Read more: How to Start a Cover Letter
4. Show off your achievements in the second and third paragraphs
Do you need a copywriter cover letter? See our guide: Do I Need a Cover Letter?
5. Explain why you want this copywriter job
Prove this copywriter job is important to you.
Do this to show you'll stick around for years.
Show how the job would help you grow.
According to the U.S. Bureau of Labor Statistics, there are less copywriter jobs all the time! Grab the best one by using your audience engagement skills in your cover letter.
6. End your copywriter cover letter with an offer
Say how much you'd like to get the interview.
Reiterate how you can help the company.
Reference a company goal from their mission statement.
Read more: How to End a Cover Letter
7. Add a professional sign-off
End with, "Kind regards,".
Add a digital signature to make it more professional.
Write your name, number, and email address.
Add a list of cover letter enclosures if necessary.
Read more: Best Cover Letter Outline
And that's the way to go if you want to write a killer cover letter!
When making a resume in our builder, drag & drop bullet points, skills, and auto-fill the boring stuff. Spell check? Check. Choose a resume template here.
When you're done, Zety's resume builder will score your resume and our resume checker will tell you exactly how to make it better.
Questions? Concerns? We're here for you. If you're still unsure how to write a Stephen-King-level cover letter for copywriter jobs, drop me a line in the comments.
About Zety's Editorial Process
This article has been reviewed by our editorial team to make sure it follows Zety's editorial guidelines. We're committed to sharing our expertise and giving you trustworthy career advice tailored to your needs. High-quality content is what brings over 40 million readers to our site every year. But we don't stop there. Our team conducts original research to understand the job market better, and we pride ourselves on being quoted by top universities and prime media outlets from around the world.
Sources