Social Media Manager Cover Letter Example & Guide
You make content go viral with the touch of your hand. Do the same with your job application by writing an amazing social media manager cover letter.
As a social media manager, you know how to craft the perfect post that generates likes, shares, and comments. But when it comes to your cover letter, is it commanding the same level of attention?
With our guidance, you'll craft a social media manager cover letter that highlights your expertise and has hiring managers sliding into your DMs for an interview.
This guide will show you a social media manager cover letter example, plus the best tips on how to write a social media cover letter step-by-step.
Want to write your cover letter fast? Use our cover letter builder. Choose from 20+ professional cover letter templates that match your resume. See actionable examples and get expert tips along the way.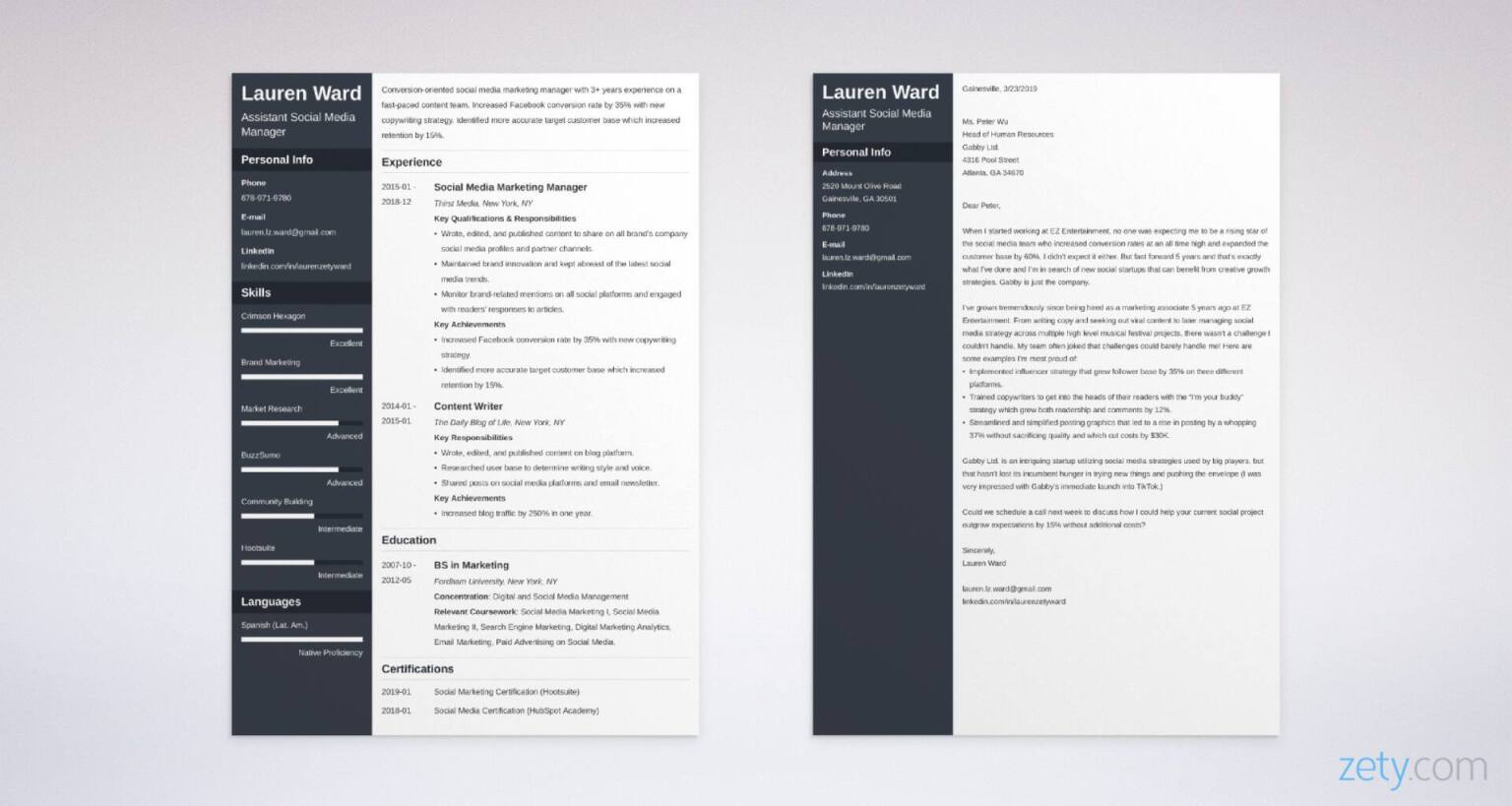 Sample cover letter for a resume—See more cover letter samples and create your cover letter here.
Social Media Manager Cover Letter Sample
Lauren Ward
Assistant Social Media Manager
2520 Mount Olive Road
Gainesville, GA 30501
678-971-9780
lauren.lz.ward@gmail.com
linkedin.com/in/laurenzetyward
Gainesville, 3/23/2019
Ms. Peter Wu
Head of Human Resources
Gabby Ltd.
4316 Pool Street
Atlanta, GA 34670
Dear Peter,
When I started working at EZ Entertainment, no one was expecting me to be a rising star of the social media team who increased conversion rates at an all time high and expanded the customer base by 60%. I didn't expect it either. But fast forward 5 years and that's exactly what I've done and I'm in search of new social startups that can benefit from creative growth strategies. Gabby is just the company.
I've grown tremendously since being hired as a marketing associate 5 years ago at EZ Entertainment. From writing copy and seeking out viral content to later managing social media strategy across multiple high level musical festival projects, there wasn't a challenge I couldn't handle. My team often joked that challenges could barely handle me! Here are some examples I'm most proud of:
Implemented influencer strategy that grew follower base by 35% on three different platforms.
Trained copywriters to get into the heads of their readers with the "I'm your buddy" strategy which grew both readership and comments by 12%.
Streamlined and simplified posting graphics that led to a rise in posting by a whopping 37% without sacrificing quality and which cut costs by $30K.
Gabby Ltd. is an intriguing startup utilizing social media strategies used by big players, but that hasn't lost its incumbent hunger in trying new things and pushing the envelope (I was very impressed with Gabby's immediate launch into TikTok.)
Could we schedule a call next week to discuss how I could help your current social project outgrow expectations by 15% without additional costs?
Sincerely,
Lauren Ward
lauren.lz.ward@gmail.com
linkedin.com/in/laurenzetyward
So you've just seen a viral example of a social media cover letter. Keep scrolling to see just how you can write one just like this.
Remember lots of good things come in pairs—your cover letter won't make much of a scene without a killer resume to back it up, like the one here: Social Media Manager Resume
See our other marketing-based writing guides here:
Social Media Manager Cover Letter Template
Here are the best tips on how to write a great social media cover letter:
1. Use the proper social media manager cover letter format
Without structure, marketing strategies are just a big lump of random ideas. That same mindset goes for your cover letter structure. These tips will help you keep your social media manager cover letter smart and professional:
Use the correct cover letter spacing: a 1" margin on all sides and single or 1.15 line spacing.
Choose a modern and professional, 12 pt cover letter font. Overly creative fonts are too hard to read no matter who creative they make you seem.
Double-spacing between paragraphs is a good strategy to help the hiring manager breeze through your social media cover letter.
Read more: The Best Cover Letter Format
2. Create a professional social media manager cover letter header
Pop your name and current contact information in the top left corner.
Include your phone number, email, LinkedIn profile, and (optionally) other relevant social media or websites. We don't have to tell you to check your online profile before sending off to employers. After all, social media is being used more and more as a method to engage with candidates.
Add the city and date right below your personal information.
Include the addressee's details (name, title, address).
Check the company's website, LinkedIn profile, social accounts, or just Google around if you can't find the hiring manager's name. You can also just call up the company and ask.
Read more: Cover Letter Header Examples
3. Open with a personal greeting and a compelling first paragraph
Start off strong with a professional cover letter salutation by addressing the potential employer by name. Don't use "I'm writing to apply…". Recruiters know why you're writing. Jump right into your strengths.
Think long and hard before just sending out a "To Whom It May Concern" cover letter to save time.
Clearly mention the position you're applying for and how you found out about it.
Highlight your most relevant achievements to grab the hiring manager's attention and keep them reading on.
Read more: How to Start a Cover Letter With a Bang
4. Show that you're the candidate they absolutely need
Refer back to the job ad and demonstrate how your relevant, professional experience is the solution to the problems they're facing.
Mention some interesting achievements that you're proud of. Rehashing your resume is never a good idea and will tank your chances of the recruiter following you.
Nothing draws attention like numbers so use quantifiable achievements where you can.
Read more: What Should a Cover Letter Say?
5. Explain why this is the job you want
Give the employer a big, fat "like" by including a couple of genuine compliments towards the employer to demonstrate that they're not just another company to you.
Show that you have some knowledge of the company culture and/or current challenges and how you'd be able to bring value.
Make them understand why you want this job more than any other and that you'll want to stick around for longer.
Read more: What to Include in a Cover Letter?
6. Make an offer and include a call to action
Ask for a call or meeting and suggest a time.
Repeat how valuable you could be—make an offer to help them with their KPIs.
Read more: Great Cover Letter Closing Paragraph Examples
7. Close with a professional sign-off
Sign off with your full name.
For a bit of a personalized touch, include a digital copy of your handwritten signature (if you have one) below your sign-off.
Make sure to add any cover letter enclosures that might be required or valuable.
Repeat your basic contact details in your social media cover letter footer.
Name your cover letter for social media with a professional cover letter title.
When trying to determine how long a cover letter should be, definitely keep it on the short and concise side. 1 page is more than enough.
Social media is half content and half design and the same goes for your cover letter. Give your cover letter a design that matches your shining achievements: Professional Cover Letter Design
You can't just send out your cover letter and hope for some likes. Following up on your job application shows true interest and professionalism. Here's how to do just that: Write a Great Follow Up Email to Your Application
A viral social media cover letter can really get hiring managers to subscribe to your candidacy. Remember to compliment your social media cover letter with a fantastic resume.
When making a resume in our builder, drag & drop bullet points, skills, and auto-fill the boring stuff. Spell check? Check. Start building a professional resume template here for free.
When you're done, our easy resume builder will score your resume and our resume checker will tell you exactly how to make it better.
Thanks for reading! What do you think of this sample social media cover letter? Can it work as a cover letter for a social media specialist or a social media strategist? Are there any tips you think are missing? Let us know in the comments below!
About Zety's Editorial Process
This article has been reviewed by our editorial team to make sure it follows Zety's editorial guidelines. We're committed to sharing our expertise and giving you trustworthy career advice tailored to your needs. High-quality content is what brings over 40 million readers to our site every year. But we don't stop there. Our team conducts original research to understand the job market better, and we pride ourselves on being quoted by top universities and prime media outlets from around the world.
Sources