Our customers have been hired by:
A digital marketing cover letter is at the bottom of your job-search funnel. Engage your audience fast, or they won't even consider your resume. Ready to make the phone ring?
This guide will show you a digital marketing cover letter sample and the best tips for writing a cover letter for digital marketing jobs step-by-step.
Want to write your cover letter fast? Use our cover letter builder. Choose from 20+ professional cover letter templates that match your resume. See actionable examples and get expert tips along the way.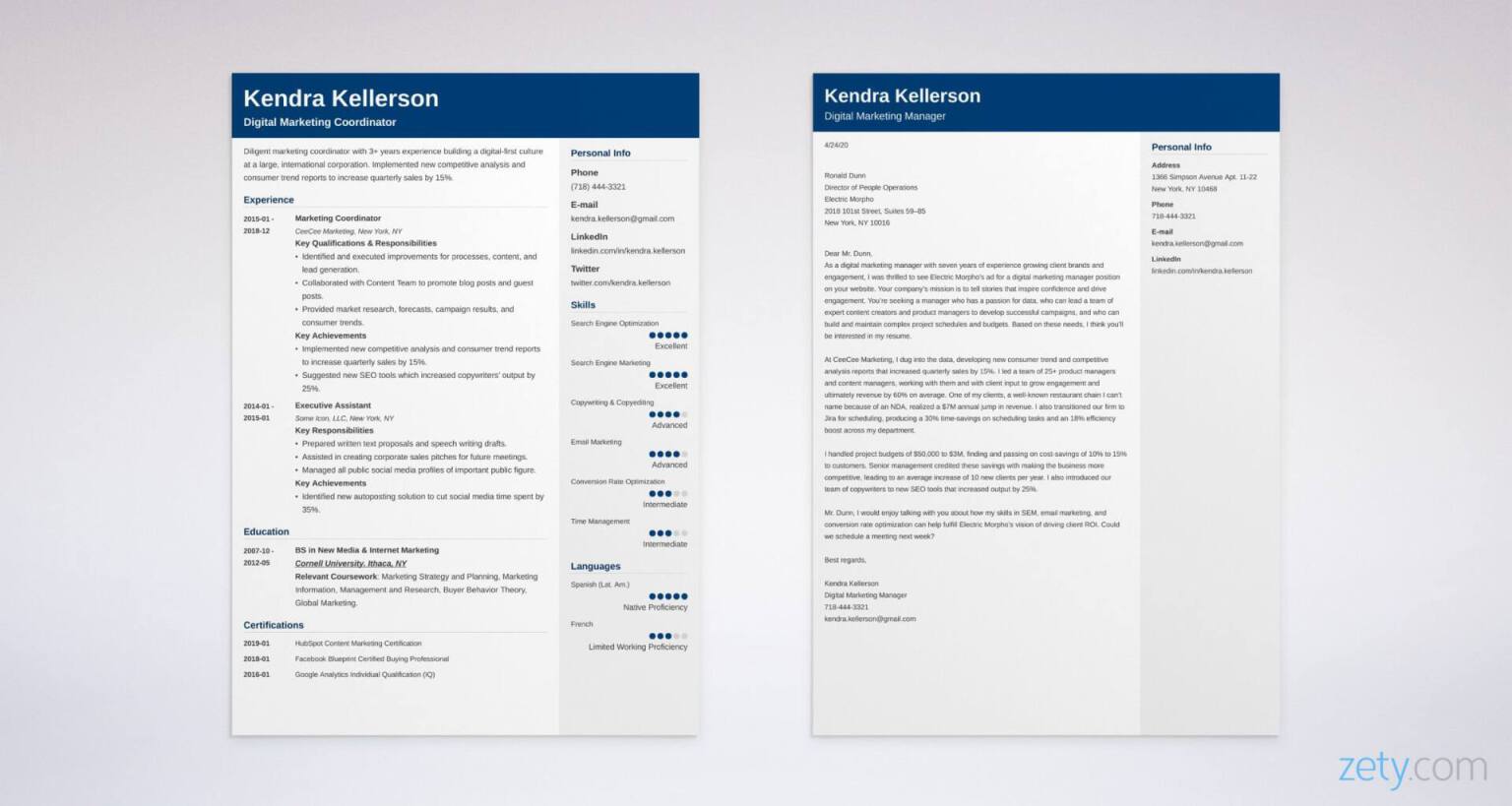 Sample cover letter for a resume—See more cover letter examples and create your cover letter here.
Digital Marketing Cover Letter Sample
Kendra Kellerson
Digital Marketing Manager
1366 Simpson Avenue Apt. 11-22
New York, NY 10468
718-444-3321
kendra.kellerson@gmail.com
linkedin.com/in/kendra.kellerson
4/24/20
Ronald Dunn
Director of People Operations
Electric Morpho
2018 101st Street, Suites 59–85
New York, NY 10016
Dear Mr. Dunn,
As a digital marketing manager with seven years of experience growing client brands and engagement, I was thrilled to see Electric Morpho's ad for a digital marketing manager position on your website. Your company's mission is to tell stories that inspire confidence and drive engagement. You're seeking a manager who has a passion for data, who can lead a team of expert content creators and product managers to develop successful campaigns, and who can build and maintain complex project schedules and budgets. Based on these needs, I think you'll be interested in my resume.
At CeeCee Marketing, I dug into the data, developing new consumer trend and competitive analysis reports that increased quarterly sales by 15%. I led a team of 25+ product managers and content managers, working with them and with client input to grow engagement and ultimately revenue by 60% on average. One of my clients, a well-known restaurant chain I can't name because of an NDA, realized a $7M annual jump in revenue. I also transitioned our firm to Jira for scheduling, producing a 30% time-savings on scheduling tasks and an 18% efficiency boost across my department.
I handled project budgets of $50,000 to $3M, finding and passing on cost-savings of 10% to 15% to customers. Senior management credited these savings with making the business more competitive, leading to an average increase of 10 new clients per year. I also introduced our team of copywriters to new SEO tools that increased output by 25%.
Mr. Dunn, I would enjoy talking with you about how my skills in SEM, email marketing, and conversion rate optimization can help fulfill Electric Morpho's vision of driving client ROI. Could we schedule a meeting next week?
Best regards,
Kendra Kellerson
Digital Marketing Manager
718-444-3321
kendra.kellerson@gmail.com
That's a BBDO-level cover letter sample.
But—don't skimp on your resume. See our guide: Digital Marketing Resume Sample
Hunting other marketing or sales jobs? See these guides:
Digital Marketing Cover Letter Template
Here's how to write a cover letter for a digital marketing job application:
1. Use the best digital marketing cover letter format and layout
Read more: What Should a Cover Letter Look Like?
2. Make a professional digital marketing cover letter header
Address your marketing cover letter first.
Start with your name, job title, street address, email, phone number, and LinkedIn.
After a blank line, add the date, another blank line, then the manager's contact info.
Make sure your resume heading matches your cover letter heading.
Read more: How Should I Address a Cover Letter?
3. Write a personal greeting and a compelling first paragraph
Start with "Dear [Manager's Name],". It's the most professional cover letter salutation.
Show a little excitement.
State the job title you're writing to them about.
Mention the company's mission. To find it, see their mission statement online for clues, or do some informational interviews.
Tell them what they're looking for in an employee. Talking about their needs is engaging!
Read more: How to Start a Cover Letter
4. In paragraphs 2 and 3, show digital marketing accomplishments
Mention a few resume achievements that fit the digital marketing job requirements.
Add numbers to show you're Wunderman-Thompson-level.
Keep coming back to how you fit their needs.
Don't be scared to talk about your salary. See our guide: Salary Requirements in a Cover Letter
5. Say why you want this digital marketing job
Prove this digital marketing job is your favorite.
Expressing interests hints that you won't move on to another job in six months.
For added proof, show how the role would help your career.
According to the U.S. Bureau of Labor Statistics, there are 286,800 digital marketing manager jobs in the U.S., growing at 8% per year. Get a Deloitte-level job with the best cover letter you can write.
6. End your digital marketing cover letter with a CTA
Mention a few more digital marketing skills they want.
Say you're looking forward to the interview.
Promise to provide value in the interview, like a chat about how you can help them meet a goal from their mission statement.
Read more: Best Ways to End a Cover Letter
7. Add a professional sign-off to the end
End your resume cover page with, "Best regards,".
For added professionalism, add a digital version of your signature.
Include your name, email, and phone number.
Give a professional name to your cover letter file title.
Read more: What is a Cover Letter? Definition
When making a resume in our builder, drag & drop bullet points, skills, and auto-fill the boring stuff. Spell check? Check. Choose a resume template here.
When you're done, our online resume builder will score your resume and our resume checker will tell you exactly how to make it better.
Questions? Concerns? We're here for you. If you're still unsure how to write a PwC-worthy digital marketing manager or specialist cover letter, drop me a line in the comments.
About Zety's Editorial Process
This article has been reviewed by our editorial team to make sure it follows Zety's editorial guidelines. We're committed to sharing our expertise and giving you trustworthy career advice tailored to your needs. High-quality content is what brings over 40 million readers to our site every year. But we don't stop there. Our team conducts original research to understand the job market better, and we pride ourselves on being quoted by top universities and prime media outlets from around the world.
Sources