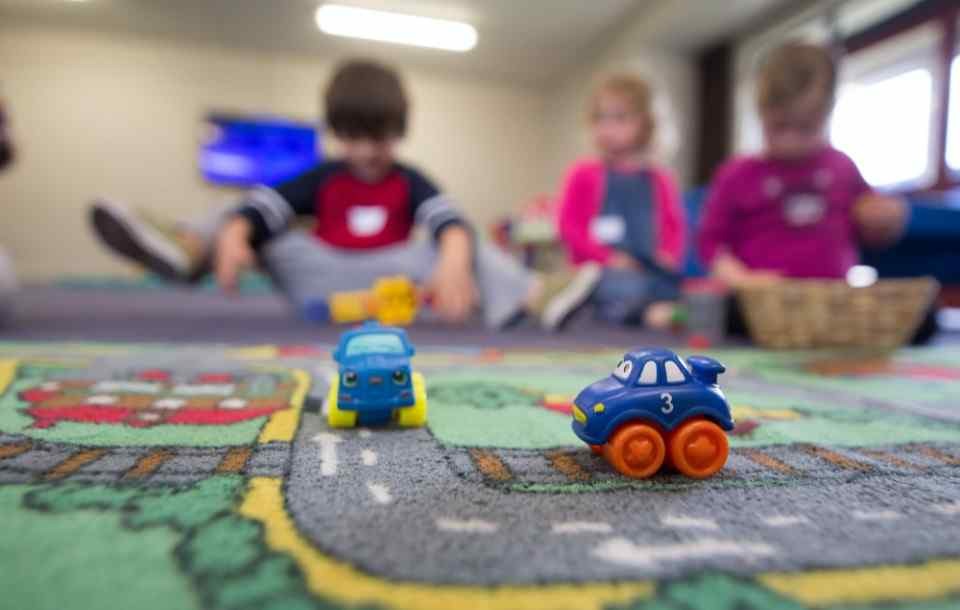 A Kindergarten Teacher Resume: Guide and Examples
Remote education during the pandemic showed that teaching is not for the faint-hearted. See kindergarten teacher resume examples showing that you're no ordinary teacher.
Montessori and Waldorf are no strange names to you. You spend weekends carefully designing curricula, juggling parents' expectations and students' needs.
But how do you actually present all of these on a kindergarten teacher resume? How do you show that you're equally familiar with traditional teaching methods and new technologies alike? Check out our kindergarten resume guide below.
This guide will show you:
How to write a successful kindergarten teacher resume to get your dream job.
How to highlight your kindergarten teaching experience in your resume.
What skills should be listed in your resume to prove you're a perfect fit for the job .
How to make sure your kindergarten teacher resume matches the job description.
Want to save time and have your resume ready in 5 minutes? Try our resume builder. It's fast and easy to use. Plus, you'll get ready-made content to add with one click. See 20+ resume templates and create your resume here.
Sample resume made with our builder—See more resume examples here.
Considering similar jobs too? See related resumes:
Sample Kindergarten Teacher Resume
Joyce White
Kindergarten teacher
Personal Info
Phone:715-649-4381
E-mail: joycewhite@gnail.com
linkedin.com/in/joycewhite
Summary
Certified kindergarten teacher with 6+ years of experience. At Maryknoll Kindergarten created and ran a program to improve school readiness for more than 50 students with learning disabilities. Designed a successful curriculum based on visual arts and DIY projects to foster creative thinking in children aged 3 to 6.
Experience
Kindergarten Teacher
Maryknoll Kindergarten, New York, NY
January 2016–April 2021
Developed and implemented education programs accommodating different learning styles, including an art-based curriculum for children aged 3 to 6.
Managed student's behavior by creating an environment adjusted to their physical, social and developmental needs.
Implemented an improvement program for students with learning disabilities which enhanced school readiness of more than 50 students.
Integrated new technologies in the teaching process by introducing smart boards in classes.
Used flexible and ongoing assessments based on observation and probing questions to evaluate students' learning outcomes.
Kindergarten Teacher Assistant
Maryknoll Kindergarten, New York, NY
April 2014–December 2016
Assisted the main teacher in assuming responsibility for the care and safety of students.
Fostered students' cognitive development by applying thinking routines in everyday classroom activities.
Organized outdoor activities for students as part of the "Busy Bees" initiative aimed at motor skills improvement.
Contributed to updating the kindergarten curriculum to enable students to meet their PILES developmental milestones.
Supported the main teacher in administrative tasks such as preparing assessment reports or communicating with parents.
Education
United States University, MA in Education
2012–2014
Worked as a part-time caretaker at Kids' Care Club in San Diego.
University of South Carolina Beaufort, BA in Early Childhood Education
2009-2012
Courses
Completed the Early Childhood Credential program offered by the Childcare Education Institute (2017).
Additional Activities
Run regular summer "Kids' Club" for unprivileged children from the local community in New York.
Key Skills
Communication
Planning and organizing
Creative thinking
Problem-solving
Multi-tasking
Adaptability
Smartboards
Creating curricula
Now, here's how to write a job-winning kindergarten teacher resume:
1. Select the Right Format for your Kindergarten Teacher Resume
Practice what you preach and show the hiring manager that you really are the modern teacher you claim to be. Don't ruin that impression by submitting a resume that looks as if you have never worked with a text editor before.
Here's how to provide a proper format for your kindergarten teacher resume:
Make sure that your resume includes the following parts:
Header – include your name and contact information.
Summary Statement– use this section to bring out the best of your experience.
Work Experience– list your most significant accomplishments.
Education – provide relevant information about schools you graduated from and other educational achievements.
Skills – remember to include skills matching your job ad.
Additional Sections– feel free to include information about conferences you participated in, volunteering experience or certificates obtained.
Read more about resume formatting: Best Resume Format: Samples for All Types of Resumes
Now that you already know how to format your resume, let's move on to the next important step that may either make or break your resume – your work experience.
2. Start With a Kindergarten Teacher Resume Work Experience Section
Remember that you get only one chance to make a great first impression. The hiring team will only take a few seconds to see if you are THE teacher they are looking for, so make sure to craft this section carefully.
Here are some tips on how to boost your work experience section:
Use a reverse-chronological order and list your last job title first.
Include the company name and dates worked for each job position.
Add no more than 6 bullet points.
Make sure to talk more about your specific achievements instead of simply listing your responsibilities.
Try to include numerical data to point out the results of your work.
Use the PAR (Problem-Action-Result) formula to highlight your accomplishments.
Describe your achievements using action verbs.
For more information on listing your work experience, see Resume Work Experience, History & Job Description Examples
Have a look at resume examples below:
Kindergarten Teacher Job Description for a Resume
RIGHT
Kindergarten Teacher
Washington Kindergarten
April 2015–May 2019
Supervised students aged 3-6 with different learning abilities, including special needs students.
Designed a music-based curriculum to develop students' recognition of musical notation.
Organized additional workshops incorporating physical activity for students with ADHD.
Evaluated students' learning outcomes using learning logs.
Launched a "Kids around the globe" program to promote cultural diversity.
WRONG
Kindergarten Teacher, 2015 - 2019
Washington Kindergarten
Responsible for looking after students.
Prepared classes for students.
Assessing students' performance.
Helping underperforming students.
Not hard to tell which candidate will have more chances of winning the job battle. Seems like two different people?
You couldn't be more wrong! Actually, both samples come from the same candidate. In the right one, the candidate focused on specific achievements rather than just listing her day-to-day responsibilities.
In the wrong one, she just provided a general list of her everyday tasks with no indication of what she could bring to the learning environment as a teacher.
Are you an aspiring kindergarten teacher with no relevant work experience? Don't worry, you can still create a solid work experience section focusing on your internships and volunteering work.
Have a look at examples below:
Pre Kindergarten Teacher Resumes: Work Experience
RIGHT
Kindergarten Assistant Teacher
Washington Kindergarten
June 2014–December 2015
Prepared teaching aides to comply with the Montessori methodology.
Provided care for students taking into account their developmental needs and cognitive development.
Collaborated with the main teacher on extra-curricular activities to promote learning through visual arts.
WRONG
Teaching Assistant, 2014-2015
Washington Kindergarten
Responsible for preparing learning materials.
Looked after students.
Did tasks assigned by the teacher.
Again, these have been prepared by the same candidate. See the difference now? The first one focuses on specific achievements, while the latter is too generic.
When making a resume in our builder, drag & drop bullet points, skills, and auto-fill the boring stuff. Spell check? Check. Start building a professional resume template here for free.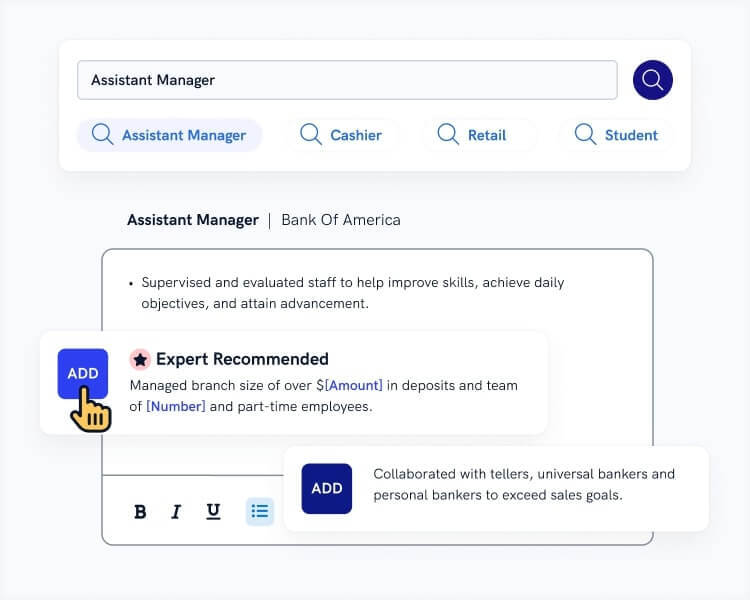 When you're done, our professional resume builder will score your resume and our resume checker will tell you exactly how to make it better.
3. Enter Your Education
Do not take this section for granted. According to the Journal of Business and Psychology, relevant education produces a more positive perception of your competence and potential. After all, you want to work in the education business.
If you have a long education history, remember to focus on your highest degree of education and academic achievements relevant for the job. Again, don't be too generic – think about specific accomplishments that could be listed in your kindergarten teacher resume.
See below 2 examples of a good education section:
Kindergarten Teacher Resume Example [Education]
RIGHT
Education
MA in Early Childhood Education, University of Alabama
2009-2011
Received a special award for carrying out a study "Cognitive Development in Children from Underprivileged Communities".
Organized an art teaching university group studying the importance of art in children's formative years.
Have little experience? List your relevant coursework and extracurricular activities to show that you have the skills required for the job.
See an example below:
Kindergarten Teacher Resume Example [Education]
RIGHT
Education
BA in Kindergarten Education, University of Alabama
2011-2014.
Completed courses:
Early Childhood Education Certificate (MassBay Community College)
Volunteering work:
Organized a reading club for children at My Little School.
Focus on specific actions and you'll land your dream teaching job in no time.
Read more: How to Put Your Degree on a Resume
4. List Relevant Skills in Your Kindergarten Teacher Resume
This is an important section showcasing that you really have the skills your prospective employer is looking for. Just don't list them from the top of your head. Create a master list of your professional skills that correspond to your job ad and your work experience, go for 5-10 most relevant skills.
Kindergarten Teacher Resume Skills
Communication skills
Patience
Flexibility
Adaptability
Creativity
Stress tolerance
Curriculum design
Microsoft Word
Smart boards
Google Drive
Spreadsheets
Email
Presentations/slideshows
Montessori method
Now, imagine your kindergarten teacher job ad specifies designing curriculums and incorporating the Montessori method into the teaching process as job responsibilities. You would have to list the following skills:
Kindergarten Teacher Resume Examples [Skills]
RIGHT
Curriculum design
Montessori framework
Microsoft Word
Slides/presentations
Creativity
Strong problem-solving skills
Great communications skills
Flexibility
Go for the skills that really prove you're the best fit for the job and beat out other candidates.
If you're still unsure about how to list your skills on your resume, read: 99+ Key Job Skills for Resumes
5. Add Extra Sections in Your Kindergarten Teacher Resume
Now that you have listed your work experience and education, it's time to impress your potential employer and show that you really went that extra mile to gain relevant experience. Ever participated in additional courses relevant for your professional experience or done some volunteering work? It's your time to share it all.
You can choose from:
These are particularly important in entry-level resumes. If your employer has two inexperienced candidates to choose from, they will definitely go for the certified one.
If you've ever done anything for the local community, do not hesitate to make a note of it in your resume. It shows that you are a hands-on person willing to drive a change.
Want to work in a bilingual kindergarten? Your language skills might decide if you will get hired or not.
Conferences
Ever gone to any National Early Childhood Conferences? Don't hesitate to share that information, it shows that you care about your professional development.
See these 2 kindergarten teacher resume samples:
Kindergarten Teacher Resume Example [Other Sections]
RIGHT
Member of the National Association for the Education of Young Children
Gave a series of lectures on early childhood development.
Mentored a group project for young teachers "New technologies in pre-school teaching"
Local Volunteer
Organized weekend classes for underprivileged children from the local community.
Read more: Resume Sections & Categories (with Tips on Order and Titles)
6. Write an Engaging Kindergarten Teacher Resume Objective or Summary
You have outlined all of your professional qualifications and still get no invitation for the job interview? The hiring team spends only a few seconds looking at your resume. Go ahead and tell them why they should actually take a deeper dive into yours in your resume summary.
Here's how to write a career summary:
Start with an adjective like proven or entry-level.
Add your title (Kindergarten Teacher).
List years of experience (1, 1+, 5).
Cite your goal (improve school readiness of students with learning disabilities).
Share your biggest school or work accomplishment.
Proofread to the text to catch any typos.
These two career summary examples show how:
Kindergarten Teacher Resume Summary
RIGHT
Kindergarten teacher with 7+ years of experience. Seeking to create curricula intended to improve school readiness of children with learning disabilities. At Dwight Preschool and Kindergarten, run an educational program based on the Montessori methodology for children aged 3-6.
WRONG
Kindergarten Teacher with advanced teaching skills. Experienced and hard-working employee seeking to teach children. Good organization and communication skills.
Not hard to predict that the second won't get you hired. Make sure to include your previous work and your top achievements in your resume summary.
If you're making an entry-level kindergarten teacher resume, write a career objective. Even though you don't have much work experience to share, you may easily focus on your education and non-teaching jobs.
See these examples:
Entry-Level Kindergarten Teacher Resume Objective
RIGHT
Entry-level teaching professional with great communication skills. Demonstrates a strong work ethic and willingness to take new approaches in teaching. Seeking to teach students with learning disabilities to improve their school readiness. Organized a university group studying cognitive development of young children.
WRONG
Entry-level teaching professional. Can prepare teaching materials and teach students with various learning needs. Experienced in organizing outdoor activities for children.
Nothing can beat the first one. It highlights your skills and demonstrates your career objective. It also shows your university achievement and true engagement in what you're doing. Who wouldn't want to hire you?
Read more about job-winning summaries and objectives:Resume Introduction Examples and Tips
7. Write a Kindergarten Teacher Cover Letter
Do I need to write my cover letter? This question keeps coming back over and over and the answer is always yes. Your potential employer might not read it, but it really shows you have your heart set on teaching.
Here's what should be included on teacher cover letters:
your contact information, including the date you're writing it,
the school's (addressee's) details,
a greeting / salutation to address your cover letter (e.g., Dear Principal Johnson,),
an opening statement to start your cover letter that will grab their attention,
short paragraph on why you're perfect for the school,
short paragraph on why the teaching position is perfect for you,
closing statement that seals the deal
complimentary close (e.g., Regards, Sincerely) and your name
a postscript (P.S.)
Read more on teacher cover letters examples: Teacher Cover Letter Examples [Teaching Positions & Education]
Plus, a great cover letter that matches your resume will give you an advantage over other candidates. You can write it in our cover letter builder here. Here's what it may look like: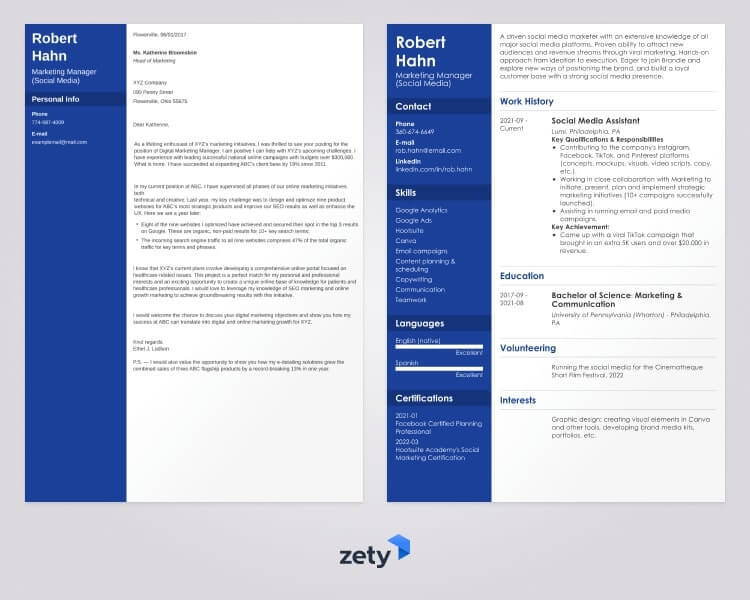 See more cover letter templates and start writing.
Key Takeaways
Here's how to write a kindergarten teacher resume step by step:
Select the right format for your resume.
Start with a work experience section.
Enter your education.
List your relevant skills.
Add extra sections.
Write an engaging career summary or objective.
Write your cover letter.
Thanks for reading my guide! Now I'd love to hear from you:
What are the biggest challenges of writing a kindergarten teacher resume?
What part do you struggle with the most?
Let me know. Let's get the discussion started!
About Zety's Editorial Process
This article has been reviewed by our editorial team to make sure it follows Zety's editorial guidelines. We're committed to sharing our expertise and giving you trustworthy career advice tailored to your needs. High-quality content is what brings over 40 million readers to our site every year. But we don't stop there. Our team conducts original research to understand the job market better, and we pride ourselves on being quoted by top universities and prime media outlets from around the world.