Boyfriend Resume: Why Do You Need It? (+Template)
Want to prove to your crush that you're made of boyfriend material? Learn how to write a boyfriend resume that will move you out of a textationship to the next level.
You've seen countless viral stories of guys surprising their love interests with unique ideas. And you're tempted to try one of them, but you're also short on cash?
Just send her a boyfriend resume.
Yes, you read that right. That's what you need to surprise her and make her consider your offer seriously. Because that's what you want, right?
This guide will show you:
A boyfriend resume example better than 9 out of 10 other boyfriend resumes out there.
Where the idea of a boyfriend resume came from.
A boyfriend resume template that you can simply fill out and send to your crush.
How to adapt the principles of resume writing to create a boyfriend resume.
Want to save time and have your resume ready in 5 minutes? Try our resume builder. It's fast and easy to use. Plus, you'll get ready-made content to add with one click. See 20+ resume templates and create your resume here.
Sample resume made with our builder—See more resume examples here.
Boyfriend Resume Example
Luke M. Craig
Psychology Student
(456) 789-1234
lukecraig@zetymail.com
facebook.com/luke.m.craig
instagram.com/luckyboyluke2002
tiktok.com/@luckyboyluke2002
An outgoing travel enthusiast with a knack for outdoor sports and gourmet food.
Summary
Spontaneous psychology major with a passion for road trips and cooking. Skilled in finding high-quality wines in 99 Cent stores. Enthusiastic about spending quality time with you as your boyfriend while learning more about your love for European cinematography. Recognized creator of unique and romantic date ideas shared on my Instagram account.
Dating History
Emma Miller's Boyfriend
Boston, MA
October 2020–January 2022
Organized a strawberry picking trip to the Old Boyston Farm in Boylston, MA, to pick Emma's favorite fruit and make stunning shots for her Instagram account.
Invented the idea for matching Halloween costumes that won the main prize in the couples' category at the campus party in 2021.
Attended 8 of Emma's cello performances and took her to dinner after each one.
Encouraged Emma to pursue her musical interests and choose music as her major.
Key achievement:
Crafted a personalized leather-bound journal as a Christmas present for Emma in 2021.
Latonya Kirk's High-School Sweetheart
Pittsfield, MA
December 2016–June 2020
Picked Latonya up in a limousine on the way to prom and set up a big entrance involving our song and matching outfits.
Came up with weekly date ideas that included going on a picnic to Springside Park, watching old Hollywood movies at the cinema, visiting Herman Melville's house, and volunteering at the local pet shelter.
Supported Latonya's academic efforts by providing notes, collaborating on school projects, and studying together for SATs.
Conferred with Latonya's girlfriends to consult gift ideas and better understand her needs and expectations.
Key achievement:
Organized a surprise birthday party for Latonya with 100+ guests on the shores of Lake Onota in the summer of 2018.
Education
Undergraduate Psychology studies at Boston College, MA
Expected graduation in 2024
GPA: 3.5
Berkshire Hills High School in Pittsfield, MA
September 2016–June 2020
Skills
Organizing trips
Planning dates
Cooking
Taking great Instagram photos
Verbal and written communication
Active listening
Time management
Personality traits
Empathetic
Open-minded
Patient
Honest
Respectful
Loyal
Languages
English—Native
French—Intermediate
German—Intermediate
Volunteering
Walked dogs from the local pet shelter every week while attending high school.
Helped to advertise a fundraiser for a local retirement home by creating an event on Facebook and sharing posts about it on social media.
Interests
Going on weekly road trips in Massachusetts and exploring the state's natural beauty and history.
Learning to cook dishes from various world cuisines and experimenting with unique flavor combinations.
Enjoying outdoor sports such as mountain biking, kayaking, and hiking.
A boyfriend resume is different from what you need? Check our classic guides about writing a resume:
Now, let's cut to the chase:
What's the Story Behind a Boyfriend Resume?
Even though we live in the era of online dating apps, studies show that many Americans believe dating has become harder, and even so, during the COVID-19 pandemic. It's no wonder that people try to come up with more unique—and sometimes crazy—ideas to prove to someone they're worth their time.
One of those people was Joey Adams, a Michigan State University student who wanted to impress a girl and created a boyfriend resume. His story went viral after being picked up by BuzzFeed News. His funny boyfriend resume impressed numerous people, and some even reached out to him to ask him for a date.
So, you know the story. But what is a boyfriend resume, exactly?
A boyfriend resume is a document chronicling your dating history and listing the qualities that make you a good boyfriend. It's similar to a classic resume but highlights your relationship efforts and positive personality traits instead of showcasing career achievements.
Now, let's move to the next chapter and see why you need to write a boyfriend resume for yourself!
Never written a resume ever? Check this guide: Step-by-Step Guide to Making a Resume
Do You Need a Boyfriend Resume?
The answer is: of course! There are many reasons why a boyfriend resume can improve your dating game:
It's surprising: the chances of your crush receiving a dozen boyfriend resumes are slim—it will make you unique!
It offers you a chance to introduce yourself: maybe you didn't really introduce yourself to your crush properly. A boyfriend resume provides an opportunity to highlight your best traits.
It can come in handy: if you keep a few printed versions, you can hand it to people you've just met. Did someone catch your attention in the college library? BAM, put your boyfriend resume on their desk.
It can help with online dating: you can use parts of your boyfriend resume in your online dating profiles instead of something generic.
It makes for a fantastic story: imagine telling your kids in 10 years that you flirted with their mom using a boyfriend resume.
See? Clearly, a boyfriend resume is a key to having that DTR conversation with your crush.
Remember that your boyfriend resume can land you the first date with your crush. Prepare your budget! A 2020 survey shows that an average first date costs $77, with Millennials and Gen Z spending more.
Are you an iPhone user? Yes, it's perfectly possible to make your boyfriend resume on it. Check here: How to Make a Resume on an iPhone
Boyfriend Resume Template
Want an easy boyfriend resume template to fill out with your personal information? Suit yourself!
[Full Name]
[Job Title/Field of Study]
[Picture]
[Phone number]
[Email address]
[Social media accounts]
[Headline: character trait + descriptive word + a remarkable fact about you]
[Resume summary or objective:
Character trait + descriptive word or phrase + your interest. Skilled in (something funny or original). Eager to / Enthusiastic about + what you want to do as their boyfriend. A cool piece of information about you.]
Dating History
[Your Ex's name + Boyfriend/Sweetheart/Partner]
[Place where you lived]
[Dating period]
Relationship achievement
Relationship achievement
Relationship achievement
Relationship achievement
Key achievement:
Education
[Your highest level of education + name of school or institution]
[Years of study]
Skills
Skill
Skill
Skill
Skill
Skill
Skill
Skill
Additional Information
Personality traits, Languages, Volunteering, Interests, etc.
Continue reading as I'll explain in detail what should go into your boyfriend resume.
Pro Tip: Before writing your boyfriend resume, try learning as much as possible about your love interest. Only then will you be able to write a targeted resume. Writing about things they're completely not interested in is a waste of time for you and them.
How to Write a Boyfriend Resume?
Time to do the hard work. But it'll be worth it—once receiving your boyfriend resume, your crush will definitely not leave you on read.
Follow these steps to make a boyfriend resume from scratch:
1. Choose the Best Format for a Boyfriend Resume
In the art of resume writing, there are a few resume formats to choose from: the reverse-chronological format, functional resume, and combination format. I recommend using the first one, as it's the most popular and the least confusing.
Here's how you should format your boyfriend resume:
Start with typical resume contact information: Your full name, the field of study or job title, email address, phone number, and social media accounts. Don't try to hide your socials—your love interest will probably find them anyway.
Pick easy-to-read fonts for a resume: Helvetica, Verdana, and Calibri are the best ones. Set the font size to 11–12 points.
Set one-inch resume margins on all sides and add 1–1.15 line spacing to keep the right balance of text and white space.
Use an up-to-date photo in your resume: while resumes for jobs don't use pictures, adding one to your boyfriend resume will ensure your crush knows who you are exactly.
Keep the length of your resume limited to one page.
Save your boyfriend resume in a PDF or DOC format.
Pro Tip: Your boyfriend resume doesn't need to be black-and-white. Try using your love interest's favorite color! Or use some colorful and creative resume templates to save time.
2. Introduce Yourself with a Boyfriend Resume Summary or Objective
No pressure, but you need to start your resume with a bang. Intrigue them. You can do that by writing a neat resume profile, such as:
You can also write a short resume headline to place on top of your boyfriend resume. Just one sentence summarizing you as a person.
Pro Tip: It's perfectly fine to sell all your best assets, but don't try to catfish your crush. It's better not to pretend to be someone you're not.
3. Add Your Dating History to the Boyfriend Resume
A classic resume for a job includes the work experience section. Your boyfriend resume should consist of a dating history instead. And beware of lying on your resume! Your crush might ask her friends about you and check your online presence. It's too easy to uncover the truth about past relationships, so just be honest.
Here's how to describe your dating history on a boyfriend resume:
Use the reverse-chronological resume order—add your most recent relationship first.
Add a title like 'high-school sweetheart' and your ex's name, along with where you lived and when the relationship lasted.
List your accomplishments in 4–6 bullets, similarly to showing off career achievements on a resume.
Add one key achievement for each relationship.
Not that difficult, right? But what if you haven't been in a romantic relationship before? Easy.
Make a section devoted to your friendships. Just show proof of being a supportive friend and a kind person—these are transferable qualities that matter in all types of relationships.
Pro Tip: If your previous relationships ended on good terms, consider adding references to your resume. Yes, you heard that right. And yes, by references, I mean your previous girlfriends. While the idea of your crush contacting one of your exes may seem scary, offering this option can help build trust.
4. Mention Education in Your Boyfriend Resume
Another classic element of any resume is the education section. Why wouldn't a boyfriend resume have it, too? After all, education can be a valuable piece of information.
Here's how to add education to your boyfriend resume:
Start with your highest qualification, such as a college degree (an unfinished degree can appear on a resume, too).
Add the name of the school or academic institution together with the city and state.
List the years of study or expected graduation year.
Optionally, add a GPA to your resume alongside academic achievements that can show how awesome you are.
If you haven't gone to college, don't hesitate to add your high school to a resume or to list other continuing education efforts.
When making a resume in our builder, drag & drop bullet points, skills, and auto-fill the boring stuff. Spell check? Check. Start building a professional resume template here for free.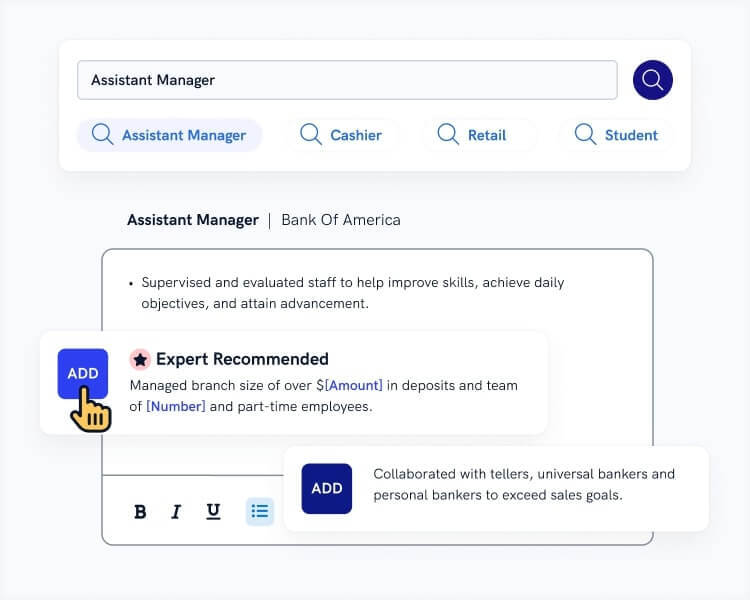 When you're done, Zety's resume builder will score your resume and our resume checker will tell you exactly how to make it better.
5. Make a Skill Section in a Boyfriend Resume
A skill section is a place where you can show off your boyfriend qualities. Typically, it should include a selection of interpersonal skills or people skills. Why? Because these abilities make you a great person to be around.
Follow these steps to make a skill list for a boyfriend resume:
Think carefully about all the important personality traits and soft skills in a relationship.
Make a list of the qualities that you've got.
Think of your crush and try to decide which personality traits and abilities she might expect from a boyfriend.
Select 7–10 key skills to put on your resume.
Check the sample boyfriend resume skill list below:
Boyfriend Resume Skills
Sounds like skills for a job, right? Do you know why? Because a relationship is a full-time job, too.
Pro Tip: You can also make two lists for your boyfriend resume: one with your skills and the other with personality traits. It can be especially useful if you want to highlight valuable abilities, such as handcrafting anniversary gifts or planning memorable dates.
6. Add Extra Sections to Your Boyfriend Resume
You've already done a great job with your boyfriend resume, but it's not finished yet. You can still make it better by adding some extra sections. Putting additional information in your resume will give you a better chance of connecting with your crush.
Here are sample sections you can add to your boyfriend resume:
No matter what you decide to add, make sure to tailor your resume to the person you want to date. There's no point bragging about your passion for video games if your crush hates them.
Do you know how to start a conversation with your crush? If you don't, then it's high time you learned. Check here: Starting a Conversation With Anyone
7. Write a Matching Boyfriend Cover Letter
Congrats—you've completed the last step of writing your boyfriend resume. But hey, that's not the end. Your courtship must continue by writing a matching cover letter.
It won't take too much time if you follow these steps:
Now that your documents are ready, you simply need to deliver them to your beloved. How will you do it? Send your resume via email? Use a drone? Or train a cute puppy to deliver them? No matter what you choose, your crush will love it!
Pro Tip: Most people love a bit of mystery. You can put your boyfriend resume and cover letter in a nice envelope and slip them into your crush's bag, put them in their locker, or leave them on their desk when they're not looking. It'll be less awkward than handing the documents to them and more romantic than sending them via email.
Plus, a great cover letter that matches your resume will give you an advantage over other candidates. You can write it in our cover letter builder here. Here's what it may look like: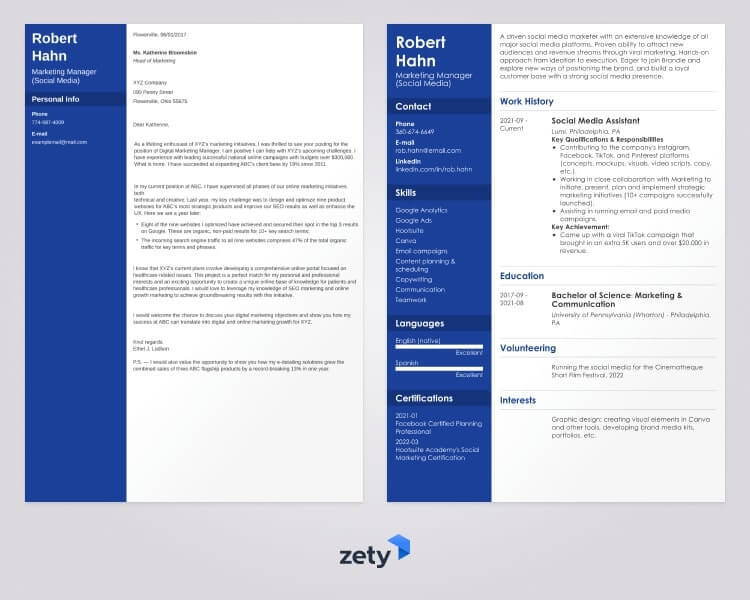 See more cover letter templates and start writing.
Ready to invite your crush over for Netflix & chill? Or maybe you have more questions about writing the perfect boyfriend resume? Let me know in the comments below!
About Zety's Editorial Process
This article has been reviewed by our editorial team to make sure it follows Zety's editorial guidelines. We're committed to sharing our expertise and giving you trustworthy career advice tailored to your needs. High-quality content is what brings over 40 million readers to our site every year. But we don't stop there. Our team conducts original research to understand the job market better, and we pride ourselves on being quoted by top universities and prime media outlets from around the world.