Illustrator Resume: Examples and Guide [10+ Tips]
Your skill with a tablet is beyond compare, and you'd give Maurice Sendak a run for their money. Now prove it with a clean illustrator resume that beautifies your job search.
Thousands of illustrators are looking for work right now. That means your illustrator resume has to dazzle like H. R. Geiger. But you can't do it with a colorfully-designed resume. It'll make you look unprofessional. And that's a problem.
Let me sketch the answer you're looking for. Just read the guide below, and you'll be on your way to becoming the next Hayao Miyazaki.
Want to save time and have your resume ready in 5 minutes? Try our resume builder. It's fast and easy to use. Plus, you'll get ready-made content to add with one click. See 20+ resume templates and create your resume here.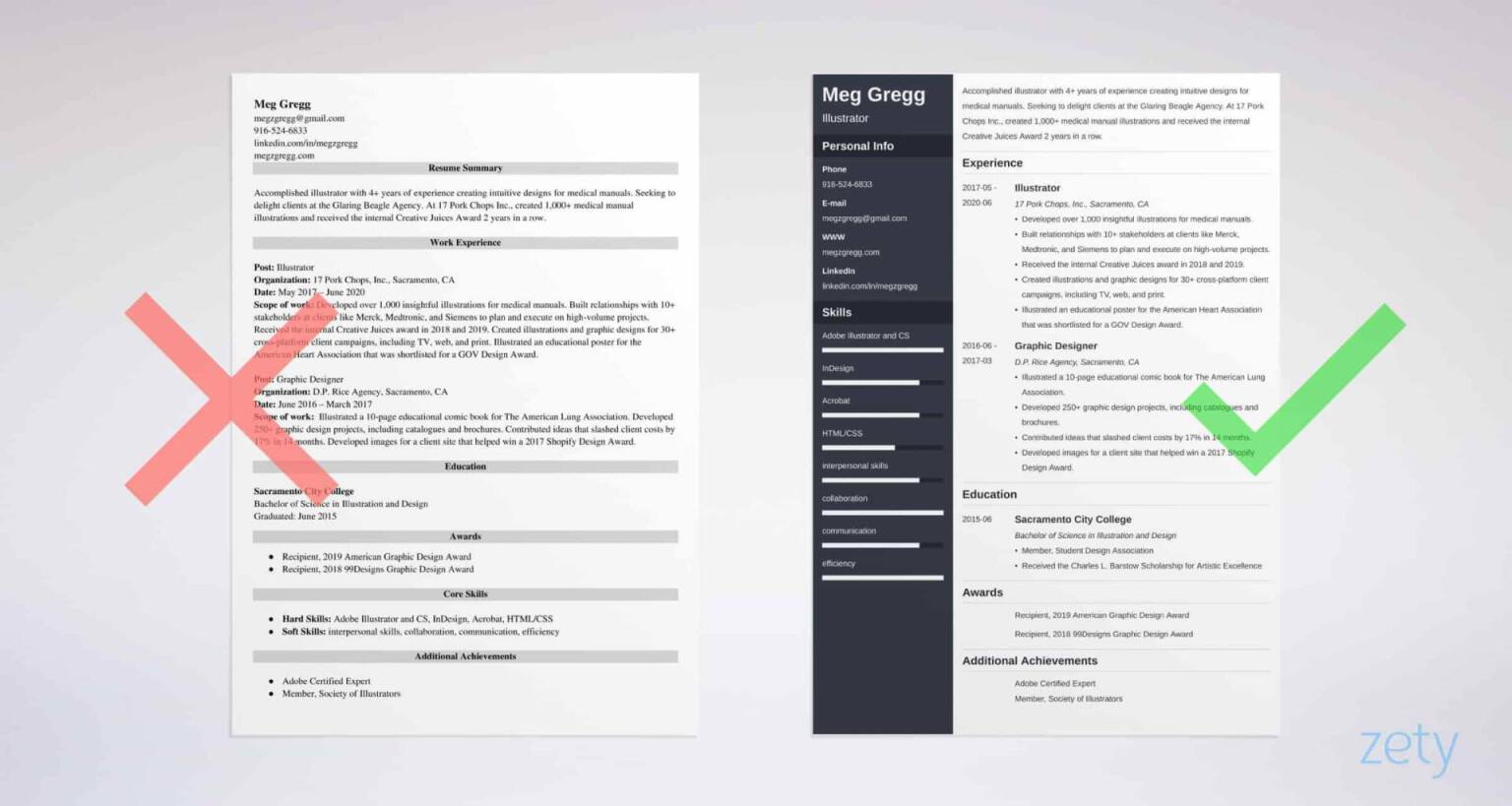 Sample resume made with our builder—See more resume samples here.
Want more creative resume examples? Here you go:
Sample Illustrator Resume Template
Meg Gregg
megzgregg@gmail.com
916-524-6833
linkedin.com/in/megzgregg
megzgregg.com
Resume Summary
Accomplished illustrator with 4+ years of experience creating intuitive designs for medical manuals. Seeking to delight clients at the Glaring Beagle Agency. At 17 Pork Chops Inc., created 1,000+ medical manual illustrations and received the internal Creative Juices Award 2 years in a row.
Work Experience
Illustrator
17 Pork Chops, Inc., Sacramento, CA
May 2017 – June 2020
Developed over 1,000 insightful illustrations for medical manuals.
Built relationships with 10+ stakeholders at clients like Merck, Medtronic, and Siemens to plan and execute on high-volume projects.
Received the internal Creative Juices award in 2018 and 2019.
Created illustrations and graphic designs for 30+ cross-platform client campaigns, including TV, web, and print.
Illustrated an educational poster for the American Heart Association that was shortlisted for a GOV Design Award.
Graphic Designer
D.P. Rice Agency, Sacramento, CA
June 2016 – March 2017
Illustrated a 10-page educational comic book for The American Lung Association.
Developed 250+ graphic design projects, including catalogues and brochures.
Contributed ideas that slashed client costs by 17% in 14 months.
Developed images for a client site that helped win a 2017 Shopify Design Award.
Education
Sacramento City College
Bachelor of Science in Illustration and Design
Graduated: June 2015
Member, Student Design Association
Received the Charles L. Barstow Scholarship for Artistic Excellence
Awards
Recipient, 2019 American Graphic Design Award
Recipient, 2018 99Designs Graphic Design Award
Core Skills
Hard Skills: Adobe Illustrator and CS, InDesign, Acrobat, HTML/CSS
Soft Skills: interpersonal skills, collaboration, communication, efficiency
Additional Achievements
Adobe Certified Expert
Member, Society of Illustrators
Here's how to write your own job-winning illustrator resume:
1. Format Your Illustrator Resume Correctly
You already know how to make things stand out visually. To stand out in your job search, pay attention to resume layouts. Your outline matters, but so do your margins, fonts, line-spacing, and all the other fine details. A clean resume format is a clue to the hiring manager that you're no scribbler.
For a Klimt-level resume:
Read more: Best Resume Types
2. Drop Jaws with a Resume Profile Statement
Why do you need a resume profile? Because you want to get hired. See, hiring pros won't carefully read every word you write. They'll glance around like an adolescent at a Banksy show. To slow their roll, write an introduction for your resume that gets them interested in your skills.
It's a one-paragraph elevator pitch for a job that summarizes your best lines.
If you're making a resume for your first job, make it an objective for a resume. Those focus on what you want to help your next employer do.
Did you get your start before lithography? If so, write a summary for your resume. Add the years you've been an illustrator and the best parts of your resume.
Read more: How to Make a Resume Stand Out
3. Tailor-fit Your Illustrator Job Description
This is going to help you get so many more job offers. Don't write a vanilla illustrator resume with bland accomplishments. Knowing how to tailor your resume sounds daunting, but it's easy, fun, and soooo worth it.
To customize the work experience description on your resume:
Use the job titles in the job ad. (If they're looking for a medical manual illustrator, don't say you were a medical publication illustrator.)
Add your former employer's business name, where they're located and your working years and months.
The magic happens in your bullet points. Write 3 to 6 of them and don't just state your job duties. That's dull and won't get job offers.
List achievements for a resume that show how you pushed company metrics in the right direction.
Tip: "responsible for" and "handled" are terrible words to use on a resume. Better ones are developed, created, and collaborated with.
Job gap? See our guide: Is It OK Not to Include Dates on Your Resume? Date Format
4. Ink In Your Illustrator Resume Education Section
Can you list education on a resume the way it will get you hired? Yes, but only if you do it the right way. You could just list your school, degree, and graduation date. Or you could go the extra millimeter and add proof of your art and soft skills. Guess which method gets more jobs?
Follow these resume tips:
Read more: How to List a Minor and Major on a Resume
5. Prove the Right Illustrator Skills
I know you're itching to show your skill set on your resume, but pump the brakes. Too many job seekers fudge this one. You can't just add a fat list of illustrator skills and expect to get hired. For a recruiter- and ATS-friendly resume you need the key skills from the job ad as resume keywords. Then go back and prove them in your work history.
Here's how to add illustrator skills to a resume:
Seek the right skills in the job posting.
Know the difference between hard skills vs soft skills and make sure to list both.
Circle back to your work history and prove you've used the skills you list. How? With statements like, "Used Adobe Illustrator to create 500+ client designs."
Illustrator Resume Skills
Medical illustration
Fashion design illustration
Children's books
Magazines
Technical illustration
Adobe Creative Suite
Photoshop
Illustrator
InDesign
HTML/CSS
Layout
Adaptability
Pro Tip: There are less than 50,000 illustrator jobs in the U.S. and they're not making any new ones. Spend the time to target your resume even if it feels slow.
When making a resume in our builder, drag & drop bullet points, skills, and auto-fill the boring stuff. Spell check? Check. Start building a professional resume template here for free.
When you're done, our professional resume builder will score your resume and our resume checker will tell you exactly how to make it better.
6. Add Highlights to Your Illustrator Resume
Even if you've got the right illustrator skills and you've proven them, you're not guaranteed a job. Show the employer who you really are with added sections in your resume.
Here's how to make your resume magnetic:
Read more: What Are the Important Sections in a Resume?
7. Write a Cover Letter for Your Illustrator Resume
Is a cover letter important for illustrator resumes? Always. Resume cover pages can show things that aren't on your resume. More importantly, they prove you're not just using LinkedIn's auto-apply feature to spray resumes at job openings you don't fit.
But—
Make your cover letter structure count:
How to start a cover letter. Get attention quick with a grabby opening line. In your first or second sentence, mention their job opening by name.
Highlight a couple of your best illustrator achievements in paragraph two.
How to end a cover letter: Ask if they'd like to meet. Sound too bold? Not if you suggest discussing how your specific illustrator skills can help them.
How long must a cover letter be? Stick to a 3 paragraph minimum and a max of 5 paragraphs. A single page is best.
Read more: Short Cover Letter Examples
Plus, a great cover letter that matches your resume will give you an advantage over other candidates. You can write it in our cover letter builder here. Here's what it may look like: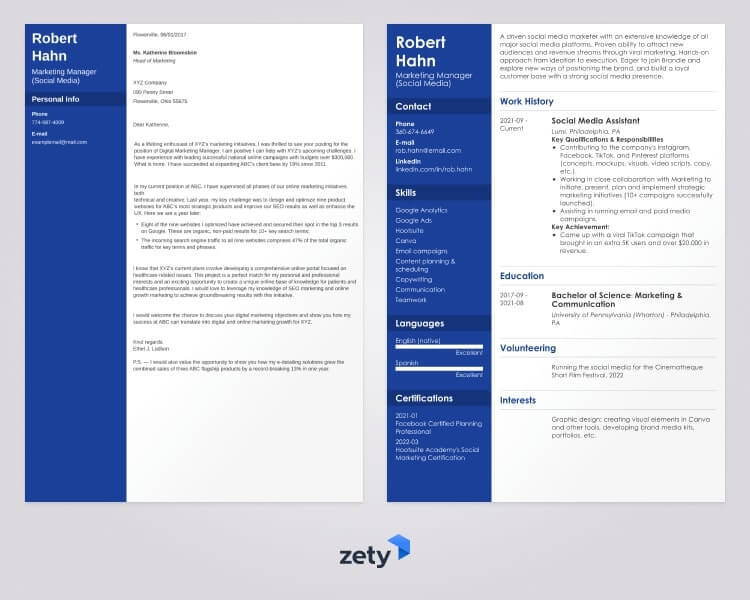 See more cover letter templates and start writing.
That's it!
That's everything you need to write a crisply-drawn illustrator resume!
Thanks for reading! Do you have nagging questions on how to write an illustrator resume that holds the eye? Give us a shout in the comments section!
About Zety's Editorial Process
This article has been reviewed by our editorial team to make sure it follows Zety's editorial guidelines. We're committed to sharing our expertise and giving you trustworthy career advice tailored to your needs. High-quality content is what brings over 40 million readers to our site every year. But we don't stop there. Our team conducts original research to understand the job market better, and we pride ourselves on being quoted by top universities and prime media outlets from around the world.
Sources