Acting Resume Template [+25 Tips & Examples for 2023]
An acting resume or actor's resume (or actress resume) highlights your acting experience and describes your physical appearance. Astonish a recruiter with your rich background now.
Lights, camera, action—the perfect acting resume is about to enter the spotlight. Your drama training is top-notch, and you continuously work on your acting skills. But watching an amazing acting resume example can only help you!

Landing a part is a challenging affair. After all, an actor resume is like a film treatment. Disappoint the recruiter, and your acting resume will be pulled off the desk with a Vaudeville hook. Get it right, and you might soon say, "I'd like to thank the Academy".
This guide will show you:
An acting resume example better than 9 out of 10 other resumes.
Actors resume template with exact formatting guidelines.
How to write an actor resume that will land you more auditions.
Tips and examples of how to craft acting resume special skills.
How to describe your experience on a resume for an actor to get any role you want.
Want to save time and have your resume ready in 5 minutes? Try our resume builder. It's fast and easy to use. Plus, you'll get ready-made content to add with one click. See 20+ resume templates and create your resume here.
Sample Acting Resume—See more resume examples here.
Have a look at some acting-related resume guides here:
Now, here's how to write an acting resume:
Acting resume example
Carla Allmendinger
Actress
123-456-7890
carla.allmendinger@email.com
linkedin.com/in/carla.allmendinger
Summary
Dynamic and exuberant actress with 5+ years of experience in commercials, stage acting, and improv seeking the opportunity to join Stardom Casting Studios. Eager to use my strong communication skills, ability to take direction and deliver memorable performances to produce top-notch results. Won Best Actress Award at 2018 National Arts Festival.
Experience
Acting Coach
Stardust Productions Inc., Grand Island, NE
June 2019–Present
Conduct weekly workshops for actors ranging from elementary school children to adults by teaching them about improvisation techniques, vocal projection, posture control, etc.
Provide feedback on performance during auditions by critiquing actors on their delivery of lines & improvement areas.
Developed resources on script breakdowns & character analysis which is used by teachers & directors during their classes.
Created training material on the psychology of acting and storytelling.
Key Achievement:
Improved audition process efficiency resulting in increased casting success rate from 70% to 85%.
Lead Actress
Elite Theater Group, Grand Island, NE
October 2014 – May 2019
Performed in various stage plays such as Macbeth, Cyrano de Bergerac, The Merchant of Venice and much more.
Led team rehearsals for hitting marks on set while delivering challenging lines with precision and emotion.
Wrote two original short performances that were showcased at an elite theater gala in Chicago.
Key Achievement:
Won Best Actress Award at the 2018 National Arts Festival. ​
Education
Bachelor's Degree in Fine Arts
Ohio State University, Columbus, OH
August 2009-May 2013
Relevant extracurricular activities
Member of Ohio Thespian Society (2009-2013).
Participated in various student productions including A Midsummer Night's Dream (2010), Much Ado About Nothing (2011), Brunch at Bobby's (2012).
Academic achievements:
Honor Roll student all four years.
Recipient of Excellence Award for Best Performance at Quarterly Scholarship Exam (2012).
Skills
Natural talent for memorizing intricate scripts quickly.
Proficient at improvising & ad libbing.
Ability to capture audience attention through gestures & expressions.
Excellent communication skills.
Proven track record of working collaboratively with peers.
Strong work ethics when it comes to meeting deadlines.
Awards
Featured on Broadway World Magazine as "Rising Star", 2017.
Recipient of the National Arts Festival Award for Best Actress, 2018.
Memberships
Member of the Screen Actors Guild (SAG) since 2018.
Languages
English - Native
Spanish - Advanced
Interests
Travel vlogging on YouTube channel (5000 subscribers).
Collecting vintage movie props.
1
Format Your Acting Resume
What is an Actor Resume?
An acting resume is a resume format for actors seeking a role in film, television, theater or other acting media. An acting resume usually includes the actor's headshot and has to fit on a single sheet of paper.
Even more so than your headshot, your actor resume is what shows your casting directors the seriousness that you lend to your craft.
A poorly-formatted resume for acting jobs is just like a bad soap opera, it never makes it to a second season, aka another audition. Don't aim for second tier resume game, aim for number one.
By choosing a respected resume layout like the reverse-chronological format, you'll get to show your past performances under the best light.
Make sure you use clear, legible resume fonts and that stuff aren't crowded: no one wants to read a script that hurts the eyes.
Finally, make sure you save it as PDF so it's compatible with any device it ends up being read on.
What to Include in an Acting Resume Template?
Your resume is as much of an asset as your looks and talents. Whether you're a beginner or a pro, there are guidelines to follow to build the best acting resume.
If you need a clearer picture of an acting resume template, you should include the following sections:
Contact Information
Your Agent's Contact Information
Resume Objective or Resume Summary
Acting Credits
Education
Workshops and Trainings
Special Skills
Awards and Accolades
Additional References (links of past work, testimonials, reviews, etc.)
Your Headshot
To create the best acting resume layout, your resume should be eight inches by ten. The same as your headshot since it gets attached to the back.
As you gain more experience, start to eliminate the amateur credits. Keep in mind that professional credits go first, then your educational credits and then your community theatre credits.
Pro Tip: Just like last looks, getting your resume checked for spelling mistakes is what seals the deal—the perfect take before someone screams "CUT", in this case "RESUME SENT."
Want to see the reverse-chronological format in action? See the free acting resume template above. Also, reference our guides: Best Resume Format: How to Choose the Right One for Your Job [+Templates] and How to Write a Resume.
2
Write an Acting Resume Summary or Resume Objective
Now let's get on with it. If your dream is to be grilled by Ricky Gervais at the Golden Globes then we'll give you the ins and outs of what will help you get there: your acting resume.
The opening of actors cv should always be a resume summary or resume objective. It's what tells your casting directors not to flick through other actors' resumes, it's what sets the stage for what's coming, what peaks their interest enough to want to know more about you.
So how do you know if you should go with a resume summary or resume objective?
A resume summary proves you're ready for the big break, with lots of experience to support your case.
A resume objective is perfect to show your passion and commitment, ideal for resume with no experience.
Check out these two very different acting resume examples (for child actors):
Professional Actor Resume Example (Summary)
right
Talented child actor with over 7 years professional experience in commercial, stage and film acting. Highly-energetic and collaborative team player, accustomed to the most demanding sets such as Game of Thrones. Award-winning theatre performances in Hamilton and Matilda.
wrong
Child actor with extensive experience on set. Talented and nice vocals with roles in Broadway plays and prime time TV shows.
Just like a movie script, that first one tells a compelling story. And you're the lead without any doubt!
Not really besties with The Queen of Dragons? Write an acting resume objective statement.
Acting Resume Example (Objective for an Actor with No Experience)
wrong
Actor seeking breakthrough role. I've had a few appearances in My High School Play and Another Unknown Low Budget Film That Never Aired.
This does look like an awful intro, doesn't it? Instead, follow our resume example for actors with little experience.
right
Passionate actor combining top-rated BFA education and substantial professional work in stage and television acting. Backed by a network of stage and screen contacts and reputation for artistic integrity.
Ok, this does sound a lot better. Like someone we could actually trust with the role of a lifetime.
Pro Tip: Just like drying on stage, writing your acting resume summary or objective can be a nightmare. Leave it last, so you avoid any rushed flubbed lines.
When making a resume in our builder, drag & drop bullet points, skills, and auto-fill the boring stuff. Spell check? Check. Start building a professional resume template here for free.
When you're done, Zety's resume builder will score your resume and our resume checker will tell you exactly how to make it better.
Want more tips to make an experienced or beginner actor resume? See our guides: How To Write A Resume Summary: 21 Best Examples You Will See and +20 Resume Objective Examples - Use Them on Your Resume (Tips)
3
Include a Headshot with a Resume for Actors or Actresses
Attaching your headshot is probably the only time you'll get to tell your casting director to point the camera at the money. Well, sort of…
If you're auditioning for roles in big markets, you don't only want you resume to adhere to the industry format but your headshot too. Otherwise, it just screams "Hey guys, just came in from out of town!"
Photographers in larger markets always stay on top of the current ever-changing trends. The "in" look used to be glossy 8x10 borderless close-ups, then it was thumbnails with all the online casting frenzy, and now it's...well, your best bet is to ask around in your local market.
You want to be really sure of the current requirements and references of casting directors.
And I mean really sure.
Don't go with a photographer from out of town, your headshot will just seem off and you don't want to be flagged as a newbie right of the start.
You only get one shot at a first impression, so make it count to get in the room.
Adding a Headshot to an Acting Resume
Your resume and headshot for acting gigs should be attached, back-to-back. You may do this using staples at all 4 corners or glue, or you may print your resume on the back of your headshot. Don't even think about using a paper clip to attach them, they'll just end up separated.
Pro Tip: If you choose to print your resume on the back of your headshot, make sure you print it in small quantities so you don't end up with good quality photos printed and wasted when you want to update your resume. You don't want to throw good shots in the trash!
4
Describe Your Experience on an Acting Resume
It's said that drama is based on the Mistake. An effective resume that gets you the acting job you've been drooling on, is based on accuracy. Acting requires adapting your skills to a certain role or character. Listing your acting credits is too.
Remember to group credits together by category. Let's say you're auditioning for a theatre play, then list your theatre credits first. Don't worry so much about chronological order.
Within each category, put your most impressive acting credits first. Don't bother mentioning dates of credits as it's not the custom.
Here's how to list your acting credits on an audition resume:
Acting Resume Template with Experience
wrong
Actor
Hamlet
2013-2014
Played Laertes in the Hamlet production in Gotham Film Festival
Worked with Award Winning Director John Snow
Assisted the cast with various activities
right
HAMLET Laertes Gotham Film Festival (John Snow, Director)
New York, NY
This is where it all seems confusing. When it comes to acting resume for experienced actors, no casting director cares if you helped the lighting crew or you show great team work skills. At least, not in writing. So don't get too wordy in providing details.
The industry norm is to use columns to list the play title, the role played (character's name), theatre company, and director. You may also wish to list the city and state where the play was produced (especially if it was outside of your current state.)
If you're still fresh blood, and have very little actual credits, don't panic! You may list scene work from acting classes.
Here's a beginner acting resume template:
Acting Resume Template with No Experience
right
HAMILTON Angelica Rambo Drama Workshop
(dir. Sylvester Stallone)
If you're more into NCIS and Law & Order, that's fine too. Using columns, you can list the show or film title, role type, production company and director.
Film Acting Resume Sample for Experienced Actors
right
BOSTON FIVE-O supporting Tasty Shrimp Productions,
LLC (dir. Steve McGarett)
Film and Television Resume Sample for Beginner Actors
If you're still not very familiar with car chasing scenes and have still to appear in a catchy show featuring sleepy cops sipping bad coffee, you can list scene work from acting classes.
right
scenes from SEINFELD lead Advanced Acting for Film Class (dir. Susan Ross)
If you've worked closely with a well-known actor, you may include their name following the project title. For example:
right
THE WILD WEST (w/Robert de Niro) supporting GF Pictures Inc. (dir. Louis Dreyfus)
As you earn more credits and you progress in your acting career, you'll want to create multiple acting resumes targeting specific industries or types of jobs.
If you're a beginner actor, you may need to put all your credits into one category, theatre. If you're more experienced, you'll want to separate credits into different categories:
Broadway
Off-Broadway
Regional Theatre
Shakespeare
Musicals
Etc…
Same goes for Film. Resumes of actors with very little experience might include only Film as a stand alone category, but more experienced actors can organize their credits into:
Feature Film
Short Film
Documentary
TV Series
TV Movies
Soaps
Etc...
Finally, let's not forget the rule of honor: you don't need to list the name of the character you played.
Instead you can list the role type. Below is a list of film role types for your acting resume:
Speaking Roles to Include in your Professional Acting Resume:
Lead: female or male, protagonist or antagonist, most important character in the show or movie.
Principal: with recurring scenes opposite lead to progress storyline.
Supporting or Day Player: usually limited to no more than a few lines.
The Voice-Over Artist: unseen person who does the voice-over.
Non-Speaking Roles To Include in your Professional Acting Resume:
Featured: non-speaking, to lend credibility to a scene (driver, bartender, SWAT team, etc.)
Extra: generally used to liven up a scene (pedestrians, office worker, audience member, etc.)
Stunt Performer: specialist actor who performs stunts.
Stand-In: same physical properties of an actor, and takes the actor's place during the lengthy setup of a scene.
Body Double: usually, body doubles are used for shots requiring nudity or depictions of physical fitness.
Stunt Double: performer who specifically takes the part of another actor for a stunt.
Pro Tip: Consider removing high school (or community theater) credits once you're in an undergraduate program. Then, remove college credits after the first couple of years of professional work.
Want some tips to custom-fit your professional actor resume? See our guide: 6 Tips on How to Tailor Your Resume to a Job Description (Examples)
5
Mention Education Section in Your Actor CV
You're an actor. You don't need an education nor do you need to mention it. That my friend, can't be further from the truth. You have to mention any formal education and training in your acting resume.
Just like a man-maker, your education section is here to give you the extra height in the eyes of the casting director. Especially when you have little to show for in terms of acting credits.
New actors, I'm looking at you!
Start your education section with the basics:
College Name and Location.
Years in School.
Degree.
This is the only section in your actor resume where you need to mention dates. Then add details that show your acting chops.
Acting Resume Education Section
wrong
2010-2014, BA in Film Studies
New York University, New York
Received Degree in Arts
Took acting and filmmaking classes
GPA 3.5
This is very second tier isn't it. Add a few details and we're back at Number One status, with all the glam squad cheering you.
right
2010-2014, BA in Film Studies
New York University, New York
Pursued my passion for film directing and acting
Won "Best Short Movie Award" in NYU's Student Film Competition
Starred in four college theatre productions
Passion and engagement is what transpires from this. Number One, indeed!
If you don't have a formal college education, include any:
Acting-related workshops
Seminars
Ongoing studio classes
Masterclasses
Private coaching received outside of a university setting.
You may also include training in related fields such as music, singing, dancing, martial arts, stunts, or any other. Make sure you're specific. Accuracy is key!
You might also want to add further training even if you went through a formal acting related college education.
Pro Tip: To make your acting resume shine brighter, list well-known studios, teachers, or coaches with whom you've studied. You can also include the number of years you trained in a particular area, technique, or discipline.
Make your acting resume less Kim Kardashian and more Clint Eastwood with our guide: How to Put Your Education on a Resume [Tips & Examples]
6
Put Special Skills to a Resume for an Actor
As an actor, you must have a good understanding of what responsibilities come with the role you're targeting. Past experiences may have already helped you in that endeavor, but it's important to look and recognize those nuances that come with different roles at different levels.
When writing your resume for acting jobs, honesty is your friend. Casting directors rarely torture actors into proving every skill they mention but beware of a long list of quirky special skills that you can't execute.
Stunt doubles are meant for the actual movie, not the audition… Don't simply list hobbies.
Accents and dialects are tricky but good ones to have. Don't include them unless you have received proper training. Watching the British version of The Office doesn't count as proficient in the English accent! Stretching the truth will only question your integrity and put you in trouble.
Read the role requirements and specs and list the most important skills in a special section of your actor resume. You need to prove you fit the role's requirement like Spider Man's suit!
When you're an actor, and specifically an actor without experience, you need to find ways to stand out. So, let's roll with the actor resume skills list below.
Find moreacting resume special skills online, and search your work history for others.
Examples of Acting Resume Skills
Accents
Combat Training
Level of Fitness
Singing
Fluency in another Language
Dancing
Musical Instrument
What if Channing Tatum couldn't dance or Olivia Munn wasn't fluent in Japanese? None of the roles that launched their careers would've been realities for them.
So make sure you highlight and cultivate your unique special skills, and keep an eye for projects that can skyrocket your career for what makes you different.
Pro Tip: Don't get cheeky. Stay professional at all times. Sun tanning, shopping, or kissing are not special skills.
Want to make your skills section Oscar worthy? Use the acting resume template at the top of this guide. Also, use this article: +30 Best Examples of What Skills to Put on a Resume (Proven Tips)
7
Add the Award Section to an Actor Resume
Awards are nice. Especially if you're one of the lucky ones to go home with a fancy goodie bag. So how do you know which awards to include and which ones belong in the trash?
Steer away from social media driven awards that are driven by actors begging friends and family to vote for their performances (possibly never seen by the majority of voters.)
Only mention awards where voters are industry peers vetted for professional related experience and credentials.
Here is a list of U.S. Acting Awards to include on an Actors Resume:
Academy Award
Emmy
TONY
Golden Globe
Drama Desk
Drama League
Outer Critics Circle
Obie
Lucille Lortel
Grammy (Only for a spoken, solo recorded performance of a role.)
Here is a list of Regional Acting Awards to include on an Actor Resume:
Joseph Jefferson (Chicago)
Ovation (Los Angeles)
Carbonell (Florida)
Helen Hayes (Wash, DC.)
Barrymore (Philadelphia)
Elliot Norton (Boston)
IRNE (New England / Boston)
Ivey Awards (Minneapolis – St. Paul)
Kevin Klein (St. Louis)
If the award is prominent, it's advised to place it directly under the related credit in italic in your professional acting resume. This way, it's not overlooked by the casting director.
Let's go back to one of our examples.
Acting Resume Example (Awards)
right
HAMLET Laertes Gotham Film Festival (John Snow, Director) New York, NY
(Best Actor, Play - Carbonell)
Pro Tip: High school acting awards are just borderline offending to demanding casting directors. So if you don't have a prominent accolade, please don't bother mentioning any!
If you're writing a beginner actor resume, you can add a hobbies section. Nobody does it, but it works so well. See our guide: +20 Best Examples of Hobbies & Interests To Put on a Resume (5 Tips)
8
Write a Cover Letter to Add to Your Acting Resume
"No actor needs a cover letter to get casted." Plus, according to the BLS, the job outlook for actors is way better than most jobs, and the average salary is at 44k.
I hate to break it to you, but if you're a beginner actor, you do need a cover letter. To ace your audition, your good looks and great acting skills aren't enough.
If you don't have any agent, and don't know any industry professionals, it still is essential to introduce yourself by submitting a headshot and resume. With any submission, you should also write a short cover letter.
Don't start your letter with the fact that you're an actor. Who else would send them a headshot with an acting resume? Skip the obvious and go straight to major roles you played and prominent actors you've played with.
Bonus points for talking about your type and brand: spy, college guy, girl next door, etc… It shows you're savvy and know how to get cast.
Plus, a great cover letter that matches actors resume will give you an advantage over other candidates. You can write it in our cover letter builder here. Here's what it may look like: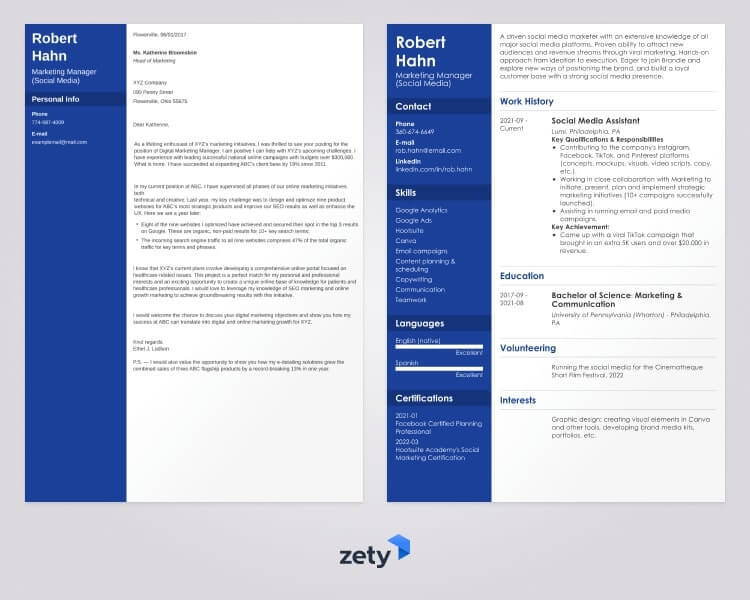 See more cover letter templates and start writing.
Make sure they get a clear picture of your past experiences but also where you're headed next. What are your projects and what are your aspirations. Let them know and let you passion transfuse from your writing.
If you believe in yourself, there is no reason they won't believe in you!
Pro Tip: Don't threaten to call your agent to follow up. Instead, send them a note reminding them that you sent your headshot and resume for consideration. If you tell them you're booking work, they'll respond.
Need more help for your all-star actor cover letter? See our guide: How to Write a Cover Letter for a Job & Acting Cover Letter [with Examples]
Key Takeaway
Even when you've got creative chops under your sleeves, writing your own actor resume can be challenging.
It really helps to have a superstar resume so keep in mind these last recommendations:
Don't bother listing your physical stats like hair and eye color, height, skin tone, etc...All of that any casting crew can see. If you're working with an agent, ask about their preference.
Listing personal websites or Youtube videos of performances is absolutely fine and sometimes even required, but don't go overboard with the links!
Before your audition, refresh your memory by reading your acting resume. You don't want to forget names or confuse directors.
Type "Represented by," followed by your agent's name and the agency name, two lines under your name. Typically this is at the very top of your acting resume. Then, type your agent's contact info. Double check, it would be a shame to miss out on a role because of a typo!
Writing an inexperienced talent resume? Proud parent of a child actor extraordinaire? Wondering how to put acting experience on a resume for a different job? Give us a shout out in the comments!
About Zety's Editorial Process
This article has been reviewed by our editorial team to make sure it follows Zety's editorial guidelines. We're committed to sharing our expertise and giving you trustworthy career advice tailored to your needs. High-quality content is what brings over 40 million readers to our site every year. But we don't stop there. Our team conducts original research to understand the job market better, and we pride ourselves on being quoted by top universities and prime media outlets from around the world.