Video Producer Resume: Examples & Writing Guide
You're an organizational pro who always meets deadlines on video production projects. But is your resume just as well-rounded as your portfolio?
Are you ready to learn how to improve your video producer resume in just 7 simple steps?
Who am I kidding, of course you are, you were born ready to conquer the film industry—and what an industry it is!
The filmmaking industry sees absolutely staggering growth and competition, so it's no surprise that breaking into it is about as tough as it gets. And you don't even get a stunt double!
So—
Best make sure your resume checks all the boxes.
It's Showtime!
This guide will show you:

A video producer resume example better than 9 out of 10 other resumes.
How to write a video producer resume that will land you more interviews.
Tips and examples of how to put skills and achievements on a video producer resume.
How to describe your experience on a resume for a video producer to get any job you want.
Want to save time and have your resume ready in 5 minutes? Try our resume builder. It's fast and easy to use. Plus, you'll get ready-made content to add with one click. See 20+ resume templates and create your resume here.
Sample resume made with our builder—See more resume examples here.
While you're here, feel free to look at guides for other positions on the movie set:
Video Producer Resume Example
Patricia Frankiln
Video Producer
606-545-6343
Patriciafranklin86@ymail.com
Linkedin.com/in/patriciafranklin
Resume Summary
Dependable video producer with 5 years of work experience in running production processes from start to finish. At GHC Media, reduced budget expenses while still providing top-of-the-line product quality. Excellent at client acquisition: freelance career working with 70 clients, with 98% customer satisfaction for outstanding quality video projects of various lengths. Seeking to apply my skills towards making every project at GHS Studios a complete success.
Professional Experience
Freelance Video Producer
January 2015–June 2018
Successfully stuck to client budget limitations 100% of the time.
Produced over 350 videos yearly.
Contracted on retainer with ZGCorp, a Fortune 100 company, to create their promotional and training video content.
Maintained on average a 12% client base growth year on year through online and word-of-mouth recommendations.
Video Production Assistant
May 2013–November 2014
GHC Media, Dallas, TX
Responsible for running company's YouTube channel with over 350 thousand subscribers.
Collaborated with lead video producers to set up studio, cameras, lights and audio prior to every shoot.
Commended 20+ times for elegant and effective video editing methods.
Education
Bachelor's Degree in Contemporary Arts & Film
University of Dallas, Irving, TX
Graduated: 2013
Skills
Adobe CC Suite
Sony, Canon, and Nikon filming equipment operation
Audio engineering
Budgeting
Leadership
Impeccable attention to detail
Stress management
Hobbies and interests
Running a personal photography blog with 5,000+ followers.
Uploading video editing and videography tutorials to YouTube (12,000 subscribers to date).
Here's how to create a star-studded video producer resume:
1. Format Your Video Producer Resume Correctly
Video producers manage every stage of video production, from pre- to post-processing. Depending on the project scope, they may also dabble in the video or audio editing. A successful video producer resume should show relevant technical abilities, as well as excellent organizational skills.
Speaking of organizational skills—
You can start showing them straight away by structuring your resume the right way.
A structured approach is key for a smooth-sailing production process, and it's no different when it comes to writing a job-winning resume.
Follow these exemplary resume formatting rules to get your breakthrough:
Last but not least:
Time management is essential in the industry. So, keep an eye on your resume length—
How many pages should a resume be? For the vast majority of video producers, the answer is one page. Two-page resumes are reserved for those who've spent 10+ years on sets and have tons of achievements to share.
Read more: How to Make a Resume: Full Guide with Examples
2. Introduce Your Assets with a Video Producer Resume Objective or Summary
Think about it like this:
To get that dream producer job, you can't play your latest commercial, film, or animation in full.
You have to get them hooked with a snappy showreel.
Incidentally, this is exactly what has to happen with your resume, too.
If you're no stranger to a film set, write a strong resume summary. In it, describe your career highlights and aspirations for the future. Using numbers will help you keep the reader's attention once you grab a hold of it.
Writing a resume with no experience as a video producer? No worries! Opt for using a resume objective instead of a summary. While it still includes numbered achievements, it puts more focus on transferable skills from outside the industry to demonstrate how you'd still be a valuable asset.
Pro Tip: No matter which option you choose, try to make your resume introduction sound as if you're doing something for the company, not the other way around. Otherwise, you may come off as too self-interested.
3. Show off Your Portfolio in a Video Producer Resume Work Experience Section
Your resume needs to have that Titanic effect. But not in the "sinking ship" way, rather the "outstanding motion picture" way.
The resume work experience section is the key to your success, so follow this advice carefully:
Pick the reverse-chronological format, meaning your most recent job goes first, with others following suit.
Each entry needs to include your professional title, company name, and dates worked.
Describe your professional accomplishments and key tasks in up to 6 bullet points. Use numbers once again to get an even higher rating from your critics.
Action words are helpful to keep the recruiter thrilled as if they were about to win an Academy Award, so use them to your advantage!
By far the most critical tip to be given for this section is to tailor your resume. It can put you head and shoulders above your competition if done wisely.
Read more: How to Create Effective Bullet Points for Your Resume
4. Amp up the Action in Your Education Section
Sure, it may not be the most important component of your resume.
But it's just as likely that your resume education section could be the deciding factor in you getting hired.
This is how to do it:
When making a resume in our builder, drag & drop bullet points, skills, and auto-fill the boring stuff. Spell check? Check. Start building a professional resume template here for free.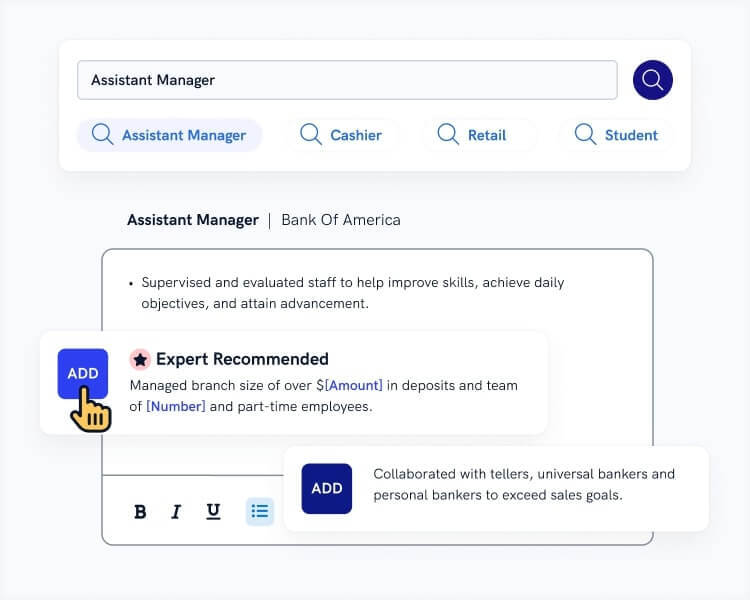 When you're done, Zety's resume builder will score your resume and tell you exactly how to make it better.
5. Demonstrate You Have the Right Video Production Skills
There's no room for slackers in the film industry. There are millions of dollars on the line, and one screw-up could cost a lot of people a lot of money.
Your skills need to show you're dependable and equipped with nerves of steel.
Plus, never forget there's fierce competition for each position. Though there's a 10% projected increase in producer jobs, that doesn't mean there won't be dozens of skilled professionals vying for each and every one of them.
So, don't just Google "video producer skills" and throw them in like extras. Do this instead:
Below is a sample list of video producer skills rivaling those of Hitchcock himself:
Video Producer Resume Skills
Production management
Audio engineering
Marketing strategies
Adherence to specifications
Planning shoots
Adobe Creative Cloud (Photoshop, Premiere Pro, Final Cut, Lightroom)
MS Office
Video editing
Working under pressure
Read more: 99+ Professional Skills You Can Put on Your Resume
6. Add Bonus Sections to Your Video Production Resume
So far, you've got a Sunday afternoon reruns-level resume, if you've been following the advice above.
How can you turn it into a prime-time show?
By adding unique sections that make you stand out among the crowd (or studio audience, if you will).
Pro Tip: According to this report from the UK, around 50% of all people employed in film are freelancers. So, if you've previously been opposed to freelance work and pursued only studio contracts, it may be time to reconsider.
7. Write a Cover Letter to Go with Your Video Producer Resume
Cover letters? In the movie industry?!
Yes, yes indeed.
A cover letter will, on average, make or break your application 40% of the time. This is because some recruiters won't budge if you don't send them one.
Here's how to write a cover letter that's bound to impress the critics:
Plus, a great cover letter that matches your resume will give you an advantage over other candidates. You can write it in our cover letter builder here. Here's what it may look like: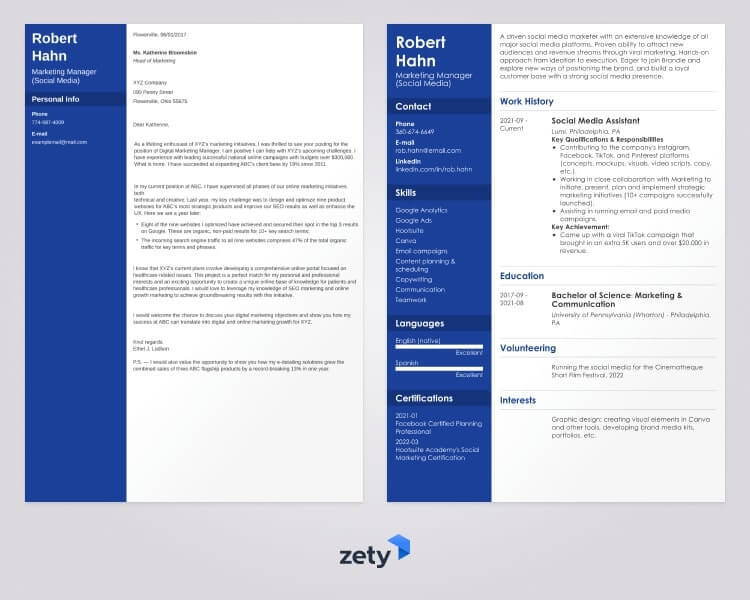 See more cover letter templates and start writing.
Presto!
That is at least 90% on Metacritic.
Thanks for reading. Did we miss out on any crucial details? Are you still unclear on ways to talk about work experience in your video producer resume? Our experts would love to help, just give us a shout in the comments!