Videographer Resume Template & Guide (20+ Examples)
You've got an eye and you know how to use it. But how do you convince employers and get jobs? Use this sample videographer resume to work it like the Russo Brothers and get hired.
Why would a videographer need a PDF resume?
I can answer that question easily—to pass the initial stage of recruitment. The first ones to see your videographer resume will be either an ATS or someone from HR. The former won't understand the video format, and the latter won't have time to watch.
That's why you need an HD videographer resume that shows a 360 of your skills. Follow our guide and build a resume that will look as good as your videos.
This guide will show you:
A videographer resume example better than 9 out of 10 other resumes.
How to write a videographer resume that will land you more interviews.
Tips and examples of how to put skills and achievements on a videographer resume.
How to describe your experience on a resume for a videographer to get any job you want
Want to save time and have your resume ready in 5 minutes? Try our resume builder. It's fast and easy to use. Plus, you'll get ready-made content to add with one click. See 20+ resume templates and create your resume here.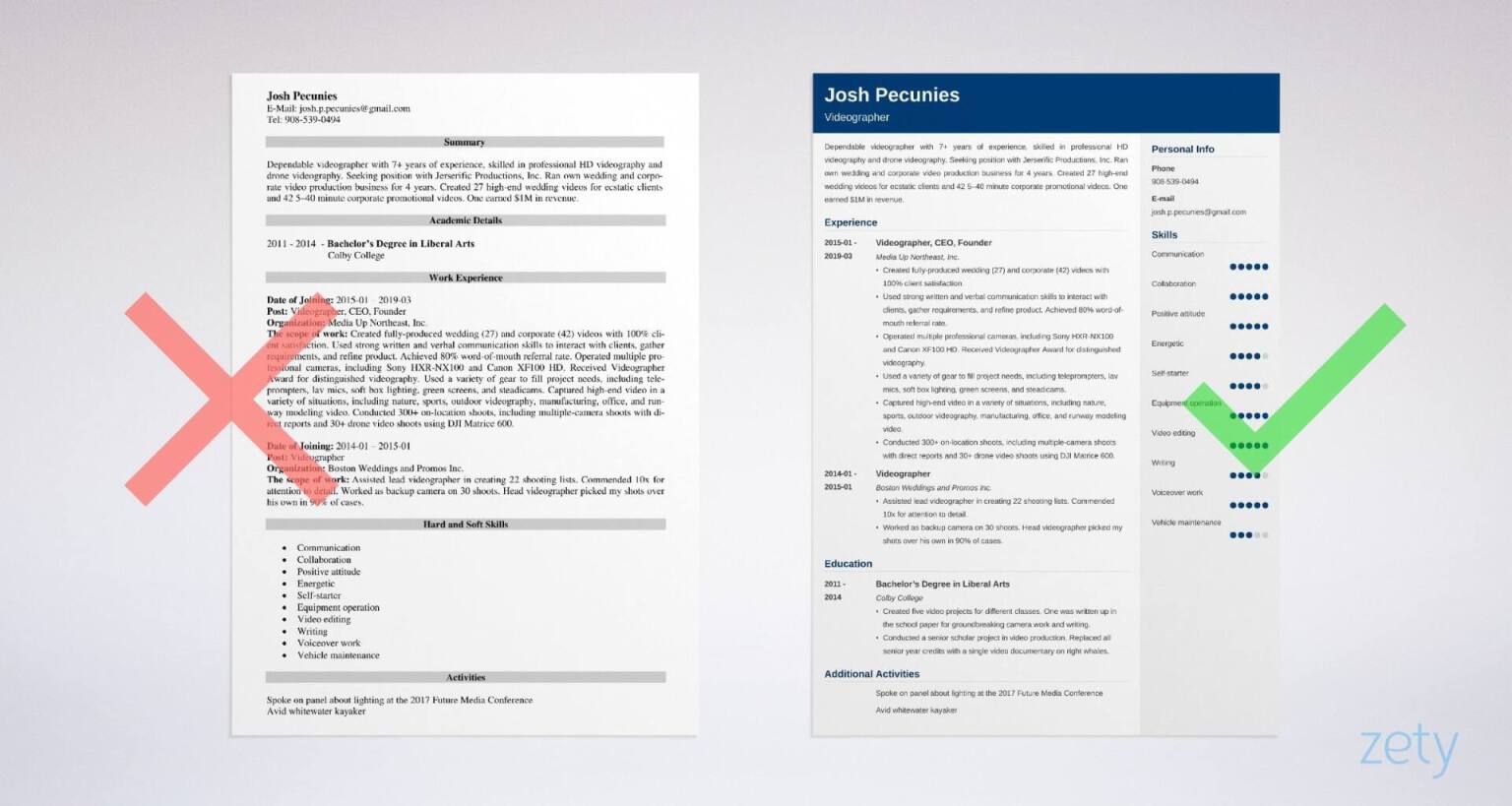 Sample Videographer Resume—See more resume examples here.
Do you need just a video production resume? What about your other talents? See these guides:
Sample Videographer Resume Template
Josh Pecunies
josh.p.pecunies@gmail.com
908-539-0494
Professional Summary
Dependable videographer with 7+ years of experience, skilled in professional HD videography and drone videography. Seeking position with Jerserific Productions, Inc. Ran own wedding and corporate video production business for 4 years. Created 27 high-end wedding videos for ecstatic clients and 42 5–40 minute corporate promotional videos. One earned $1M in revenue.
Work Experience
Videographer, CEO, Founder
Media Up Northeast, Inc.
Jan 2015–March 2019
Created fully-produced wedding (27) and corporate (42) videos with 100% client satisfaction.
Used strong written and verbal communication skills to interact with clients, gather requirements, and refine product. Achieved 80% word-of-mouth referral rate.
Operated multiple professional cameras, including Sony HXR-NX100 and Canon XF100 HD. Received Videographer Award for distinguished videography.
Used a variety of gear to fill project needs, including teleprompters, lav mics, soft box lighting, green screens, and steadicams.
Captured high-end video in a variety of situations, including nature, sports, outdoor videography, manufacturing, office, and runway modeling video.
Conducted 300+ on-location shoots, including multiple-camera shoots with direct reports and 30+ drone video shoots using DJI Matrice 600.
Videographer
Boston Weddings and Promos Inc.
Jan 2014–Jan 2015
Assisted lead videographer in creating 22 shooting lists. Commended 10x for attention to detail.
Worked as backup camera on 30 shoots. Head videographer picked my shots over his own in 90% of cases.
Education
2010–2014 Colby College
Bachelor's Degree in Liberal Arts
Created five video projects for different classes. One was written up in the school paper for groundbreaking camera work and writing.
Conducted a senior scholar project in video production. Replaced all senior year credits with a single video documentary on right whales.
Skills
Soft skills:

Communication, collaboration, positive attitude, energetic, self-starter

Hard skills:

Equipment operation, video editing, writing, voiceover work, vehicle maintenance
Activities
Spoke on panel about lighting at the 2017 Future Media Conference
Avid whitewater kayaker
Here's how to write a videographer resume that gets jobs:
1. Choose the Best Format for Your Videographer Resume
A sloppy videographer resume signals you do sloppy work.
Stand out like Scorsese instead with these template tips:
Pro Tip: Not sure how many paragraphs to make a resume for videography jobs? Keep it to a single page unless you've got more accomplishments than Spielberg.
2. Write a Videographer Resume Objective or Resume Summary
Here's the bad news:
They probably won't read your videography resume.
So—grab them fast with a little "trailer" for your job search movie.
I'm talking about a resume professional profile.
If you've got over two years of experience, make it a resume summary. Write 3–4 sentences with a few key skills and eye-burning achievements.
Are you entry-level? Write a professional resume objective. Those keep a hard focus on your skills. But they add transferable achievements from non-videographer jobs.
Pro Tip: Wait until you finish the rest of your resume to write your videographer resume profile. Doing it first is like making a preview before you've shot the footage for the movie.
3. Create the Perfect Videography Job Description for Your Resume
Here's the good news:
They'll believe you can do it if you already have.
So, tailor your resume to the job. To do it, make your videography resume experience section look like the job ad.
Put your latest job first.
Give it a common job title, company name, and dates you worked.
Sock in 3–5 bullet points with achievements that match what they want.
Tack on numbers to show your accomplishments are Tarantino-sized.
Start your bullets with power words to keep the hiring manager from nodding off.
Pro Tip: List the most bullets with your most recent videography jobs. Your work experience should look like an inverted pyramid. It should have less bullets toward the bottom.
4. Write a Videographer Resume Education Section That Sells
You don't really need education to be a great videographer. Wes Anderson and Terry Gilliam were both dropouts. But—
Your education resume section can be why they hire you.
If you do it right.
Just trot out more golden achievements:
List school accomplishments that show you were into videography way back when.
Can't show videography skills from school? Show transferable skills like collaboration or communication.
Add your GPA if it was high or recent.
Add sports teams or clubs to show teamwork.
Pro Tip: In an entry-level resume for videographer jobs, you might not have much experience. If that's you, break your education into projects, classes, and achievements like a list of jobs.
5. Highlight Your Videographer Skills
Use this video producer resume skills list in your resume:
Videographer Resume Skills
Hard Skills:
Shooting
Action videography
Outdoor videography
Nature video
Sports videography
News videography
Writing shooting lists
Writing video scripts
Video editing
Photoshop, Adobe Premiere
Skills operating specific professional video cameras
Planning shoots
Interacting with video clients
Video requirements gathering
Soft Skills:
Collaboration
Driving
Physically fit
MS Excel
Organization
But don't just cut those resume skills into your videographer resume. Zero in on a few the job ad wants.
So:
Pay attention to the skills in the videography job ad
List both soft skills & hard skills.
Show a videography achievement to prove each one.
Pro Tip: Is your experience kind of in the storyboarding stage? No problem. Show transferable work skills you built while working non-videographer jobs.
When making a resume in our builder, drag & drop bullet points, skills, and auto-fill the boring stuff. Spell check? Check. Start building a professional resume template here for free.
When you're done, our free resume builder will score your resume and our resume checker will tell you exactly how to make it better.
6. Add Other Sections to Your Videographer Resume
Want some powerful advice?
The more job achievements in your videography resume that prove key skills—
The more interviews you'll get.
You've already stuffed your work experience and education sections with accomplishments.
Now add more sections with even more big "wins."
You can add resume sections about:
Activities
Conferences
Publications
Awards & Honors
Professional associations
Whatever "extra" sections you pick, make sure to pack them with proof of skills.
Pro Tip: Already got a one-page resume without any "extra" sections? Your videographer resume might not need extra. Only add them if they show something jaw-dropping.
7. Attach a Cover Letter to Your Videographer Resume
It's true.
You do need to make a cover letter.
Almost half of all recruiters insist on them.
If it's not generic, it could even land the interview.
Here's how:
Pro Tip: Always follow up on your application and videographer resume. The hiring manager who forgot about you might remember you're the best one for the job.
Plus, a great cover letter that matches your resume will give you an advantage over other candidates. You can write it in our cover letter builder here. Here's what it may look like: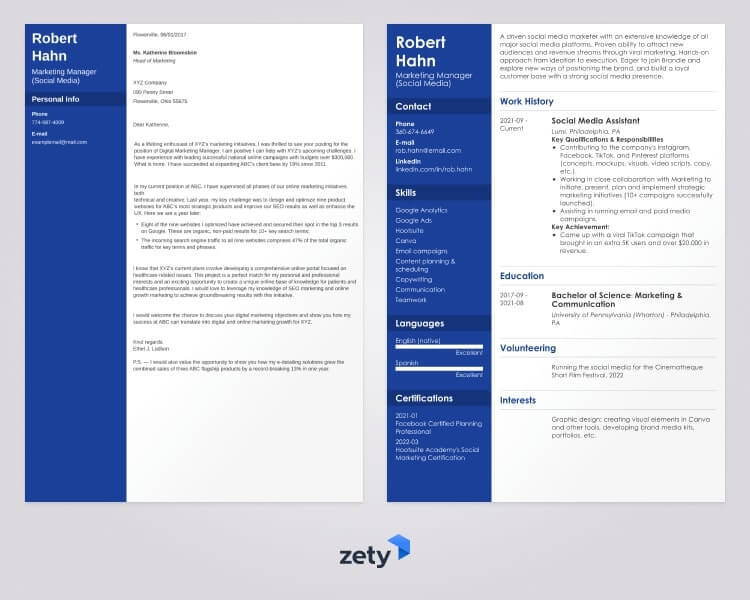 See more cover letter templates and start writing.
That's it!
That's how to write a resume for videographer positions.
Still got burning questions on how to write a professional videographer resume? Did you write a standout resume yourself and want to share your story? Give us a shout in the comments. We'd love to talk!
About Zety's Editorial Process
This article has been reviewed by our editorial team to make sure it follows Zety's editorial guidelines. We're committed to sharing our expertise and giving you trustworthy career advice tailored to your needs. High-quality content is what brings over 40 million readers to our site every year. But we don't stop there. Our team conducts original research to understand the job market better, and we pride ourselves on being quoted by top universities and prime media outlets from around the world.