Research Associate Cover Letter: Example & Guide
You're an insightful and brilliant researcher of your object of study, but feel out of your depth with writing a research associate cover letter? We're here to help.
You're a quick read away from discovering the formula for a perfect research associate cover letter.
And good for you—
You're brimming with passion for your object of study, that's always a plus!
But how do you sell that to the recruiter? How can you make sure they know, even more deeply than Einstein did, the promise you show is worth granting you the position?
I'll tell you one thing:
It starts with an idea.
…and a properly written, doubt-refuting cover letter.
This guide will show you an inspiring research associate cover letter sample. Then, we'll discuss the theory of writing a great cover letter so that you can reproduce these results for yourself.
Want to write your cover letter fast? Use our cover letter builder. Choose from 20+ professional cover letter templates that match your resume. See actionable examples and get expert tips along the way.
Sample cover letter for a resume—See more cover letter templates and create your cover letter here.
Check out similar cover letter guides below:
Want to explore your options further? See our full selection of cover letter examples for every career: Best Cover Letter Examples
Research Associate Cover Letter Sample
Willie Wingate
Research Associate
3251 Nicholas Street
Topeka, KS 66607
785-285-2974
W.wingate@cmail.com
Linkedin.com/in/williamwingate
Topeka, 20/07/2018
Dr. Drew Rodriguez
Head of Linguistics Research Department
New York University
10 Washington Place
New York, NY 10003
Dear Dr. Rodriguez,
Joining your neurolinguistics team as a research associate is an incredibly thrilling opportunity. Having already completed my undergraduate degree, I've acquired plenty of knowledge and experience which I'm eager to leverage as part of your team. I'm happy to report that one of my past research projects, delving into the phenomenon of aphasia, won a grant for over $30.000. I believe I could help you and your team achieve even greater things.
When I was working on research projects in the general field of psycholinguistics, my studies were primarily focused on language acquisition, language attrition, and neurodegenerative diseases. All of this has opened my eyes wide and contributed greatly to my growth as a researcher, and allowed me to go as far as winning the National Science Foundation 2nd place award in 2016.
My other proudest achievements include supervising a team of 8 other co-researchers, collaborating in a 3-year-long research project with Ohio University's psycholinguistics department (major strides were made!), and increasing survey participation by 180% through effective marketing and word-of-mouth.
The papers your team has already published for peer review look incredibly promising, and I would cherish the opportunity to contribute to the further development of such groundbreaking theories. I also found your lecture on the acquisition of language inspiring and thought-provoking: I believe that we share the same values of questioning outdated research methods and approaching every issue with a fresh perspective.
Dr. Rodriguez, I'd be thrilled to discuss further research opportunities in person. I guarantee you I would foster the passion I have for your field of study every day and strive to bring the same focus and reliability. I have a few ideas about new avenues for exploring crosslinguistic transfer and would love to share them with you!
Sincerely,
Willie Wingate
Wow, now that's both a hypothesis and sufficient proof all in one! Let's get you up to speed on how to write a cover letter just like that.
Research Associate Cover Letter Template
This is how to write the perfect research associate cover letter:
1. Pick the Best Research Associate Cover Letter Format
The BLS predicts a faster than average growth rate for medical sciences positions. That's great news for you, as it likely means more opportunities.
It also means more competition to separate yourself from.
Like a proper study that needs to be thought out and planned ahead in order to garner attention in the academic community, your cover letter will require structure. Otherwise, it all just falls apart.
Follow these cover letter formatting guidelines to help secure your position in the scientific world:
Start by making sure the spacing on your cover letter facilitates reading. The individual lines should be spaced out by 1 or 1.15.
For paragraph spacing, set it to double.
For the sides, leave 1" margins.
Select a legible and elegant cover letter font, and go for a 12 pt. size. You may be tempted to set yourself apart with your font choice, but it's really not worth the risk of looking garish.
As for the right cover letter length, a standard you can adhere to is 3–4 paragraphs.
Read more: Modern Cover Letter Templates to Make Your Job Application Stand Out
2. Write a Research Associate Cover Letter Heading
Think back to your undergraduate years and imagine turning in a paper that doesn't follow the submission guidelines and fails to adhere to academic standards.
Ouch.
Let's avoid a mistake like this with your job application and get every detail just right. The first thing to do is to use the standard business format for addressing your cover letter, with a well-formatted heading.
Here's how to create a professional cover letter heading:
Write your name, position title, and contact information at the top of the page, in that order.
Skip one line, then write down the city and date of writing. Skip one more line.
Include the hiring manager's name and position, the company name, and their address.
If you want, you can also include a link to your online portfolio or LinkedIn in your contact info. Just make sure to optimize your LinkedIn profile to help you get hired!
Read more: What to Include on a Cover Letter
3. Excite Them in the Opening of the Research Associate Cover Letter
What's one non-obvious quality of the perfect research associate?
According to this report, it's taking initiative. So, in the opening paragraph of your research associate cover letter, show both your expertise and your eagerness to join the team. Here's how:
Use the right cover letter salutation: simply address the recruiter by name. For most professions, "Dear X" produces the most reliable and reproducible results. However, scientists can be touchy when it comes to their professional status, so go with a more formal [Dear Dr/Prof. (Last name)].
Avoid starting your cover letter with the phrase Dear Sir/Madam—it's likely to get you disqualified immediately!
Start your first paragraph on a strong note: mention one or two of your best, relevant professional achievements, ideally using numbers and action words.
Offer to use your skills and expertise to help the company/organization/team achieve a specific goal. This way, you can show your engagement straight away.
See what you did there? You've piqued the reader's interest. Now, let's work on keeping them hooked!
Read more: How to Start a Cover Letter: Full Guide for Any Profession
4. Convince Them There Is No Better Choice than You
The second paragraph of your cover letter is all about showing your understanding of the role and proving your ability to excel in it.
Here are the essential steps:
Use the job posting to figure out exactly what the employer is looking for in prospective research associates.
Weave in your skills and qualifications that directly correspond to what the employer needs, based on the job posting.
Include some additional achievements, but don't rehash them from your resume.
The research you conduct probably involves plenty of numbers in some capacity, so you know how important they are for quantifying data. The same principle applies here: numbers bring in an extra punch, so don't hesitate to use them to your advantage.
Nicely done! By this point, the recruiter can tell that you have the right skillset for the job. But you still have some writing ahead of you: time to convince them you're the right person for the role.
Read more: How to Sell Yourself in a Cover Letter: Examples and Full Guide
5. Emphasize Why This Research Associate Position Interests You
Research projects take time. So, the institution you're applying for needs a candidate who will stick around. Prove that this is you by mentioning some aspects about their work culture or history you found impressive. Show genuine interest!
You can make references to past research projects completed by the team or institution, the impact they're hoping to make with their research, or anything else that makes them stand out. And don't be afraid to drop in a complement or two!
If you can, find out what they want to achieve, then talk about how you can help bring that closer to reality. If the reader can tell you're already thinking about how to make their project happen, they'll be more inclined to believe you really want this particular job over any other.
Read more: Cold Call Cover Letter: How to Write an Unsolicited Cover Letter and Get Hired
6. Finish Off With a Powerful Call to Action
Almost done! Just a few sentences left, and you'll have a job-winning research associate letter in front of you.
But—
"Thank you for your time" won't cut it. You didn't spend all that time writing the perfect cover letter only to end it with the most generic line in history, right?
Here's the perfect formula for a cover letter ending to use instead:
To end on a strong note, highlight once again how well you'd fit into this position, and mention what tangible result you could help them achieve. It could be anything, just needs to include one thing. You got it—it's a number.
Then, pull out the ace out of your lab coat sleeve, and ask for an interview at the same time as you make the promise.
Include a skill or two that binds them all together.
The final product should read somewhat like this: "[Recruiter's Name], I'd love to show you how my motivation and attention to detail can help LyreTech roll out studies and trials 25% faster thanks to my method. Let's discuss this in detail during an interview, would you have time next Thursday afternoon?"
Decisive, results-oriented, and to the point. Doesn't get much better than that.
Read more: The Right Way to End a Cover Letter: Examples and Guide
7. Sign Off Your Research Associate Cover Letter Properly
One more thing, and we'll conclude our project:
Signing your cover letter. Believe it or not, there's a right way and a wrong way to do that. (Plenty of wrong ways, actually!)
Here's how to get it right:
Don't be scared to follow up your cover letter with another message roughly a week after the first. You have to be persistent, just like in science!
But before you send your cover letter on an interview-landing mission, remember to make sure your resume meets the same high standards.
When making a resume in our builder, drag & drop bullet points, skills, and auto-fill the boring stuff. Spell check? Check. Start building a professional resume template here for free.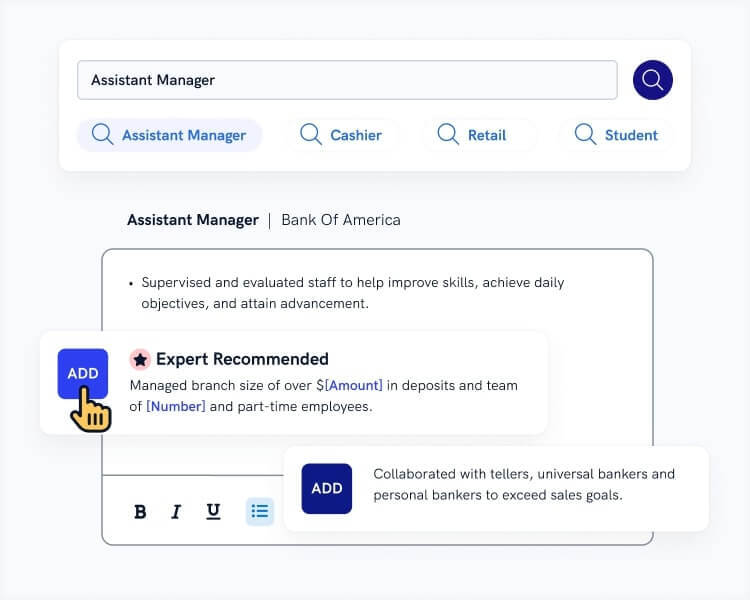 When you're done, our easy resume builder will score your resume and our resume checker will tell you exactly how to make it better.
And that's a Lancet-worthy research associate cover letter!
Thanks for reading! Did we omit any crucial details? Still not clear on talking shop in a research associate cover letter? Ask away in the comments!
About Zety's Editorial Process
This article has been reviewed by our editorial team to make sure it follows Zety's editorial guidelines. We're committed to sharing our expertise and giving you trustworthy career advice tailored to your needs. High-quality content is what brings over 40 million readers to our site every year. But we don't stop there. Our team conducts original research to understand the job market better, and we pride ourselves on being quoted by top universities and prime media outlets from around the world.
Sources