Paraeducator Resume: Samples, Job Description & Guide
You facilitate education for those who need it, and you're Bob Ross-level at your job. Let's make sure there are no happy little accidents in your paraeducator resume, though.
You're about to see a perfect paraeducator resume, and it comes with a guide to boot! 2-for-1 deal! But, oh man, what is that? Rising demand in assistant teacher jobs over the coming decade?
Wow, looks like you can't just show up to school with a warm smile and an "I'd like a job, please" and expect to get hired. No, you need a paraeducator resume to rock their world, Jack Black style.
Ready?
This guide will show you:
A paraeducator resume example better than 9 out of 10 other resumes.
How to write a paraeducator resume that will land you more interviews.
Tips and examples of how to put skills and achievements on a paraeducator resume.
How to describe your experience on a resume for a paraeducator to get any job you want.
Want to save time and have your resume ready in 5 minutes? Try our resume builder. It's fast and easy to use. Plus, you'll get ready-made content to add with one click. See 20+ resume templates and create your resume here.
Sample resume made with our builder—See more resume examples here.
See these other guides if you're into other teaching jobs:
Paraeducator Resume Example
Heather L. Guy
Paraeducator
507-787-1138
heatherguy@zetymail.com
Summary
Passionate re-teaching specialist of 3+ years, excellent at adapting to students' needs and their educational objectives. Worked one-on-one with 40 students at Baltimore City Elementary, receiving commendations from parents and supervising teacher. Created lesson adaptations for special needs students, totaling over 380 hours of adapted material.
Work Experience
Paraeducator
Baltimore City Elementary, Baltimore, MD
June 2018–December 2020
Prepared 380 hours' worth of lesson adaptations for special needs students to keep them engaged and on-track with educational material.
Cultivated a positive atmosphere between teachers, students, and parents.
Assisted in organizing workshops for 95 other parents to familiarize them with the challenges of assisting special needs children.
Raised the school's rank of special needs accommodation from #5 to #2 in Baltimore County.
Teacher's Aide
Fairbury Public School, Fairbury, NE
January 2018–May 2018
Supervised in- and outside classroom activities of children aged 8–12.
Reinforced learning of skills and abilities initially introduced by leading teacher.
Assisted 6 special education students in their regular learning activities.
Skills
Special Education
Passion for Teaching Children
One-on-One Tutoring
Monitoring & Assessing Behavior
Attentive Multitasking
Cooperation Skills
Well-Organized
Certifications
Special Needs and Inclusive Education Certificate, Childcare Education Institute, 2018
Special Needs Certificate, International Board of Credentialing and Continuing Education Standards (IBBCES), 2017
Foreign Languages
Volunteer Work
24-week long "Supporting Disabled Children" program in Delhi, India; March–August 2017
This is how you write a perfect resume as a paraeducator:
1. Format Your Paraeducator Resume Correctly
A paraeducator assists a certified teacher and provides instructional support in the classroom to facilitate teaching. Paraeducators often work with special needs students, as well as translate and mediate with parents. Your paraeducator resume will need to prove all that, plus empathy and communication skills.
And as mentioned before, spaces are filling up, with teaching jobs akin to paraeducators seeing a projected rise of up to 9% all the way until 2032.
You need to tighten the screws on that resume, stat. Here's how:
Read more: Best Modern Resume Templates to Use for Your Next Job Application
2. Prepare a Paraeducator Resume Profile
The recruiter is like that kid in the back row who finds making armpit noises and throwing scrunched up balls of paper funny.
They're not going to listen to what you have to say. They won't bother reading your whole resume.
It's up to you to change their mind.
So, provide something that will get their attention—a strong resume profile.
It's a statement at the top of your resume that, much like an elevator speech, has the task of convincing your listener (or reader) to buy some product or idea.
That product is the rest of your resume.
If you've worked as a paraeducator before, write a resume summary. You'll focus on describing your highlights (use numbers to drive the point home), and how you intend to face the challenges the school is facing at the moment.
On the flip side, for paraeducator-initiates, go with a resume objective statement instead. Don't omit numbered achievements from other jobs or academia, but also try to put more focus on transferable skills from your past jobs.
Pro Tip: Your resume introduction should emphasize your hypothetical value for the school, i.e. what you can offer to them. Don't just say that you want this or that—you'll come off as too selfish.
3. List Past Job Experience on Your Paraeducator Resume
Nothing gets the principal's blood pumping faster than a bad work experience section.
They will gladly take out their day's frustrations on your resume if it's not up to their standard. Best avoid that.
Well, actually, there is one thing that can get them even more excited:
A really great work experience section.
Remember reverse-chronology? Follow its principles and list your most recent job first. There are limits on how far back your resume should go. Once again, it's all dependent on your experience.
Next, provide general info and state where, for whom, and how long you worked for in each entry.
Then, dive into the nitty-gritty details and use 3–6 bullet points to describe your tasks and important duties. Fit them with numbers, percentages, all that good stuff to keep the recruiter's attention from drifting off.
See? That's an A+.
But you can get it to an A++ if you write your descriptions in such a way to weave in some of your professional skills. We'll get to them in just a minute. For now, let's get education out of the way.
Pro Tip: To make it even more of a certainty that they'll stay focused on you, use engaging action words in your descriptions.
4. Make Your Paraeducator Resume Education Section Shine
So, elephant in the room—you work in education. You may not have a strict teaching license, but still, can you imagine working in education and then just… not mentioning education on a resume?
Crazy, huh?
Fortunately, it's a little less complicated than the previous two sections, so go ahead, breathe that sigh of relief.
…
Okay, let's get back to it.
If you've worked as a (para)educator for more than 5 years, write you're your alma mater, obtained degree, and graduation year.
With less than that, you'll want to earn some extra resume credit by providing additional detail. Relevant coursework, your GPA score,scholarships and honors, club memberships, whatever you think was most impressive.
Read more: Does High School Belong on Your Resume?
When making a resume in our builder, drag & drop bullet points, skills, and auto-fill the boring stuff. Spell check? Check. Start building a professional resume template here for free.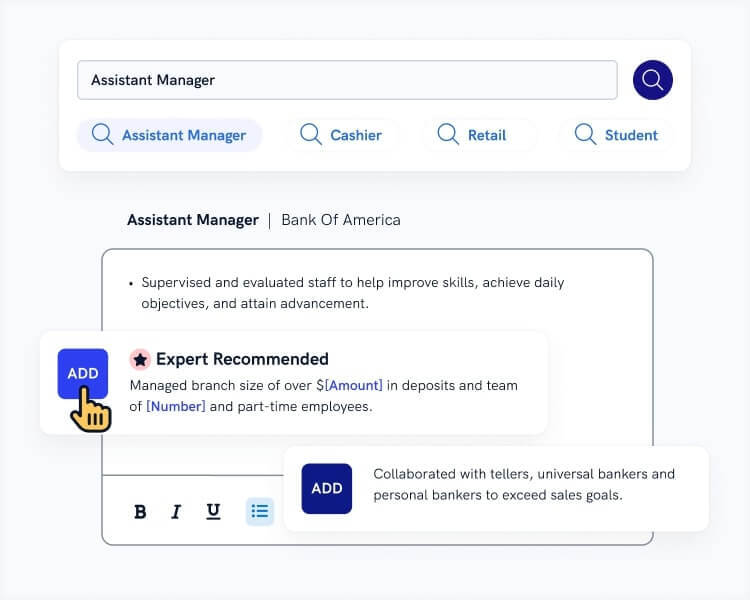 When you're done, our free resume builder will score your resume and our resume checker will tell you exactly how to make it better.
5. Show off the Right Paraeducator Skills
Here's some inspiration to get you to a great skills section:
Paraeducator Resume Skills
Teaching Proper Behavior
Working with Children
Safety Training
Creativity
Positive Attitude
Assisting Special Needs Students
Reviewing Material
One-on-One & Small Group Teaching
Assisting Teachers in Lesson Planning & Preparation
Supervising Students Outside the Classroom
Patience
Empathy
Passionate About Learning
Assisting Parents
Assessing and Testing Students
Instead, brainstorm a list of all of your key professional skills. Then, compare with the job ad to see what they're looking for and make sure your resume includes keywords as well.
Pro Tip: More than half of all paraeducators work with people with some sort of disability. Adding certifications or mentioning specific training you completed in that regard can really boost your chances.
6. Add a Bonus Section to Your Paraeducator Resume
Paraeducators really are larger-than-life characters.
Or at least, that's the impression your resume should give off.
That's why ensuring your application stands tall and proud among other, less unique resumes.
Adding elements such as your personal hobbies and interests,passion projects, foreign languages can definitely help achieve that.
Teaching certifications and licenses and volunteer work also go a long way to set you apart from your competition.
Be smart, and be creative, and you'll be getting ready for that job interview in no time.
Read more: Best Tips for Writing a Successful Resume
7. Dazzle Them in a Paraeducator Cover Letter
Do paraeducators need covering letters?
Definitely.
However, without a proper cover letter design and approach, it won't do you much good.
Fix your paraeducator cover letter with these cover letter tips:
Use a proper cover letter format.
Open the cover letter in an effective, attention-grabbing manner. Your best bets are reasons for applying or something particular that would make you fit the school paraeducational staff.
List more of your skills and knowledge that fit the school's bill. They won't be able to resist you.
End the cover letter with a promise and an offer of improving their and the students' lives (on condition of hiring you, of course).
Pro Tip: Always remember to follow up on your job application a few days after your initial message, just to make sure they don't forget about your awesome resume!
Plus, a great cover letter that matches your resume will give you an advantage over other candidates. You can write it in our cover letter builder here. Here's what it may look like: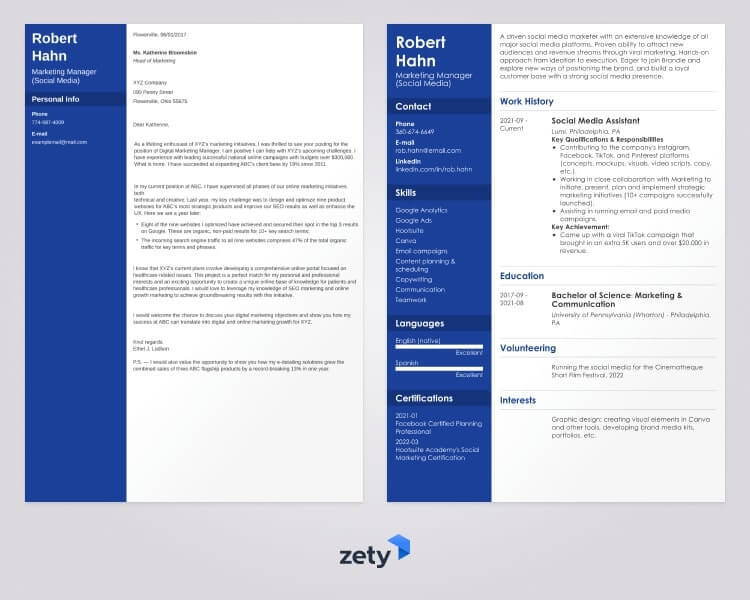 See more cover letter templates and start writing.
Now that's a gold medal in resume-writing!
Still needing a crash course on anything related to writing a paraeducator resume? Drop a line in the comment section below, and thanks for reading!
About Zety's Editorial Process
This article has been reviewed by our editorial team to make sure it follows Zety's editorial guidelines. We're committed to sharing our expertise and giving you trustworthy career advice tailored to your needs. High-quality content is what brings over 40 million readers to our site every year. But we don't stop there. Our team conducts original research to understand the job market better, and we pride ourselves on being quoted by top universities and prime media outlets from around the world.