Our customers have been hired by:
You lead your institution's efforts in analyzing the efficacy of research programs. It's not an easy job with a lot on the line, so it's only logical that writing your clinical research coordinator resume will also be tough.
But it doesn't have to be.
In a few, you'll see our take on the best clinical research coordinator resume, then we'll walk you through writing one of your own. Best part? No nosey ethics committee to poke holes in your methods.
This guide will show you:
A clinical research coordinator resume example better than 9 out of 10 other resumes.
How to write a clinical research coordinator resume that will land you more interviews.
Tips and examples of how to put skills and achievements on a clinical research coordinator resume.
How to describe your experience on a resume for a clinical research coordinator to get any job you want.
Want to save time and have your resume ready in 5 minutes? Try our resume builder. It's fast and easy to use. Plus, you'll get ready-made content to add with one click. See 20+ resume templates and create your resume here.
Sample resume made with our builder—See more resume examples here.
Interested in similar positions, too? Check these out:
Clinical Research Coordinator Resume Sample
Alan Peterson
Clinical Research Coordinator
617-218-6725
APPeterson@zety.com
Linkedin.com/in/APeterson
Summary
Diligent clinical research coordinator with 6+ years of experience running trials and other research activities. At Massachusetts General Hospital, coordinated research efforts on Cystic Fibrosis, recruiting 1,700 subjects for 7 separate trials. Gathered, analyzed, and codified 350 pages of documentation into research data.
Work Experience
Clinical Research Coordinator
Massachusetts General Hospital, Boston, MA
July 2015–Present
Met and spoke with patients in recruitment for clinical trials to discuss consent, study subject matter, risks, and more.
Utilized ICH and local regulations as well as good clinical practices to keep patients fully informed throughout the entirety of trial proceedings.
Ensured 100% compliance of clinical trials with FDA regulations, passed 2 FDA audits.
Boosted recruitment efforts through creation of 3 public health campaigns.
Clinical Research Assistant
University of Connecticut, Farmington, CT
June 2013–June 2015
Prepared IRB applications, consent forms, annual reports and other documentation.
Coordinated procurement and shipment of necessary equipment and research specimens.
Reviewed study data for completeness.
Education
Bachelor Degree in Microbiology
University of San Diego, CA
September 2009–July 2012
Key Skills
FDA & Local Regulations
Teamwork Skills
Communication
Scrupulous Documentation
Scientific Method
Research Protocols
Screening & Interviewing
Data Analysis & Interpretation
Achievements
Co-authorship of Nature article "Gene-specific nonsense-mediated mRNA decay targeting for cystic fibrosis therapy," May 2018
2021 Clinical Research Achievement Award by the Clinical Research Forum
Certifications
Credited Clinical Research Coordinator, ACRP, September 2017
Now, here's how to write the job-winning resume for a clinical research coordinator:
1. Format Your Clinical Research Coordinator Resume Right
Clinical research coordinators lead drug trials and medical research. Being in a coordinating role, they are also responsible for recruiting staff and ensuring smooth operation in research labs. Your resume for a clinical research coordinator needs to show relevant knowledge, organization, and leadership.
To achieve that, start by organizing your resume format:
Read more: How to Start a Resume
2. Write a Clinical Research Coordinator Resume Summary or Resume Objective
Bad news.
The hiring manager tried to look for the conclusions, the abstract, anything. But they didn't find it, eliminating your chances. Most recruiters do not scrutinize resumes simply because they don't have the time. So your task is to give them a good reason to investigate yours.
You can do that with the resume profile.
If you've worked as a clinical research coordinator for more than 2 years, a resume summary will bring the recruiter all that they're interested in: your achievements, a career outline, and strongest suits.
And if you haven't had much time to coordinate clinical research, a resume objective could propel you up the career ladder. Focus on the transferable skills you have that can help for this position and express your ambition.
Read more: Best Resume Templates for 2022
3. Describe Your Experience as a Clinical Research Coordinator
The truth is, if you want to work for a Cedars-Sinai-level establishment, you need a resume of equally as high quality. That means investing an appropriate amount of time into writing your resume's work experience section.
But hang on.
The average clinical research coordinator has supervised 7.6 studies. Are you doomed if you don't have that many? Not at all, you just need to know how to present the experience you do have:
Last thing:
Before you apply, you're going to have to do some research. But you're used to that, right?
By research, I mean poking around the company's website and job description to properly tailor your application to their needs. You need your resume to stand out front and center as the candidate that fits the bill the best out of the hundreds of others.
That way, you won't just eliminate the margin for error—you'll straight up dematerialize it.
Read more: Irrelevant Experience on a Resume: Should You Include It?
4. Mention Your Education on Your Resume
Maybe you have your Bachelor's in Microbiology from UC San Diego already. Or maybe you're still working toward it.
Whatever the case may be,skipping the education section on your resume certainly contaminates your chances.
If you're an experienced clinical research coordinator with over 5 years running things, give them just the school name, graduation year, and your degree.
Got less than that and already have aspirations to lead? That makes you quite a shooting star! To make up the difference, include university wins and achievements. Good ideas include listing semesters you made the Dean's list, diploma honors, or relevant courses.
Read more: How to Put Your Degree on a Resume
5. Show Off the Right Skills on a Resume for a Clinical Research Coordinator
Here is what our records show are the best skills for a clinical research coordinator:
Clinical Research Coordinator Resume Skills
Medical Terminology
Applicable Guidelines (GCP, HIPAA)
Math Skills
Case Report Forms
Patient Safety
Microbiology
Clinical Research Processes
Overseeing Clinical Trials
Data Collection and Analysis
Communicating with Trial Participants
Designing Questionnaires
Monitoring Participants
Liaising with Laboratories
Hiring & Training Research Staff
Personable
Building Relationships With Other Staff Members
The hiring manager will definitely question your scientific method if you just copy-paste that. He might even contact the ICH GCP.
He also won't be impressed if you state you're an expert orthopedic surgeon if their main area of interest is pulmonology.
Your main task? Allocating time wisely to create a targeted skills section, like this:
Pro Tip: For an even better effect, weave in some of those skills into the descriptions in your work experience section to show you can achieve actionable results!
When making a resume in our builder, drag & drop bullet points, skills, and auto-fill the boring stuff. Spell check? Check. Start building a professional resume template here for free.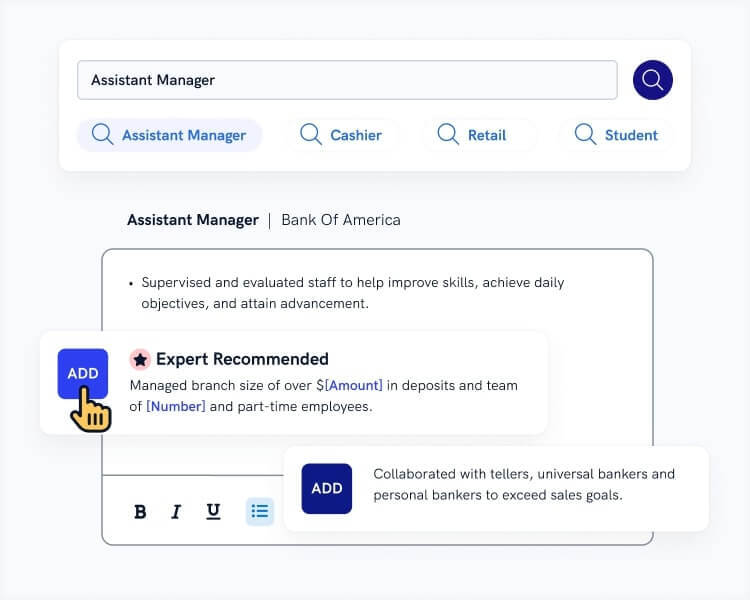 When you're done, Zety's resume builder will score your resume and our resume checker will tell you exactly how to make it better.
6. Add Extra Sections to Distinguish Your Clinical Research Coordinator Resume
A good resume is a well-rounded one.
Leading clinical trial studies requires you to work with people. If you are all work and no play, that gives other candidates an advantage over you.
Luckily, you have options in the form of extra additions to your resume that can help you stand out:
Scientific publications
Conferences (as attendee and/or speaker)
Awards and achievements
Freelance work
Read more: Difference Between a Resume and a CV
7. Attach a Clinical Research Coordinator Cover Letter
No, that's not a clandestine error in the data. Cover letters do help, even today.
To ensure yours makes a good impression, though, there are certain cover letter guidelines to follow:
Begin by locking in your cover letter format.
In the cover letter opening, write directly to the recruiter, name drop the position you're applying for (CRC), and bring up examples of past experience and impressive achievements.
Find out some extra context about the company/organization and see what makes them tick. Try to pinpoint one or two things you particularly like about them, and state that that's what drew you to apply.
End the cover letter by making an exciting offer.
Read more: How Long Should a Cover Letter Be?
Plus, a great cover letter that matches your resume will give you an advantage over other candidates. You can write it in our cover letter builder here. Here's what it may look like: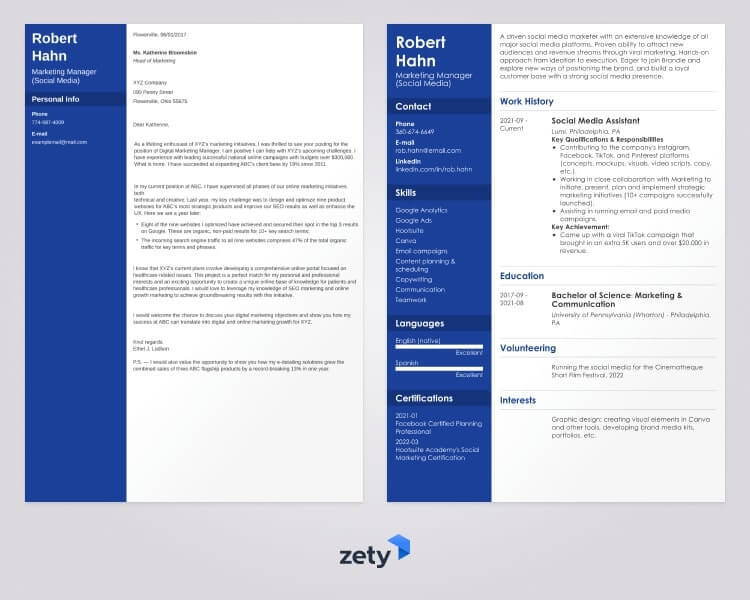 See more cover letter templates and start writing.
Thanks for reading! Got any questions about putting skills or work experience on a resume for a clinical research coordinator? Check out the comments section and let's get the discussion started!
About Zety's Editorial Process
This article has been reviewed by our editorial team to make sure it follows Zety's editorial guidelines. We're committed to sharing our expertise and giving you trustworthy career advice tailored to your needs. High-quality content is what brings over 40 million readers to our site every year. But we don't stop there. Our team conducts original research to understand the job market better, and we pride ourselves on being quoted by top universities and prime media outlets from around the world.
Sources