You've made it! You joined the ranks of chartered accountants of India. With fewer less than 330,000 ICAI members, this means you're pretty much elite.
Now, with your credentials and practical training ready, you want to put your career on the right track. So you've browsed through job ads and found some really exciting offers. You're ready to apply.
There's just one catch. Your resume. It doesn't reflect how professional you are. Relax. Invest time in your application. With this step-by-step guide, write a new chartered accountant resume. And get the job you want!
This guide will show you:
A chartered accountant resume example better than 9 out of 10 other resumes.
How to write a chartered accountant resume that will land you more interviews.
Tips and examples of how to put skills and achievements on a chartered accountant resume.
How to describe your experience on a resume for a chartered accountant to get any job you want.
Want to save time and have your resume ready in 5 minutes? Try our resume builder. It's fast and easy to use. Plus, you'll get ready-made content to add with one click. See 20+ resume templates and create your resume here.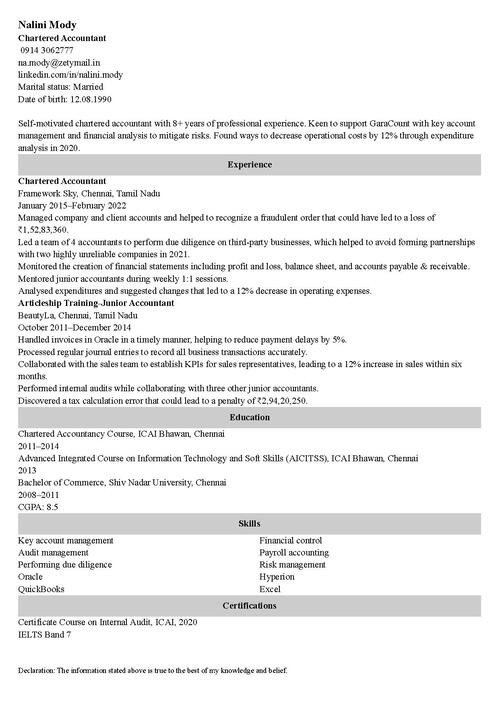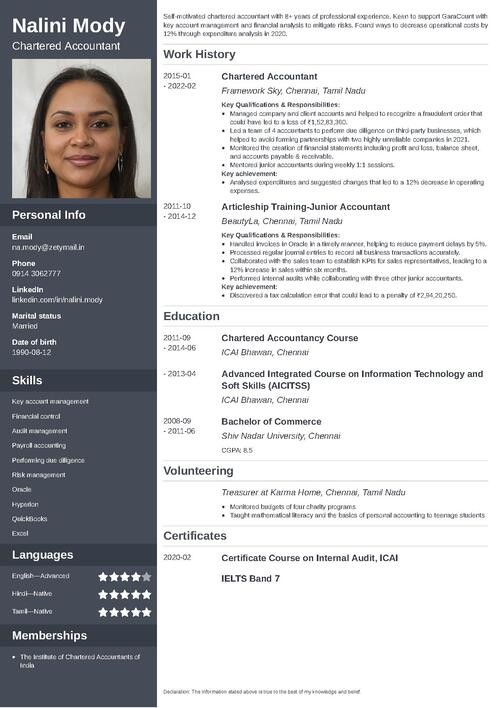 Sample resume made with our builder—See more resume examples here.
Get inspired with this chartered accountant resume sample:
Chartered Accountant Resume Sample
Nalini Mody
Chartered Accountant
0914 3062777
linkedin.com/in/nalini.mody
Marital status: Married
Date of birth: 12.08.1990
Summary
Self-motivated chartered accountant with 8+ years of professional experience. Keen to support GaraCount with key account management and financial analysis to mitigate risks. Found ways to decrease operational costs by 12% through expenditure analysis in 2020.
Experience
Chartered Accountant
Framework Sky, Chennai, Tamil Nadu
January 2015–February 2022
Key Qualifications & Responsibilities:
Managed company and client accounts and helped to recognize a fraudulent order that could have led to a loss of ₹1,52,83,360.
Led a team of 4 accountants to perform due diligence on third-party businesses, which helped to avoid forming partnerships with two highly unreliable companies in 2021.
Monitored the creation of financial statements including profit and loss, balance sheet, and accounts payable & receivable.
Mentored junior accountants during weekly 1:1 sessions.
Key achievement:
Analysed expenditures and suggested changes that led to a 12% decrease in operating expenses.
Articleship Training-Junior Accountant
BeautyLa, Chennai, Tamil Nadu
October 2011–December 2014
Key Qualifications & Responsibilities:
Handled invoices in Oracle in a timely manner, helping to reduce payment delays by 5%.
Processed regular journal entries to record all business transactions accurately.
Collaborated with the sales team to establish KPIs for sales representatives, leading to a 12% increase in sales within six months.
Performed internal audits while collaborating with three other junior accountants.
Key achievement:
Discovered a tax calculation error that could lead to a penalty of ₹2,94,20,250.
Education
Chartered Accountancy Course, ICAI Bhawan, Chennai
2011–2014
Advanced Integrated Course on Information Technology and Soft Skills (AICITSS), ICAI Bhawan, Chennai
2013
Bachelor of Commerce, Shiv Nadar University, Chennai
2008–2011
CGPA: 8.5
Skills
Key account management
Financial control
Audit management
Payroll accounting
Performing due diligence
Risk management
Oracle
Hyperion
QuickBooks
Excel
Certifications
Certificate Course on Internal Audit, ICAI, 2020
IELTS Band 7
Memberships
The Institute of Chartered Accountants of India
Volunteering
Treasurer at Karma Home, Chennai, Tamil Nadu
Monitored budgets of four charity programs
Taught mathematical literacy and the basics of personal accounting to teenage students
Languages
English—Advanced
Hindi—Native
Tamil—Native
Declaration: The information stated above is true to the best of my knowledge and belief.
It's so great, it should be taxed.
Let's get you started. Here are the steps to writing a chartered accountant resume that wins jobs:
1. Use the Best Chartered Accountant Resume Format
Chartered accountants oversee the compliance of all financial statements and operations with local or international laws. A chartered accountant resume may include accounting functions such as performing financial analysis, tax planning, profit and loss statements, and financial reporting.
So, there's a lot on your plate. No wonder you feel tired so often.
But to ensure getting the best accounting jobs out there, you need to find more strength and get that chartered accountant resume ready.
Let's not waste any more time. Just follow this chartered accountant resume format:
Add your contact information: Start with your name, job title, email, phone number, and LinkedIn account, then state your date of birth and marital status.
Use a professional resume format: follow the reverse-chronological order to highlight your most recent achievements and experience.
Select the best resume fonts: Arial, Calibri, Verdana, Times New Roman. Keep the font size at 11–12 pt.
Add white space with one-inch margins on all sides, and 1–1.15 line spacing. Combine information in clear paragraphs.
Save your chartered accountant resume in PDF format (unless the job ad asks for a different file type.)
No surprises here—that's how to write a resume for any type of job.
Now, let's see what kind of resume sections must appear in your chartered accountant resume.
Pro Tip: Your resume doesn't have to be black and white. Consider adding a touch of colour here and there to make your resume sections pop. Don't go for all the colours of the rainbow! Just add a blue separator between columns, or make the header background green. Experiment with different combinations and find something that's both aesthetically pleasing and professional. Adding colour can easily make your resume stand out from dozens of black-and-white documents.
2. Present Yourself with a Chartered Accountant Resume Objective or Summary
Many hiring managers look only at the first half of a resume. And that's why it's crucial to catch their attention immediately. If you fail to do that, they will move on to the next application.
You need to present your strengths with a resume profile. Even three sentences can make a difference and boost your chances!
You've got two options, depending on your level of experience:
Resume Summary: Use it if you're writing a resume of an experienced chartered accountant. Show your work achievements and list the most valuable accounting skills you've got.
Resume Objective: It's a safe choice for chartered accountant freshers. Start with mentioning your academic achievements or transferable skills from internships and entry-level jobs. Don't forget about your personal traits!
Need extra help with writing a resume for freshers? Check this Fresher Resume Guide with Samples and Objectives
3. Mention Work Experience in a Chartered Accountant Resume
It's obvious—chartered accountants are busy people. The list of accounting standards on the ICAI website is very long. Handling all of those tasks in a timely and professional can be a challenge even for the most experienced accountants.
But to get a great job, you must convince recruiters that all of those responsibilities are trivial for you. Prove that even while you're asleep, you can still calculate income tax, prepare financial statements, manage accounts receivable and payable—and more.
That's how to describe your work experience in a resume:
Follow the reverse-chronological format—List your most recent job first.
State your job title, name and location of the company, and years as well as months of employment.
Spell out the most relevant duties and achievements in 4–6 bullets. Use action words.
Make accomplishments pop by using numbers, values, and percentages. Come on, you're an accountant—you must love numbers, right?
List one key achievement for each position.
That's the best way to describe the work experience in a resume of an experienced chartered accountant.
But what to do if you're a fresher?
If you need a resume format for chartered accountants freshers, try this instead:
Highlight your academic accomplishments, volunteer experiences, or achievements gained during the articleship training.
Present the way you used basic accounting techniques at other jobs.
See? Even as a fresher, you can make your chartered accountant resume attractive for potential employers.
For a more general guide on writing a resume for freshers, check here: Best Resume Format for Freshers.
4. Throw in Your Education in Your Resume for Chartered Accountants
You know perfectly well that the road to chartered accountancy is like the Kolli Hills Road. Many loops and treacherous potholes on the way. But still, it's worth travelling.
Once you reached the end of your journey to become a chartered accountant, it's time to brag about it!
In the education section of your chartered accountant resume, mention:
Your college education with the name of the academic institution, city and state, years of education, degree, major, and CGPA (if you attended college)
Your Chartered Accountant course with the name and location of the ICAI branch, and years of study
Additional integrated courses for chartered accountants
If you're an accountant fresher, you can also describe your education in more detail. Mention most relevant courses and academic accomplishments to shed more light on your experience.
Pro Tip: While for over 70 years CA has defined the highest accounting standards in India, it's not a valid qualification in other countries. Accountants seeking job opportunities outside of India should consider obtaining ACCA, which is a globally-recognized chartered accountant certification.
When making a resume in our builder, drag & drop bullet points, skills, and auto-fill the boring stuff. Spell check? Check. Start building a professional resume template here for free.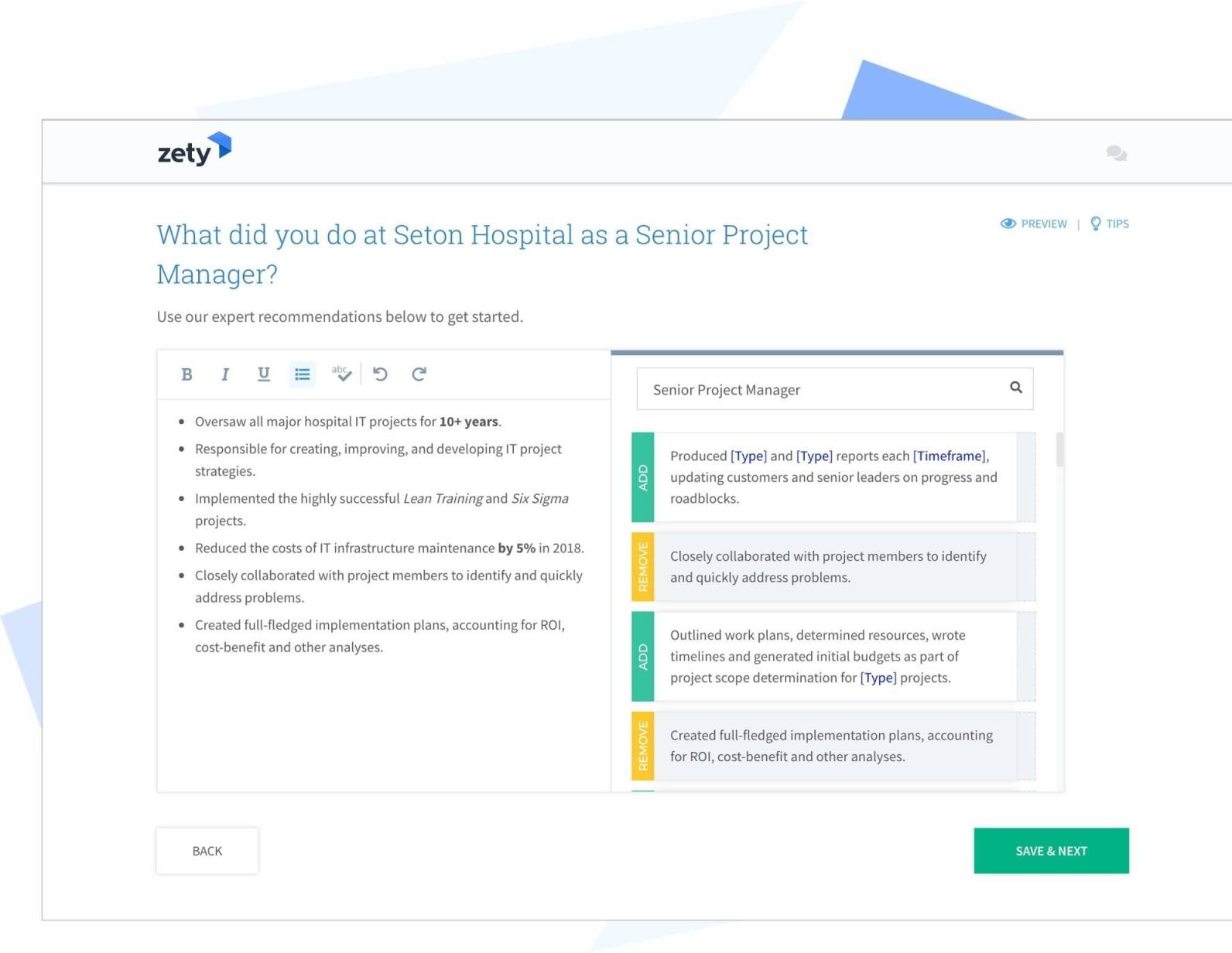 When you're done, Zety's resume builder will score your resume and tell you exactly how to make it better.
5. List the Key Skills in Resumes for Chartered Accountants
Some chartered accountants became famous, like Ms. R. Sivabhogam—the first woman accountant of India. Through her work, she helped to empower many women.
Now, you don't need to become famous. But you do need to empower yourself.
Create a list of your assets. There are many accounting skills you can choose from, so it's important to be selective. Try this method:
Note down any job skills that you can think of, both related to accounting, and any technical or soft skills you have.
Scan the job advertisement for keywords, and match your skills with them. Then, make a list of 7–10 skills that are relevant to this job.
Pretty easy! Check this sample list of skills in resumes for chartered accountants:
Chartered Accountant Resume: Skills
Key account management
Financial control
Audit management
Payroll accounting
Performing due diligence
Risk management
Oracle
Hyperion
QuickBooks
Excel
Need inspiration for tech skills? Check thisList of Computer Skills for Any Resume.
6. Finish Your Chartered Accountant Resume with Additional Sections
Stand out from the crowd. By providing extra information about yourself, you can be easily remembered. Choose from a variety of additional sections:
Certifications: They show that you want to expand your knowledge and build on your skills. Internationally-recognized certificates can also help if you wish to work abroad or get a job at an international company.
Languages: While at many companies English is a must, being able to speak in other languages can be a great advantage.
Achievements and Awards: Apart from ICAI Awards, you may also be eligible for awards at various workplaces and organizations.
Volunteering: Many charities need treasurers, accountants, and even persons willing to teach Maths to disadvantaged individuals.
Hobbies: Many people see accountants as boring—prove them wrong! Show that accountancy can be a true passion by launching a YouTube channel about home economics or a blog about investments.
No matter which sections you add, remember about keeping them relevant to your application.
Pro Tip: Accounting software is here to stay. To boost your career, try getting certified in popular applications, such as QuickBooks, Xero, Sage, or SAP.
7. Add a Matching Cover Letter to Your Chartered Accountant Resume
Your resume is ready now. But wait, don't apply to that job yet!
You still need to write a cover letter. And no, an old one you used three years ago will not work.
Each cover letter must be tailored to the job. Just like a balance sheet reflects the finances of a company, the cover letter must reflect your assets—but skip liabilities!
Simply follow these steps for a job-winning cover letter formula:
Use a matching cover letter template that uses the same fonts and formatting style as your resume.
Start the letter with an attention-grabbing sentence.
Name your best qualities and present your ideas for supporting the company with your skills.
End the cover letter with a business offer and a call to action.
I get it—this is a bit vague. See this guide for a complete tutorial: How to Write Effective Cover Letters
A great cover letter that matches your resume will give you an advantage over other candidates. You can write it in our cover letter builder here. Here's what it may look like: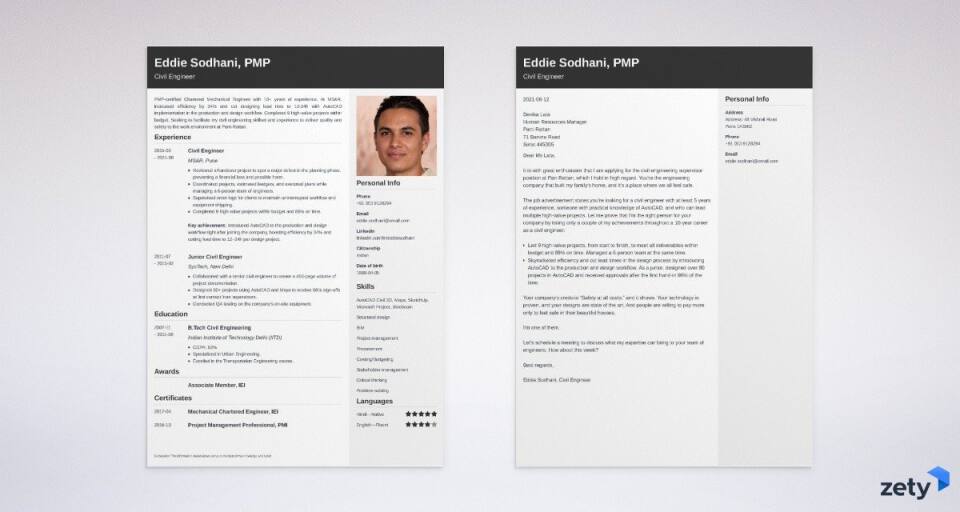 See more cover letter templates and start writing.
See? Easy! No need to cook the books. Just start writing your chartered accountant resume and get that dream job you've always wanted.
Not sure how to balance your chartered accountant resume? Got a tax-free idea to make the summary in the resume for a chartered accountant shine? Comment below!