Our customers have been hired by:
Creating a job application can make your heart sink. It's so time-consuming and feels like a real effort. I'm not surprised you're considering using a resume builder to handle it for you. But how do you know which one you can trust?
The good news is that you don't have to try them all. I've already done that. Read on and find out if ResumeHelp is a helping hand or rather a bone to pick.
This guide will show you:
Customer reviews of ResumeHelp.
Pros and cons of using ResumeHelp builder, including their templates.
A review of selected ResumeHelp resume templates.
Want to save time and have your resume ready in 5 minutes? Try our resume builder. It's fast and easy to use. Plus, you'll get ready-made content to add with one click. See 20+ resume templates and create your resume here.
Sample resume made with our builder—See more resume examples here.
Got here because you need help creating your resume? Check these guides:
Why Trust Us
We put your needs first. That's why we always try out the products we review for you so that our first-hand experience can help you make the right choice. Our Certified Professional Resume Writers test all resume builders available on the market to make sure you know the pros and cons of each tool. This approach allows us to create reviews that are not only objective but also answer all your questions so that you can create a job-winning resume quickly and easily.
Customer Reviews of ResumeHelp
The promise of ResumeHelp is simple: You provide your information, and they give you the perfect resume in just a few minutes. Sounds like nothing could go wrong, right? That's why I was surprised to see that customer reviews of ResumeHelp are mixed.
First, let's see ResumeHelp's score on Trustpilot:

Well done, ResumeHelp! Trustpilot shows over 4,500 reviews, the website received a 4.2 score rating. 76% of users rated their experience as 5-star. But… 10% of reviewers left only one star. It's a pretty significant number.
Now, let's see ResumeHelp's score on Sitejabber:

The score isn't so good—only 3.42 stars from 370+ users. And another thing: ResumeHelp didn't receive any positive reviews on Sitejabber in the last 12 months. Plus, over 30% of reviews are rated 1 star.
So, what do these polarized reviews say about ResumeHelp's services? Positive comments mention high-quality resume templates, ease of use, and helpful customer service. On the other hand, the complaints mostly come from users who didn't understand the terms of service and were surprised by the billing process. Are the terms really that complicated? Let's find out!
Is ResumeHelp a Real Deal?
ResumeHelp's website is pretty intuitive. If you're not interested in learning more about the services, you can access the resume builder straight away. You've got two options to start: uploading and improving your old resume, or creating a new resume from scratch.
The builder guides you through the process and asks questions on the way. You choose the resume template you like best, provide your contact information for a resume, and add information about your job title and work experience, education, and other qualifications. If you're not confident in your writing skills, you can choose pre-generated content suggestions to fill various resume sections, such as your professional summary.
This is what your resume may look like if you pick the Greetings template: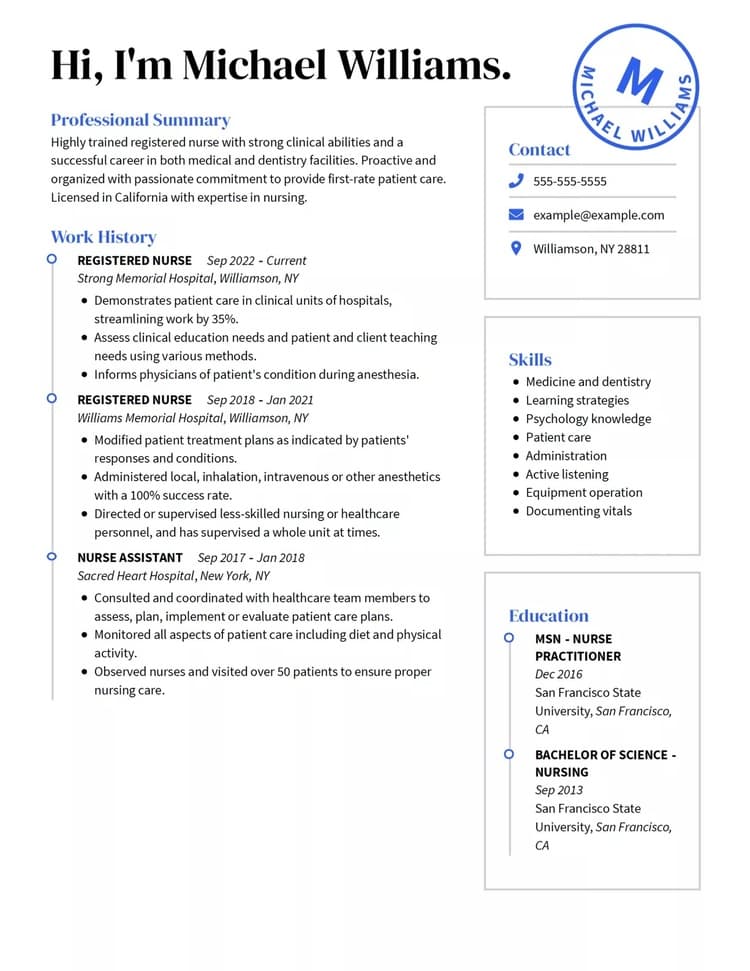 If the generated resume doesn't satisfy your needs, you can edit it further by adding extra sections, changing the font used in the resume, and trying out different color combinations. You may also preview the document to check the length of your resume.
The Pros of ResumeHelp
1. User-Friendly Builder
I found ResumeHelp's application to be very easy to use. The whole resume-building process is quick and intuitive. The questions are simple, so the user doesn't feel overwhelmed with the number of fields they need to fill. As ResumeHelp promises, you can create a resume in minutes.
2. Built-In Grammar & Spelling Checker
Not everyone is great with grammar. But fill your application with typos and spelling mistakes, and you may end up with a comically bad resume. ResumeHelp's got you covered—their builder features a grammar and spelling checker to help you avoid these common resume mistakes.
3. Content Suggestions
If you get stuck filling all parts of the resume, you can use pre-written sentences and phrases that match your job profile. Plus, you don't have to write your resume profile by yourself—you can generate one in seconds.
4. ATS-Compatible Templates
You don't have to wonder if your resume can pass applicant screening systems. ResumeHelp offers ATS-compliant resume templates. Plus, they all follow the standard reverse-chronological resume format, which is the best format for ATS scanners.
ResumeHelp—Cons
1. Some Features Are Premium
It's true that you can try out ResumeHelp's application for free. However, you need to choose one of the payment plans to access premium features, such as PDF and Word download options or the built-in cover letter builder.
2. Basic Templates
If you're a fan of minimalist resume templates, then you should be happy with ResumeHelp's selection. However, these basic templates may not satisfy the needs of younger generations or creative professionals. Personally, I'm a fan of resume icons, so I felt a little disappointed that ResumeHelp's templates feature them only in the contact information section.
3. Limited Formatting Options
While the builder allows you to move the sections, customize colors, and change the fonts, it's all pretty limited. The color palette has only 12 options (including black), and most of those are pastels. They look rather weak when selected as a background color for the resume header or other layout elements. So, if you want to control your resume's appearance, this might be a big disadvantage for you.
4. Downloading Options
What surprised me the most? Not all templates can be downloaded in a Word format. Only some of them allow this option. It's true that a PDF resume is the standard format nowadays, but having a copy of your resume in Word could be helpful if you need to edit it or add some information quickly.
When making a resume in our builder, drag & drop bullet points, skills, and auto-fill the boring stuff. Spell check? Check. Start building a professional resume template here for free.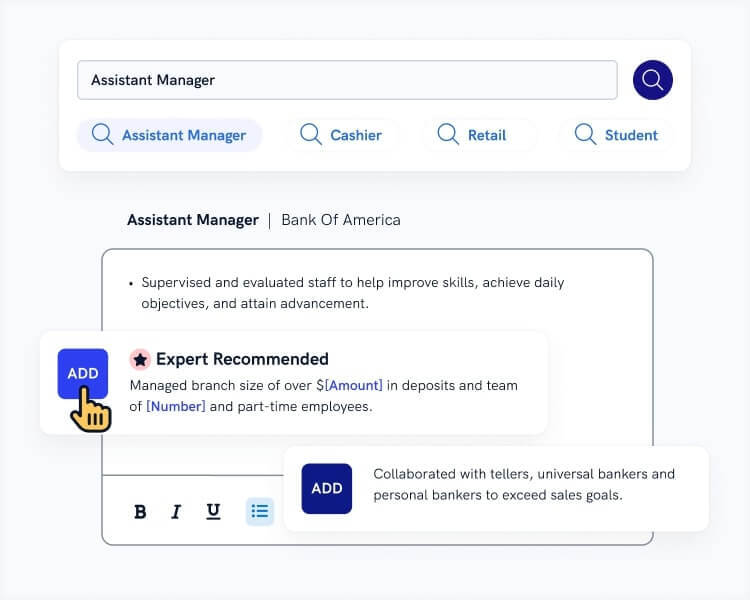 When you're done, Zety's resume builder will score your resume and our resume checker will tell you exactly how to make it better.
Review of ResumeHelp's Templates
I've already said a few words about the templates offered by ResumeHelp. Now, let's see them in more detail.
Akimbo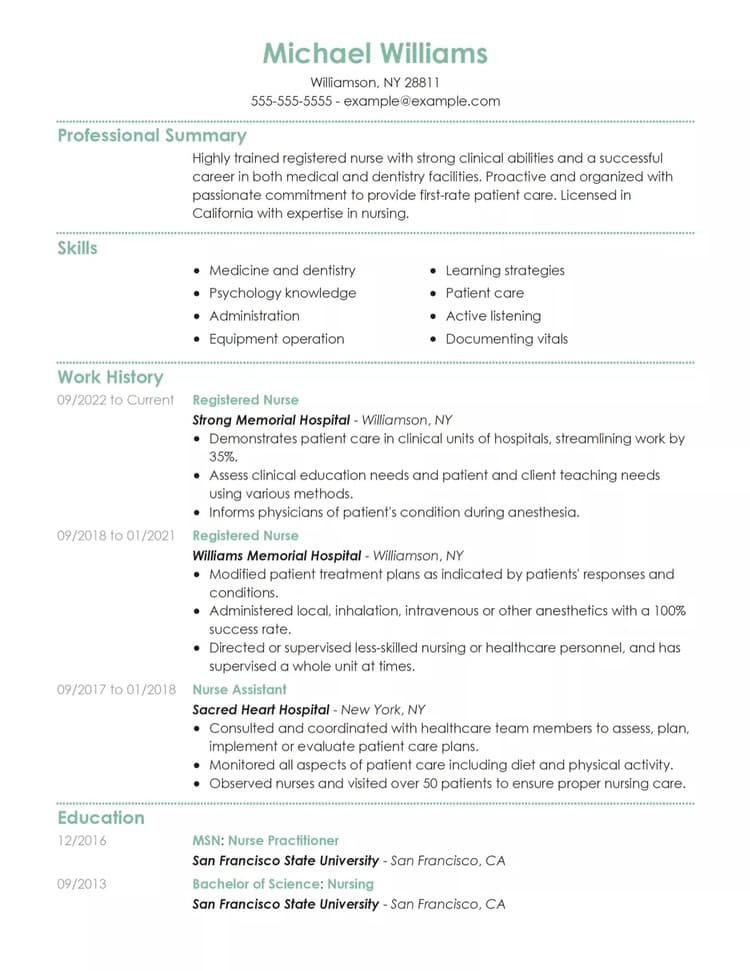 This simple template puts a twist on a classic resume structure by listing the key skills section right below the professional summary. It's a good option for a career-change resume as well as a senior-level management resume with a wide skill set.
Blueprint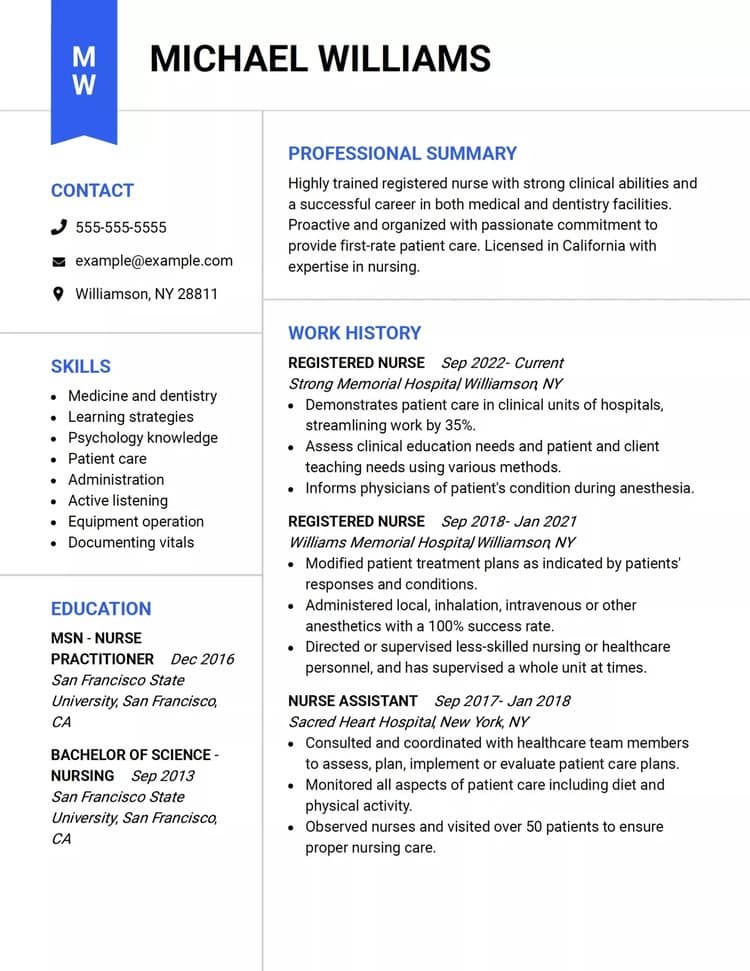 Blueprint is a creative resume template. It features a colorful banner with the applicant's initials on the left side of the resume header area. It's a simple addition, but makes a big difference in this resume design.
Cinematic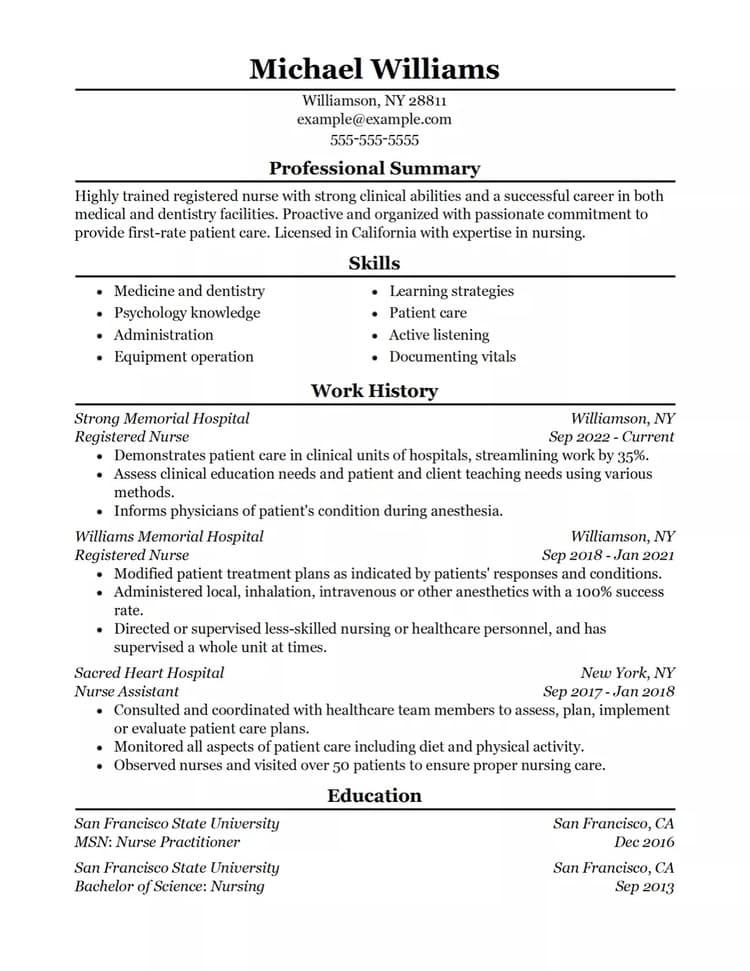 If you prefer traditional resume templates, this is your best bet. It's a timeless design that can work for any industry or even for an academic CV. But personally, I find this template super old-fashioned. If you know how to make a resume in Word, you can create a similar one pretty quickly.
Fold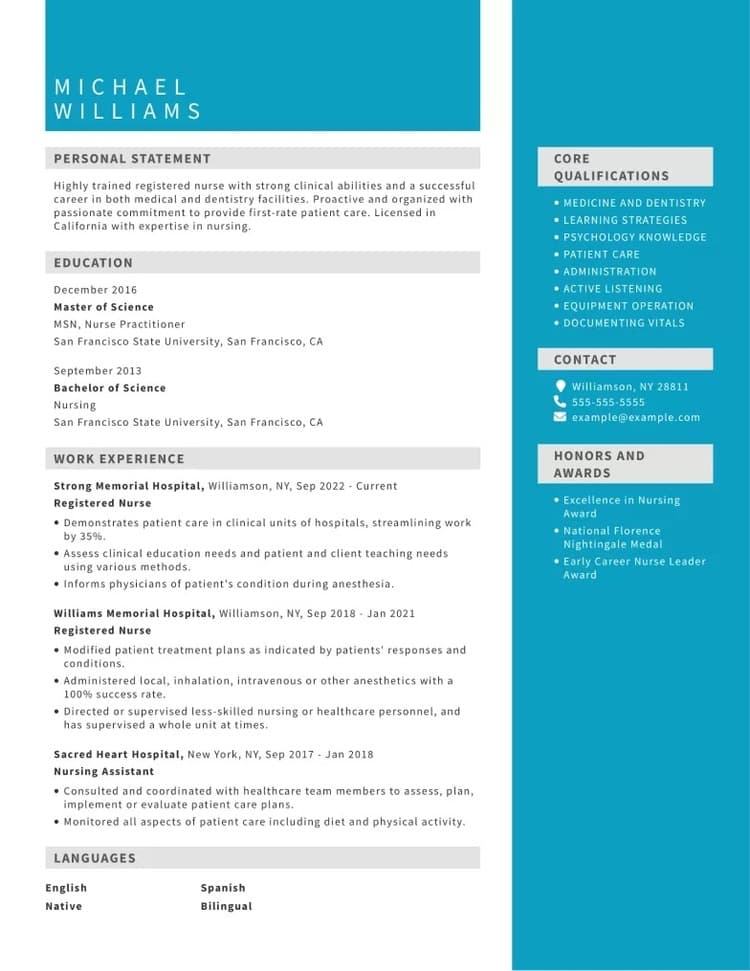 This is a more modern idea for a resume. You can customize the colors of the top and right areas to your liking. It's a good choice for confident applicants working in cutting-edge industries such as tech or marketing.
If you prefer making a resume from scratch, we've got a guide that can help you: How to Create a Resume by Yourself
Plus, a great cover letter that matches your resume will give you an advantage over other candidates. You can write it in our cover letter builder here. Here's what it may look like: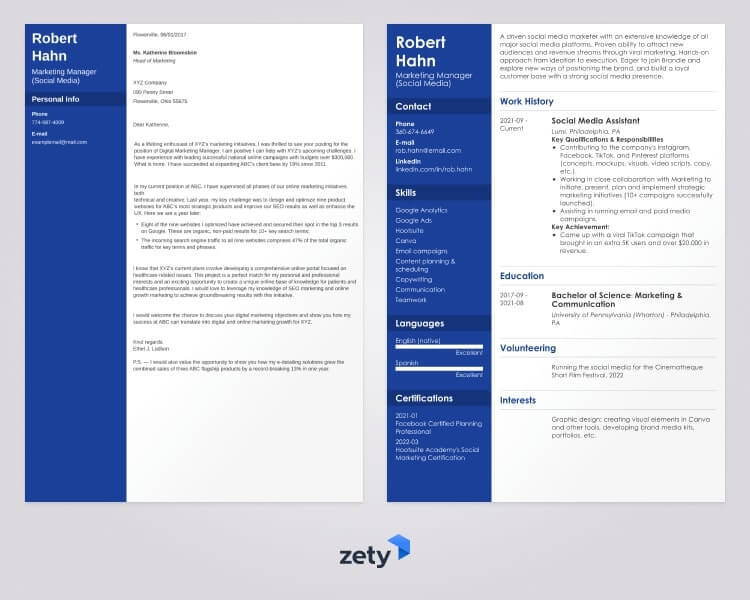 See more cover letter templates and start writing.
It's time to sum up. Is ResumeHelp worth a shot? It depends. If you've never written a resume before and need support every step of the way—it's definitely going to help you. But if you know exactly what you need to make your resume effective, you may find ResumeHelp's builder a bit too basic for your taste.
Thanks for reading this ResumeHelp review!
Do you have any questions about ResumeHelp? Do you have any experience using their products? Let me know in the comments section!
About Zety's Editorial Process

This article has been reviewed by our editorial team to make sure it follows Zety's editorial guidelines. We're committed to sharing our expertise and giving you trustworthy career advice tailored to your needs. High-quality content is what brings over 40 million readers to our site every year. But we don't stop there. Our team conducts original research to understand the job market better, and we pride ourselves on being quoted by top universities and prime media outlets from around the world.