Do Employers Check Degrees & Education Backgrounds?
Saying that you graduated with honors from Harvard, Caltech, and Julliard might be tempting. But do employers verify your degrees? Oh, they just might!
Can you tell me a bit more about your thesis at Harvard?
My daughter is applying to University you graduated from! How was it?
Fellow Duke alumni! On 3…. 1…2…3… Jamais être pris vivant!
These interview situations are no biggie if you have included the truth in your resume education section. Because if you lied, you might face an unpleasant scenario, which will reduce your chances of getting hired to ZERO!.
But do employers check degrees in other ways than casually including them in a conversation? Let's find out!
This guide will show you:
How do employers check degrees.
Why do employers verify degrees their candidates (and employees!) put on a resume.
What can happen if they perform an education background check and catch you lying about your education on a resume.
There are better tricks than stretching the truth about your education that will help you win the job you're after. Try our resume builder. It's fast and easy to use. Plus, you'll get ready-made content to add with one click. See 20+ resume templates and create your resume here.
Sample resume made with our builder—See more resume examples here.
Want to learn more about describing your education to win the job you're after? Visit our guides:
Do Employers Check Degrees?
Let's get this big question out of the way before we dive deeper into the world of educational background checks, second-party agencies created solely for that purpose, and the reasons why employers even do it. Do employers check degrees? Yes, they do.
According to the survey, 53% of employers always check candidates' educational background. And there's more to it:
23% never check candidates' education credentials
24% sometimes check candidates' education credentials
57% verify education credentials to make sure that candidates can perform well
52% want to confirm candidates didn't lie in their resumes
90% have caught candidates lying about their educational backgrounds
40% are still very or somewhat likely to hire a candidate who lied about their education
Those findings can leave you with mixed feelings. Since 40% of employers would still hire someone who lies, maybe it's a good idea to stretch the truth a bit? And 53% doesn't seem like a lot, so since only that number of employers check educational background, perhaps there's room for some clever adjustments.
Still, more than half of employers do this check. And if you're wondering, does a background check include education, the answer is also: yes. Let's find out what's the reason behind it.
Want to learn more job-related statistics? Visit our guide: Job Search, Hiring, Recruiting & Interviews Statistics
Why Do Employers Check Degrees?
You'd like to know who you trust with your money, right? Your money is gone if you trust someone who should not be trusted. It's gone together with your time, and sometimes, which may hurt the most, your reputation. The same goes for employers looking for candidates to help them with their company. They want someone they can rely on and someone they can trust. Checking educational background is only one way of seeing who they're dealing with.
There are some obvious reasons for employers to check candidates' degrees:
The first and most obvious is to see if the applicant is telling the truth. And, even though there are some typical work lies you can catch your co-workers on, let's face it: no one wants to hire, or even to work with, a liar.
Candidates might have resumes tailored for the job perfectly. But if candidates lie about their qualifications, they are not right for the job. They might not perform well enough, and that can generate some extra costs for the employer.
The ability to attain goals is a great skill. It works perfectly for completing tasks provided by the company and reaching its goals. It's also how you make sure you establish and meet your own career goals. An advanced education is not only about learning to do certain things and reading certain books. It's also about being able to set goals and attain them. This perseverance is a valuable skill that can be easily mirrored in your education section.
Scanning for diploma mills.
That's what you call a company that sells illegitimate certificates, degrees, and diplomas. Having it in your resume doesn't mean anything, except that you've spent some money on something worthless. They can seem legit, but a quick educational background check dispels any doubts. Detecting it by your employer would be read as a simple message: "This person tried to scam me. I should not trust this person."
Now we know what makes employers check their candidates. Let's see if there's really any space to lie in an education section on your resume.
Why risk a bad reputation when you can still impress your hiring manager with your resume? See our guide: Step-by-Step Guide for Writing a Resume
When making a resume in our builder, drag & drop bullet points, skills, and auto-fill the boring stuff. Spell check? Check. Start building a professional resume template here for free.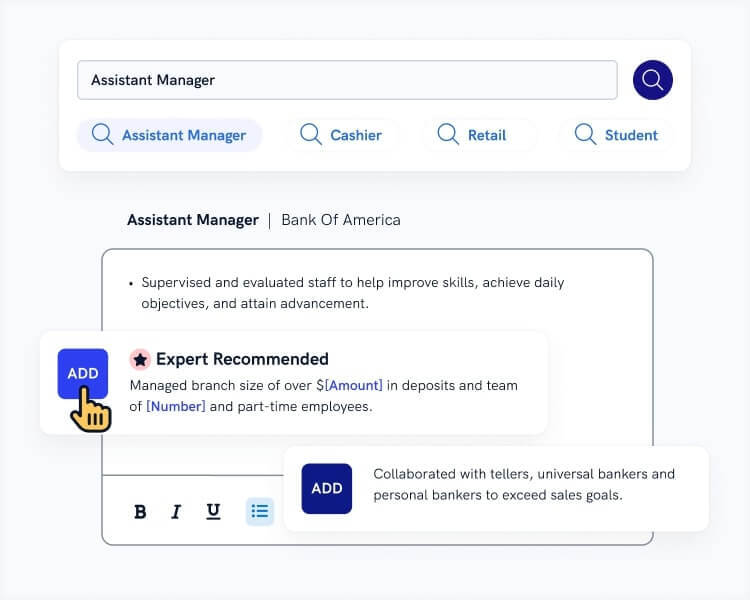 When you're done, Zety's resume builder will score your resume and our resume checker will tell you exactly how to make it better.
How Do Employers Check Degrees?
A recent survey can shock even the most honest person. 72% of applicants lie on their resumes. 44% of them lie about their education. No wonder why employers have some ways to check whether the candidate has lied on the resume.
The process of checking your education, i.e., your GPA on your resume, is called an education background check. It helps ascertain if the candidate is telling the truth about specific certificates and degrees at high schools or colleges. There are some ways the employer can check your degrees.
Education Background Check Done by an Employer
An education background check isn't that difficult. All the employer must do is contact the school included in the applicant's resume. It's a simple phone call or an e-mail to the school's records office, so it's really not a problem to see whether the applicant has lied about the grades earned and the time spent at a certain institution.
Many employers choose this method. It's quick, and it's free. However, some decide to handle it to the pros and focus on their daily routine. The second approach will detect every lie in your education section.
Education Background Check Done by a Third-Party Agency
Another way the employers check whether the applicant has told 100% truth is by hiring third-party agencies specialized in degree verification. In both scenarios, your employer might find out about your degrees and dates of attendance. If you've decided to highlight some extracurricular activities on your resume, they will also find out whether you're not exaggerating. So it is almost impossible not to get caught if you have decided to stretch the truth a bit.
This way of checking your educational background is not free; however, some employers decide to ask specialists for it, as it guarantees 100% success.
Social Media Research
It's the XXI century. You are online, and your recruiter knows it. They will most probably check your online presence before inviting you for a job interview. And if something doesn't add up, they will spot it. And they will draw conclusions.
Putting LinkedIn on your resume might be a good idea, as it allows your recruiters to check your experience and educational background quickly. It also works as an extension of your document, as it often includes more information that can boost your chances of getting hired. However, make sure your LinkedIn profile mirrors what you wrote on your resume. Any mistake can be seen as a lie.
Prepare your social media profiles for an interview! Read our article: Checking Your Online Presence Before an Interview
Copy of Your Diploma
If you're wondering how employers verify college degrees, here's a simple answer: by asking for proof. It's another simple way to see if you have lied on your resume. Presenting a hard copy of your diploma will dispel all concerns about your educational background. If you have told the truth, delivering a document that proves it should not only be a no-problemo at all, it should be something you'd do happily, as it can boost your chances of getting hired. And the same goes for all the certificates and licenses on a resume you delivered.
However, not delivering a diploma when requested, expressing concern about where you have put it, and saying that you might have to look for it, which will take ages, is not a good idea. Even if that's true, it still comes across as a lie. Especially since you can always contact the record office of your college, university, or even high school and ask for a copy of your diploma!
Interview
There are some behavioral-based interview questions that will correspond with your college years. And there are also some simpler questions, like the ones from the beginning of this article. Perhaps asking them is not the most accurate; however, it's the simplest and most efficient way of checking whether you're telling the truth. All a recruiter must do is run quick research about your thesis and your alma mater.
Perhaps doing it this way won't check your degrees perfectly. But it will make a proper foundation for whether to trust you or contact your school to see if your grades match your resume.
Pro-tip: Your recruiters might also want to check your soft and hard skills. You might face some tests to help them decide whether you are skilled enough to be hired. Also, be prepared to answer some more common questions in an interview regarding your strengths.
What if You Get Caught Lying about Your Degrees?
Resumes are not legal documents, so technically, it's not illegal to lie on them. However, there are other consequences you might face when lying on a resume:
Getting on a recruiters' blacklist. A list you don't want to be on. Your recruiter might change jobs, get promoted, and start an HR company. Having your name on a list marked as a liar will not get you hired.
Difficulties in finding a job. It doesn't require a recruiter's blacklist to face some hard times finding new employment after lying about your degrees, especially if you work in a small or specialized field. People talk. You want them only to talk good about you.
End of your application process. Once the lie is detected, there are no second stages or tasks to shine on. The application process is finished. Now, and perhaps forever, in this company.
Broken trust. Sometimes your lie can be detected once you get hired. That leads to a broken trust. And trust is something you built for years, and it can easily collapse.
Termination of your contract. Once employers find out an employee has lied on a resume, they have every right to terminate the contract.
Remember, it's your future we're talking about here. We know only 53% of employers check your educational background. But would you really take that risk? Maybe it's better to tell the truth and get hired than to lie and get caught and lose any chance of landing that job now or in the future. Lying on a resume is never a good idea. And as you can see, your employer can easily check your degree.
Shine with your perfectly listed degrees in an education section on your resume! Read our guide and find out how to ace it: How to List a Degree on a Resume.
Plus, a great cover letter that matches your resume will give you an advantage over other candidates. You can write it in our cover letter builder here. Here's what it may look like: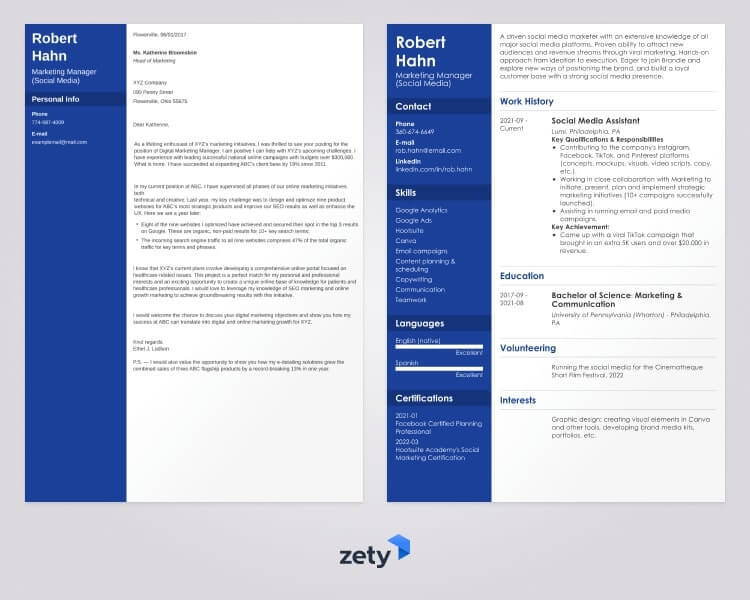 See more cover letter templates and start writing.
Key Takeaway
How do employers verify college degrees? As you can see, with ease. It's not difficult to check whether a candidate is stretching the truth a bit on a provided resume. However, it is easy to lose a reputation or any chance of getting hired by a specific company.
Please, don't lie on your resume. It can seem like an easy way out, but it can also cause you some trouble. It's your future at stake, so don't risk it. Especially since there are many things, you can shine with and many simple solutions you can win recruiters' hearts with!
Thanks for reading! Would you like to discuss some issues addressed in this article? Reach out in the comment section below!
About Zety's Editorial Process
This article has been reviewed by our editorial team to make sure it follows Zety's editorial guidelines. We're committed to sharing our expertise and giving you trustworthy career advice tailored to your needs. High-quality content is what brings over 40 million readers to our site every year. But we don't stop there. Our team conducts original research to understand the job market better, and we pride ourselves on being quoted by top universities and prime media outlets from around the world.