Our customers have been hired by:
Remember the good ol' "The dog ate my homework?"

Well, now it's more like: "The dog ate my kid's homework and I have to take it to the vet. (The dog, not the kid.)"
Every now and then, we all need a good excuse to skip work. Yet—

Do we really use those? Isn't it easier (and less stressful) to just… tell the truth?
We've surveyed over 1000 Americans to find out. In this article, we'll discuss:
The most common lies used to get out of work.
Whether or not we get caught lying.
If we regret having lied.
WHY we lie in the first place.
Let's start with the most common excuses we make up to skip workdays.
Top 10 lies we tell to get out of work
I'm feeling sick: 84% of respondents have used this false excuse at least once.
Family emergency: 65%
I have personal issues: 60%
I have a doctor's/dentist's appointment: 60%
My car broke down: 48%
I have a contagious disease (e.g. pink eye, strep throat): 39%
My kids are sick: 37%
I need to pick up my kids: 32%
A relative passed away: 31% (SIC!)
I need to stay home because the electrician/plumber/delivery person is coming: 29%
Amazingly, only 4% of respondents have never used a made-up excuse to get out of work!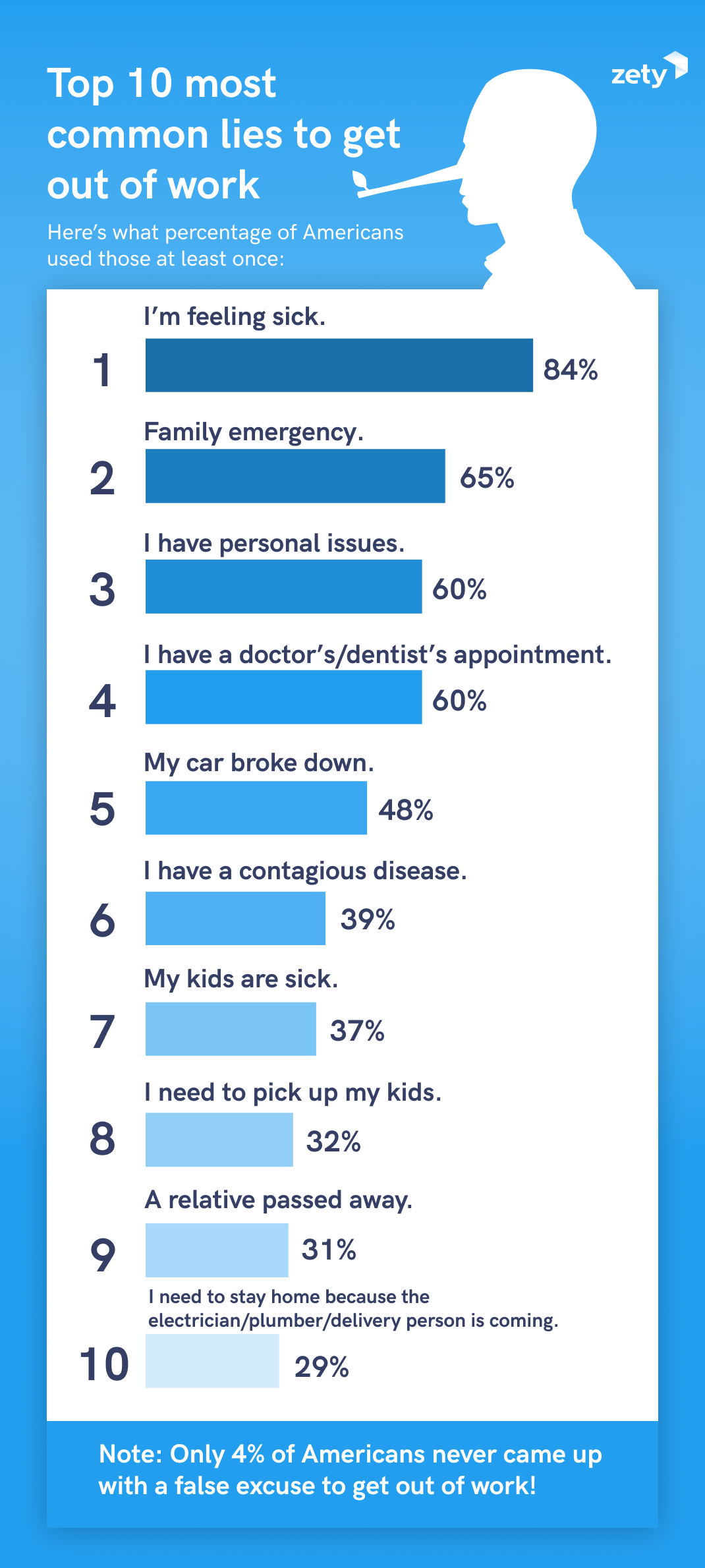 On average, one person has used 7 different excuses to get out of work on different occasions.
Oh, dear. Any remains of our faith in humankind's sincerity have just been shattered. We all are pathological liars, let's face it.
Some quick takeaways?
First of all, health issues, in general, constitute the most common type of excuse to skip work. No wonder. All in all, your personal health, or that of your family members is a serious topic. Serious enough for a reasonable human being NOT to lie about. Plus:
It's perfectly normal to be sick from time to time.
Few supervisors or peers would be so bold as to question a health-related excuse.
No one wants to catch your infection so people will actually be grateful for your choosing not to swing by the office.
Wait. This is where it gets ironic. We asked our respondents whether or not they have ever come to the office feeling sick—
91% have.
Yes, you read that right. We lie about feeling sick when we don't feel like going to work and yet we come to work regardless of an actual illness when we happen to feel like working.
To make matters♪♪a little too ironic♪♪...
A while ago, we ran a study about the worst and most common office pet peeves of American workers. Take a wild guess… What annoying office situation was deemed the worst of all by our respondents?
Coworkers coming to work sick.
87% of Americans find it annoying.
52% think it happens often or very often.
You connect the dots.
Before we move on… Let's pause for a moment and ponder the gravest, filthiest excuse of all time (that actually made the top 10 list!).
Killing off your relatives.
Yes, 31% of our respondents admitted to having lied about their family member's death just to avoid coming to the office.
How do Americans report their little white lies?
We also asked about the most common ways to report the false excuse to skip work to supervisors. Turns out, when lying, Americans enjoy engaging in conversations, rather than typing the whole thing up!
41% of respondents called their supervisors on the phone.
24% reported their excuse face-to-face.
17% used email.
16% sent a text message.
Perhaps we like to make use of our acting skills to kick the quality of our lies up a notch!
Anyways, the picture emerging from the data so far has been hardly optimistic. What is it about today's workplace culture that encourages lies? To get a glipmse of an HR perspective on the subject, I reached out to Zety's own Pete Sosnowski, our Co-Founder and VP. His thoughts?
Employees' making up excuses to get out of work speaks volumes about the organization culture. I was really sad to see the findings of our survey. The fact that so many people feel the need to lie to justify their not showing up at the office might mean that higher management nurtures a very school-like culture. Come on, as working professionals, we're all adults, why not treat one another this way?
Pete Sosnowski
VP, Co-Founder, Zety
Men vs. women; young vs. old
Turns out, gender equality can be achieved in certain areas. Lying is one of those. Out of 28 hypothetical work-skipping excuses we asked about, we found almost no differences between how often men and women use those. There were only 4 exceptions.
3 excuses women use more often than men:
"I have menstrual cramps:" feels pretty obvious, 21% of women.
"My kids are sick:" 41% of women vs. 31% of men.
"I have a contagious disease:" 41% of women vs. 35% of men.
*The* excuse men use more often than women:
Yes, it's the one. "My relative passed away:" 35% of men vs. 29% of women told that lie at work.
When it comes to generational differences, overall, younger generations (Gen Z and Millennials) would use most of the hypothetical excuses more often than Gen X and Baby Boomers. The only two excuses used more often by older generations were:
My kids are sick.
I need to stay home because the electrician/plumber/delivery person is coming.
Pants on fire. How easy is it to spot a liar?
Or… how profitable is it to lie if you want to skip work?
Turns out, very! 91% of people making up excuses to get out of the office were never caught. With minor differences across generations and genders (older people and women get away with their lies a bit more often than younger generations and men), we can safely say that Americans have mastered their lies!

You lied. It worked. Now what?
Are you just happy your supervisors believed your excuse? Or is the pang-of-conscience kicking in? As we found, Americans are rather comfortable with lying. Only 27% of respondents who lied to get out of work regretted it. Out of those who got caught lying, unsurprisingly, 70% regretted having made up a false excuse.
Despite not feeling bad about themselves for lying, a majority of our respondents—59%—said they wouldn't do it again.
Interestingly, the older you get, the less likely you are to lie just to avoid coming to the office:
56% of Gen Z said they'd lie to get out of work in the future.
46% of Millennials.
37% of Gen X.
27% of Baby Boomers.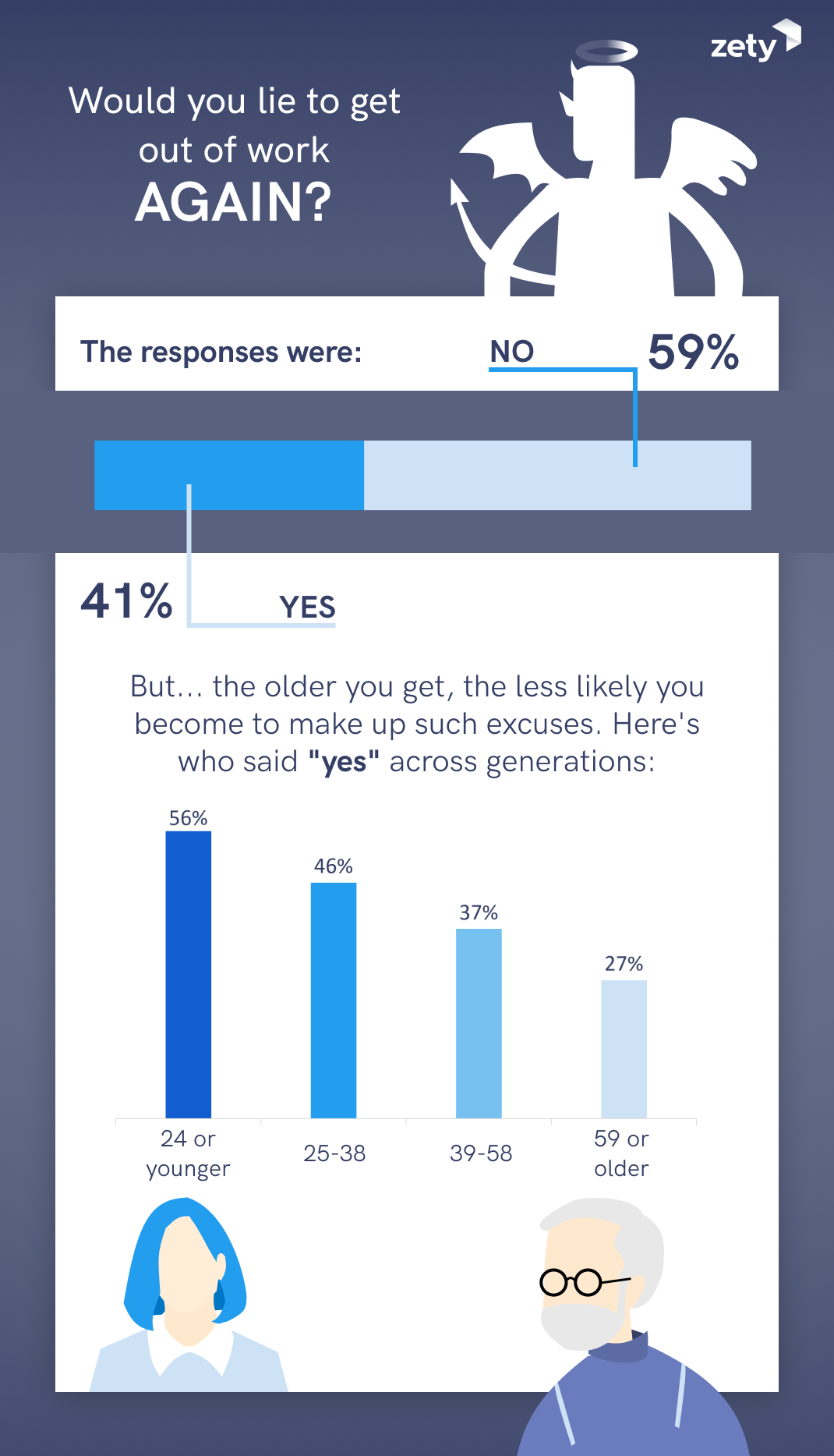 But why?
I feel I'm becoming a bit too judgmental. Certain reasons are surely valid enough for people to have to come up with lies to skip work.
In the survey, we included an open-ended question about the reasons for which Americans chose not to come to work (but couldn't tell the entire truth).
Most of the responses we got fall into three categories:
Mental health and emotional problems
I was genuinely too hurt to work.
I was not having a good day and wanted to just stay home and cry it out over a bottle of wine.
I need a mental day off, a day of self-care.
Bad workplace situation
I was facing too much pressure in the office.
I knew my boss was going to be in a bad mood.
I needed a day to recover from all the stress.
I was working 60-70 hours a week. I didn't feel like I was skipping work. Rather, recovering what is mine.
I hated my job and everyone who was there.
Random antics
I was hungover.
Too busy that day.
I just didn't feel like being there. It was a Friday and I was just done for the week and ready to start my weekend.
Finally, a cause for making false excuses to leave work that was mentioned super often… A job interview at another company. Let's face it—there aren't many supervisors who'd be supportive in such a case.
Flipping the script: legit reasons for skipping work no one believed
Ever heard of The Boy Who Cried Wolf? It's the famous Aesop's fable. It tells a story about a shepherd boy who repetitively makes a joke about a wolf attacking his flock. When villagers come to help him, time and time again, they realize there's no wolf around. When an actual wolf does attack, the boy cries for help again yet, you guessed it, this time no one believes him… And the wolf eats the sheep.
The moral of the tale is simple. Liars are not believed even when they speak the truth. And, boy, does it feel applicable here.
In the survey, we asked one extra open-ended question:
Has anything ever happened to you that made you skip work or leave early, but people found it hard to believe?
Here are some interesting answers we got in response:
My rabbit had to be neutered.
I had to skip work one day (years ago) because my neighbor got attacked by his girlfriend and almost died and the police had the whole apartment complex cordoned off—they were treating it as a murder investigation. The man ended up living after several days in the hospital. Really doubt my supervisor believed that story, but it was true.
My dog ate my hearing aid.
I had five consecutive deaths in the family over the course of 2 years and I think people were skeptical. I wish I were just making that up.
I am sorry.
(About the dog though… Call me insensitive, call me whatever, but I, like your coworkers, am calling BS;)).
At this point, I wish I could moralize you for a bit and tell you lying is bad and that a healthy workplace should adhere to the rules of transparency and mutual trust. Sadly, I don't have the time. Got a dentist's appointment in half an hour.
But you, leave us a comment and share your thoughts! Be honest: do you ever lie to get out of work? Have you ever been caught? What's your go-to excuse? Let's get the discussion going!
Methodology and Limitations
For this study, we collected answers from 1,034 American respondents via Amazon's Mechanical Turk. Respondents consisted of 60% females and 40% males. 11% of respondents were 24 or younger, 40% aged 25–38, 31% aged 39–58, and 18% 59 or older.
This self-report study investigated false excuses Americans make to skip work or leave early. Respondents were asked 28 close-ended questions regarding whether or not they used a given excuse to leave work and two additional open-ended questions.
Some questions and responses have been rephrased or condensed for clarity and ease of understanding for readers. In some cases, the percentages presented may not add up to 100 percent; depending on the case, this is either due to rounding or due to responses of "neither/uncertain/unknown" not being presented.
As experience is subjective, we understand that some participants and their answers might be affected by recency, attribution, exaggeration, self-selection, non-response or voluntary response bias.
Given the gender and age makeup of our large sample, the study can be generalized to the entire population.
Fair Use Statement
Feel free to share our study! The graphics and content found here are available for non-commercial reuse. Just make sure to link back to this page to give the author proper credit.
About Us
Zety is a career website that helps you craft a perfect job application. In addition to CV templates and examples of good CVs, you can find cover letter templates, answers to common questions like how to include work projects in a resume, and other resources.
About Zety's Editorial Process
This article has been reviewed by our editorial team to make sure it follows Zety's editorial guidelines. We're committed to sharing our expertise and giving you trustworthy career advice tailored to your needs. High-quality content is what brings over 40 million readers to our site every year. But we don't stop there. Our team conducts original research to understand the job market better, and we pride ourselves on being quoted by top universities and prime media outlets from around the world.