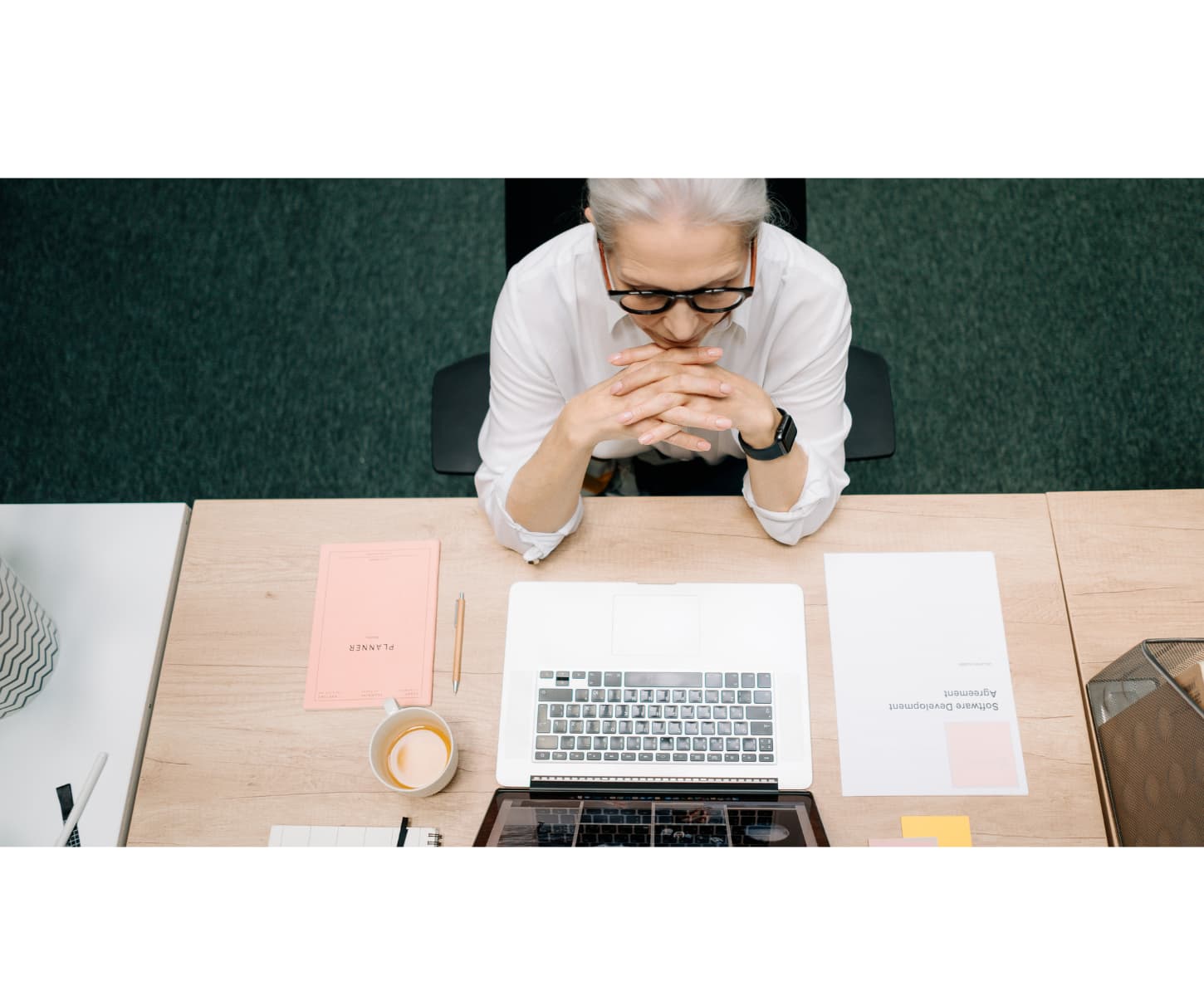 Director Resume Examples & Template for 2023
Your strong leadership elevates both the profit margins and the coworkers around you. It's time to elevate the status of your director resume to generate (recruiter) interest.
Despite years of work experience, lots of aspiring directors still mess up their resume. Why? Because they simply don't know how to speak the hiring manager's language to actually impress.
But you're here, so it seems you're ready to learn how to write a director resume that's sure to close every deal!
This guide will show you:

A director resume example better than 9 out of 10 other resumes.
How to write a director level resume that will land you more interviews.
Tips and examples of how to put skills and achievements on a resume for director positions.
How to describe your experience on a resume for directors to get any job you want.
Want to save time and have your resume ready in 5 minutes? Try our resume builder. It's fast and easy to use. Plus, you'll get ready-made content to add with one click. See 20+ resume templates and create your resume here.
Sample resume made with our builder—See more resume examples here.
Seeking tips for other executive-level positions? We've got you covered:
Director Resume Example
Lynne A. Yang
Director of Marketing
903-353-8106
lynneyang@example.com
linkedin.com/in/123lynne.yang
Professional Profile
Dynamic and results-oriented director of marketing with 14 years of experience in brand management and orientation. Successfully increased company profits by an average of 26% year-on-year for 9 consecutive years. Grew business by 42% through strategic marketing partnerships and executing on roadmaps to increase client base. Seeking to amp up growth and profits as new Director of Marketing for Liberty Mutual.
Work Experience
Director of Marketing
Owen Jones & Pew, Boston, MA
April 2010–May 2022
Established successful series of company-ran marketing conferences with a total of 17,000 attendees.
Introduced new brand awareness campaigns employing optimized use of social media for a 4x increase of company market share over 3 years.
Optimized marketing spending by performing detailed quarterly ROI analysis resulting in a 21% increase in sales.
Utilized $500K budget for year-long employee training plan, which identified key performers and outstanding team members from among 98 marketing department members.
Supervised database integrity management by implementing regular checks to maintain accurate and up-to-date records of customer profiles.
Marketing Team Lead
Archer Education, Boulder, CO
May 2008–March 2010
Decreased redundant quarterly and yearly redundant spending by 65%.
Increased conventional mail conversion rates by a third over 2-year span.
Built up search engine optimization (SEO), created meta-tags, and tracked and reported progress.
Education
MSc in Marketing
Kogod School of Business, Washington, DC
1998–2002
Key Skills
Confident Leadership
Marketing Management
Event Planning
Planning Content Strategies
Risk Management & Mitigation
Communication Skills
Business Development
Networking
Certifications
Digital Marketing Pro, American Marketing Association (AMA), 2019
Cornell University Digital Marketing Certificate Program, 2017
Sandy Springs Executive Leadership Program for Managers and Directors Certificate, 2016
Conferences
Los Angeles eCommerce Summit 2018: Speaker
Singapore MarTech Summit 2019: Keynote Speaker & Patron
Other Activities
Co-Host of "Selling is Service" podcast with 12,000 monthly listeners.
Nailed it, right?
Time to get the show on the road. This is how to write a director resume:
1. Select the Optimal Director Resume Format
Directors are in charge of overseeing the daily and long-term business operations in any large organization. In order to be successful, your director resume needs to show experience in the relevant sector, plus strong business acumen, leadership skills, and strategic and analytical thinking.
The details will, of course, differ based on the particular field. After all, an art director resume and a publishing house director of operations resume at a publishing house will show completely different sets of duties despite the matching title.
On the flip side, what doesn't change are the resume tips for picking the optimal resume format:
Read more: 20+ Modern Resume Templates
2. Write a Summary for Your Directorial Positions Resume
Your assistant comes into your office.
You're already swamped, so you're apprehensive at best, but let's hear them out.
They start droning on and on for what feels like hours, and meanwhile, you're losing time and energy that could be directed elsewhere.
Sound familiar? You probably even have a phrase coined to just cut to the chase:
"Executive summary, please."
Now, flip the script a bit—
If you come in with a ginormous resume that's a massive wall of text describing everything from your daily routine to what hour you typically had your lunch, the recruiter will roll their eyes and discard you.
We don't want that.
Instead, write a resume introduction in the form of a quick 3- or 4-sentence statement meant to grab attention. A resume summary, if you will.
Start your self-presentation with an adjective that describes you positively. Words like reliable/competent/results-driven will give off the right vibe straight away.
Then, state your years of experience.
Use the rest of the space to state a few numbered achievements, like that time you increased profits or improved efficiency.
Read more: How to Start a Resume
3. Describe Your Work Experience on a Director Resume
Your experience in being the head of a company is what the board is mostly going to be after, naturally.
This is your one-time chance to impress them with your highlight reel.
All the more reason for why your resume job description needs to be stunning from the first letter to the last:
Begin by listing your last job first, and go back in time. For each position you want to add no more than 5 or 6 bullet points, ideally with each featuring a key achievement backed with numbers.
Describe your past and/or current duties and accomplishments, but include only the most relevant experience on your resume. Don't beat around the bush, that's not why they pay you the big bucks.
Tailor your application to the company's needs. It's the best way to stand out and give off the impression that you really are their next executive—after all, by targeting the resume, you'll show them you know exactly what challenges are ahead.
Pro tip: Using action words ensures the recruiter will not doze off when reading through your resume. Make sure you throw them in.
4. Make the Most out of Your Education Section on Your Director Resume
Not listing your education on a resume is cause for termination. It's basically an error of omission.
Strictly against company policy.
Luckily enough, it won't take you long to complete this part of your resume. As someone with years of experience in your field, you can just list the basics:
Your highest degree
The name and location of the university or college
Your year of graduation
Read more: Listing Minors and Majors on Resume
When making a resume in our builder, drag & drop bullet points, skills, and auto-fill the boring stuff. Spell check? Check. Start building a professional resume template here for free.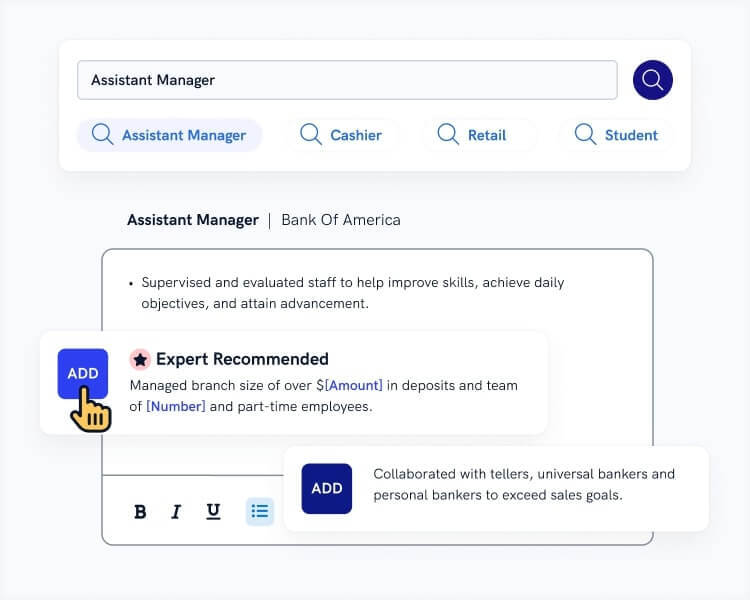 When you're done, Zety's resume builder will score your resume and tell you exactly how to make it better.
5. Show off the Right Skills on Your Director Resume
Take a look at this general list of director skills:
Director Resume Skills
Implementing & Executing Company Policy
Adaptability
Strategic Thinking
Business Development
Business Administration
Industry Knowledge
Integrity
Financial Acuity
Setting Goals
Inspiring Others
Exercising Influence
Continuous Improvement
Business Roadmaps
But, spoiler alert: use all of these and you'll get rejected. They'll think you're scamming them.
Instead, go for a more thoughtful approach:
Look through the job description to see what resume keywords the company is using. These will clue you in on the profile of the ideal director they want to hire.
Compare these skills with your own, and trim your list of professional skills down to between 8 and 10.
These matches should guarantee to at least pique their interest, on top of getting you past their ATS resume scans.
Pro Tip: Remember, there's no definitive list of skills for a "Director". There are way too many possibilities/departments, so make sure to keep tailoring the skills section to actually fit the bill.
6. Demonstrate Character with Extra Director Resume Sections
What makes a great director?
It's certainly not being generic and colorless.
Adding extra sections to your resume will greatly increase the distance between you and the other candidates.
It's like dressing your resume for the job you want—help it stand out, make it look not like the resume of a junior-level employee, and it will pay dividends.
So, think about your unique characteristics. Some ideas include:
Awards
Memberships in relevant professional associations
Conferences
Read more: What to Put on a Resume: Step-by-Step Guide
7. Add a Cover Letter to Your Director Resume
Quick question:
Do you want lazy employees?
Well, the answer is obvious.
However, these very same employees don't want a lazy boss.
And laziness is the #1 signal you're sending when not submitting a cover letter, which is why you absolutely have to include one.
This is how to write a perfect cover letter:
Even though you probably have a million achievements to share, you should keep the length of your cover letter in check—aim for 3–4 paragraphs, under one page.
Plus, a great cover letter that matches your resume will give you an advantage over other candidates. You can write it in our cover letter builder here. Here's what it may look like: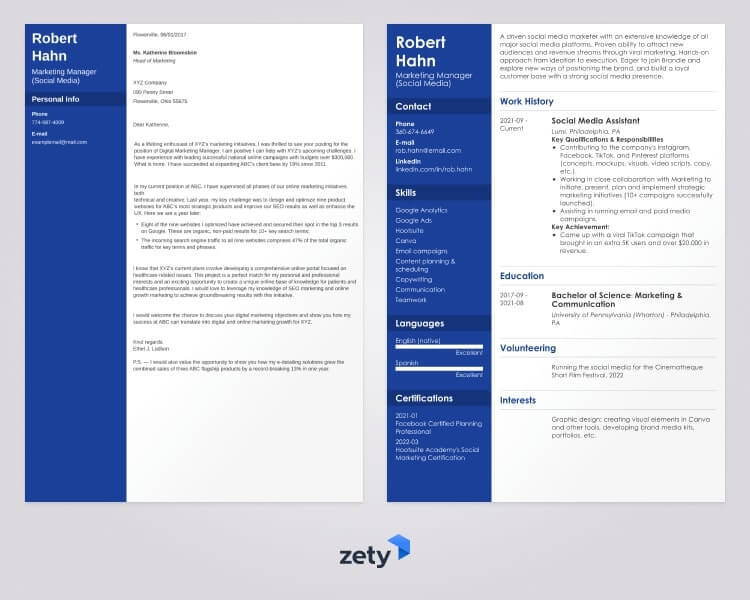 See more cover letter templates and start writing.
And you're done!
Thanks for taking the time to read our article. What did you think? Are there any crucial details directors need to take note of when applying for jobs? Let's get the discussion started in the comments.
About Zety's Editorial Process
This article has been reviewed by our editorial team to make sure it follows Zety's editorial guidelines. We're committed to sharing our expertise and giving you trustworthy career advice tailored to your needs. High-quality content is what brings over 40 million readers to our site every year. But we don't stop there. Our team conducts original research to understand the job market better, and we pride ourselves on being quoted by top universities and prime media outlets from around the world.