How Do You Handle Stress and Pressure? (Best Answers)
How do you handle stress and pressure? This interview question is hated by many. Learn how to answer it without admitting you enjoy imagining your audience in their birthday suit.
"I usually curl into a ball and cry myself to sleep."
That's the only thing that comes to your mind when faced with the "how do you handle stress and pressure" interview question. And it might be an honest answer for many, but it won't get you far in the recruitment process.
We all have our ways of dealing with stress. But hiring managers want to hear only about the ones that are helpful in the professional environment. Continue reading and learn the best answers to the interview question.
This guide will show you:
The reasons why employers ask how you handle pressure and stress.
Tips on how to describe how you handle stress and pressure at work.
Ten great answers to the question, "how do you handle pressure and stress?"
Need other job interview tips? Check our guides below:
You can get invited to more job interviews with an impressive resume. And you can create one easily using our professional resume templates.
Sample resume made with our builder—See more resume examples here.
Why Do Employers Ask, "How Do You Handle Stress and Pressure?"
While nearly everyone would like to have a stress-free job, it's not really possible. Challenging situations with customers, conflicts between teammates, pressure from managers, accidents in the workplace… These things happen even in the most laid-back work environments.
According to a report, over 70% of workers who feel tense or stressed during the workday consider seeking employment elsewhere. This may cause problems not only for the individual employee but also for the entire workplace.
Unsurprisingly, employers look for skills and prefer job candidates who can manage stress, especially when seeking someone for a high-stress position, such as an emergency dispatcher, firefighter, or paramedic.
But even in other careers, workers need a certain tolerance for stress. For example, a high school teacher may need to step in to stop a physical fight between two teenagers, while a bartender must prove by their job description that they know how to de-escalate a conflict between customers.
Need advice on managing stress? Check here: 9 Tips for Coping With Stress
How to Prepare for the "How Do You Handle Pressure and Stress?" Interview Question
Behavioral interview questions, such as "How do you handle stress and pressure at work?" can be difficult, even for very experienced job applicants. That's why, instead of panicking, it's good to practice and carefully consider your answers.
Consider the following when preparing your answer to the "How do you handle stress and pressure?" interview question:
Think of Situations That Make You Feel Stressed
Is it dealing with demanding customers? Talking to your line manager? Presenting in public? Encountering imminent danger? These can vary depending on your profession. Try to remember an event that caused you much stress, and analyze your own behavior during that time. How did you react? What did you do to calm yourself down?


Consider How Pressure Makes You Feel
A healthy amount of pressure shouldn't cause anxiety. However, when experiencing mobbing, it's perfectly fine to feel a whole spectrum of negative emotions.
Specify Your Approach to Stressful Situations
Take a moment to consider how you deal with stressful situations. Are you firmly focused on accomplishing the goal? Maybe you switch on your problem-solving skills? Or try to negotiate and find common ground? Or is it the opposite? And when you feel anxious or angry, you escalate the conflict?
Know Your Calming Strategies
Activities such as yoga, meditation, sports, listening to music, and engaging in hobbies can bring peace to most individuals. However, some people choose unhealthy ways of coping with stress. And it's best not to confess to those during a job interview.
Once you consider those points, it will be much easier to answer the interview questions about stress and pressure.
How to Answer "How Do You Handle Stress and Pressure?"
If you want to prepare a well-rounded answer before the meeting, just follow these steps:
Use the STAR method to describe a difficult situation you encountered at work and how well you handled it.
Give examples of your calming techniques (only the healthy ones!).
Mention when stress or pressure works as a motivator for you. For example, deadlines can boost your productivity.
Throw in some soft skills that help you deal with stress, such as the ability to solve problems, effective communication, and time-management skills.
In a perfect world, all people would be like a lotus flower, calmly floating on the surface of a lake, no matter the surrounding storms. But we're all human. Everyone loses patience and gets angry. When preparing to talk about stress and pressure at work, don't try to create a perfect answer that will make you look like Dalai Lama. Show yourself in a positive light, but also be realistic.
Pro Tip: You can learn to handle stressful situations better with just your smartphone. There's a wide variety of meditation apps and stress-relieving tools that include breathing exercises, soothing soundscapes, calming music, and helpful tips. Many of them are free of charge, so it's worth trying them out!
A professional resume can make you stand out from other applicants and land more job interviews. Start building a great resume by choosing a professional resume template.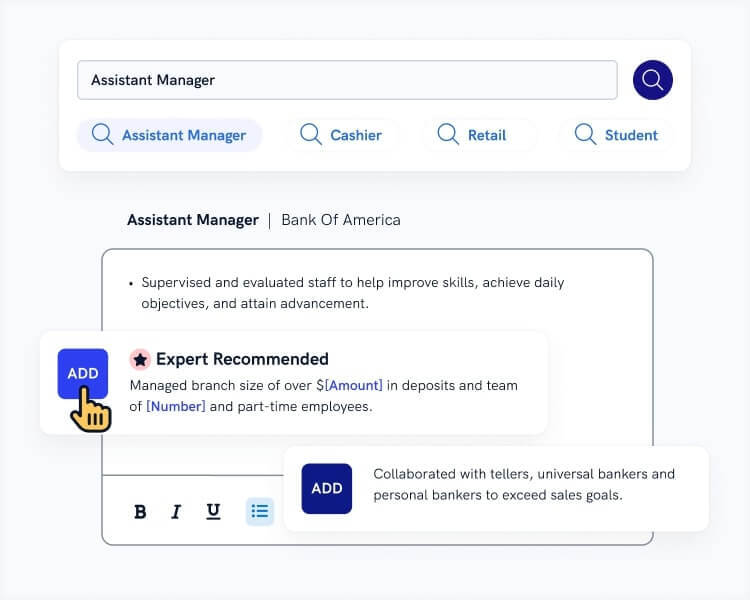 When you're done, our professional resume builder will score your resume and our resume checker will tell you exactly how to make it better.
How Not to Answer "How Do You Handle Stress and Pressure?"
You know now what to say about stress and pressure at the workplace. But what about the things you shouldn't say?
Here's a bunch of things you should avoid when talking about handling stress at work:
Your negative reactions to stress: Nobody's perfect, but it's better not to say that you deal with stress by punching a hole in the wall. It's best not to mention situations when you had a panic attack or froze in fear because a customer shouted at you. Focus on situations you handled well!
Complete lack of stress: Come on. You can't be that zen. Everyone feels pressure from time to time. Admit to feeling stress while saying how well you can cope with it.
Something that was your fault: Everyone makes mistakes, but maybe let's not talk about them during a job interview. Saying, "I was really stressed because I messed up an order worth $120.000," can turn into a big career regret.
Nervous body language: Learn to control your body language in stressful situations. You won't look great if you talk about being confident while fidgeting or staring at the floor.
Don't complain: This isn't the time to trash your previous workplace or profession, even if you hated your last job. It's OK to say the job can be stressful, but saying, "This job was so stressful, I couldn't sleep for months," doesn't sound good.
Examples of the Best Answers to "How Do You Handle Pressure and Stress?"
Check out this selection of the best answers to this challenging job interview question. Remember, though, not to memorize the answers. That would make you sound like a robot, and you don't want that. The examples here show you what answering this question should sound like for various professions.
Example 1: Fast Food Cashier
Right
I enjoy chatting with most customers, but some can be difficult. However, I always do my best to remain calm. About a month ago, a client ordered several items from the menu, but when it came to payment, he was stunned to see the total price of the order. He started accusing me of trying to put additional items on the bill to make him pay more. The client got angry and demanded to talk to the manager. I did my best to de-escalate the situation by calmly offering that we could go through all of the items on the bill together so he could see if the order was correct. When I confirmed with the customer that the bill consisted only of the things he ordered himself, he got calmer and paid for everything. I was stressed during and after that event, but I'm glad I've effectively communicated with this client and solved the problem without a manager's intervention. After work, I rewarded myself by going to a movie theater to unwind. Of course, I don't like stressful situations, but I try to use them as an opportunity to learn resilience.
Example 2: Security Guard
Right
I work in a high-stress profession, so I need to know how to handle stress and pressure effectively. I completed de-escalation training a year ago, using the techniques I learned to manage challenging situations. Most of the time, I try to talk calmly to a person causing a problem and observe their behavior to assess the risk of them becoming dangerous to themselves or others. I do my best to establish rapport and persuade them to stop their disruptive behavior. About six months ago, I was called to handle a hospitalized patient who suddenly became aggressive toward staff members taking care of him. Through a conversation with this patient, I understood that they were in a car accident and just woke up and couldn't understand why they were in a hospital due to short-term memory loss. I'm proud that I managed to calm this patient down without needing any forcible measures.
Example 3: Call Center Agent
Right
I work on the first line of the customer support hotline. Nearly every day, I have to deal with customers who are upset. That can be difficult, so I do my best to de-stress after work by doing yoga and meditating. When customers become angry, I try to calm them down. I speak patiently, listen to what they want to say, and do my best to come up with a solution to their problem. One time, I picked up a call from a customer who was offered a refund a week ago. The customer was angry and asked impatiently why we didn't give the refund to him yet. I explained calmly that refunds might take up to 10 days to be processed. The client then called me a liar and a thief and said that the company was stealing money from customers. He was screaming. After a moment, I read the refund regulations to him and reminded him that the law allows for up to 10 days to process refunds. He was still upset that this matter was taking so much time, but he calmed down and even apologized for shouting.
Example 4: Project Manager
Right
I encounter a significant amount of stress at work. Pressure from customers, expectations of managers, conflicts between teammates… That's all just a daily reality. I try to minimize the number of stressful situations by being well organized and transparent in communication with clients and colleagues. At my previous job, I coordinated a complex project that required collaboration between developers, graphic designers, copywriters, and UI designers. The customer was very unhappy with the initial draft of the website our company created for him, and he wanted to find a different company to complete it for him. I organized a meeting with the client and our lead designers, and we compared their requests with the drafted website. Once they saw that our product was 100% compliant with what they ordered, they agreed to continue working with us. We implemented changes they deemed necessary and managed to complete the project within the deadline.
Example 5: Bartender
Right
Bartending can be a fun and laid-back job, but honestly, challenges happen almost every night. Customers who don't know how to handle alcohol become too friendly with others, try to steal something, start fighting… Most of the time, these situations are easy to solve—I just suggest calmly that I can call them a cab to help them get home, and if they are reasonable enough, they agree. One time, I had a complicated situation. A woman tried to talk to a man the entire evening, and he was just responding out of courtesy. Around midnight, she became aggressive toward him, loudly asking why he didn't want to talk to her. Once I saw her grabbing his hand, I decided it was time to step in. I asked the man if he wanted to continue talking to her, and when he said no, I asked the woman to leave the bar. She was furious, and it took a few minutes to make her go. The man and his friends thanked me for stepping in. I think it's important to be calm but firm in such situations. It's better to let one customer go than allow them to make the atmosphere so unpleasant that more people will leave because of them.
Example 6: Nurse
Right
My job can be pretty stressful because I deal with many people who are ill or elderly. They often worry about their health and become tense because of that. Plus, I usually have too many patients to care for within a tight timeframe. I do my best to organize my work time effectively by prioritizing critical duties, and I always try to stay calm, even when some patients behave unpleasantly. One very difficult situation I encountered was when one of the patients filed a complaint against me. They were unhappy because I didn't give them a sleeping pill when they requested it. I calmly explained that I couldn't give them any medicine that a doctor didn't prescribe. They were on several medications then, and any additions could cause severe side effects. I suggested they talk to their doctor the next day if they have trouble sleeping. The patient was very unhappy about that. Luckily, the head nurse agreed that the complaint was unfair and that I did the right thing. This situation made me stressed, so to relax, I went on a long walk after work, which helped to clear my mind.
Example 7: Accountant
Right
Most of the time, my job isn't very stressful. But when the year-end comes, it can be really challenging. I often need to work overtime during that period, and I face a lot of pressure from my managers. Luckily, I'm well organized and good at prioritizing tasks. Once I know what needs to be done first, I focus on the task entirely and avoid distractions. Instead of taking work home, I prefer to stay longer in the office—then I know that after leaving my job, I can focus on my family entirely.
Example 8: Operations Manager
Right
My job comes with a lot of responsibility, which generates pressure from my direct supervisors and stress when something goes wrong. I try to mitigate workplace challenges by solving issues as soon as possible. For example, when I notice a conflict between employees, I encourage them to ask HR to mediate. To make sure things run smoothly, I work with individual managers to establish goals for their departments and require regular updates on their progress. When I feel overwhelmed at work, I relax after hours by working out at the gym.
Example 9: Software Engineer
Right
Most of the stress I face at work comes from not communicating clearly. For example, a colleague was waiting for me to complete a part of the code I was working on, but they didn't say they couldn't start their own work before I finished. That led to him feeling ignored by me. As soon as I noticed this issue, I apologized and asked them to be more transparent in the future. I always do my best to explain to my colleagues and managers what I need from them or what I'm working on, and we negotiate matters such as deadlines. This way, we can avoid having unrealistic expectations. After work, I relax by listening to music and crafting.
Example 10: Teacher
Right
Being a teacher can be quite stressful. The pressure comes from all sides: from parents, students, school administrators, and other teachers too. I always tell myself that students' interests are the most important, and I always do my best to remain calm. When a student starts misbehaving in class, I try to find a solution instead of coming up with punishments. For example, when last year, one of the girls in grade 10 started to act out and loudly talk to other students and interrupt me with irrelevant questions during class, I started paying more attention to her. I gave her tasks that required leading other students to complete class projects. This way, she could use her energy and need for attention constructively.
So, what are you waiting for? Get ready for that job interview, and land the job of your dreams!
When you catch the recruiter's attention, more job opportunities arise. Get a professional cover letter written in a few minutes! Just pick a cover letter template and start writing.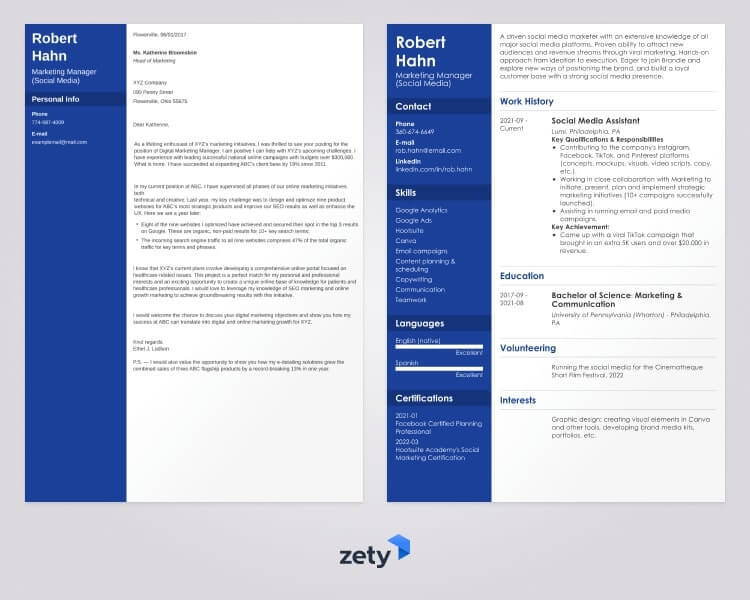 Sample cover letter with our builder—See more cover letter examples here.
Key Takeaways
Here's the best way to answer the question "How do you handle stress and pressure" during a job interview:
Mention a stressful situation you encountered and handled well.
Talk about your favorite techniques to relax and stay calm.
Describe skills you use to handle pressure and challenging situations.
Show how stress or pressure can motivate you at work.
Thank you for taking the time to read this guide! Now, over to you:
What are your favorite ways of coping with stress?
Do you work in a high-stress position?
How do you avoid conflicts at work?
Let me know in the comments below!
About Zety's Editorial Process
This article has been reviewed by our editorial team to make sure it follows Zety's editorial guidelines. We're committed to sharing our expertise and giving you trustworthy career advice tailored to your needs. High-quality content is what brings over 40 million readers to our site every year. But we don't stop there. Our team conducts original research to understand the job market better, and we pride ourselves on being quoted by top universities and prime media outlets from around the world.