Trainer Resume Example & Writing Guide for Any Industry
Being the key to an organization's growth in development and efficiency, employers will demand the best from you. Match their expectations with a perfect trainer resume.
In a few minutes, we'll turn your untampered trainer resume into the most cutting-edge levels of perfection diamond any recruiter has ever seen.
Much like you do on the regular with those that end up under your wing. Sounds like a tall order? Keep reading and see for yourself.
This guide will show you:
A trainer resume example better than 9 out of 10 other resumes.
How to write a trainer resume that will land you more interviews.
Examples of trainer skills for a resume that really make a difference.
A sample trainer job description for resume work experience section.
Want to save time and have your resume ready in 5 minutes? Try our resume builder. It's fast and easy to use. Plus, you'll get ready-made content to add with one click. See 20+ resume templates and create your resume here.
Sample resume made with our builder—See more resume examples here.
We have even more training material for you to study, right here:
Trainer Resume Example
Nancy Anderson
Trainer
217-892-0388
nancyranderson@examplemail.com
linkedin.com/in/123nancy.anderson
Summary
Creative training specialist experienced in designing and delivering training solutions and courses to all levels of staff. Conducted 500+ training sessions over 5 years of working at GP Strategies. Reduced employee turnover by 16%. Seeking to elevate quality of training & development at Magellan while expanding own competencies as trainer.
Work Experience
Trainer
GP Strategies, Raleigh, NC
June 2016–April 2022
Duties & Accomplishments
Conducted over 500 training sessions for sales, customer support, and upper/middle management staff, reducing effective employee turnover by 16%.
Revised onboarding and screening procedures for new hires, cutting preparatory training time by 25%.
Implemented 5-month training program using classroom instructions and webinars to facilitate niche specialization for select well-performing employees.
Defined quarterly and yearly progress checkpoints for all departments.
Human Resources Professional
SRP Co., Castle Rock, CO
May 2013–March 2016
Assisted employees' and answered questions regarding payroll, onboarding, training, and conflict resolution while maintaining professional attitude 100% of the time.
Conducted initial interviews to screen valuable candidates before handing them over to specialized team/department leaders.
Educated up to 60 employees at a time on safety procedures, ethics in the workplace, and other topics.
Education
Bachelor's Degree in Business Leadership
UC Davis Graduate School of Management, Davis, CA
2008–2012
Key Skills
Giving Clear Instructions
Leadership Skills
eLearning
Designing & Disseminating Educational Material
Active Listening
Course Adaptation
Giving & Receiving Feedback
Efficient Communication
Certifications & Licenses
Adult Education Certificate: University of San Diego, 2019
Certified Corporate Trainer: Management and Strategy Institute (MSI), 2016
Awards
North Carolina Chamber of Commerce: "Zero to Hero" Corporate Leadership & Training Program – 1st place, 2020
Time to show you how to write the perfect trainer resume:
1. Format Your Trainer Resume the Right Way
Trainers help people improve their abilities in the workplace. Developing and selecting trainer programs, supplying trainer material, and educating others are just a few of their tasks, and a successful trainer's resume must therefore show all of this if you want to get hired.
Do it poorly, and you'll get lumped with the dunces. The hiring manager won't take kindly to a resume that's a sore to read through.
Lastly, saving the resume as PDF could save (pun intended) you some trouble in case the recruiter's device acts up and jumbles up the formatting.
Read more: More Resume Formats: Which Is the Best?
2. Write an Eye-Catching Trainer Resume Profile
Your job from day 1 will be to identify the team's weaknesses and start working on improving them. But what about your resume's weakness?
Without an appropriate resume profile, you run the risk of raising their eyebrows instead of heart rates. The recruiter doesn't have to pay attention to all of the 300+ applications on his desk. Only the ones he glances at and gets a good impression of immediately.
Write a resume summary to present your experience in a nutshell, using positive language to talk yourself up and point to your biggest achievements.
Resort to writing a resume objective if you've basically just finished your own training. Emphasize ambition, a good work ethic, and transferable skills to prove you'd still be a valuable hire.
Pro tip: Internship experience or recommendations from your school professors can definitely function as your cornerstone characteristics if you're writing a resume objective and have no experience.
3. Write a Good Trainer Job Description for a Resume
One of the key qualities of a proper T&D specialist is decision making. How do you make the call whether to train the team in productive remote work, or a general workplace efficiency improvement program?
That's the question you need to ask and answer by bringing up past work experience.
And with 56% of HR managers considering training and development to be crucial for the prosperity of any business, a lot rides on the shoulders of how you talk about your work history. Better do it right, like so:
List your previous positions following the reverse-chronological order, providing the names of the companies you've worked for, and the years you spent at each.
Write roughly 5 or 6 resume bullet points for each role that describe your trainer accomplishments. Show your efficacy in action through the use of action words and numbers.
Tailor the application to the particular company each time you send your resume. That includes past job titles, so if last time around you went by "Corporate Trainer", but they want a "Training Specialist", you can bend the truth a little bit.
Read more: How to Write a Targeted Resume
4. Make the Most out of Your Education
As a trainer, your education matters. It's certainly a measure of your qualifications to teach others in a given industry. But, arguably what matters even more is the way you present it. If you don't put in enough effort, simply put, they'll think your meetings will be as boring as Toby Flenderson's.
Not a good look.
Start with the basics:
Degree obtained
Name of the school
Graduation year
Then, branch out into more, but only if you're sporting less than 5 years of professional experience.
Achievements such as memberships in student groups, extracurricular activities, or relevant coursework can work well to fill in any gaps in your professional training career.
Pro tip: Only add relevant wins that can impress the most. For example, a GPA below 3.5 won't matter very much at all, and nobody will care if you were great at English Literature if you're applying to work for an accounting company.
When making a resume in our builder, drag & drop bullet points, skills, and auto-fill the boring stuff. Spell check? Check. Start building a professional resume template here for free.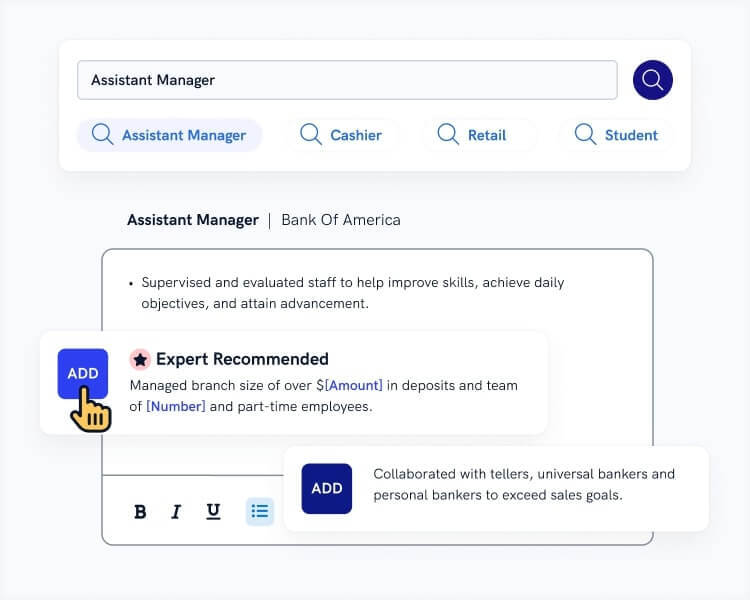 When you're done, Zety's resume builder will score your resume and tell you exactly how to make it better.
5. Choose the Right Skills to Put on Your Trainer Resume
The recruiter has been working for this company for a while. He has the upper leg on you. Why? Because he is aware of their strengths, their weaknesses, and their challenges. He knows exactly the kind of trainer specialist they're looking for, and if a candidate doesn't fit that bill, it's game over.
Don't let that be you.
It's absolutely your top priority to tailor the list of trainer skills you claim to have to the company's needs. You can figure those out by scrutinizing the job ad. Then, pick up to 10 of those skills that you believe you excel at.
And in case you're struggling, we've prepared this handy list for you:
Trainer Resume Skills
Training & Teaching Others
Establishing Relationships
Coordinating Training Activities
Industry Knowledge
Developing Training Material
Monitoring Financial Indicators
Supervising Employees
Lifelong Learning
Picking Appropriate Training Programs
Contract Negotiation
Instructor Vetting
Recruitment
Trainer Effectiveness Evaluation
Adaptability
eLearning Tools
Product Knowledge
Human Resources
Evaluating Trainees
Reporting
Designing Trainer Programs
Learning Management Systems (LMSs)
Pro Tip: E-Learning in particular is a skill worth investing in. Reports predict its importance and value will skyrocket by 2025, so it's best you get in early.
6. Add Extra Sections to Your Trainer Resume
A dull instructor just makes the day drag on and on. If your resume is all work and no play, you'll get skipped.
Make your resume stand out (in a good way!) with additional sections:
Read more: Good Things to Include on a Resume
7. Write a Cover Letter and Attach It to Your Trainer Resume
Not writing a cover letter is shooting yourself in the foot. Lots of recruiters consider them absolutely non-negotiable. Don't mistake that as an excuse to write a laughably poor one, though.
Keep it to 3–4 paragraphs: the ideal cover letter length is under one page, no exceptions.
Plus, a great cover letter that matches your resume will give you an advantage over other candidates. You can write it in our cover letter builder here. Here's what it may look like: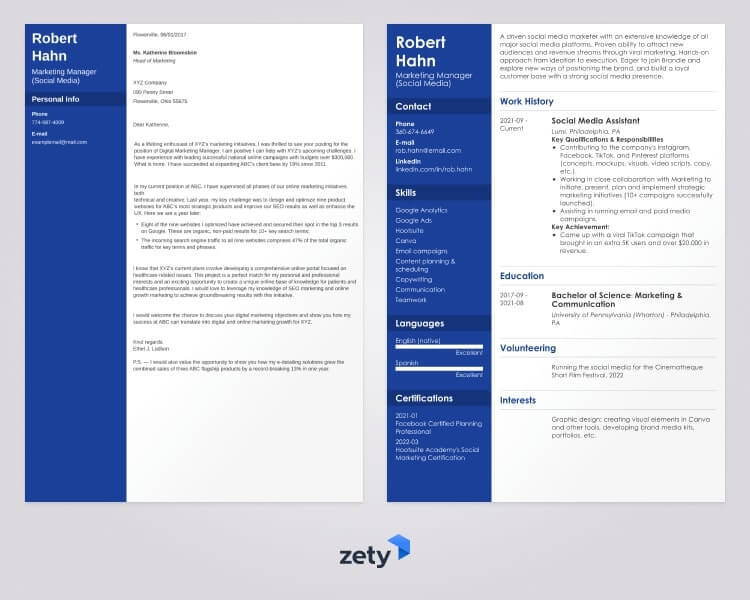 See more cover letter templates and start writing.
Are there any questions you have about writing a trainer resume? Not sure how to demonstrate experience? We're eager to help and answer in the comments below!
About Zety's Editorial Process
This article has been reviewed by our editorial team to make sure it follows Zety's editorial guidelines. We're committed to sharing our expertise and giving you trustworthy career advice tailored to your needs. High-quality content is what brings over 40 million readers to our site every year. But we don't stop there. Our team conducts original research to understand the job market better, and we pride ourselves on being quoted by top universities and prime media outlets from around the world.