Corporate Trainer Resume: Samples & Tips for All Levels
Everybody in business could use a bit of your training, you're just that good. To optimize more than just your career pipe dreams, you need an outstanding corporate trainer resume.
You combine education and HR into one, but how can you effectively show both on a corporate trainer resume?
There's a projected 11% growth in the field for the next decade, so clearly, the demand is abundant. Your competition surely knows how to chisel their applications and achieve success, but do you?
I see lots of hands going up. No worries, though. Just sit back and watch the presentation to learn more.
This guide will show you:
A corporate trainer resume example better than 9 out of 10 other resumes.
How to write a corporate trainer resume that will land you more interviews.
Tips and examples of how to put skills and achievements on a corporate trainer resume.
How to describe your experience on a resume for a corporate trainer to get any job you want.
Want to save time and have your resume ready in 5 minutes? Try our resume builder. It's fast and easy to use. Plus, you'll get ready-made content to add with one click. See 20+ resume templates and create your resume here.
Sample resume made with our builder—See more resume examples here.
Targeting slightly different jobs? Take a look at these articles:
Corporate Trainer Sample Resume
Steven Luce
Corporate Trainer
865-386-8181
steveluce@zetymail.com
Linkedin.com/in/12steven.luce
Summary
Accomplished corporate trainer with 7 years of experience in designing and organizing orientation and training programs. Presented training materials using 8 different approaches to an overwhelmingly positive (95% approval) response. Looking to join Liquid Web to enhance team cohesion and productivity.
Work Experience
Lead Corporate Trainer
Strive Health, Denver, CO
August 2015–February 2020
Revised existing training programs, modes of training delivery, and areas of training to decrease time needed by 15% while maintaining full effectiveness.
Upped share of employees who successfully passed CPR/AED training to 100%.
Worked closely with HR department to provide comprehensive onboarding and orientation for 75+ new employees.
Organized 15 seasonal company outings to promote off-site training and integration exercises.
Associate Development Specialist
WunderCourse, Reno, NV
October 2013–August 2015
Defined yearly calendars and progress checkpoints for all departments.
Regularly conducted second-round interviews for promising candidates.
Spent over 100 hours of training and more than 50 hours of interviewing candidates.
Education
Bachelor's Degree in Business Administration
Northwestern University, Evanston, IL
2010–2014
Key Skills
Leadership
eLearning Tools
Educational Course Design & Revision
Presentation Skills
MS Office
Adapting Teaching Methods to Audience
Personable
Evaluation
Conflict Resolution
Certifications
Certified Professional—Human Resources, IPMA-HR, 2016
IBCT Certified Trainer, 2015
Adult Education Certificate, Texas A&M University, 2014
Publications
"On Industry Veterans: How to Meet Expectations", in: Journal of Adult and Continuing Education, 11/2017
This is how to craft yourself an excellent corporate trainer resume:
1. Focus on Your Corporate Trainer Resume Format
Corporate trainers work with members of various departments to organize training for employees, raising their qualifications and optimizing performance. Your corporate trainer resume needs to paint the picture of a competent, personable educator with great presentation and organization skills.
Whew, you've got your work cut out ahead of you.
Fortunately, it all sounds way harder than it really is. The primary aspect to focus your improvement on first is readability.
Start by choosing the right resume format. The reverse-chronological resume excels at front-loading your strengths in an easily digestible format.
Then, save the recruiter some time by sticking to general rules of what a resume should look like: one-inch margins, distinct resume sections, white space, and a resume outline go a long way to organize your resume's visual presentation. You of all people would know how important that actually is!
Lastly, wrap up by saving the resume file as a PDF. It's less prone to errors, works on basically every device, and is generally just a much better choice.
Pro Tip: A one-page resume is optimal in 95% of cases. The other 5%, those of you who have taught CEO's how to run their business for years and are on McKinsey's retainer as their consultants, can opt for a two-page resume.
2.Bring out Your Best in a Corporate Trainer Resume Profile
So the design of your resume has been set, and that's a great first step in the right direction.
However, our HR statistics report highlights that most recruiters won't bother reading your entire resume in-depth, no matter how visually appealing it is.
At least, not at first.
They need to be able to glance at it, see if it has what they need, and only if it does will they keep reading.
In other words: you need a resume profile.
A career summary statement is one way you can create one. It's best suited to seasoned corporate trainers who've educated plenty of employees. Write about your most impressive accomplishments and the goals you wish to help the company achieve.
The other road is the career objective statement—for those that are just getting started as corporate trainers, and have plenty of ambition and drive. Past accomplishments from other jobs are still your best bet, provided you can show how previous roles have prepared you for corporate training success.
Pro Tip: The resume introduction is much like a presentation overview. You give it at the start, but it's not a bad idea to actually prepare it towards the end of writing it, once you've compiled all the info in your head.
3.Outline Your Work Experience in Your Corporate Trainer Job Description
This is it, the big one, the juiciest morsel of your resume.
The resume work experience section needs to show you have what it takes to take the company's productivity through the roof.
Here's a list of advice to get you there:
Read more: What Counts as Relevant Experience for a Resume?
4.Talk about Your Educational Background as a Corporate Trainer
A corporate educator not talking about their education? What kind of impression does that make?
I'll tell you: not a great one.
Though if you're already very experienced, you can almost skip the education section—almost being the operative word here.
The school name, degree, and year of graduation should suffice.
In other cases, you don't get off that easy!
With less than 5 years of professional experience, you can make a bigger impact by including information such as honors on your diploma, relevant coursework, and extracurricular activities, just to name a few examples.
You can include your GPA on your resume, too, provided it was high enough to be worth mentioning to employers (3.5+).
Read more: How to Put Your Degree on a Resume
When making a resume in our builder, drag & drop bullet points, skills, and auto-fill the boring stuff. Spell check? Check. Start building a professional resume template here for free.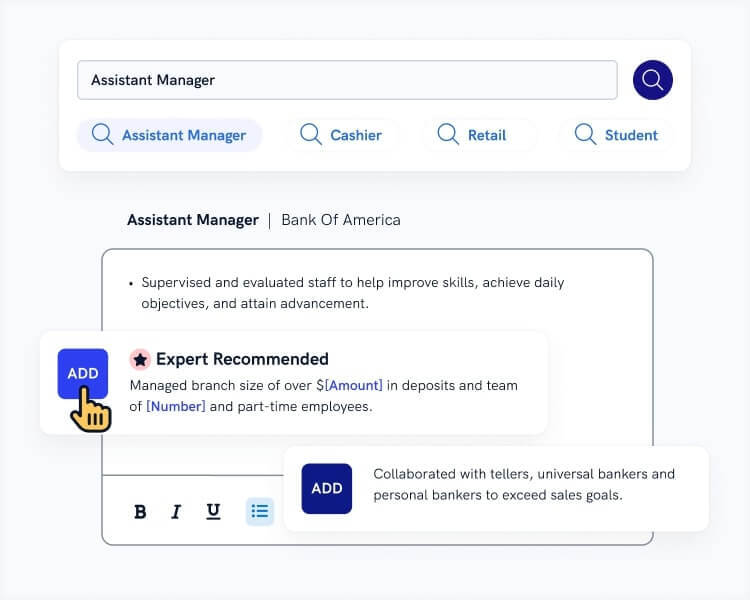 When you're done, Zety's resume builder will score your resume and our resume checker will tell you exactly how to make it better.
5.Mention the Right Corporate Trainer Skills
How do you, actually, prove you've got the right skill set?
Not only do you need to show you know what you're talking about, you also need to fit the company's bill.
It's a double whammy of hard-to-accomplish tasks.
But it's doable, you just have to know how.
First step: do not brag about having skills that you don't. Lying on a resume won't get you anywhere, plus verifying those skills is easy enough.
Second step: actually put thought into your skills section. Read the job posting.
If they need a sales expert to pass on their sales kung-fu down, then focus on that, and mention you have sales and customer service skills.
Extract several more resume keywords, and soon you'll come up with a handful you can compare against your own.
That's right—brainstorm a master list of your professional skills, divided into categories like your hard and soft skills, plus your technical skills.
Once you've concluded your investigation and narrowed your skills down to 6–10, you're bound to fly past their automated checks. Most companies use Applicant Tracking Systems (ATSs) to scan incoming applications. Using the right keywords makes your resume more ATS-friendly.
Anyway, let's get you on board with this basic list to start with:
Corporate Trainer Resume Skills
eLearning Tools
MSOffice
Adaptability
Product Knowledge
Human Resources
Assessing Goals, Objectives, and Outcomes
Evaluating Trainees
Reporting
Designing Training Programs
Lifelong Learning
Video Editing
Learning Management Systems (LMSs)
Social Media Prowess
Content Authoring Tools
Graphic Design
Teaching
Creativity Skills
Pro Tip: Themodern corporate trainer is an extremely versatile professional. The more qualities you can show off in your resume's skills section, the better.
6.Include Extra Sections on Your Corporate Trainer Resume
You've gotten thus far, which means by now, your corporate trainer resume is a damn good one.
The best teachers are those that identify their learner's individual needs, and that often requires thinking outside the box.
So far, we have stayed pretty much in the box, and so have the hundreds of other applicants, including some of the 36,000 newcomers.
But the recruiter won't bat an eye at the 48th near-identical resume she reads, she's looking for the one that stands out.
Adding extra sections to your resume increases your chances at getting noticed, like a well-designed PowerPoint presentation with custom-made graphics and elegant charts.
So, think about what makes you unique, like your certifications, special achievements, passion projects, or the languages you speak, and add those to your resume.
Read more: How to List Hobbies and Interests on a Resume [+Examples]
7.Write a Corporate Trainer Covering Letter
Cover letters are necessary, and that's virtually non-negotiable. They simply increase your chances of getting hired, so it makes no sense to omit them.
Follow this advice to write a great cover letter:
How many pages should a cover letter be for corporate trainers? Same as with the resume: one page. It doesn't have to be a full page, either—around 250 words will suffice.
Plus, a great cover letter that matches your resume will give you an advantage over other candidates. You can write it in our cover letter builder here. Here's what it may look like: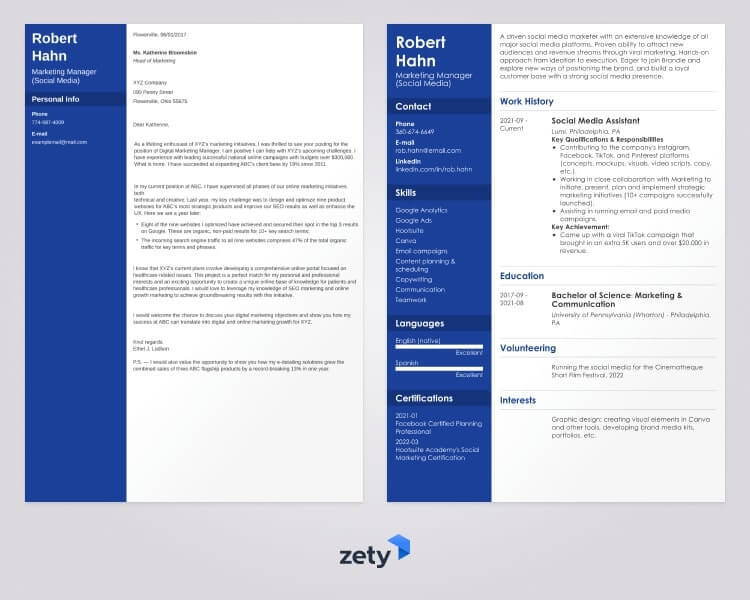 See more cover letter templates and start writing.
Need any tips on presenting your corporate trainer skills the right way? Got your own recruitment stories to share? Give us a shout in the comments!
About Zety's Editorial Process
This article has been reviewed by our editorial team to make sure it follows Zety's editorial guidelines. We're committed to sharing our expertise and giving you trustworthy career advice tailored to your needs. High-quality content is what brings over 40 million readers to our site every year. But we don't stop there. Our team conducts original research to understand the job market better, and we pride ourselves on being quoted by top universities and prime media outlets from around the world.