Fashion Cover Letter: Sample & Writing Guide
In-vogue ensembles are your playground, and you know the right silhouette for every body type. Strut your stuff with a fashion cover letter that gets your resume rave reviews.
You need a Prada-level fashion cover letter. Why? Because a resume is like an ensemble. If you don't make it attractive to employers, they'll only glance. Your cover letter must motivate the hiring manager to want to get to know you. Follow the right steps, and job offers will mob you like paparazzi.
This guide will show you a fashion cover letter example and the best tips on how to write a cover letter for the fashion industry step-by-step
Ready?
Want to write your cover letter fast? Use our cover letter builder. Choose from 20+ professional cover letter templates that match your resume. See actionable examples and get expert tips along the way.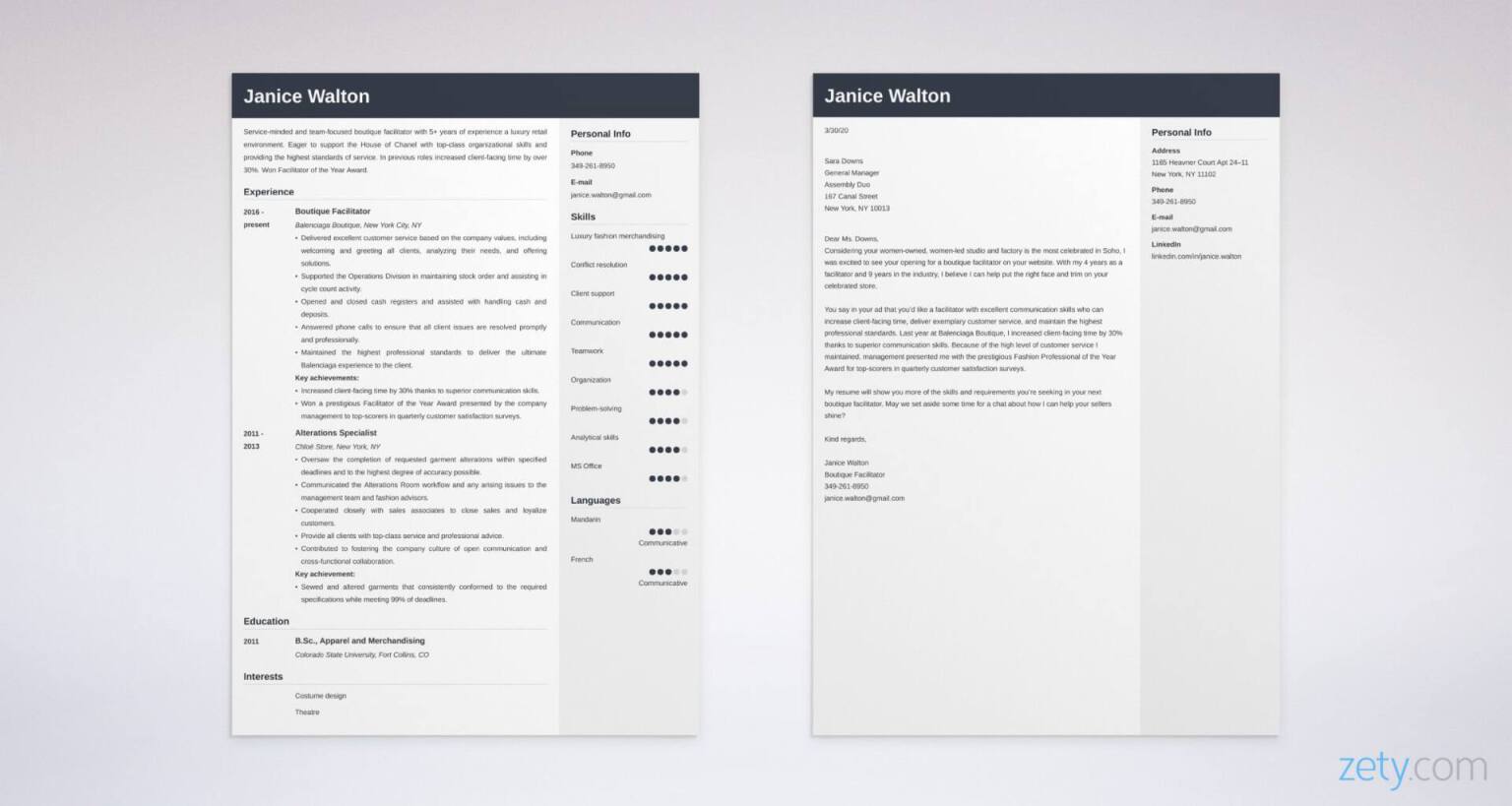 Sample cover letter for a resume—See more cover letter samples and create your cover letter here.
Fashion Cover Letter Sample
Janice Walton
Boutique Facilitator
1165 Heavner Court Apt 24–11
New York, NY 11102
349-261-8950
janice.walton@gmail.com
linkedin.com/in/janice.walton
3/30/20
Sara Downs
General Manager
Assembly Duo
167 Canal Street
New York, NY 10013
Dear Ms. Downs,
Considering your women-owned, women-led studio and factory is the most celebrated in Soho, I was excited to see your opening for a boutique facilitator on your website. With my 4 years as a facilitator and 9 years in the industry, I believe I can help put the right face and trim on your celebrated store.
You say in your ad that you'd like a facilitator with excellent communication skills who can increase client-facing time, deliver exemplary customer service, and maintain the highest professional standards. Last year at Balenciaga Boutique, I increased client-facing time by 30% thanks to superior communication skills. Because of the high level of customer service I maintained, management presented me with the prestigious Fashion Professional of the Year Award for top-scorers in quarterly customer satisfaction surveys.
My resume will show you more of the skills and requirements you're seeking in your next boutique facilitator. May we set aside some time for a chat about how I can help your sellers shine?
Kind regards,
Janice Walton
Boutique Facilitator
349-261-8950
janice.walton@gmail.com
That's a Cara Delevingne-worthy fashion industry cover letter example.
Need a matching resume for fashion industry cover letters? See our guide: Fashion Resume Sample
If you're looking for a certain kind of fashion job, see these guides:
Fashion Cover Letter Template
Here's how to write a cover letter for a fashion job application:
1. Use the best fashion cover letter formatting and layout
Read more: Cover Letter Format (Examples)
2. Create an on-fleek fashion cover letter header
Read more: How and to Whom Should I Address a Cover Letter?
3. Use a personal greeting and an engaging first paragraph
Start with "Dear [Hiring Manager Name],"
Write a fashion-forward first paragraph.
Mention the job opening that interests you.
Tell them your years of fashion job experience and add a Hermes-style achievement.
Read more: How to Start a Cover Letter
4. Prove you're the right applicant in paragraph #2
Mention the requirements from the fashion job ad.
Highlight a couple Fendi-level achievements from your resume.
Match your work history details to the job posting.
Promise they'll see more in your fashion resume.
Start with the right plan. See our guide: Cover Letter Outline as Suggested by Career Experts
5. Explain why you want to join their fashion team
Say something you like about the fashion business.
Prove there's a reason you applied to this job over all the others.
Do this in any of your three paragraphs.
This step shows employers you'll be a dedicated employee.
Yikes! Data from the U.S. Bureau of Labor Statistics shows U.S. fashion manufacturing has dropped 80% in 20 years. The good news? Retail and wholesale fashion jobs remain the same.
6. Offer something at the end of your fashion cover letter
Mention a benefit they want.
Ask for the interview.
Promise to talk about how you can help their fashion business.
Read more: The Best Cover Letter Closings
7. Add a professional sign-off to the end
End by repeating your full name, email, and phone number.
Include a digital signature to dodge the off-the-rack look.
Don't rest on your laurels. Follow up each week (for a few weeks) with a short email or phone call. Learn more: Job Application Follow-Up Email Templates
When making a resume in our builder, drag & drop bullet points, skills, and auto-fill the boring stuff. Spell check? Check. Start building a professional resume template here for free.
When you're done, our online resume builder will score your resume and our resume checker will tell you exactly how to make it better.
Questions? Concerns? We're here for you. If you're still unsure how to write a Marc-Jacobs-level cover letter for fashion jobs, drop me a line in the comments.
About Zety's Editorial Process
This article has been reviewed by our editorial team to make sure it follows Zety's editorial guidelines. We're committed to sharing our expertise and giving you trustworthy career advice tailored to your needs. High-quality content is what brings over 40 million readers to our site every year. But we don't stop there. Our team conducts original research to understand the job market better, and we pride ourselves on being quoted by top universities and prime media outlets from around the world.
Sources