Our customers have been hired by:
"I'm an artist! Why on earth do I need to write a cover letter?"
You're right to think that actions speak louder than words.
But—
Your employer has probably never met you, so stop with the drama act and get down to writing your artist cover letter.
This guide will show you an art cover letter sample and the best tips on how to write an artist cover letter step-by-step.
Want to write your cover letter fast? Use our cover letter builder. Choose from 20+ professional cover letter templates that match your resume. See actionable examples and get expert tips along the way.
Sample cover letter for a resume—See more cover letter templates and create your cover letter here.
Find other related guides:
Artist Cover Letter Sample
Jose Beck
Sculptor
909-876-7041
josebeck@email.com
josebeck.com/portfolio
Colton, June 2019
Crystal Perry
Artistic Director
Museum of Art
871 Roosevelt Wilson Lane
Colton, CA 92324
Dear Crystal,
From the very moment of receiving a scholarship to pursue my passion for sculpting at UCLA, I knew I was headed in the right direction. Art's been present in my life since my parents, Yale's alumni of visual arts, opened the doors of their non-profit art studio. Niche artists from all around the world came to show their works. And there I saw that man can do wonders.
I completed a collection of sculptures depicting the 2005 hurricane Katrina, both exhibited in the Art Gallery in New York, NY, in 2016 and 2017. Later in 2018, I was awarded an Art Foundation Grant as an aspiring and promising artist of the decade.
The grant has helped me complete my lifetime project, "You are the Future," for which I made a sculpture out of collected pieces created individually by 24 young, aspiring artists from the U.S., Latin America, and Europe. The final sculpture received numerous accolades and awards, including the American Arts Award.
Knowing who's worked for the Museum of Art makes me honored to be one of the applicants for the residency and to have the chance to experience the highest level of art under your wings.
Let me know whether next week is convenient for you to meet and discuss my artistic abilities that, I'm confident, you'll find to your liking.
Yours sincerely,
Jose Beck
Cover Letter for an Artist Template
Here's how to write a cover letter for an art job:
1. Format Away Your Cover Letter
Just like you need a canvas to paint or fabric to sew, your art cover letter needs a base, too.
Create a cover letter format that holds everything together:
There are no secrets behind writing a cover letter. See it for yourself: How To Write A Cover Letter
Zety's resume builder will generate hundreds of server job descriptions as well as suggest bullet points, skills, and achievements. If that doesn't get your mouth watering, what will?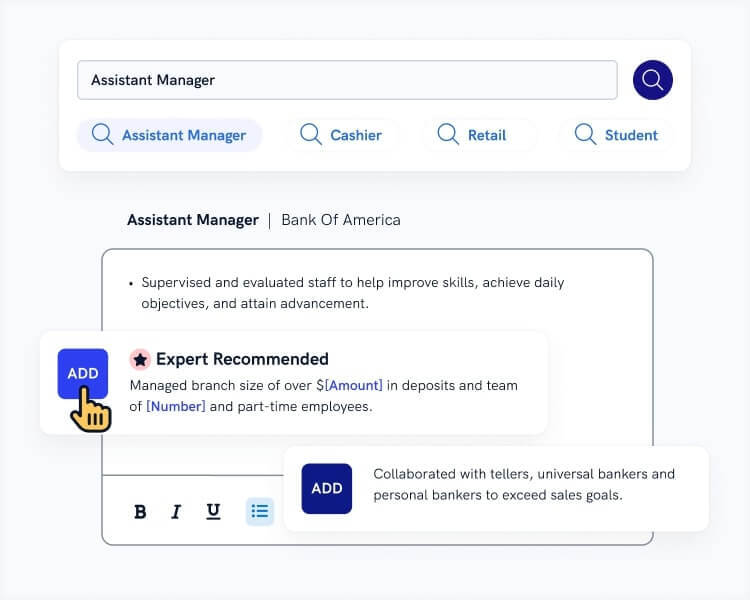 Create a resume with perfect job descriptions using the Zety resume maker now
2. Use Your Reader's Name in the Salutation
The art world is small. So—
Do your research to address your letter precisely to the person hiring, i.e., art directors, curators, principals, and the like.
You'll come off as ignorant if you don't, and it'll stick to you forever.
Yikes!
Here's what you need to do to avoid such a label:
Include the place and date of writing under your contact information.
Then, add the reader's name and their job title.
Mention the name of the workplace together with its address details.
Begin the letter with Dear + Ms/Mr + LastName.
Refrain from using "To Whom It May Concern" or "Dear Sir or Madam." It gives away your lack of interest, plus it suggests poor research skills.
If you're having difficulty finding the name of your recruiter, only "Dear Selection Committee" can save you.
Find all the answers to How To Address A Cover Letter
3. Open Your Art Portfolio Cover Letter With Success
"Can't be!"
Well, actually—
It can.
You're the next René Magritte, and you make your recruiter's expectations turn into the surreal with only a few opening lines.
The guide will show you Examples Of How To Sell Yourself In A Cover Letter
4. Write About Your Relevant Experience and Skills
Imagine this:
The task is to write "Sondheim's Sweeney Todd is a masterpiece." and you write "I'm a masterpiece."
Jaw.
Dropped.
Someone tells you exactly what they need, and you ignore it? Your cover letter is not the place to do that.
Find just the way to describe yourself and your experience to a potential employer:
Whether you've come a long way already or you're still waiting for your big break, refer to qualities and skills your employer has given in the job description.
Look for the keywords in candidate requirements and responsibilities. Use them to show your relevance and fit for the position.
Thinking about what you can do is one thing, but proving it is another. Always give evidence of positive outcomes. Power verbs should help you with that.
Don't repeat what you wrote in the resume. Choose something recruiters don't know yet, or get into the details of one of your accomplishments.
One or two paragraphs are enough.
Before you start writing your performance paragraphs, read Why Lying In Job Applications Never Works
5. Double-Size Your Motivation for the Job
Do you want to be the next Rob Janoff, work at Pentagram, or design live visuals for Rihanna's shows?
You've got your 15 minutes.
Tell the employer about your dedication in the second-to-last paragraph.
The cover letter is a tool to exhibit your artistic personality, so put this knowledge to good use and make it personal.
Don't be afraid to show emotions.
Share your enthusiasm for growth. Artists who don't work on their talents and skills are like the last season of Game of Thrones—you feel cheated and want to move on as quickly as possible.
If you share views on matters or concepts, say it. Everyone feels better around like-minded people.
To explore your possibilities for describing your motivation to the employer, read What You Should Include In A Cover Letter
6. Make an Offer and Call to Action Yourself
"You up for a shoot in Big Sur?"
Easy does it!
You'll forget your camera in such a hurry.
Why don't you let your recruiter feel the same level of excitement? They should also feel the hurry to calling you!
Ask the hiring person to invite you for an interview. Even if you think it's too bold a move for you. It'll only highlight your motivation to join them.
You can add "this week" to put even more pressure on them.
Sign off the letter with "Best regards" or "Kind regards" if you think "Sincerely"doesn't do anymore, and your full name.
If you're hiding quite a success up your sleeve, you can mention in it a postscript. Just write P.S.— and follow with the achievement.
For the final writing part, check How To End A Cover Letter
Want to write your cover letter fast? Use our cover letter builder. Choose from 20+ professional cover letter templates that match your resume. See actionable examples and get expert tips along the way.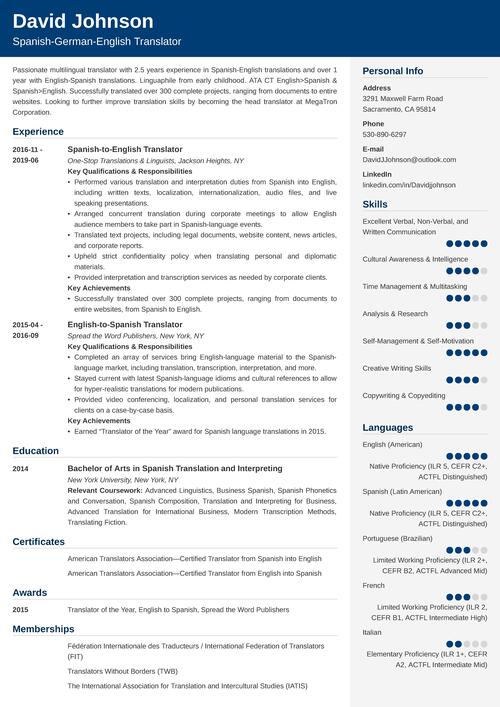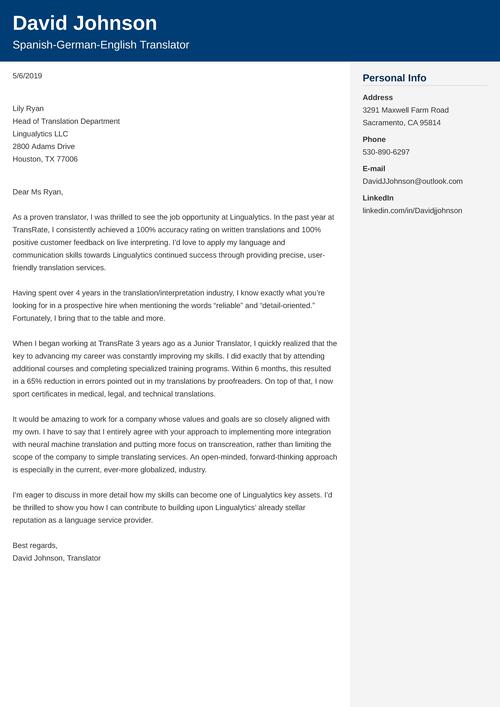 Sample cover letter for a resume—See more cover letter templates and create your cover letter here.
That's a wrap!
You're all set, and thank you for reading!
Pray to tell—
How did you like the guide on writing a cover letter for an artist? Do you think we should add more tips for cover letters for art internships? Is there something missing in our art portfolio cover letter sample?
Let us know in the comments!
About Zety's Editorial Process
This article has been reviewed by our editorial team to make sure it follows Zety's editorial guidelines. We're committed to sharing our expertise and giving you trustworthy career advice tailored to your needs. High-quality content is what brings over 40 million readers to our site every year. But we don't stop there. Our team conducts original research to understand the job market better, and we pride ourselves on being quoted by top universities and prime media outlets from around the world.
Sources