Project Coordinator Cover Letter: Samples & Writing Guide
The scope of work is clear: Get the best possible project coordinator job. Stay on track and avoid scope creep with a great project coordinator cover letter.
Project coordinators oversee projects from inception to completion, but poor management spells disaster for the budget, timeline, and scope of projects. The high failure cost means employers will expect a lot from you.
This guide will be the digital Kanban board to help you visualize what a great project coordinator cover letter looks like and how to write one of your own.
This cover letter guide will show you a sample project coordinator cover letter for entry-level project coordinators, as well as seniors. Use these step-by-step tips to write a winning project coordinator cover letter.
Let's get started!
Want to write your cover letter fast? Use our cover letter builder. Choose from 20+ professional cover letter templates that match your resume. See actionable examples and get expert tips along the way.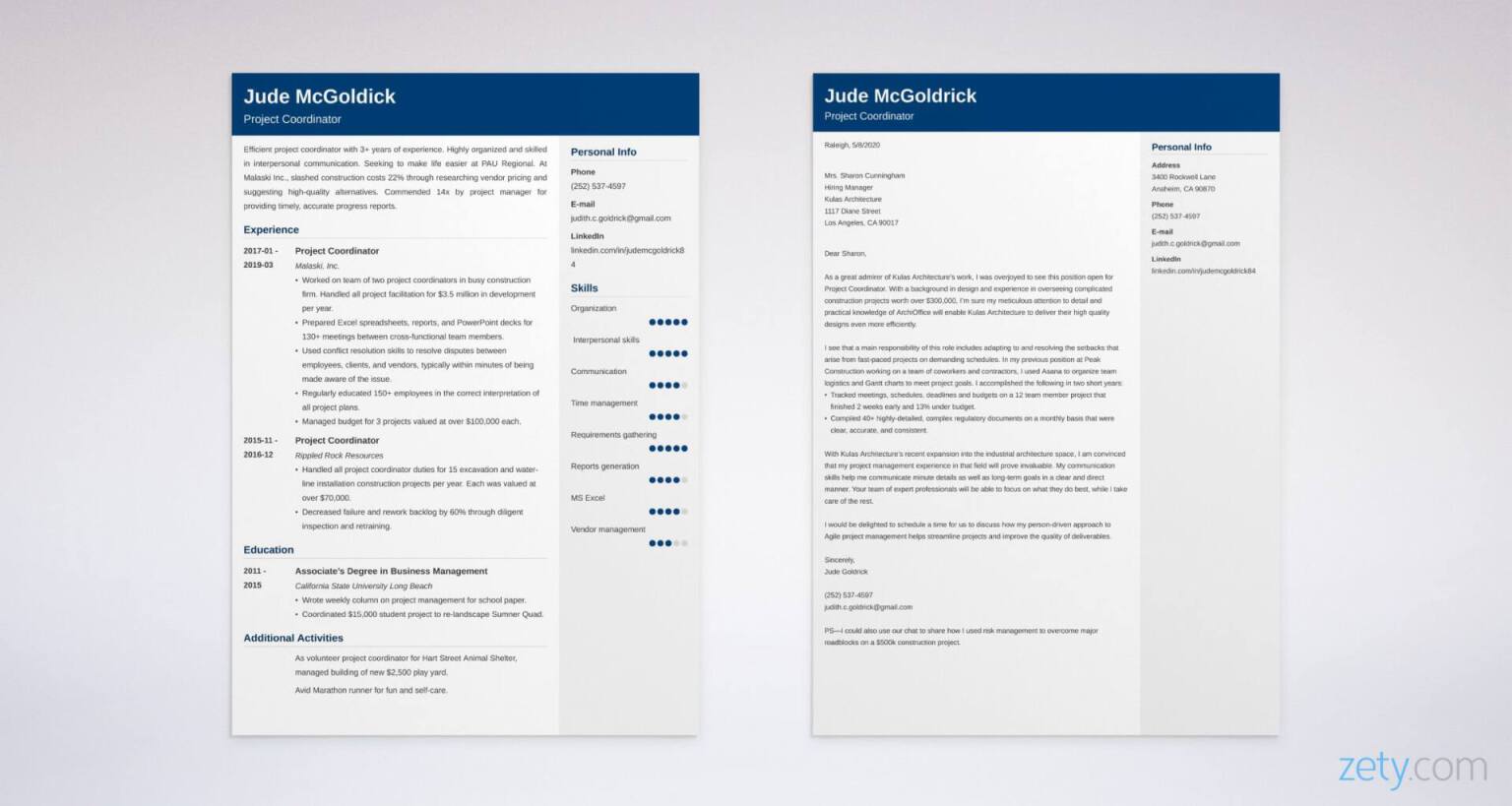 Sample Cover Letter for a Resume—See more cover letter examples and create your cover letter here.
Sample Cover Letter for Project Coordinator
Jude McGoldrick
Project Coordinator
3400 Rockwell Lane
Anaheim, CA 90870
(252) 537-4597
judith.c.goldrick@gmail.com
linkedin.com/in/judemcgoldrick84

Raleigh, 5/8/2020

Mrs. Sharon Cunningham
Hiring Manager
Kulas Architecture
1117 Diane Street
Los Angeles, CA 90017


Dear Sharon,

As a great admirer of Kulas Architecture's work, I was overjoyed to see this position open for Project Coordinator. With a background in design and experience in overseeing complicated construction projects worth over $300,000, I'm sure my meticulous attention to detail and practical knowledge of ArchiOffice will enable Kulas Architecture to deliver their high quality designs even more efficiently.
I see that a main responsibility of this role includes adapting to and resolving the setbacks that arise from fast-paced projects on demanding schedules. In my previous position at Peak Construction working on a team of coworkers and contractors, I used Asana to organize team logistics and Gantt charts to meet project goals. I accomplished the following in two short years:
Tracked meetings, schedules, deadlines and budgets on a 12 team member project that finished 2 weeks early and 13% under budget.
Compiled 40+ highly-detailed, complex regulatory documents on a monthly basis that were clear, accurate, and consistent.
With Kulas Architecture's recent expansion into the industrial architecture space, I am convinced that my project management experience in that field will prove invaluable. My communication skills help me communicate minute details as well as long-term goals in a clear and direct manner. Your team of expert professionals will be able to focus on what they do best, while I take care of the rest.
I would be delighted to schedule a time for us to discuss how my person-driven approach to Agile project management helps streamline projects and improve the quality of deliverables.
Sincerely,
Jude Goldrick
(252) 537-4597
judith.c.goldrick@gmail.com
PS—I could also use our chat to share how I used risk management to overcome major roadblocks on a $500k construction project.
Now that you've seen a cover letter the Project Management Institute would certify, we'll show you how to write one yourself. But remember—
The perfect cover letter won't seal the deal without a perfect resume to match. See our project coordinator resume writing guide here: Project Coordinator Resume: Sample & Writing Guide
Exploring similar, but different job postings? Check out these other guides related to project management (PM):
Project Coordinator Cover Letter Template
Here's how to write a project coordinator cover letter for a job application:
1. Use correct project coordinator cover letter formatting
Project coordinators are expected to be detail oriented and organized. Prove that you are with these tips:
Read more: Cover Letter Layout and Best Cover Letter Outline
2. Make your cover letter header professional
Include your name, position, phone number, email, and LinkedIn (optional) in the cover letter header.
Write the city and date of the location you're applying at.
Be personal. Address the HR manager by name in your cover letter salutation.
Don't know the name of the hiring manager? Look on the company's website or try LinkedIn. Calling the reception is also an option, and shows the kind of "gets things done" attitude project coordinators need. Do whatever it takes to avoid the dreaded "To Whom It May Concern" cover letter greeting.
Read more: How to Address a Cover Letter
3. Capture the hiring manager's attention with a captivating first paragraph
Your introduction is like the first task on a Gantt chart; the rest of your cover letter depends on it being completed successfully. That's why it's important that you:
Name which position you're applying for.
Use a short intro to mention relevant career achievement examples or why your experience makes you perfect for the job.
Read more: How to Start a Cover Letter the Right Way
4. Draw on your experience to explain why you're perfect for the job
Remind the hiring manager why good project management is so important. According to PMI, poor project performance wastes $122 million out of every $1 billion invested! Use the second paragraph to explain why hiring you would be doing them a favor.
Explain how you've performed similar duties responsibilities from the job description in the past.
Since 97% of organizations agree that project management is critical to business performance and organizational success, use this paragraph to prove you've guaranteed the success of past projects and show your project management skills.
Quantify how you've helped finish projects ahead of schedule or under budget. Part of tracking budgets and timelines of projects means you should have solid data to back up your claims. Use it to your advantage!
Need more inspiration on how to impress the hiring manager? Read more:What Should a Cover Letter Say?
5. Express why you want to work at this company
Drop a line about admiring some aspect of their organization to show you've done your research.
Make it clear why this position and company are the perfect next step for your career.
Imply that you're in it for the long haul. HR professionals have a sixth sense for job hoppers.
Don't turn your cover letter into a resume in paragraph form by regurgitating the same information! Otherwise, the HR manager will feel like they just wasted their time reading it.
If you can't make your cover letter fit on the page, your cover letter is too long! Read more: How Long Should a Cover Letter Be?
6. Make an interview request your call to action
In the last part of a cover letter suggest a phone or in-person interview directly.
Recap briefly what the hiring manager has to gain by connecting with you.
Include a PS to catch their eye like a rainbow-colored waterfall chart.
Read more on how to end a cover letter: How to Sign Off a Cover Letter
7. Finish with a professional closing salutation
Close with a professional cover letter enclosure like "Best regards," or "Kind regards,".
Sign your full name. Optional: Include a digital signature.
Add your shortened contact details below your name.
Show that you see tasks through to the end by following up on your job application. Read how to: Job Application Follow-Up Email After Sending a Resume
Now that you've learned how to write a project coordinator cover letter as if you're Henry Gantt reincarnated, all you need is a matching resume.
When making a resume in our builder, drag & drop bullet points, skills, and auto-fill the boring stuff. Spell check? Check. Start building a professional resume template here for free.
When you're done, our free resume builder will score your resume and our resume checker will tell you exactly how to make it better.
Thanks for reading! Now I'd love to hear from you. What did you think of our project coordinator cover letter example? What project management skills and experience do you think are most important to land a great project coordinator job? Let me know in the comment section below. Let's chat!
About Zety's Editorial Process
This article has been reviewed by our editorial team to make sure it follows Zety's editorial guidelines. We're committed to sharing our expertise and giving you trustworthy career advice tailored to your needs. High-quality content is what brings over 40 million readers to our site every year. But we don't stop there. Our team conducts original research to understand the job market better, and we pride ourselves on being quoted by top universities and prime media outlets from around the world.
Sources