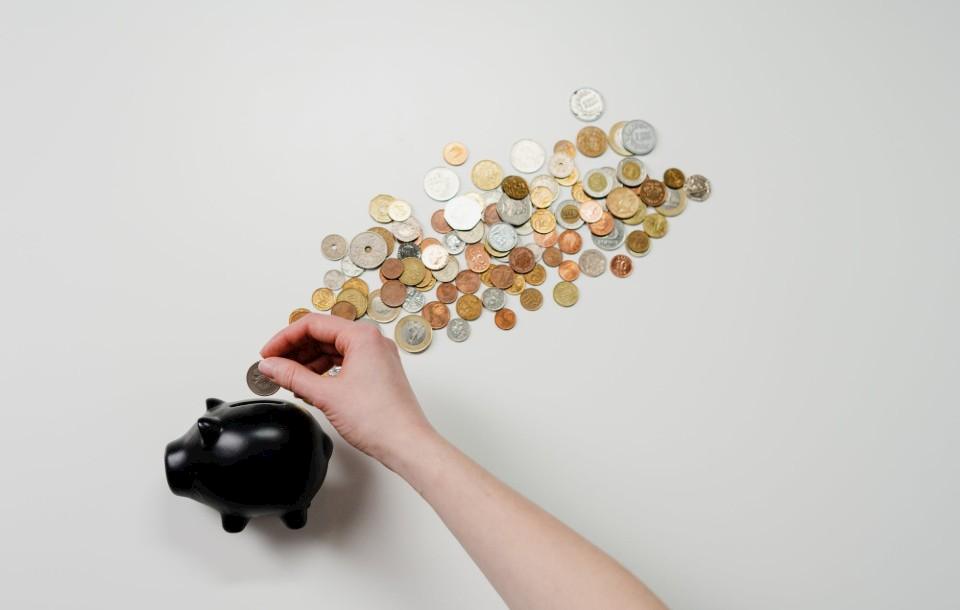 Finance CV Examples & Writing Guide
Whether it's a bull or a bear market, make sure you don't end up a liability by writing a perfect finance CV.
As long as there is money, there will be finance, so you can sleep soundly, right?
Wrong.
Finance workers need to be as dynamic and complex as the markets they deal with. Faced with that prospect, financial institutions only want to hire the best.
That means you really need to show that you're a rare commodity on today's market. So how do you do that without sounding like an overinflated hedge fund?
Write a finance CV that would make Peter Lynch proud.
We'll show you how to do exactly that by writing a finance CV as great as the one below:
Want to save time and have your CV ready in 5 minutes? Try our CV builder. It's fast and easy to use. Plus, you'll get ready-made content to add with one click. See 18 CV templates and create your CV here.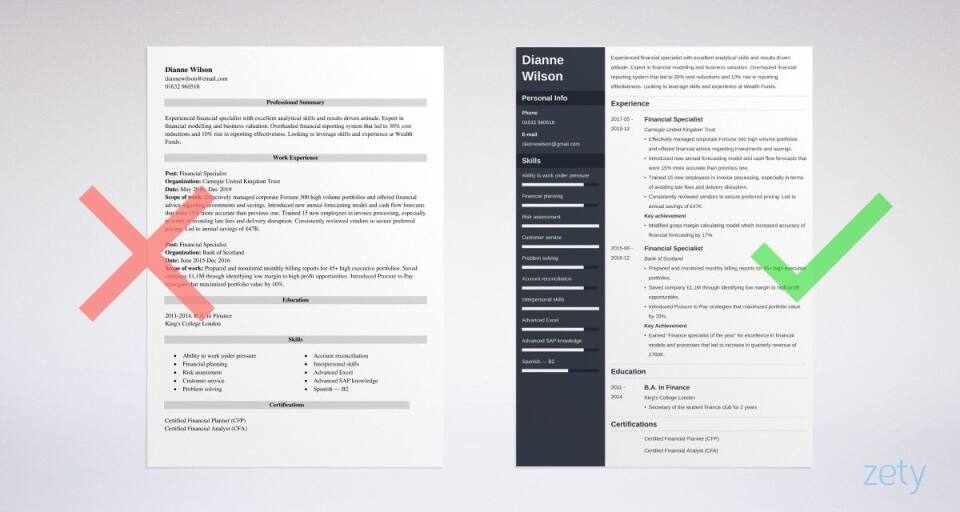 Finance CV made with our builder—See more CV examples here.
Finance CV Example
Dianne Wilson
diannewilson@gmail.com
01632 960518
Professional Summary
Experienced financial specialist with excellent analytical skills and results driven attitude. Expert in financial modelling and business valuation. Overhauled financial reporting system that led to 30% cost reductions and 10% rise in reporting effectiveness. Looking to leverage skills and experience at Wealth Funds.
Work Experience
Financial Specialist
Carnegie United Kingdom Trust
May 2016- Dec 2019
Effectively managed corporate Fortune 500 high volume portfolios and offered financial advice regarding investments and savings.
Introduced new annual forecasting model and cash flow forecasts that were 15% more accurate than previous one.
Trained 15 new employees in invoice processing, especially in terms of avoiding late fees and delivery disruption.
Consistently reviewed vendors to secure preferred pricing. Led to annual savings of

£

47K.
Key achievement
Modified gross margin calculating model which increased accuracy of financial forecasting by 17%.
Financial Specialist
Bank of Scotland
June 2015-Dec 2016
Prepared and monitored monthly billing reports for 45+ high executive portfolios.
Saved company

£

1,1M through identifying low margin to high profit opportunities.
Introduced Procure to Pay strategies that maximized portfolio value by 10%.
Key Achievement
Earned "Finance specialist of the year" for excellence in financial models and processes that led to increase in quarterly revenue of

£

700K.
Education
2011-2014, B.A. in Finance
King's College London
Secretary of the student finance club for 2 years
Skills
Ability to work under pressure
Financial planning
Risk assessment
Customer service
Problem solving
Account reconciliation
Interpersonal skills
Advanced Excel
Advanced SAP knowledge
Spanish — B2
Certifications
Certified Financial Planner (CFP)
Certified Financial Analyst (CFA)
This is how to write a job-winning finance CV:
1. Use the Best Format for Your Finance CV Template
People in finance work for banks or other financial institutions to service and counsel individual and corporate clients in their financial needs. The purpose of your finance CV is to show that you have both the skills and experience needed to reach an organization's financial goals.
Finance is an umbrella term that covers a wide array of different specializations. Finance employees work in positions from analysts and specialists to managers and directors, each with their own necessary set of skills and expertise.
The good news is that unemployment in the financial sector is very low and the number of job opportunities is steadily on the rise.
The not so good news is that competition is fierce and recruiters don't have hours to get to know you.
To get the recruiter to invest in your CV, you need to follow these CV formatting rules:
Check that your CV contact information is up to date. Double check your social media footprint for anything that might be seen as unprofessional or unethical.
Optimizing your LinkedIn profile is a must. Leverage it as a chance to share more information about your professional experience and interests in finance.
Out of all CV styles, the chronological layout is the go to for finance CVs. It highlights your professional job experience and financial skills which is exactly what you want to underline. An added bonus is that it's also the format that most recruiters recognize and quite ATS compliant.
For a clean CV template, choose a CV font that's professional and easy to read. You know that people rarely read the fine print so make sure to use a good font size and leave some white space for better visibility.
If you want your CV layout looking like one of your professionally formatted spreadsheets, save it in a PDF format.
There are a lot of questions about how long your CV should be. A good rule of thumb is that a one-page CV template should do the trick, unless you've been in finance as long as the U.S dollar.
Read more: Best CV Structure

2. Write a Summary or Objective for a Finance CV
Make your introduction through your CV profile, or to be precise, a career objective or summary. It's a short and sweet paragraph that begins your finance CV and helps recruiters quickly understand that you're the shiny penny they want.
If you've been balancing the books for more than 2 years, write a career summary:
Think about the key points in your experience and financial skills and make notes. Remember about your career accomplishments—they can really wow recruiters.
Choose 4 great points and add them to your finance CV summary section to show the recruiter that they can bet their bottom dollar on you.
If you're writing an entry-level CV or finance intern CV, choose the career objective:
Highlight skills and knowledge you've gathered to date and include some points on how good of a fit you'd be for the company.
Think of relevant transferable skills and quantifiable achievements from other gigs you've had throughout your life and school especially if they can prove certain skills or know how.
About 3-4 sentences long max is all you really need here. Don't forget to tailor it to the job description just like you tailor financial forecasts to the current economic weather.


3. Create the Perfect Finance CV Job Description
If you want to land that interview you're dreaming of, your CV experience section needs to be more appealing than a no risk high return:
Start from your current position and then go back in time.
Make each entry clear and concise by adding: job titles, company name, dates of employment, and 6 bullet points max that mention your accomplishments.
Lower the number of bullet points with your earlier jobs. Positions in the past shouldn't have more than 3 bullet points.
Use an action verb at the beginning of each bullet point.
Creating a laundry list of duties isn't the way to go. Instead, use quantifiable achievements to impress. Make the numbers work for you.
Tailor your finance experience section to the position you want to increase your chances of getting that interview.


4. Make Your Finance CV Education Section Shine
Education is important in finance so you can't just skim over this part.
Here's how to get your education section to make recruiters go all in:
Don't get into too much detail if you have more than a few years of experience. Just list the following: college/university name and location, years you studied, degree, major and minors.
If you only have a year or two of experience or you're writing a recent college grad CV, beef up your education CV section with wins from your college days (such as a GPA or Latin honors). Make sure they're relevant and list no more than 4-6 items.
If you're as new as a crisp bill or writing a finance internship CV, put your education section above your work experience. You'll be focusing on your strengths which is the best way to start off your CV with no experience.
5. Highlight Your Financial Skills
Skills are the cornerstone of any occupation and that's especially true for finance where analytical skills are just as crucial as people skills.
Here's how to list your financial skills that'll give recruiters visions of a high ROI:
Think about the job skills you have—this means soft skills and hard skills, technical skills, and any other relevant skills you've got in your portfolio. List them.
Pick the most relevant financial skills by using the job ad as a cheat sheet. Include those top skills in your financial CV. Always mention skills that both your experience and education sections prove.
CV Skills List for Finance Professionals
Interpersonal skills
Accounts receivable and payable
Due diligence
Cash handling
Debt and credit management
Problem-solving skills
Time management skills
Negotiating
Financial analysis
Collaboration skills
Risk assessment
Account reconciliation
SAP
Microsoft Office skills
Conceptual skills
When making a CV in our builder, drag & drop bullet points, skills, and auto-fill the boring stuff. Spell check? Check. Start building your CV here.
When you're done, Zety's CV builder will score your CV and tell you exactly how to make it better.
6. Add Extra Sections to Your Finance CV
You've done a lot, but you're not done just yet. You still have some room to really drive home the bottom line—you're the employee they need.
Add language skills that can be beneficial to your job. The future of finance will be in emerging markets so your knowledge of their languages will give you an advantage over the competition.
Include volunteering, achievements and awards, projects, and even hobbies and interests if they're relevant to finance or prove a certain skill or know how. Finance workers need to have a wide array of skills to be excellent and flexible at their job, so include things that can prove that.
Don't forget about your certifications! These are absolutely crucial if you're striving to become a finance director, financial analyst, finance manager, finance specialist, or any other kind of finance specialist.
Read more: What to Put on a CV

7. Attach a Cover Letter to Your Finance CV
You should include a cover letter, even if the job ad doesn't ask for one. Recruiters read them and it gives you more room to prove that you're a sound investment.
Write a finance cover letter that will have the U.S Treasury minting coins with your face on them:
Use a modern cover letter format that shows you're a professional ready to get down to business.
Start your cover letter off with a "hook" to grab the hiring manager's attention.
Show that your experience and job skills are the returns the company is looking for with specific examples.
Add an impactful call to action to end your cover letter.
The ideal length of an effective cover letter is around one page so keep it concise and to the point.
Plus, a great cover letter that matches your CV will give you an advantage over other candidates. You can write it in our cover letter builder here. Here's what it may look like: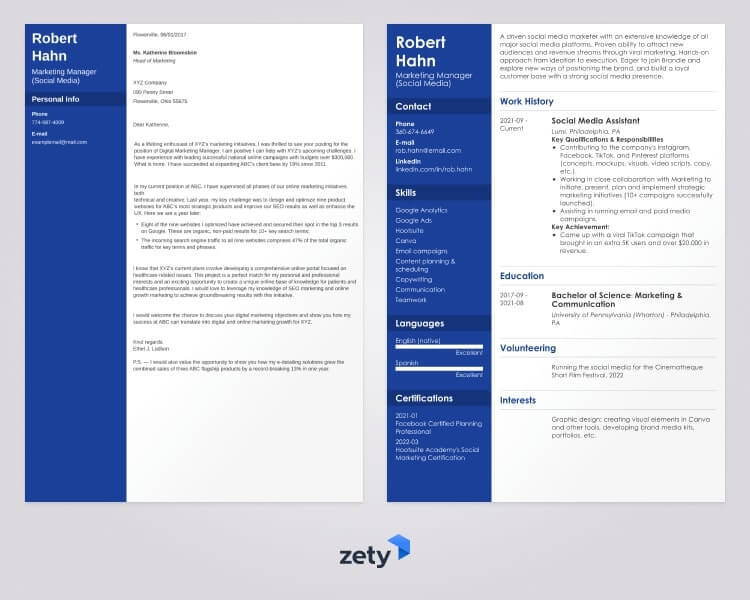 See more cover letter templates and start writing.
Later on, remember to follow up on your job application! There's no point in managing a portfolio if you're not going to track its progress!
That's the nuts and bolts behind a successful finance CV.
Thanks for reading. Have any insider tips or tricks to share about writing the perfect financial CV? Share them in the comments below!
About Zety's Editorial Process
Our editorial team has thoroughly reviewed this article to ensure it follows Zety's editorial guidelines. Our dedication lies in sharing our expertise and providing you with actionable career advice that offers you real value. Every year, the quality of our content attracts 40 million readers to our site. But that's not all – we conduct original research to gain a detailed understanding of the labour market. We take pride in being cited by top universities and leading media outlets in the UK and worldwide.
Sources