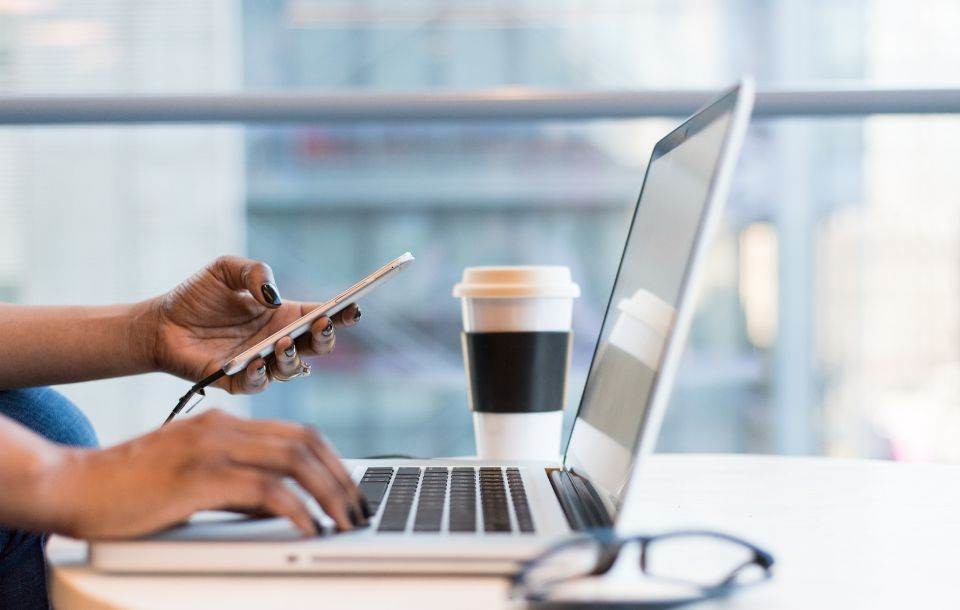 How to Write a Job Acceptance Letter (Example & Template)
You're all excited about that job offer, so what are you waiting for? Learn how to write a job acceptance letter ASAP and create a reply no one ever forgets.
You've got a real reason to be excited. You've just beaten hundreds of other candidates for this position. And this offer is everything you wanted.
Now, the only thing keeping you from starting this new job is… accepting the offer.
Don't let your nerves take control over you. Just read this guide and reply with a job acceptance letter that will raise their hopes high.
This guide will show you:
A job acceptance letter sample better than 9 out of 10 other examples out there.
Step-by-step instructions on how to write an acceptance letter for a job offer.
Everything you need to include in your job acceptance letter.
Our cover letter builder can create all types of business correspondence—including a job acceptance letter. Just choose one of the cover letter templates and adapt it to your needs.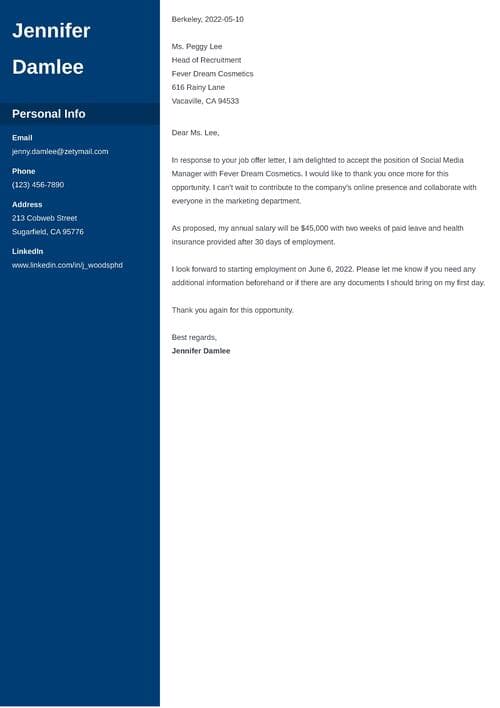 Sample letter of intent school made with our builder—See more resume examples here..
Need help with other types of business letters? Check these articles:
Job Acceptance Letter Sample
Jennifer Damlee
213 Cobweb Street
Sugarfield, CA 95776
(123) 456-7890
jenny.damlee@zetymail.com
May 10, 2022
Ms. Peggy Lee
Head of Recruitment
Fever Dream Cosmetics
616 Rainy Lane
Vacaville, CA 94533
Dear Ms. Lee,
In response to your job offer letter, I am delighted to accept the position of Social Media Manager with Fever Dream Cosmetics. I would like to thank you once more for this opportunity. I can't wait to contribute to the company's online presence and collaborate with everyone in the marketing department.
As proposed, my annual salary will be $45,000 with two weeks of paid leave and health insurance provided after 30 days of employment.
I look forward to starting employment on June 6, 2022. Please let me know if you need any additional information beforehand or if there are any documents I should bring on my first day.
Thank you again for this opportunity.
Best regards,
Jennifer Damlee
It's pretty straightforward, isn't it? Now, read the guidelines below and write your own acceptance letter for a job:
What Is a Job Acceptance Letter?
In the world of Facebook likes and Instagram heart reactions, sending a letter sounds like something straight out of a 19th-century novel. But don't worry, you don't need a pony express to carry your message!
A job acceptance letter is a message sent to a company after it states a clear intention of offering the candidate a job. A job acceptance letter is usually sent by email. It expresses the candidate's gratitude for the offer and readiness to start working for the company.
In short, it's basically a more formal thank-you post-it note. It's good practice to write more than a simple thank you to the new employer, just to make a good impression. It also offers a chance to clarify the onboarding process, the start date, and any documentation required from you. In the same way as knowing how to write a cover letter can help you to get a job, being able to write professional job acceptance letters can help you to be more business-savvy.
Need to decline a job offer instead of accepting it? Check here: How to Politely Decline a Job Offer
How to Write an Acceptance Letter for a Job Offer?
You'll be happy to know that writing an acceptance letter for a job is quite simple, really. It'll take you only a couple of minutes as long as you use some basic HR terminology from time to time. Certainly no need for parchment, wax seals, and pigeon post.
Follow these instructions to write an effective job acceptance letter:
Place your and the company's contact information at the top.
State your gratitude for the offer.
Reiterate the job conditions presented in the offer letter.
Ask for clarification on anything, if necessary.
Say a big "Thank You" one more time.
Email your acceptance letter professionally.
Easier than trying to find a quill and ink!
If you need more clarification on any of these steps, just continue reading.
Haven't you quit your current job yet? Time to hand in your resignation. Learn here: Two-Weeks Notice Letter Template
1. List Contact Details at the Top of the Job Acceptance Letter
You might think: why would I repeat my contact information? They know who the person they hired is, right?
Sure, they do. But it's courtesy. Adding your contact details makes it easy for the hiring manager to get in touch with you. And it speaks professionalism. Why not now if you used a professional approach in your resume header?
Make sure to add the following information at the top of the job acceptance letter:
Your full name: it helps to avoid any confusion as to the author of the letter.
Mailing address: this might come in handy if they must send you a physical copy of the contract or any other documents.
Email address: you don't want them to have trouble finding it, right?
Phone number: the company may need to call you to clarify some onboarding processes.
Date of the letter: job offers usually have an expiration date, so adding a date ensures that you accepted the offer within the deadline.
Hiring manager's full name and job title: you need to show you remember who interviewed you.
Company address: it proves you're professional.
None of those points should surprise you. It's how you'd address any business correspondence.
Have you been to other job interviews, too? Leave a good impression, even if they hadn't offered you a job. See here: Sample Thank-You Email After Job Interview
2. Start Your Job Acceptance Letter With Thanks
This is a no-brainer. The point of writing a job acceptance letter is to say a big thank you for the job offer. Yes, even if it's not exactly your dream job. The good news is: you don't need to send flowers and chocolates to express your gratitude. A few words are enough!
Here's how to write the first paragraph of your job offer acceptance letter:
Greet the hiring manager with Dear [Ms./Mr. Hiring Manager's Name]. Don't write "Dear Sir or Madam," it's such a cliché.
Refer to the job offer and the job title. Mention whether they announced it via a phone call or email.
Thank the company for offering you the specific position. Use positive words such as "delighted," "thankful," "excited," etc.
Mention what you're going to do for this company.You can name one of the main job responsibilities and the department you will be working in to show off your ability to teamwork. Throw in a key skill from your resume to make a great impression.
In total, this paragraph should be around 3–4 sentences long. No need to write an essay!
Ever wondered what kind of info HR collects? Learn their secrets! See here: HR Statistics and Research for 2023
3. Confirm Job Conditions in the Middle of Your Job Offer Acceptance Letter
The job offer certainly included some details about your salary, flexible benefits, and other working conditions. It's good to confirm that you agree with all points. Why? First, it forces you to go through them and ensure that you understand everything. Second, your approval means that everyone's on the same page.
Here's what to mention in the second paragraph of your job acceptance letter:
Offered annual/monthly salary or hourly wage
Benefits such as paid time off or insurance
Any periods that specify when you're eligible for those benefits
I hope you got all the benefits you expected! Negotiating a salary is a tricky thing. If you didn't get what you hoped for, you might soon start learning how to ask for a raise.
Time to say goodbye to your colleagues! Send them a friendly letter. Read here: Writing a Goodbye Email to Co-workers
4. Clarify All Matters Before Finishing the Acceptance Letter for a Job
You should use the last paragraph of your job offer acceptance letter to confirm that you can start working on the designated first day of employment. Maybe you need to send some documents beforehand? Or bring copies of your diplomas on the first day of work? This is the part where you can ask about those matters.
That's how you create the last paragraph of your acceptance letter for a job:
State how eager you are to start working for the company.
Mention the proposed start date.
Ask whether the company needs any information from you.
Ensure your full cooperation if any contingencies are mentioned in the job offer, such as a background check.
Bravo. This step is done. Since you got this job, I'm sure you know how to dress for a job interview—now, you can start thinking about your outfit for the first day of work!
Is the company going to do a background check on you? Make sure your online presence leaves nothing to worry about. See here: How to Check Online Presence
5. Give Thanks and Regards at the End of Your Job Acceptance Letter
Congratulations, you're almost done! Now, it's time to repeat how thankful you are for the offer and send your regards. Easy as that!
This is how you finish a job acceptance letter:
Thank the company for the job opportunity.
Send greetings with "Best regards" or something similar.
Sign with your full name.
Add a copy of your signature, or sign the letter if you send a physical copy.
Fantastic, your job acceptance letter should be ready now! You only need to send it, and soon you can prepare yourself to start talking to your new co-workers.
You'll need to introduce yourself to colleagues at your new job. Read here: How to Introduce Yourself to Make a Good Impression
6. Email Your Acceptance Letter Professionally
It's the last step of the process—you only have to email your acceptance letter, so it's clear you're taking this job.
Remember to do the following:
Use a clear subject line that indicates the contents of the message. For example, Acceptance Letter—Administrative Assistant
Paste the contents of your letter in the message field, or
Write a short message explaining that you accept the offer and enclose a formal acceptance letter in the attachments.
Sign off using your full name, email address, and phone number.
If you're attaching the job acceptance letter as a separate file, remember to save it in a Doc or PDF format.
Starting a new job is always a bit stressful—but stress management techniques can help. See here: Best Strategies for Managing Stress
Job Acceptance Letter Template
Instead of writing your acceptance letter for a job offer, you can use this handy job acceptance letter template. Just fill the information in the brackets, and off you go!
[Your Full Name]
[Your Mailing Address]
[Your Phone Number]
[Your Email Address]
[Date]
[Hiring Manager's Name]
[Their Job Title]
[Company Name]
[Company Address]
Dear [Mr./Ms. Hiring Manager's Name],
In response to your [letter/phone call], I am [delighted/excited/happy] to accept the position of [Job Title] with [Company Name]. I would like to thank you once again for this opportunity. I [am eager/excited/can't wait] to contribute to the company's [what you're going to do] and collaborate with [name of department].
As [mentioned/proposed/specified], my [annual/monthly/hourly][salary/wage] will be [$......] with [benefits] provided after [XX] days of employment.
I [look forward to/am excited to/can't wait to] start employment on [date]. Please let me know if you need any additional information beforehand or if there is anything I should bring on my first day.
Thank you for making this process enjoyable.
Best regards,
[Your Full Name]
Just a few taps on the keyboard, and you're ready to go!
Does your new job require presenting team updates to others? Brush up on your abilities. Check here: Tips to Improve Presentation Skills
When making a resume in our builder, drag & drop bullet points, skills, and auto-fill the boring stuff. Spell check? Check. Start building a professional resume template here for free.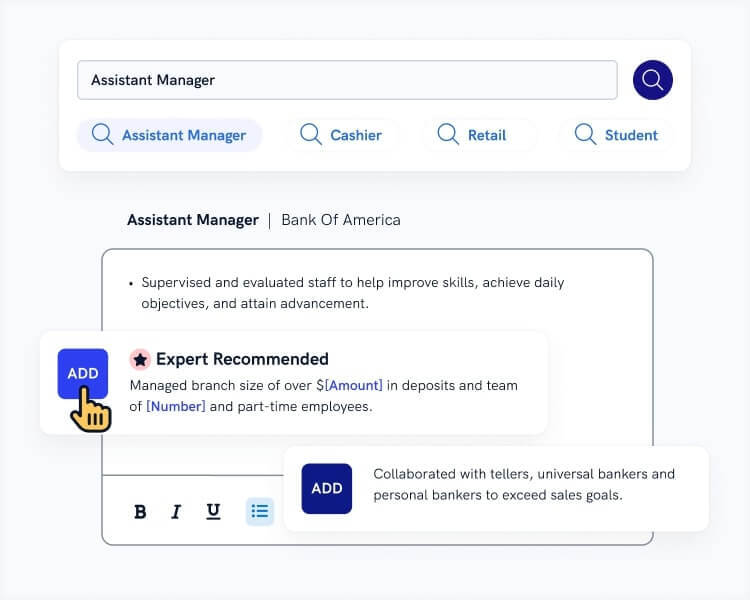 When you're done, our professional resume builder will score your resume and our resume checker will tell you exactly how to make it better.
Key Takeaways
Here's how to write a job acceptance letter in just a few minutes:
Place contact details at the top of the job offer letter.
Express your gratitude for the job opportunity.
Approve the job conditions specified in the offer.
Show you're ready to provide additional information.
Say thank you one final time and send your regards.
Write a professional email that includes your job acceptance letter.
That's it!
Thank you for reading my article. I hope you found it helpful. Now, over to you! Let me know:
Do you always send professional job acceptance letters when you receive job offers?
Have you ever sent an acceptance letter for a job offer by post?
Are any sections of a job acceptance letter unclear to you?
Let me know in the comments below!
About Zety's Editorial Process
This article has been reviewed by our editorial team to make sure it follows Zety's editorial guidelines. We're committed to sharing our expertise and giving you trustworthy career advice tailored to your needs. High-quality content is what brings over 40 million readers to our site every year. But we don't stop there. Our team conducts original research to understand the job market better, and we pride ourselves on being quoted by top universities and prime media outlets from around the world.
Sources