You've given at least six years of your life to get your pharmacy degree. You've spent thousands of dollars on your education. And now, it's time for you to get a job at a good pharmacy, not just a shady pill mill.

It all comes down to a piece of paper, your pharmacy resume. Crazy, right? Writing an eye-catching, mind-blowing, job-giving pharmacist resume can be a real pill. And we're here to help.
Whether you're fresh out of pharmacy school or you're looking to shift from retail to clinical pharmacy, this guide will show you:
A pharmacist resume example better than 9 out of 10 other resumes.
How to write a pharmacy resume that will land you more interviews.
Tips and examples of how to put skills and achievements on a pharmacist resume.
How to describe your experience on a resume for a pharmacist to get any job you want.
Here's a sample resume for a pharmacist made using our resume builder.
Want to save time and have your resume ready in 5 minutes? Try our resume builder. It's fast and easy to use. Plus, you'll get ready-made content to add with one click. See 20+ resume templates and create your resume here.
Sample resume made with our builder—See more resume samples here.
Looking for other jobs in healthcare, too? See one of our guides:
Pharmacist resume example
Justin Harvey
Pharmacist
555-555-5555
justin.harvey@email.com
linkedin.com/in/justin.harvey
Summary
Highly motivated and experienced pharmacist with 10 years of experience in providing high-quality patient care in a retail pharmacy setting. Seeking employment as a Pharmacist at Optix Technologies to provide optimal care and expertise for patients' medical needs. Increased efficiency and profitability of Pharma Healthcare's Pharmacy Services department by 24%.
Experience
Staff Pharmacist
Pharma Healthcare, Manchester, NH
June 2011–Present
Key Qualifications & Responsibilities
Oversee daily operations of busy retail pharmacies, including ordering and stocking medications, maintaining accurate records, processing prescriptions, and verifying accuracy of drugs dispensed.
Collaborate closely with other healthcare professionals (e.g., physicians and nurses) to provide appropriate medication therapies for each patient.
Monitor drug regimens, therapy protocols, therapeutic interchanges/substitutions, and recommend changes as needed.
Monitored customer interactions closely to maximize customer satisfaction. ­­­­­­­
Key Achievement:
Enrolled 45% of eligible patients in clinical programs, resulting in a 24% increase in efficiency and profitability for the Pharmacy Services department.
Staff Pharmacist
MediCure Pharmacy Solutions, Manchester, NH
August 2008–June 2011
Key Qualifications & Responsibilities
Provided clinical services such as medication profile review for accuracy.
Communicated with customers about their medications and health concerns.
Managed day-to-day workflow within the pharmacy to ensure timely delivery of prescriptions.
Key Achievement:
Implemented new technology that improved efficiency by 30% in the prescription filling process.
Education
Doctor Of Pharmacy (PharmD)
University of New Hampshire, Durham, NH
May 2008–June 2011
Relevant extracurricular activities
Participated in Student American Pharmaceutical Association events in the local community.
Academic achievements
Awarded Dean's List recognition for two consecutive years, 2007–2008 & 2008–2009.
Skills
Experienced with pharmaceutical calculations & pharmacokinetics.
Skilled at Microsoft Office Suite (Word, PowerPoint, et al.).
Knowledgeable in Good Manufacturing Practices (GMPs).
Exceptional communication skills, both oral & written.
Able to work well independently and as part of a team.
Strong customer service skills & patient counseling experience.
Certifications
Certified Immunizer, National Board Of Pharmacy Examiners - NABP 2016
Awards
Employee of the Month, Pharma Healthcare - 2015
Memberships
Member of the American Society Of Health System Pharmacists since 2012
Languages
English—Native
Spanish—Fluent
Interests
Yoga Instructor—500hr Certification from Yoga Alliance 2015.
Voluntary work at animal shelters.
Crafting handmade jewelry.
1
What's the Best Format for a Pharmacist Resume?
Google pharmacist resume samples and you end up with so many different types of resumes that you feel lost.
They all look so different… How do you even get started?
How do you choose the best format for a pharmacist resume to get ahead of your competition?
Our prescription for you? The reverse-chronological resume format.
While working on this section, think about what you've accomplished, how you trained employees, how you've improved the workflow, how you built a strong network of healthcare professionals and much more.
Because being a pharmacist is not as easy as it may look.
Doctors count on you to carry out their prescriptions accurately and avoid any adverse drug interactions. Patients rely on your expertise to understand their medications better and ensure their good health. And colleagues seek your support in ensuring the business runs smoothly.
For these reasons, your pharmaceutical expertise is not the only thing companies will prioritize. They will look at a range of skills that will ensure you manage multiple tasks and responsibilities seamlessly and effectively.
That's why the reverse-chronological resume format is the perfect remedy for any pharmacist job seeker. It shows off your experience while highlighting your skills. Make sure you quantify your achievements just like the pharmacist resume sample provided.
Emphasizing your pharmacist skills is also a great strategy for anyone looking to shift from retail pharmacy to clinical pharmacy and vice-versa.
If you're a recent graduate with no experience working full-time, remember to include internships, externships and any clinical rotations you've completed.
Want to make sure your resume will hook every recruiter and get you that interview? Get our free checklist and learn what makes a job-winning resume: 46 Things You Need To Do Before You Send Your Resume.
Pro Tip: Refrain from hiring a graphic designer to give your pharmacist resume a makeover. Overly designed resumes will be illegible to the robot scanners. Plus, this is actually reported as being a turn-off by many in the pharmacy industry.
Have a look at our guide for more details on why the combination resume format is the best option for you: "3 Resume Formats: How To Choose The Best One [Examples]"
2
How to Write A Resume Summary or Resume Objective?
Employers don't spend a lot of time reviewing your resume and deciding whether you should be shortlisted or not. No pressure!
This also means that you should spend some time on the first ⅓ of your resume. Indeed, the best pharmacist resume is one that catches the eye of recruiters and encourages them to read it with as much attention as when you are reading your prescriptions.
So should you use a pharmacist resume summary or a resume objective?
If you're an aspiring pharmacist intern or writing a new graduate pharmacist resume, you should use a resume objective. So should anyone seeking a new industry change.
Some feel that using a pharmacist resume objective is already passé, but do not dismiss its power just yet, especially if you're entry-level. It will help your profile get through the proper channels.
Just keep in mind that you're not writing a letter to Santa. It's all about what the recruiter wants!
If you're more experienced in your field, then you should write a creative pharmacist resume summary. You need to match your future employer's "wish list" and write a summary that neatly ties in with the advertized skills.
A pharmacist resume objective should be concise but targeted:
right
Self-motivated pharmacy graduate with experience in community pharmacy and a talent for customer service. Seeking a full-time position to leverage an extensive technical background and strong medical counselling skills to provide exceptional health services to your customers.
wrong
Seeking a new challenging role where I can become a high-level professional.
A pharmacist resume summary showcases skills and experience in one go:
right
Experienced retail pharmacist with 8+ years growing revenue for CVS. Seeking to leverage leadership and customer expertise for Walgreens.
wrong
Pharmacist with a real passion for healthcare and the ability to grow a pharmacy business.
When making a resume in our builder, drag & drop bullet points, skills, and auto-fill the boring stuff. Spell check? Check. Start building a professional resume template here for free.
When you're done, our free resume builder will score your resume and our resume checker will tell you exactly how to make it better.
Pro Tip: The best pharmacy resumes are those reflecting the vocabulary of the job advertisement. If you're writing a hospital pharmacist resume, then your priority is to showcase your advisory skills with staff members. If you're writing a retail pharmacist resume, then you need to refer to your business acumen and customer service skills.
Want more advice on creating the perfect junior pharmacist resume objective? Need more examples of professional resume summaries? See our guides: "How To Write A Resume Summary: 21 Best Examples You Will See" and "+20 Resume Objective Examples - Use Them On Your Resume (Tips)"
3
How to Describe Your Pharmacist Experience on a Resume?
Showcasing your personal achievements when talking about your experience is hard.
Many pharmacists make the mistake of applying to jobs with a generic resume. But you know better. In fact, you deserve better.
Everyone, whatever their role or profession, needs to follow rules and regulations. Does it mean you have to write it on your resume?
Absolutely not.
It's a given requirement of being a pharmacist. Just like "being results-driven", "hard-working" or a "team player". This can be applied to everyone and adds no value to your resume. Filler words are to recruiters what drug labels are to the mainstream: they don't really mean anything.
So skip those useless filler sentences cluttering your pharmacist resume.
Instead, focus on the good stuff. Keep it short, and sweet!
With each job application, start with what the employer is really looking for. Then list your responsibilities and the results you've achieved.
right
Pharmacist
CVS
Aug 2013-Jul 2017
New York, NY
Improved customer service and pharmacy efficiency, increasing customer retention by 15%
Trained and supervised 10 pharmacy technicians, improving performance by 20%
Improved pharmacy automation system, which reduced medication errors and increased time savings
wrong
Pharmacist
CVS
Aug 2013-Jul 2017
New York, NY
Complied with laws and rules regulating pharmacy practices
Interacted and worked with other physicians to maintain a professional work environment
Maintained accurate patient records and gave appropriate directions of use
Can you see the difference?
Responsibilities are common to every pharmacist out there. Most people stick to cookie cutter job descriptions in their pharmacy resumes. You need results to set you apart from the competition.
You're truly adding value when you're doing things like:
Making operations faster
Improving service
Increasing revenue
Making more savings
Let's dissect this example from a pharmacist's resume:
Improved customer service and pharmacy efficiency, increasing customer retention by 15%
This shows that you can add value by being:
business-conscious
beneficial to the pharmacy
customer oriented
And guess what?
No pharmacy will turn down a few extra bucks.
Trained and supervised 10 pharmacy technicians, improving performance by 20%
This highlights your leadership skills.
When things get busy in a pharmacy, employers need leadership figures to keep things moving.
Improved pharmacy automation system, which reduced medication errors and increased time savings
The second part of this sentence is where the genius is.
Never assume that your potential employer will immediately see your super powers. You're not on Nuvigil after all! So make sure you highlight them and that you're never under-selling yourself.
That's exactly how you show off about your accomplishments in your pharmacist resume.
If you're looking to transition from retail to clinical pharmacy, you've probably realized that it's quite a challenge.
The transition starts with your resume. No surprise — resumes for pharmacy jobs aren't all the same. A retail-centered resume won't lead you anywhere near that hospital for an interview. Instead of focusing on how many sales you performed, highlight your ability to assess patient profiles for proper dosing.
If you've only recently left school, focus on your clinical rotations. Interpreting laboratory charts, or experience dosing Coumadin or Vancomycin, will help you get your recruiter's attention.
Add clinically relevant skills. Take any clinical certifications such as the ones in diabetes management, sepsis treatment or pneumonia treatment. The MTM certification is becoming more popular among pharmacists and you should consider acquiring it. Leverage your thirst for clinical knowledge to make up for your retail background.
Be flexible. Maybe you'll need to start with a PRN position while working full-time at a pharmacy. Many PRN positions transition to full-time. Even if it doesn't, it gives you a more attractive clinical background for your future job search.
Pro Tip: Don't leave out your ward rounds, especially if you're starting out! Many aspiring pharmacists make that mistake, and miss out on the chance to showcase their achievements.
Want to make your pharmacist resume experience section even better? Consider adding action words. Read our guide to find out how to use the best action words to write a pharmacist resume: "+80 Examples of Resume Action Words For Every Profession"
4
Is Your Education Section Underperforming? It Might Be
Completing a degree in Pharmacy is necessary. Continuing education is also required for you to be able to renew your license to practice.
One of the key takeaways from this guide is to understand and emphasize your own assets and skills.
If you're an experienced pharmacist, you will want to highlight your relevant experience, skills, and vast industry knowledge.
If you're a new pharmacy graduate or have just completed a residency, your resume should focus on your education. This is an interview-landing strategy.
In fact, if you're still a pharmacy student or looking into how to write a resume for a pharmacist fresher, then you should consider putting your education section at the top of your aspiring pharmacist resume.
Either way, you should include:
The type of degree you received.
Your major/minor.
The name of your school.
The school's location.
The year you graduated.
Recruiters won't care about where you went to high-school. Whether or where you did your pre-pharmacy is another story. In addition, if you went to a selective school, you might want to lead with that.
Experienced job hunters can simply list their school, degree, and dates. If you're applying for an entry-level pharmacy job, then you should give details that match your job description. If you've taken any other relevant coursework outside of pharmacy (eg. Business) then you should highlight it.
Pharmacist Resume Sample:
2006-2009 PharmD
John Hopkins University, Department of Pharmacy, Maryland
Relevant Coursework: Pharmacology, Pharmacy Law, Pharmacy Technology, Introduction to Accounting
Selected to assist in corporate-sponsored pharmaceutical study, performing laboratory work
Led a fundraiser for John Hopkins Children's Hospital
Pro Tip: GPA is optional. You should only add it if you graduated within the last three years and if it was above a 3.0 (above a 3.5, ideally!) Otherwise, most hiring managers won't really care.
Still in need of pharmacist resume examples of how to add your degrees? Read our guide: "How To Put Your Education On A Resume (Tips & Examples)"
5
How to Put Pharmacist Skills on a Resume
Your skills section is considered the clincher. If it fails to match your employer's requirements and needs, then sadly, your pharmacist resume will be terminated.
Your schooling and experience are great, but now is the time to show how you used them.
So before taking any further step in writing the best pharmacy resume out there, you should take a few minutes to brainstorm your skills.
Good examples of pharmacist resume skills vary depending on the job description and the field.
You can divide your skills for a pharmacist resume into:
Job-related Technical Skills or Specialties
Computer Skills
Administrative Skills
People Skills
Computer skills and technical skills are not exactly the same thing.
Many hospitals and pharmacies are switching to digital records only, and being familiar with certain software and systems (such as PharmaSys) will give you an advantage.
Below is a list of pharmacy resume sample skills that you should include in regard to your speciality:
Pharmacy Resume Skills
Type
Skills

Drug Store Pharmacist

Endurance to working long hours, often standing up
Solid multitasking skills
Strong ability to communicate clearly and effectively

Academic Pharmacist

Ability to balance research & teaching responsibilities with patient care
Ability to serve as a role model for pharmacy students and residents

Critical Care Pharmacist

Comfortable working in a multidisciplinary environment
Ability to integrate patient care with teaching research duties

Home Care Pharmacist

Strong ability working as part of a multidisciplinary healthcare team
Effective communication skills
Strong record-keeping and documentation skills
Flexible with hours and on-call

Hospital Pharmacist

Strong communication skills

Industry-based Pharmacist

Ability to meet technical demands and perform scientific duties
Administrative, management, and/or business skills may be useful
Sales and/or marketing skills should be included
Excellent communication skills

Military Pharmacist

Ability to handle a lot of responsibility early in your career
Proficiency in another language is helpful
Desire for foreign travel and frequent moves
Desire to work in and out of a hospital setting

Nuclear Pharmacist

Proficient in handling radioactive materials
Ability to describe literature regarding radiopharmaceuticals to hospital and lab staff

Oncology Pharmacist

Caution and sensitivity to work in an area where experimental drug therapies are frequently used
Ability to recognize the balance between improved survival and quality of life

Pediatric Pharmacist

Strong oral and written communications skills
Strong investigative and problem-solving skills
This list is far from exhaustive. It should act as a roadmap to help you enumerate the right skills that are needed in your field.
Your next step is to put that in your pharmacist resume.
How to describe strong pharmacist skills:
| right | wrong |
| --- | --- |
| Strong leadership skills (reduced client complaints by 50% by mentoring staff) | Leadership and interpersonal skills |
| Exceptional Verbal and Written Communication Skills (asked to represent the pharmacy at various conferences) | Communication skills |
| Proficient at Customer Retention (increased by 5% which led to a 25% profit increase) | Conflict resolution |
| Proficient in PharmaSys, EMR and Meditech (reduced and addressed errors) | PharmaSys, EMR, Meditech |
Pro Tip: Visit LinkedIn to check out the competition and for some extra inspiration. Why would you snoop on other professionals? Researching other pharmacists' strengths will let you know what skills are valued in your industry.
Not sure how to list skills for a pharmacist resume? We've got you covered. Read our guide: "+30 Best Examples Of What Skills To Put On A Resume (Proven Tips)"
6
How to Add Other Sections for an Effective Resume
The medical field is an ever-advancing industry and companies are always looking for employees up-to-date with the recent changes in pharmacy.
Other than acquiring the right licences to practice, you have to be able to showcase a few certifications to wow your recruiter or show your expertise in a certain specialty.
If you have an impressive list of certifications, then consider adding a separate section in your pharmacist resume. Otherwise, add certifications to your "education" section.
If you're looking to get a job in a very specialized field in pharmacy, such as nuclear pharmacy, then adding your certification is not only an edge over other applicants, but is considered mandatory.
Sample nuclear pharmacist resume certification entries:
Authorized User of Radio Pharmaceuticals, University of Saint-Louis, Nuclear Regulatory Committee, 2017
Authorized Radiation Safety Officer, The American Board of Health Physics, 2016
Never assume that your reader knows all industry jargon, so don't rely on acronyms only. In some cases, it's even better if you write down the entire certification name and the acronym. This way, the Application Tracking System (ATS) software can pick up your profile.
For example:
Advanced Cardiac Life Support (ACLS)
Cardiopulmonary Resuscitation (CPR)
Certified Occupational Health Nurse (COHN)
Also, remember that the best pharmacist resume describes certifications as follow:
The Certifying Organization
The Certificate's Expiration Date: You can put the date that you acquired the certificate if there is it does not expire.
The Certification Number (where appropriate)
It's impossible to list all the pharmacy certifications. You can find some of them here:
Pro Tip: Don't forget to mention any relevant seminars or trainings you have attended, as well as any certificates you obtained that show your interest in improving your personal development. If you don't have that many, consider completing some online.
Need more ideas of what to add to make the best pharmacist resume? Check our guide: "What To Put On A Resume To Make It Perfect [Tips & Examples]"
7
Here's the Most Common Myth About Cover Letters
It's a common mistake to think that your pharmacist resume will do the job on its own.
Cover letters are to a resume what a spoon is to syrup. Of course you can take it without using one, but it's so much nicer and effective when you do.
Again, don't hesitate to snoop around online and on LinkedIn to find out who's going to read your pharmacist job application.
Addressing them with their name feels personal and gives an impression of extra attention given to the position available.
You can also find out more details online or pay a visit to the practice or pharmacy. Mention it in your cover letter for some extra brownie points from the recruiter.
Plus, a great cover letter that matches your resume will give you an advantage over other candidates. You can write it in our cover letter builder here. Here's what it may look like: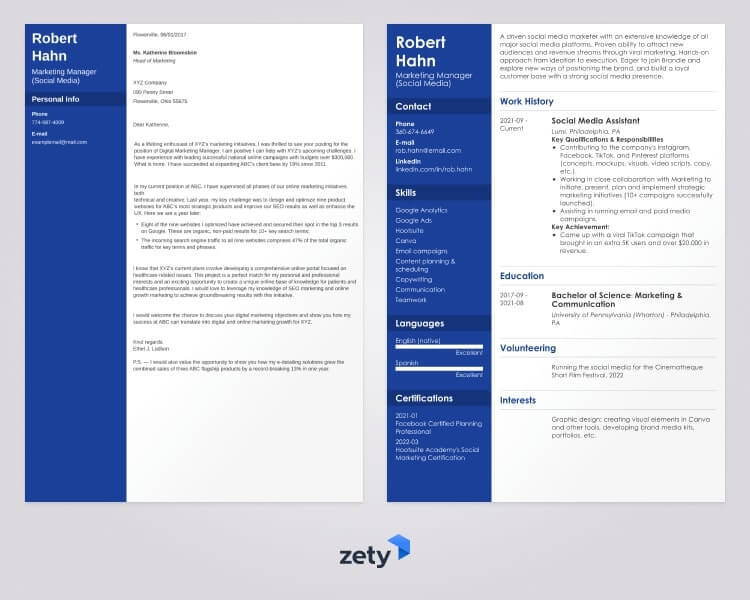 See more cover letter templates and start writing.
Pro Tip: Don't regurgitate your resume. The pharmacist cover letter is your chance to have a personal discussion with your recruiter. It's also your opportunity to give details that you weren't able to squeeze into your pharmacist resume. So tell the story of why you're a perfect fit for the company.
Not really sold on cover letters? Check out our guide: "How To Write A Cover Letter [Complete Guide With Examples]"
Key Takeaway
When you write your pharmacist resume, apply the same level of meticulousness required at a pharmacy. Just like in real life, you'll be able to impress and get approval. Follow these tips:
Define and emphasize your greatest assets. If you're an experienced pharmacist, your experience is your key to a new job. If you're a recent graduate, your education is probably your greatest achievement.
Keep it relevant. Your pharmacist resume should target the field you're interested in. Don't distract recruiters with irrelevant experience.
Add skills. Your pharmacist resume won't be as powerful without it.
Quantify your results and experience. Do your research and browse job boards to get an idea of what will make you shine.
Do you have any questions on how to make a pharmacist resume? Get in touch in the comments section!
About Zety's Editorial Process
This article has been reviewed by our editorial team to make sure it follows Zety's editorial guidelines. We're committed to sharing our expertise and giving you trustworthy career advice tailored to your needs. High-quality content is what brings over 40 million readers to our site every year. But we don't stop there. Our team conducts original research to understand the job market better, and we pride ourselves on being quoted by top universities and prime media outlets from around the world.