Budtender Resume Example (With or Without Experience)
Writing a resume for a job that isn't even legal in most states feels like a bad trip. Relax, we'll sit you through it and help you get the best legit budtender jobs.
You're a budtender worth your weight in OG Kush.
But dispensary managers are flooded by clueless candidates who think they're the next Branson.
And it gets worse—
With this number of applications, hiring managers have to move fast and auto-reject most.
What to do?
You need a budtender resume every speck as good as Blue Dream.
Whether you are applying for medical marijuana dispensaries jobs or budtender jobs in Denver and Los Angeles, a great cannabis resume can open the door to such opportunities.
Take a look at this budtender resume example that we'll break down step-by-step.
Want to save time and have your resume ready in 5 minutes? Try our resume builder. It's fast and easy to use. Plus, you'll get ready-made content to add with one click. See 20+ resume templates and create your resume here.
Sample resume made with our builder—See more resume examples here.
Targeting a different position in the holistic-healing industry? Follow up with:
Budtender Resume Sample
Goldie Robert
Budtender
goldie.robert@gmail.com
303-715-6325
linkedin.com/in/goldrob


Objective
Self-motivated professional with 3+ years of experience in the cannabis industry. A passionate advocate for the use of marijuana and other holistic approaches to health care. Eager to provide the Greenwolf LA guests with the most current cannabis treatments for different client health needs while ensuring a professional and compassionate experience. In previous fast-paced customer service positions, achieved 95% customer satisfaction score and 70% customer repeat rate.
Work Experience
Budtender
City Compassionate Caregivers, Los Angeles, CA
2017–
Provided customers with detailed explanations of different marijuana strains while following laws and regulations for selling retail cannabis.
Created an online portfolio of all our products with detailed descriptions of the effects and usage of different marijuana strains for certain health needs.
Offered exceptional customer service while promoting the company brand and educating customers on the company's mission and values.
Key achievements:
Boosted customer repeat rate to 70% in the first fiscal quarter and maintained it.
Retail Associate
Aetna Healthcare, Los Angeles, CA
2015–2016
Solved customer challenges quickly and maintained quality control on new ways of improving customer service.
Demonstrated a strong record for working collaboratively on cross-functional and cross-culture teams.
Educated customers on health insurance plans while adhering to HIPAA regulations.
Key achievement:
Maintained overall customer satisfaction rate to 95% over a two-year period.
Education
Green CulturEd Dispensary Technician Certification (National Cannabis Industry Association)
Bureau of Cannabis Control, Los Angeles, CA
Graduated: 2017
Bachelor of Arts in Communication
University of California Irvine, Irvine, CA
Graduated: 2015
Key Skills
Hospitality
Integrity
Teamwork
Dependability
Customer focus
Customer service
Organizational skills
Collaboration
Product recommendation
Affiliations
National Cannabis Industry Association (NCIA)—Member
California Cannabis Industry Association (CCIA)—Member
Certifications
Budtender Certification
Dispensary Technician Certification
Indoor Soil Grower Certification
Languages
Spanish—Advanced
Korean—Intermediate
Interests
Holistic healing
Korean pop and dance
Off-road cycling
Here's how to write a budtender resume so pristine Jack Herer would blush:
1. Choose the Best Format for Your Budtender Resume
A budtender is a professional cannabis dispensary worker. Every budtender should know various strains of cannabis, its uses, and its effects. A budtender resume must show you have a deep knowledge of the cannabis industry with optimal customer care and sales service to those who come to your cannabis dispensary.
Combine these two skills plus cannabis-related knowledge, and you'll be part of a growing industry with tons of growth.
In fact, cannabis jobs have quadrupled since 2016—up 600%.
Unfortunately for them, dispensary owners get flooded with resumes that aren't worth their time.
Make a mistake on your marijuana resume and into the recruitment black hole you go.
A messy resume for cannabis jobs is a turn off—
So here are a few bud-tender resume format tips:
Pro Tip: Not sure if you should go with a PDF or Word resume? Choose PDF unless the employer asks for a resume in MS Word specifically.
2. Write a Budtender Resume Objective or Summary
Basic resume housekeeping done, time for the pitch—
Start your budtender resume with a short introductory paragraph—your professional profile.
More specifically, most budtender resume examples use either a resume summary or a resume objective.
Which should you choose? It depends on how much experience you have.
If you're writing a budtender resume with no experience, go with a resume career objective.It focuses on the skills you've learned and let the hiring manager know how you'll help them achieve their goals.
For candidates with 2+ years of professional experience, concentrate on your professional experience and key achievements with a professional summary.
Show your true value by adding numbers like $ or % to make your resume profile stand out.
Pro Tip: Here's the twist—create this section last. Come back to it once you're done writing all other sections. You'll know what personal selling points to highlight by then.
3. Create the Perfect Budtender Job Description for a Resume

Look:
You know how much the description of a marijuana strain matters.
The same goes for describing your work experience on a resume.
Your description of budtender responsibilities and duties should prove that you're knowledgeable, professional, and will provide exceptional customer service…
To clients of that specific dispensary.
How?
By tailoring your resume to highlight your relevant skills and experience:
Begin by listing your latest or current job then go back in time.
Specify your job titles, dates worked, company names, and locations.
Use a bullet point list for responsibilities and achievements. Have 6-7 bullets for each position if applicable.
Passivity is boring—go with resume action verbs, such as operated, facilitated, cooperated, supported, etc.
Add numbers when you can but make sure you only present experience relevant to the job.
Pro Tip: Make sure your experience bullets bring out both your soft skills and knowledge of the industry.
When making a resume in our builder, drag & drop bullet points, skills, and auto-fill the boring stuff. Spell check? Check. Start building a professional resume template here for free.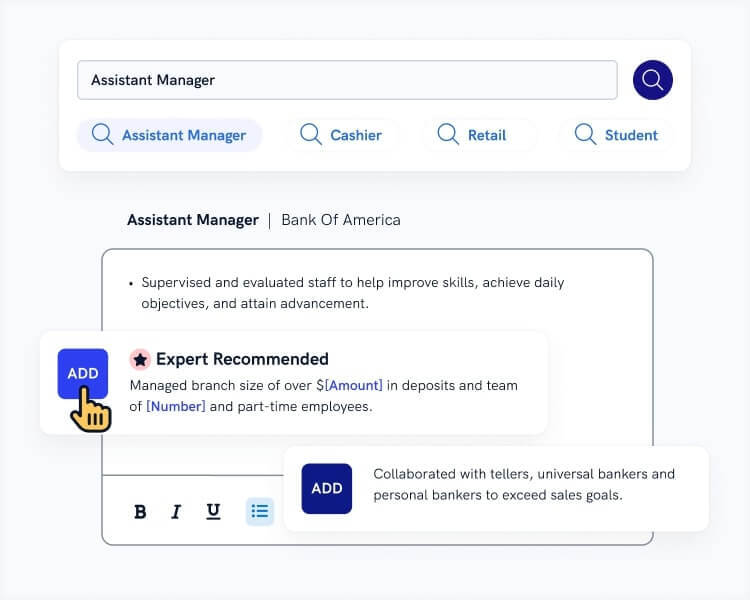 When you're done, Zety's resume builder will score your resume and our resume checker will tell you exactly how to make it better.
4. Make Your Budtender Resume Education Section Great
Most budtender jobs don't require formal higher education, but—
Take a look at this excerpt from a budtender job in Los Angeles:
High School Diploma or GED (this is a must; a college degree on top is awesome!)
But here's a tip for you—
When you see even the weakest of a requirement and you meet it, show that off!
Adding the education section to your budtender resume might just tip the scales in your favor:
Candidates with less experience may consider listing their GPA (if upwards of 3.5), but don't forget about those extracurricular activities, academic achievements, and relevant coursework. A high school diploma is enough to land a budtender job.
More experienced candidates should list their degree, school name and location, and graduation year. Nothing else is needed.
Pro Tip:​ In the cannabis world—professional certifications and licenses matter. States require budtenders to have special authorization to work in the cannabis industry. Put them in a separate section to increase their visibility.
5. Highlight Your Budtender Skills
Never underplay your skills. In a world where some candidates think cannabis jobs are about selling weed and directing customers to the nearest Taco Bell, your skills will put you ahead of the pack—
Check out the list below and highlight your key budtender skills.
Budtender Resume Skills
Customer needs recognition
Product knowledge
Using scales
Data entry
You don't need to list every single skill you have, just the relevant ones.
Here's how to get it just right:
Make a master list of all your job skills (soft skills, hard skills, and technical skills).
Check the job ad to see what skills are mentioned there.
Go back to your master list and pick out the skills mentioned in the job ad. See a couple? Fantastic!
Choose the ones you're great at and put them on your resume in a key skills section.
Sprinkle those skills throughout your marijuana resume. Add them in your resume profile and job description sections as well.
Pro Tip: Match the skills you put on the list with the type of position you're after. A medical marijuana resume, for example, may highlight your analytical skills.
6. Add Other Sections to Your Cannabis Resume
Budtenders are as diverse as the strains they sell—
Now is the time for the recruiter to see more than just your professional side.
Personability matters for jobs in the cannabis industry.
Add the following sections to your budtender resume.
7. Attach a Budtender Resume Cover Letter

Why do you need a cover letter?
Most recruiters expect your application to include one. But only half of the candidates do.
Give yourself the edge against the competition by joining the better half of the candidates.
Use the tips below to write a cover letter for budtenders as smooth as Pineapple Express.
How long should a cover letter be? Don't make it longer than one page.
Pro Tip: Follow up on your job application to boost your chance of getting hired. It'll signal you're a serious candidate.
Plus, a great cover letter that matches your resume will give you an advantage over other candidates. You can write it in our cover letter builder here. Here's what it may look like: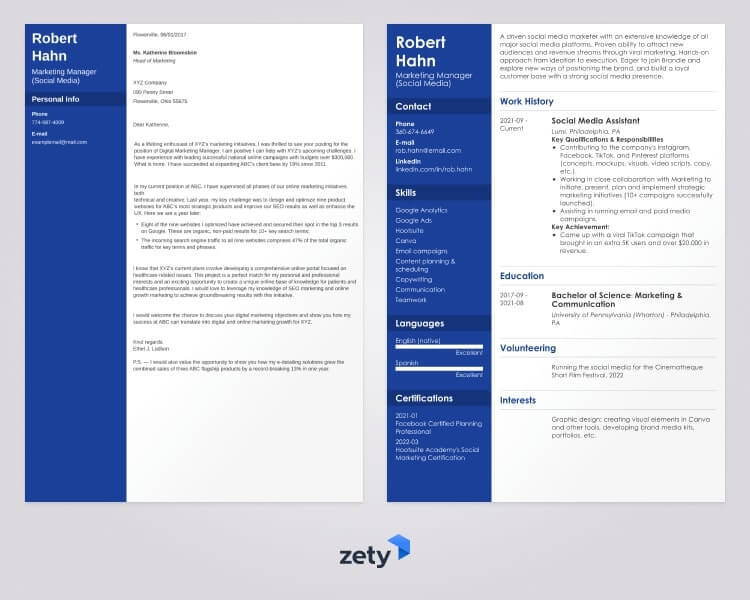 See more cover letter templates and start writing.
And that's it!
You're hooked up with a budtender resume template that'll be sure to land you a great gig in the cannabis industry.

Is this the first time you're writing a budtender resume? Maybe you've done it before and are a seasoned veteran who can coach the rookies out there? We'd love to hear from you, leave your comment below!
About Zety's Editorial Process
This article has been reviewed by our editorial team to make sure it follows Zety's editorial guidelines. We're committed to sharing our expertise and giving you trustworthy career advice tailored to your needs. High-quality content is what brings over 40 million readers to our site every year. But we don't stop there. Our team conducts original research to understand the job market better, and we pride ourselves on being quoted by top universities and prime media outlets from around the world.
Sources