Summary for a Resume for Freshers: Examples & How to Write
Show recruiters you're not clueless. Learn how to write a summary for a resume for freshers that will highlight your qualifications and impress your future employers.
If you're applying for fresher jobs, hiring managers will assume you have no experience or valuable skills, so prove them wrong.
Upgrade your resume with a summary for a resume for freshers. Yes, it's a thing. And thanks to this article, you'll learn how to use it.
This guide will show you:
What a profile summary for freshers is.
A sample resume summary for freshers better than 9 out of 10 other examples out there.
How to write a powerful summary for a resume for freshers to introduce yourself to potential employers.
Selected resume summary examples for a fresher in various professions.
Want to save time and have your resume ready in 5 minutes? Try our resume builder. It's fast and easy to use. Plus, you'll get ready-made content to add with one click. See 20+ resume templates and create your resume here.
Sample resume made in our builder—See more templates and create your resume here.
What is a summary for a resume for freshers?
A resume summary for freshers is a short introductory paragraph at the top of your resume that helps you present your qualifications, skills, and accomplishments in just 3 to 4 sentences. It's the first thing a potential employer sees on your resume, so it needs to impress.
Why do you need a profile summary for freshers?
Do you know how many fresher candidates there are in India? Millions. India has the largest and youngest workforce in the world, so you need every chance you can get to be noticed. Your best shot is writing a summary for a resume for freshers because:
A summary can be comprehended quickly, as it highlights the most important bits of information.
It gives you another opportunity to include relevant keywords and helps the Applicant Tracking Software (ATS) give you a high score.
If you play it right, your hiring manager will know you're the right candidate from the start.
Pro Tip: There are other types of resume profiles, too. Freshers often go for a resume objective instead of a resume summary, as it's a better choice for candidates with minimal experience.
How to write a summary in a resume for freshers?
Does writing a profile summary for freshers scare you? Don't worry! All things new seem challenging. But this time, they will be.
Use these steps to write a resume summary for freshers:
Start with a strong personality trait, such as motivation, communication, etc.
Follow with your job title or field of study, for example, anEnglish language student.
Add a qualification, information about relevant experience, or your specialisation, for example, with digital marketing experience.
Express your enthusiasm for the job and specify what you can do to help the business, for instance, eager to improve brand recognition by creating engaging posts.
Provide an example of a relevant achievement from previous jobs, volunteer work, and academic activities, like bringing 15,000+ new visitors to a hotel's website.
Add extra information about your knowledge, skills, or certifications that can be valuable for the employer, such as experience in making social media graphics in Canva.
Pro Tip: Remember to write your resume summary for freshers without personal pronouns such as "I", "my", and "mine". It might feel strange initially, but it's the format preferred by recruiters.
Check the example below to understand how it works:
Profile summary for freshers: Example
Right
Enthusiastic English language student with digital marketing experience. Eager to improve the brand recognition of Mahindra Resort by developing social media accounts and creating engaging posts in affiliation with travel influencers. Brought 15,000+ new visitors to a hotel's website in 2022 by collaborating with travel bloggers. Experienced in creating short and long blog posts in English, writing scripts for promotional videos, and making social media graphics in Canva.
That candidate followed all the steps I mentioned above. Their fresher's summary for a resume is engaging and informative and will surely catch the attention of a potential employer.
Let's see another example:
Summary in a resume for freshers: Example
Wrong
I am an ambitious student looking for work. I'd like to apply for the position of digital marketing fresher to learn more about viral and social media marketing. I enjoy writing blog posts and can speak English well.
This brief summary isn't perfect. The candidate doesn't provide information about their relevant experience or skills. Instead, they focus on what they want to get from work, whereas an employer wants to know if a worker can do the job well. And they need proof of that.
Being a fresher means you don't have much work experience to brag about. That might make writing a resume summary for freshers a bit difficult. After all, it should include a relevant achievement to be effective. But did you know that it doesn't have to be work-related?
What to write in the summary of a resume for freshers?
Candidates between 22–25 years old are considered the highest employable age group. That's because they often possess in-demand 21st-century skills that older job applicants may lack.
So here, you'll see the types of experiences you can add to your resume summary for freshers:
As you can see, it's possible to add accomplishments to a resume summary for freshers without having work experience.
Check the examples of achievements for your fresher resume summary below:
Won a student coding competition by creating a mobile application for tracking changes to local and national train schedules.
Led freshmen orientation and first-aid training at the college campus in 2020–2022.
Used social media to help the school dance team gain state-wide recognition, leading them to participate in X-Factor India.
Published a summary of research about the influence of the COVID-19 pandemic on the behaviours of India's youth in a national psychological journal.
Presented original research during a student's biotechnology conference in October 2021.
Proofread and edited over 2,000 pages of fellow students' essays to comply with the New Oxford Style Manual.
Translated 30+ pages from Hindi to English for a local business.
Helped the kitchen staff of a local charity prepare meals for impoverished citizens at weekends in the years 2020–2022.
Still worried about lack of experience? Consider trying out internship opportunities. There are over 1 million available internships in India, and they're a great way to put the first steps in your preferred career path. Also, consider writing a resume for an internship.
When making a resume in our builder, drag & drop bullet points, skills, and auto-fill the boring stuff. Spell check? Check. Start building a professional resume template here for free.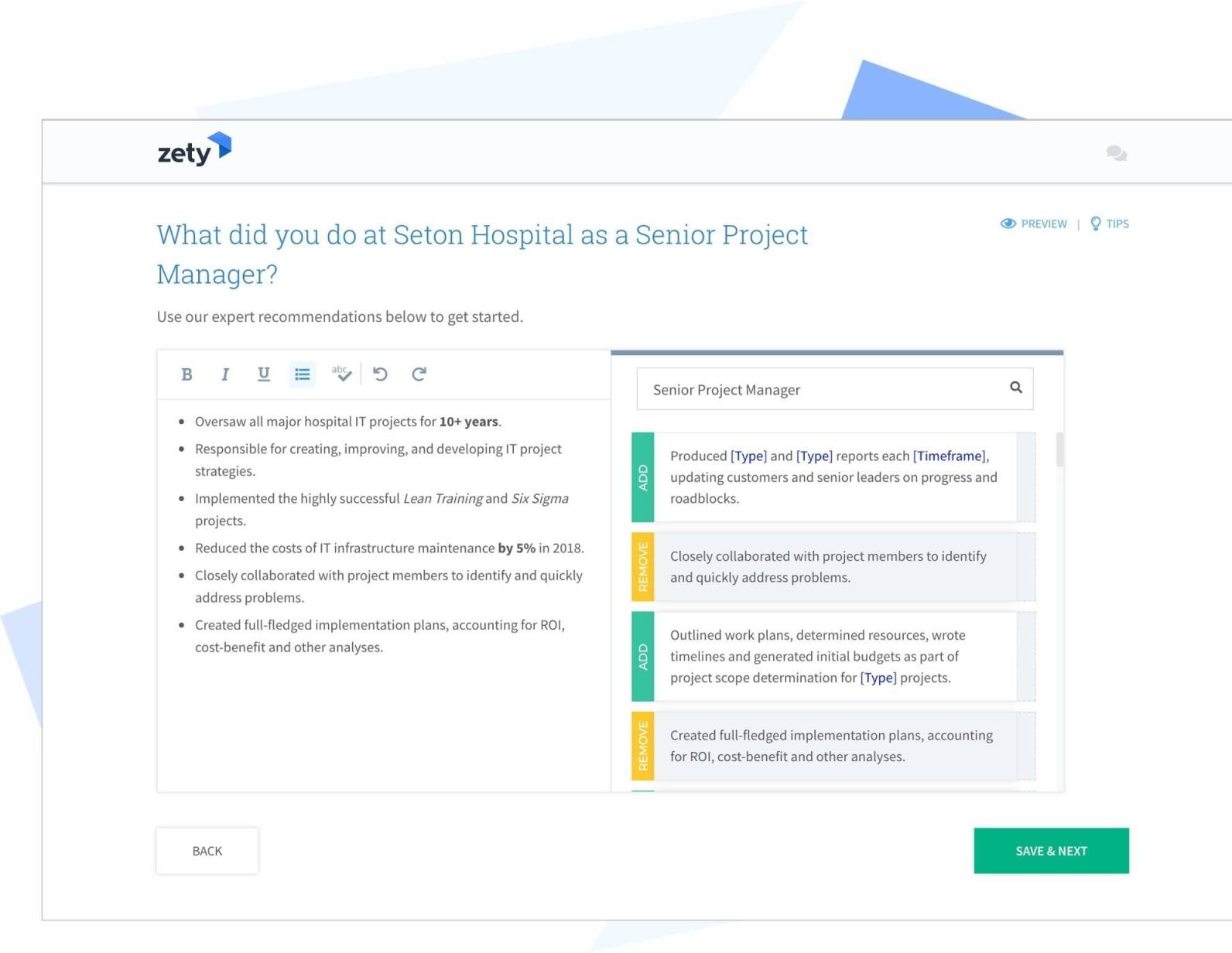 When you're done, Zety's resume builder will score your resume and tell you exactly how to make it better.
Resume summary examples for freshers
Here, you may find a collection of sample resume summaries for freshers. Check them out, and feel free to use them as an inspiration to write your own!
Summary for a resume for freshers: Software engineer example
Detail-oriented Software Engineer fresher with a Bachelor's degree in Computer Science. Eager to improve the quality of Starcoding Inc.'s products by detecting errors through manual testing. Completed a five-week Python coding boot camp and created a mobile hidden-object game in April 2022.
Sample summary for a resume for B.Com. freshers
Motivated Commerce graduate with experience in the restaurant industry. Keen to join Seafood Palace as an assistant manager to support the day-to-day operations of the back office and build strong relationships with the restaurant staff. Worked part-time as a restaurant server in the summers of 2020–2022.
Resume summary for freshers: Example for engineers
Ambitious Bachelor of Technology specialising in Artificial Intelligence and Machine Learning. Eager to use Python skills to help analyse machine-learning algorithms at QuoteData. Volunteered to lead data visualisation training for the third-year students of the chemistry department of Bangalore University.
Profile summary sample for freshers: Accounting
Personable third-year student of Accounting and Finance seeking a position as an Accountant Fresher. Keen to support the operations at Yellow Note Trading with bookkeeping and expense tracking. Handled all finances and expense reports as the treasurer for the Student's Travel Club at the University of Mumbai.
Sample resume summary for MBA freshers
Goal-oriented MBA student looking for a part-time administrative position. Eager to support secretarial tasks with organisational skills and handle inbound and outbound calls politely and professionally at Gheesay Ltd. Helped to coordinate fundraising efforts and handled incoming mail while volunteering at Hope Is Here charity in the summer of 2021.
Resume summary for freshers: Sample for data analysts
Communicative data analyst with a master's degree in business. Seeking to use various visualisation models to support data-driven decisions at B.G. Development. Completed a six-month internship focused on big data and performing multiple statistical and analytical tasks using Excel, Tableau, and Microsoft Power BI.
Resume summary for IT freshers: Example
Ambitious computer science student hoping for a fresher IT helpdesk position. Eager to fix the issues of the clients of Comp4You using problem-solving skills and advanced knowledge of computer hardware. Volunteered to run computer training sessions for unemployed citizens of the Bellandur suburb in June–September 2022.
Summary for a resume for freshers: Pharmacist example
Empathetic fourth-year B. Pharm. student knowledgeable in Western and traditional medicine. Eager to join Hyderabad Pharmaceuticals as a Pharmacy Assistant to help maintain the medicine inventory and keep documentation up to date. Provided hospital patients with prescribed medicine and performed stock-taking activities during an internship in February–August 2022.
Summary for a resume for freshers: Example for a teacher
Recently graduated mathematics teacher looking for a fresher teaching position. Keen to develop the calculus skills of the primary students at Star Academy using project-based learning and gamification methods. Completed 160 hours of classroom practice. Fluent in English, Hindi, and Gujarati.
Resume summary example for freshers: Banking
Motivated HSC graduate with customer service experience. Eager to join Hisar Bank as a Banking Assistant to provide customers with accurate information about available services and build strong customer relationships. Successfully handled customer queries while doing an internship as a financial advisor in April–August 2022.
Sample resume summary for freshers: Journalist
Insightful fresher journalist with a B.A. in Journalism & Mass Communication. Seeking to provide the viewers of Delhi Media Agency with factual information by verifying sources and collecting newsworthy data. Editor of the college newspaper in 2020–2022. Fluent in Hindi, Punjabi, and English.
Profile summary sample for freshers: Customer service
Enthusiastic HSC graduate, passionate about the fashion industry. Eager to respond to customer queries and inform them about available products, sizing, fabrics, upcoming trends, and shipping services at Maze Fashion Ltd. Gained customer service experience while volunteering at Shiva Charitable Home in June–September 2022.
Summary in a resume for freshers: Example for sales
Goal-oriented SSC graduate with excellent Microsoft Office skills. Eager to build long-lasting customer relations and assist clients with purchasing decisions at Gold Bazaar Inc. Communicates effectively in Hindi, Tamil, and English. Helped organise 3 school fundraising events and served as the treasurer to handle collected funds in 2020–2022.
Freshers summary for a resume for project management: Example
Motivated Bachelor of Technology, specialising in Computer Science. Keen to join IT Here as an Assistant Project Manager to help coordinate projects and ensure their timely completion. Managed an extracurricular student's software development project involving 4 developers and a graphic designer from start to finish within planned deadlines in 2022. Coordinated 3 fundraising projects involving 20+ volunteers at Sunshine Helpers Fund in 2020–2021.
Best summary for a resume for freshers: Sample for human resources
Detail-oriented Bachelor of Business Administration with strong interpersonal skills. Keen to support recruitment operations at Parakeet Services to help find new talents that will drive the company. Developed soft skills while serving as a student advisor on the college campus between 2021 and 2022.
When your resume is ready, there's still one more thing you should do—and that's writing a cover letter. Not sure how to do it? Check here: Writing a Cover Letter From Scratch
A great cover letter that matches your resume will give you an advantage over other candidates. You can write it in our cover letter builder here. Here's what it may look like: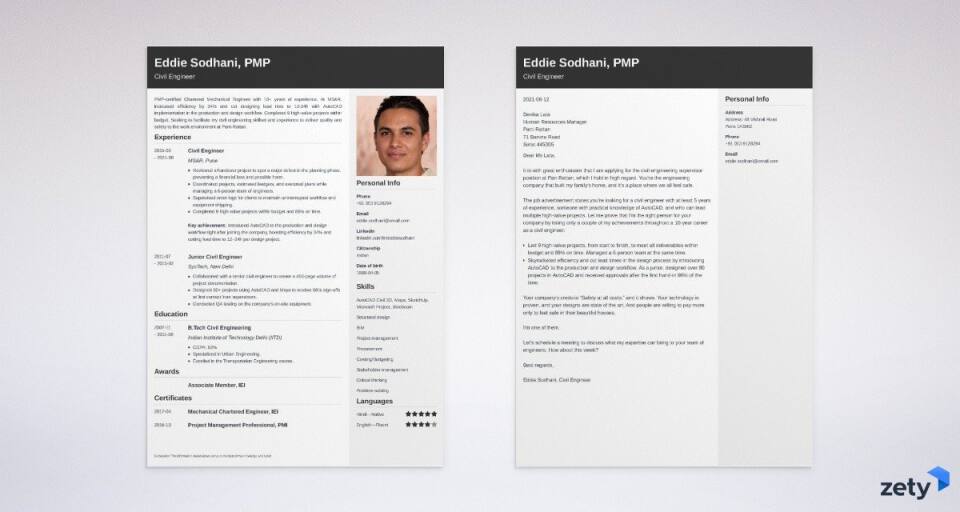 See more cover letter templates and start writing.
Key takeaways
Here's a quick reminder of why it's a good idea to write a summary for a resume for freshers:
A resume summary in a resume for freshers is a great way to impress the recruiter straight away, as it appears right up top on your resume and includes only relevant and key information about your application.
It helps you stand out from the crowd, get remembered by recruiters, and provide a chance to introduce yourself professionally.
You can create the perfect summary for a resume for freshers by using both your professional and academic achievements.
Thank you for reading this article!
Got any questions? Maybe you want to share some tips about writing a resume summary for freshers? Let me know in the comments below.