Getting that first job wasn't easy. But now that you spent a full year in a junior position, you start feeling restless. Maybe there are better jobs out there? After all, you've already got some experience.
But finding a new job after just a year in any position is not a piece of cake. You need to know how to sell your assets. And you're lucky—we'll show you everything step-by-step. After reading our 1-year experience resume sample, it will be as clear as day.
This guide will show you:
A 1-year experience resume sample better than 9 out of 10 other samples out there.
How to write a 1-year experience resume that'll land more interviews than any other.
Tips for putting your skills and achievements on a 1-year experience resume.
Want to save time and have your resume ready in 5 minutes? Try our resume builder. It's fast and easy to use. Plus, you'll get ready-made content to add with one click. See 20+ resume templates and create your resume here.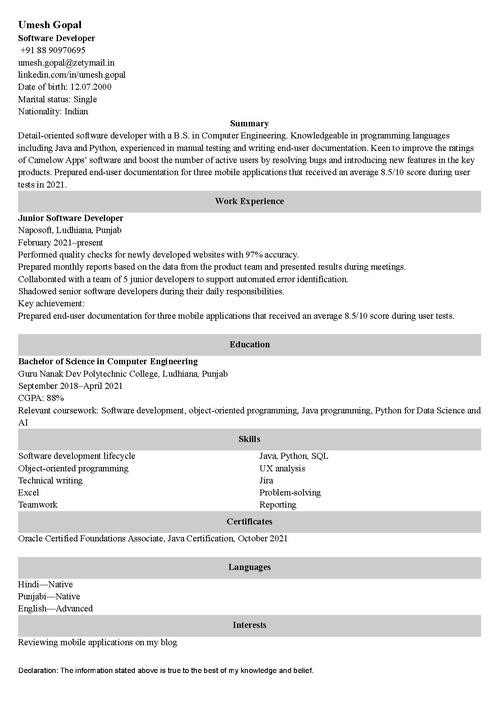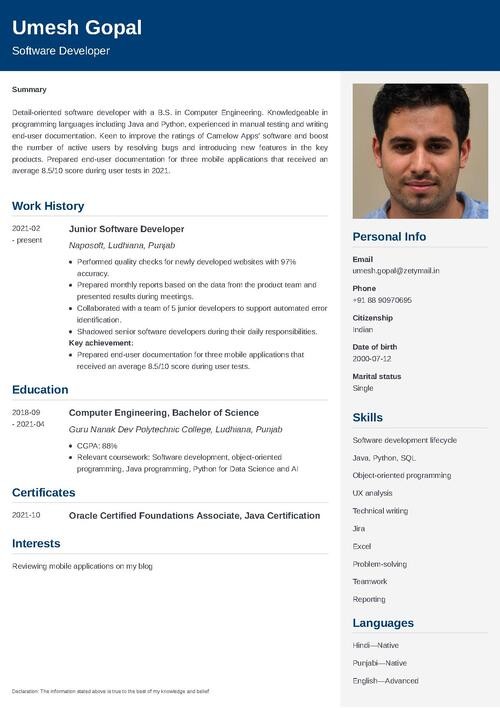 Sample resume made in our builder—See more templates and create your resume here.
Looking for other useful guides? Consider reading these:
1-Year Experience Resume Sample
Umesh Gopal
Software Developer
+91 88 90970695
umesh.gopal@zetymail.in
linkedin.com/in/umesh.gopal
Date of birth: 12.07.2000
Marital status: Single
Nationality: Indian
Summary
Detail-oriented software developer with a B.S. in Computer Engineering. Knowledgeable in programming languages including Java and Python, experienced in manual testing and writing end-user documentation. Keen to improve the ratings of Camelow Apps' software and boost the number of active users by resolving bugs and introducing new features in the key products. Prepared end-user documentation for three mobile applications that received an average 8.5/10 score during user tests in 2021.
Work Experience:
Junior Software Developer
Naposoft, Ludhiana, Punjab
February 2021–present
Performed quality checks for newly developed websites with 97% accuracy.
Prepared monthly reports based on the data from the product team and presented results during meetings.
Collaborated with a team of 5 junior developers to support automated error identification.
Shadowed senior software developers during their daily responsibilities.
Key achievement:
Prepared end-user documentation for three mobile applications that received an average 8.5/10 score during user tests.
Education:
Bachelor of Science in Computer Engineering
Guru Nanak Dev Polytechnic College, Ludhiana, Punjab
September 2018–April 2021
CGPA: 88%
Relevant coursework: Software development, object-oriented programming, Java programming, Python for Data Science and AI
Skills:
Software development lifecycle
Java, Python, SQL
Object-oriented programming
UX analysis
Technical writing
Jira
Excel
Problem-solving
Teamwork
Reporting
Languages:
Hindi—Native
Punjabi—Native
English—Advanced
Certification:
Oracle Certified Foundations Associate, Java Certification, October 2021
Interests:
Reviewing mobile applications on my blog
Declaration: The information stated above is true to the best of my knowledge and belief.
Read on and learn how to write a resume for 1-year experience:
1. Structure Your 1-Year Experience Resume Format Correctly
It's true that we shouldn't judge a book by its cover. But the fact is, most people do it anyway. And recruiters certainly judge job applicants by the looks of their resumes. It doesn't mean that yours must be printed in full colour on glossy paper with gilded edges. Simply put—it must look professional. You already know what a resume is, so let's just focus on what it should look like.
Follow these steps for a neat 1-year experience resume format:
Put your full name, contact details, date of birth, marital status, and nationality at the top of your resume.
Paste a professional resume photo with a neutral (white, blue, or grey) background.
Describe your work experience in reverse-chronological order.
Select popular resume fonts such as Calibri, Verdana, Times New Roman, and Arial.
Keep text and white space balanced with 1-inch resume margins on all sides and 1–1.15 line spacing.
Combine information in sections with resume bullet points.
Fit your 1-year experience into a one-page resume template.
Save your resume in PDF or doc format.
Good news: you can complete all of these steps using any word processing software, such as MS Word, LibreOffice, or Google Docs. Or you can save time and just go for free resume templates in order to write your resume more easily.
Feel like you need a specific format for freshers? Check here: Best Resume Format for Freshers with Examples
2. Write a Summary or Objective for Your 1-Year Experience Resume
Upon seeing your resume, many recruiters will think: One year of experience?! This person knows nothing!
I'm not saying this to discourage you—I'm saying this to show you how to convince them otherwise. And writing an impressive resume summary or a career objective is a very important step on your way to a dream career.
These types of resume profiles are placed at the top of your document, right under the personal information. It means that recruiters will spot this section immediately. It needs to catch their attention to convince them to read the rest.
So, what should you write? A 1-year experience resume summary or a career objective? It depends on you!
Go for a resume summary if your one-year experience gives you enough accomplishments to brag about. You can also include information about your other types of activities, such as internship experience, academic projects, volunteering, and part-time or freelance jobs.
This is how you write a resume summary:
Use a strong personality adjective for a great start.
Add your profession and years of experience.
Describe your work-related achievements.
Specify how the company can benefit from you.
If you consider your experience limited, write a career objective. It's best when you don't feel very confident in your abilities yet, or you want to write a career-change resume.
That's how writing a resume objective works:
Start with a strong personality adjective and add your desired profession.
Name your best professional skills.
Add work-related or educational achievements.
Explain how you see your role in the company and how you can help.
Keep the resume summary and career objective limited to 3–4 sentences. If you hook the recruiter with this section, you're off to a great start!
Writing a career objective with little experience is not easy. Learn more: Freshers' Resume with Objective Example
3. Describe Your Work History in a 1-Year Experience Resume
Depending on perspective, one year can be a very long time or a very short one. One person may write an award-winning novel within a year. Others may get married and have a baby. And another one will spend the year scrolling through Instagram and dreaming of a more exciting life.
How did you spend that year? It's a question you must ask yourself before you start filling that work experience section.
Be honest with yourself. Have you gone the extra mile to learn new things during that year at work? That's great! Do you feel that you haven't achieved much? Don't worry—you can always boost your resume with other types of experiences, such as part-time jobs, academic projects, extracurricular activities from school, or volunteer work.
Decide what you wish to describe. Then, follow these steps to create a great work experience section for your 1-year experience resume:
Name the most recent position or activities at the top of the section.
List your job title or the name of the role, the name of the company/organization, and the months and years of the work period.
Describe your responsibilities and accomplishments in 4–6 bullet points.
Start each bullet with an action verb.
Support your claims with facts, numbers, and percentages.
Before you start writing, remember to mention experiences that match the role you're applying for. If you're writing a software testing resume for 1-year experience, mention programming projects and internships, but feel free to skip listing your part-time waiter job at your uncle's restaurant.
Wondering if it's better to write a fresher resume instead? Check here: Writing a Resume for Freshers with Samples
4. Add Education to the Resume Format for 1-Year Experience
It doesn't really matter what profession you're after—the education section can really boost the effectiveness of your resume. If you're pursuing formal employment, studies show that graduates and diploma holders have a significantly better chance of avoiding the informal work sector.
Of course, your education section matters only if you know how to write it well. It's not just about listing the name of the school you attended. And definitely not about mentioning school pranks you did with your friend Kumar.
Here's how to curate your 1-year experience resume education section:
Start with the most recent qualification/degree.
Add the name of the university/college/secondary school, location, as well as months and years of study.
Mention academic or school-related achievements, such as competitions, projects, conferences, committees, and even school clubs.
Add your CGPA.
If you're writing a resume for a college graduate, you can limit your description to just the times spent pursuing your degree. If you don't have a bachelor's degree yet, you can add more information about your activities at secondary school. Just remember to keep it relevant to the job. For example, if you need a digital marketing resume for 1-year experience, you can mention working on the school website as a freelance content writer, or running a students' chess club Facebook page.
Noticed that the job advertisement asks for a CV instead of a resume? Click here: Definition and Meaning of CV
When making a resume in our builder, drag & drop bullet points, skills, and auto-fill the boring stuff. Spell check? Check. Start building a professional resume template here for free.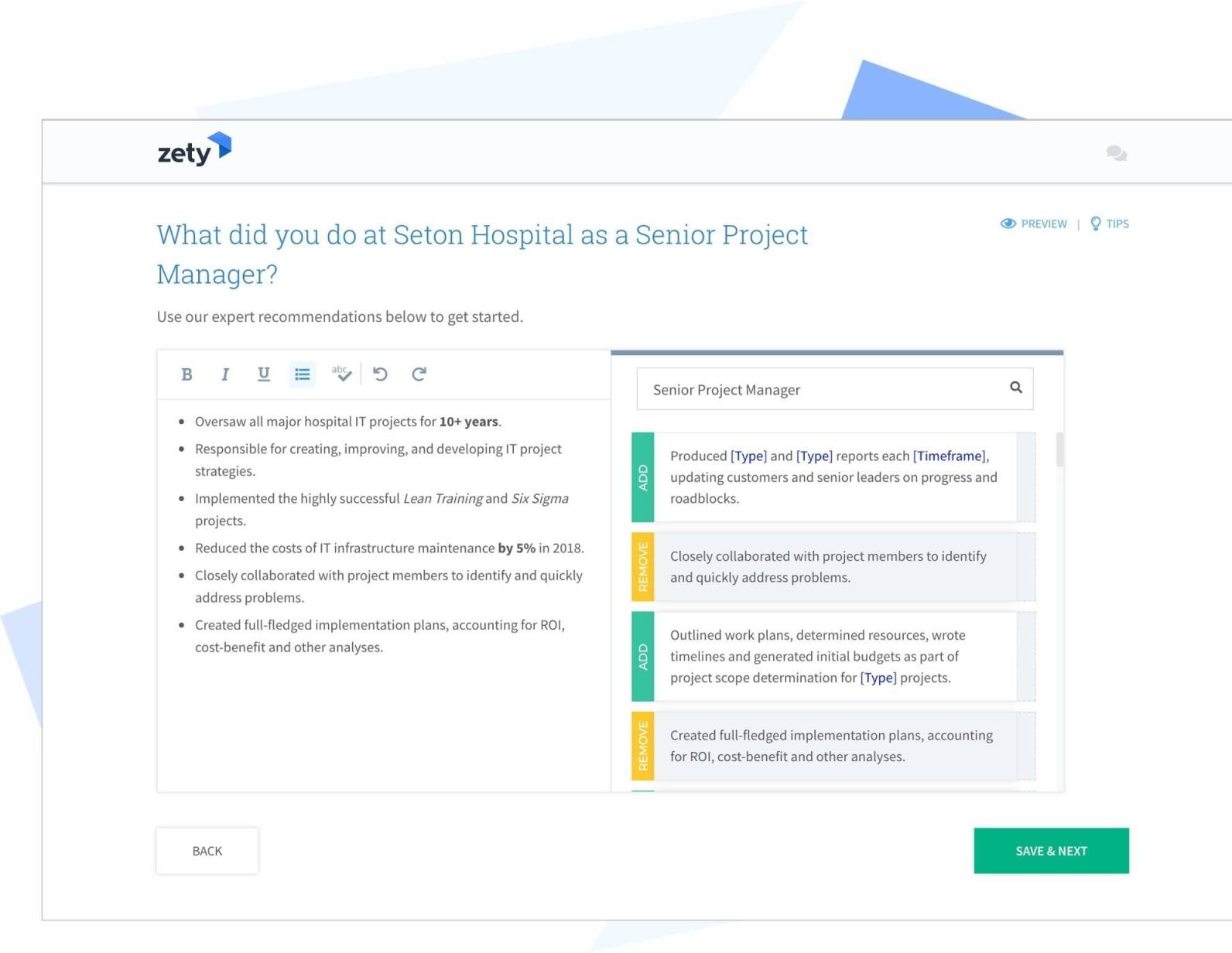 When you're done, Zety's resume builder will score your resume and tell you exactly how to make it better.
5. List Skills in the 1-Year Experience Resume Format
After one year in your current position, you probably know what are your strengths. The abilities you're really confident about. Your professional skills section is where you list them to charm the hiring manager.
So, how do you create an impressive skill section? Just follow these steps:
Make a long list of all the job skills you've got.
Add any soft skills as well as computer skills you have.
Have a look at the job advertisement and check the key requirements.
From the list of your skills, select 7–10 that are most relevant to the job ad.
Below, you can see an example of a 1-year experience resume format for software engineer:
1 Year Experience Resume Format for Software Engineer: Skill Section
Java, Python, SQL
Object-oriented programming
UX analysis
Technical writing
Jira
Excel
Problem-solving
Teamwork
Reporting
Pro Tip: The skill section of your resume is not the only place where you can add your abilities. Many skills are clearly visible through work experience and education. You don't have to write "I used my creativity to create engaging blog posts". Instead, just say "Created engaging blog posts that attracted XYZ number of users". Or, instead of saying "I'm excellent with time management" write "Completed all assignments within deadlines". You get the idea.
6. Select Extra Sections for Your 1-Year Experience Resume
You might think that extra sections on a resume are just to fill the empty spaces. It's much more than that. These sections can really boost your chances of getting that desired job!
Here's how to make an impressive resume with additional sections:
Add foreign languages to your resume: If you're pursuing a corporate job, English is a must. Always list your proficiency level, such as Intermediate, Advanced, Fluent, etc.
Show off certifications on your resume: they prove you've got important job-related skills. You can easily find free certification courses online and work on them in your spare time.
Add professional memberships: there are many associations for virtually any profession. Joining one can help you work on your professional development as well as make new valuable connections.
List volunteer work: volunteering is a chance to help others while learning something new. You can help to organize events, cook meals, work with animals, tutor children, and much more, depending on your preferences.
Mention your hobbies and interests: of course, only the ones that fit the job profile. If you're writing a 1-year experience resume format for a software developer, you can mention reviewing mobile apps, running a YouTube channel about programming, helping beginner programmers on discussion boards, etc.
Pro Tip: Worried you're paid too little at your current job? Remember that minimum wages in India are regulated. As it varies between states and sectors, it's best to check the current minimum wage with your local labour department.
7. Match Your 1-Year Experience Resume with a Pro Cover Letter
You're almost ready to apply for a new job. The only step left is to write a cover letter that matches your 1-year experience resume. You might think it's just a hassle, but in fact, a cover letter can help you to show the recruiter that you already know a lot about your profession.
Follow these steps to write a great cover letter:
Use a cover letter format that matches your 1-year experience resume.
Open with a powerful sentence that catches the reader's attention.
Mention your experience and the key skills that match the job requirements.
Finish your cover letter strong with a tempting promise that can't be turned down, and propose a meeting.
Once you know how to write a cover letter, it's time to create it and get that new job!
Pro Tip: Before you start working on the cover letter, consider what's the company culture like. Are they strictly serious in their LinkedIn and Facebook posts? Are they relaxed and use humour frequently? Then, try to match the style of your cover letter to the language this company uses. It can help you stand out from a dozen of other cover letters.
A great cover letter that matches your resume will give you an advantage over other candidates. You can write it in our cover letter builder here. Here's what it may look like: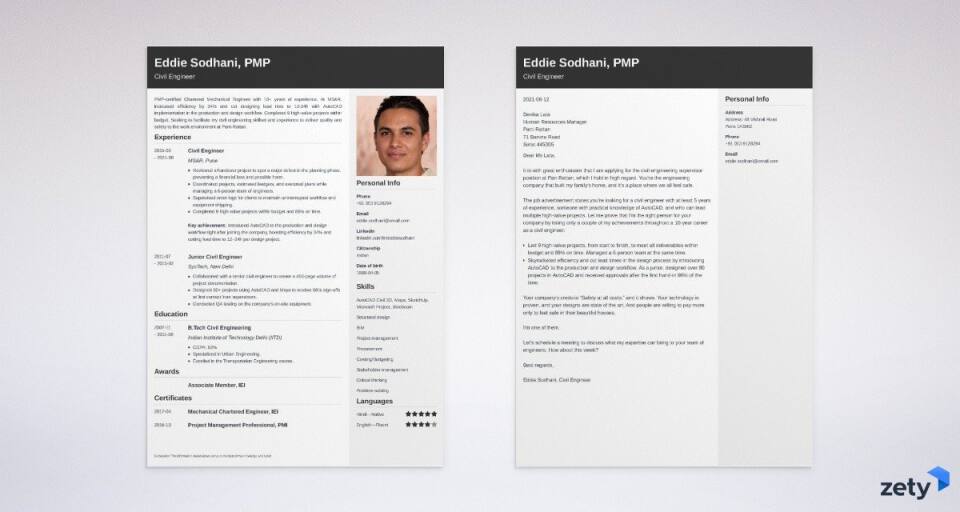 See more cover letter templates and start writing.
Your 1-year experience resume is ready to win great jobs. Prove you're not green behind the ears, and you can move up from junior and fresher positions.
Are you considering changing jobs after one year? Do you know any useful tips for writing a 1-year experience resume? Which resume sections are the most tricky for you? Let me know in the comments below!