Silence.
That's the sound of your phone. After sending your resume to 20 companies, you expected it to ring non-stop. But instead, you've got silence. So you started wondering: what's wrong? You've added your contact information, described your work experience, listed your education, and mentioned skills…
Wait a minute. Did you put the declaration in your resume? The one that should appear at the end? You didn't? Whoopsie… Now the mystery is solved. Want to avoid this mistake in the future? Good news—we've got you covered.
This guide will show you:
What is a declaration in a resume
Examples of declarations in resumes
How to write declarations in resumes, so recruiters can spot them
Reasons why is a declaration in a resume is necessary
Want to save time and have your resume ready in 5 minutes? Try our resume builder. It's fast and easy to use. Plus, you'll get ready-made content to add with one click. See 20+ resume templates and create your resume here.
Sample resume made in our builder—See more templates and create your resume here.
Check out our other helpful career advice:
Sample Declaration in Resume for Freshers
Aishwarya Babu
Third-Year Student of Business Administration
+91 508 7056849
aishwarya.babu@zety.in
linkedin.com/in/aishwarya.babu4
Nationality: Indian
Marital status: Single
Date of birth: 17.08.2001
Objective
Outgoing business administration student with front-desk experience. Keen to support customer-service operations with effective communication skills and advanced English language proficiency. Hoping to learn the ropes of back-office business operations and develop negotiation and problem-solving skills to achieve higher customer satisfaction at Can-Do Ltd.
Work Experience
Front-Desk Receptionist
Cal Dara, Jaipur, Rajasthan
February 2021–January 2022
Key responsibilities
Welcomed customers and announced guests to appropriate offices, servicing 50+ visitors on a daily basis.
Replied to 100+ emails and calls by providing information about business hours and connecting callers to other departments.
Booked conference rooms via Google Calendar and resolved issues related to conflicting timetables.
Sorted and distributed incoming mail as well as prepared outgoing mail in a timely manner.
Monitored office supply inventory and placed restocking orders on a weekly basis.
Education
Bachelor's Degree in Business Administration
Amity Business School, Amity University Rajasthan in Jaipur
Expected graduation: 2022
Memberships: International Language Club
Speaker at Business Presentation Seminar in October 2021
CGPA: 89
St. Xavier's Secondary School, Jaipur, Rajasthan
Graduated 2019
Skills
Communication
Interpersonal skills
Multitasking
Time management
Scheduling
G-Suite applications
Volunteering
Smiles Fund, Jaipur, Rajasthan
2020–2021
Tutored children in English and Mathematics
Helped to organize a fundraising event
Languages
English—Advanced
Hindi—Native
French—Intermediate
Interests
Reading self-improvement books related to business
Declaration: The information stated above is true to the best of my knowledge and belief.
Now, let's uncover the mystery of declarations in resumes:
1. What Is a Declaration in a Resume
A declaration in a resume is a statement confirming that all the information included in your resume is true to the best of your knowledge. Declaration statements in resumes must include the claim that all facts provided by you are correct, along with your current location, date, and signature.
Is a Declaration in a Resume Necessary?
Adding declarations to resumes is a standard practice in India. Government organizations and more formal workplaces consider the declaration mandatory. Companies that are more relaxed may have stopped requiring it from job candidates.
Always add the declaration in a resume when applying to:
Government organizations
Academic institutions
Large corporations
Since it might be difficult to guess from the job advertisement what is the style and organizational culture of a particular company, it's best to always add the declaration in the resume to be on the safe side.
Are you confused about job ads asking for CVs instead of resumes? Read more: The Meaning of CV with Definition
2. How to Write a Declaration in a Resume
There's not much freedom when it comes to declarations in resumes. After all, these statements are very formal, so it's important to stick to the guidelines.
This is the formula for declaration statements in resumes:
the details/facts/information +provided/stated/given above +is/are +true/accurate/free from errors/correct/genuine + to the best of my knowledge/belief.
You might add something to the formula, but it's best not to skip anything from it.
Read on to see examples of professional declarations in resumes.
Declaration in Resume Samples
I hereby declare that all the details provided above are true to the best of my knowledge.
I hereby confirm that all the facts stated above are accurate to the best of my belief.
The information stated above is true to the best of my knowledge and belief.
All the facts stated above are correct to the best of my knowledge.
I declare that all the facts given above are genuine to the best of my knowledge and belief.
I solemnly declare that the information stated above is true and correct to the best of my belief.
The facts provided above are accurate to the best of my knowledge.
Declaration in Resumes for Freshers vs Experienced Candidates
Let's face it—fresher candidates have many reasons to feel stressed out. Writing a fresher resume is like learning how to walk, with so many bumps and obstacles in the way. So this time, there's great news:
Declarations in resumes for freshers are the same as for experienced candidates!
Not sure what's the best resume layout for freshers? Read More: Best Resume Format for Freshers with Samples
When making a resume in our builder, drag & drop bullet points, skills, and auto-fill the boring stuff. Spell check? Check. Start building a professional resume template here for free.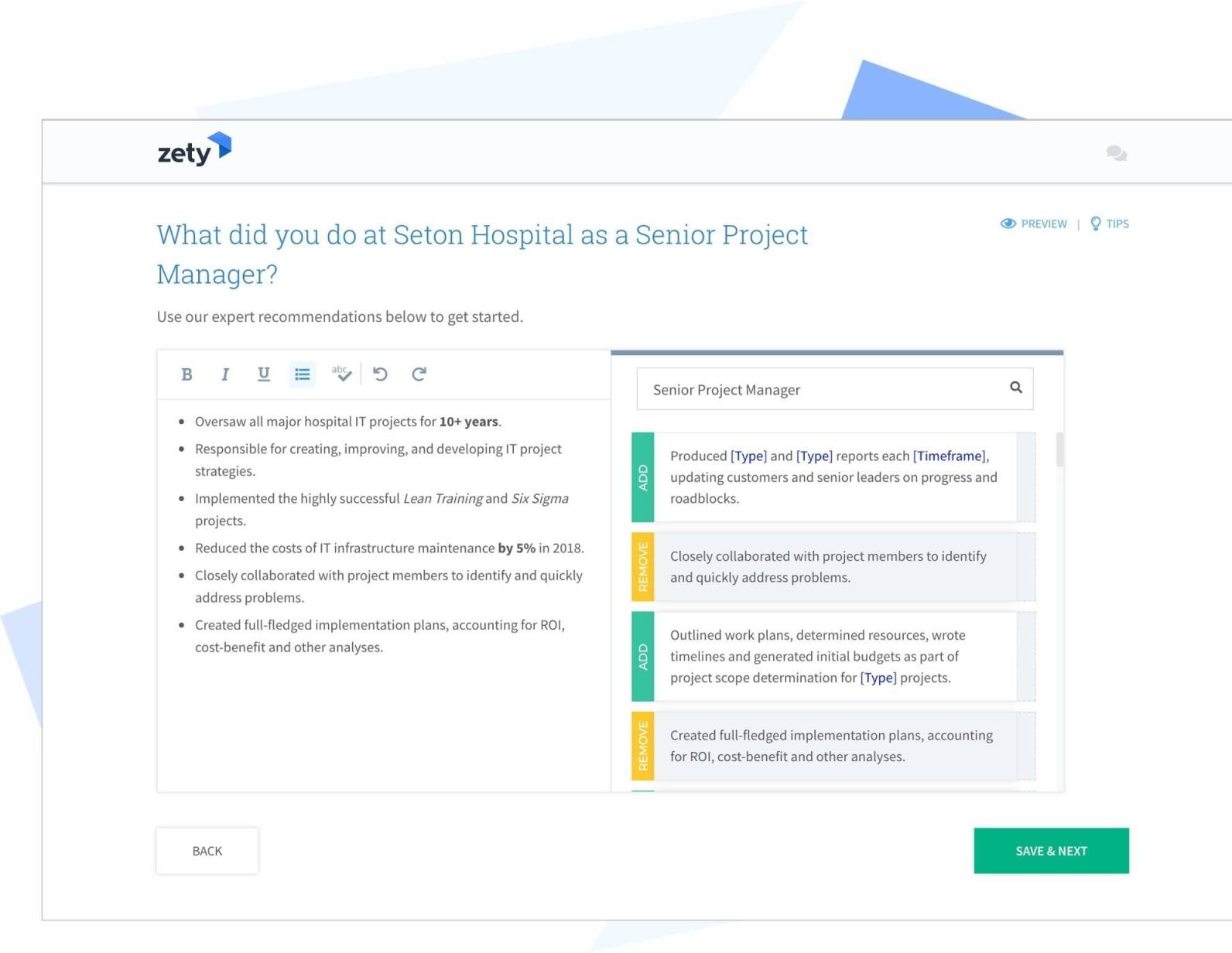 When you're done, Zety's resume builder will score your resume and tell you exactly how to make it better.
3. Where to Put a Declaration in a Resume
People are highly visual beings. They often remember the looks of people, places, pictures, or documents, without remembering any facts about them.
That's why you shouldn't be surprised when I say that your resume must look its best. Recruiters hate applications that look sloppy. Bad resume formatting screams unprofessional to them. Even such a small thing as a declaration in a resume must have its proper place.
Here's how to choose the best placement for the declaration in resumes:
Place the declaration statement at the bottom of your resume.
Add the location and date on the left side under the statement.
Sign the document on the right side under the declaration.
That doesn't sound complicated, right?
Now, if you finished writing your application and remembered about putting the declaration in the resume, you can start preparing your cover letter. Once it's ready, it's time to rock the world!
Thinking of cover letters got you exhausted? Read More: How to Write Cover Letters with Samples
A great cover letter that matches your resume will give you an advantage over other candidates. You can write it in our cover letter builder here. Here's what it may look like: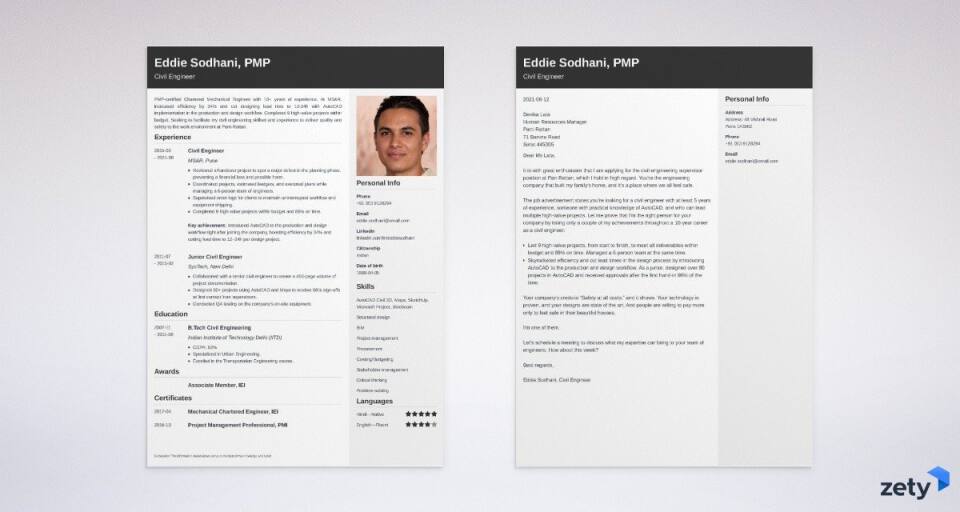 See more cover letter templates and start writing.
Thanks for reading!
What's your opinion about using declarations in resumes? Do you always add them? Do you think they're outdated? Let me know in the comments below!