You thought that making your own resume template was easy. After all, you know how to use Word. But after spending hours trying to move the text from the centre to the left column, you gave up.
So you started looking for a resume to fill out. Blank templates shouldn't be difficult to find, right?
Technically, yes. But many of them have a price tag. I can imagine that you want to avoid those…
Don't worry, we'll help you. Just read on, and you'll see 10+ examples of resumes to fill. You'll also learn how to fill a resume for a job!
In this guide, you'll find:
Blank resumes to fill out for free that are better than 9 out of 10 other resumes.
Step-by-step instructions on how to fill a resume for a job.
Examples of blank resumes to fill out for download from the Internet.
Our favourite picks of professional resumes to fill.
Want to save time and have your resume ready in 5 minutes? Try our resume builder. It's fast and easy to use. Plus, you'll get ready-made content to add with one click. See 20+ resume templates and create your resume here.
Sample resume made in our builder—See more templates and create your resume here.
Let's have a look at the best available resources for free resume templates.
1. Find Free Resumes to Fill Online
You're lucky! There are great free resume templates to download and simply fill out. Many of those are offered by graphic designers and artists looking for recognition. But rather than browsing through hundreds of portfolio websites, just go to the sites that collect resumes to fill. You'll save time and get tried-out choices that work.
Here are a few sources of resumes to fill:
MS Office Resume Templates
You can access MS Office's resumes to fill by selecting templates in Word or by going to the Microsoft Office website. If you want free resume templates, skip the Premium section and choose from multiple options. Some are colourful and very modern, while others are more traditional and black-and-white.
Let's have a look at our top 3 favourites:
Resume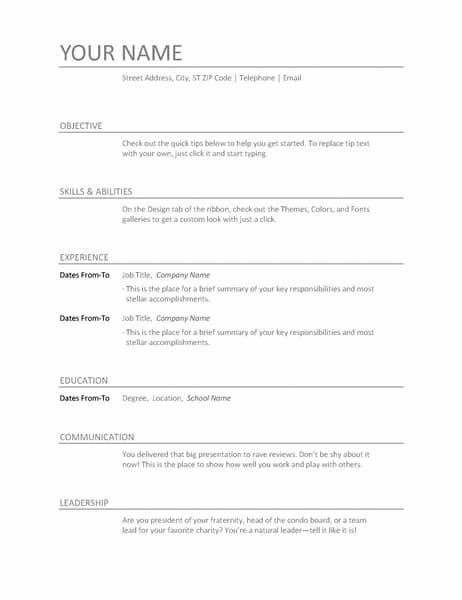 This very simple name matches the incredibly clear and minimalistic layout used for this template. Capitalized headings clearly indicate the theme of each section, and horizontal lines help to keep the information in neat order.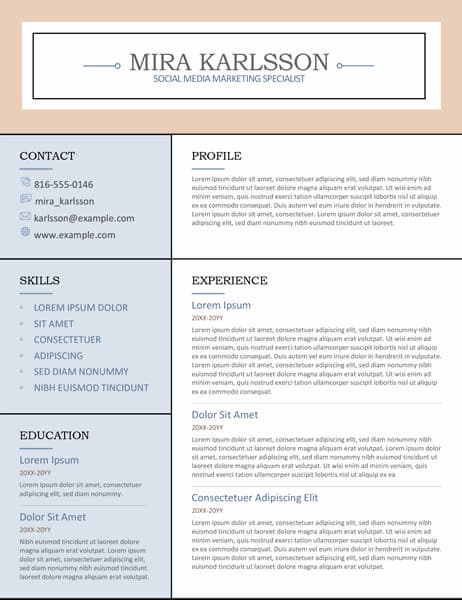 This classy template uses a simple grid to separate each section. The subtle addition of colour helps the candidate to stand out from the rest. It's a great resume to fill for candidates who want to focus on describing their work experience.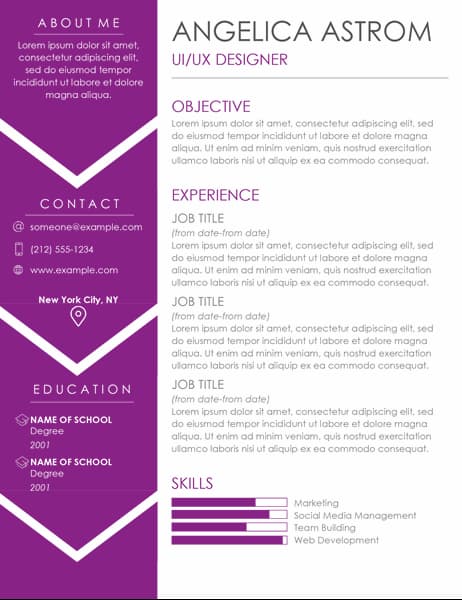 The name describes it very well—it's a modern template with a bold colour choice. This two-column layout will surely catch the attention of recruiters. Progress bars in the skill section make this resume to fill a very attractive choice.
As you can see, it's easy to find free resumes to fill in DOC format. But is this the perfect choice for you? Let's think of some pros and cons of this solution:
MS Office Blank Resume to Fill Out: Advantages
Available free of charge
File format that is widely used
You can make edits to font size, colours, etc.
MS Office Blank Resume to Fill Out: Disadvantages
Limited choice
Editing the layout can cause issues—if you add too much information to any of the sections, the other parts of the template will be moved, and it can cause chaos.
To sum up, it's a good option, but it has its limitations.
Google Docs Resume Templates
To access Google Docs templates, you need to set up your Google account first. Then, access Google Docs and click on the Template gallery on the top-right side of the view. After that, just scroll down a bit to Resumes. Voila! Now just pick your favourite resume to fill and start writing.
Here are our top 2 choices:
Swiss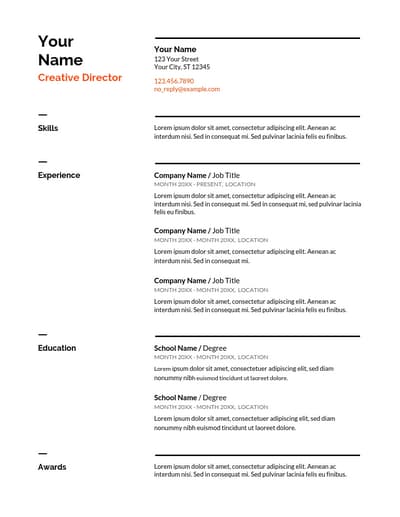 It's a simple two-column template, but what makes it special is the great balance between text and white space. The candidate's name stands out thanks to a large bold heading, and the addition of orange text helps to catch the attention of hiring managers.
Modern Writer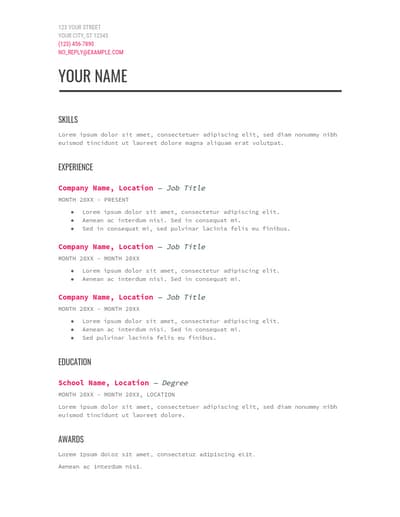 If you prefer the one-column layout but want to modernize it a bit, this can be a great choice. This simple resume to fill uses colour to help information stand out, and capital letters to make the candidate's name shine.
This looks like a pretty great option, right? Let's think of the advantages and disadvantages of Google Docs Resumes:
Google Docs Resumes to Fill: Pros
No need to install any software—just use your Google account
Templates can be easily customized
They are free of charge
Google Docs Resumes to Fill: Cons
Very limited choice of available resume templates
As you can see, using resumes to fill from Google Docs is a decent option if you need something simple. But if you're picky, the available templates might not be enough for you.
Canva Resume Templates
While many people use Canva to make engaging Instagram posts and graphics for blogs, it's also a great source of free resume templates. After you set up an account, simply browse through Templates and go to Resumes. Here, you can check different categories and choose the resume to fill that suits your fancy.
Our top 3 picks are:
White Gold Elegant Minimalist Resume by One Piece Design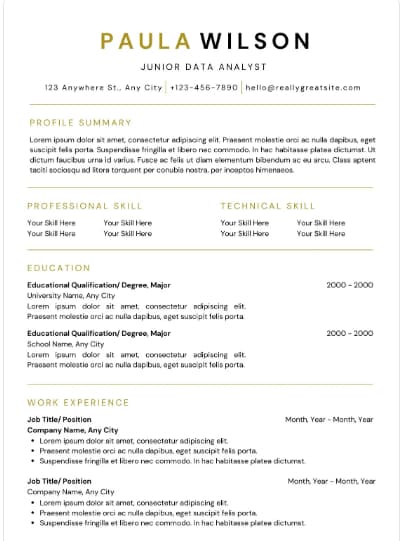 This minimalist template balances white space with text and uses gold hues to make the candidate shine. The one-column layout makes following the information easy for the recruiters.
Blue White Creative Graphic Designer Resume by Ara Creative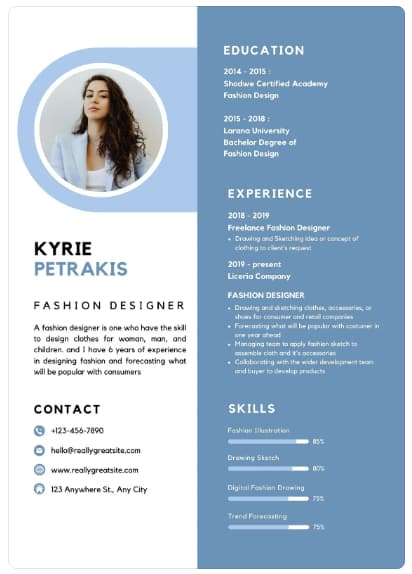 This two-column resume to fill can be a good choice for fresher candidates aspiring to work in creative industries. The left side of the template contains the candidate's photo, profile, and contact information, and the right side provides a chance to describe their credentials. Progress bars catch the recruiter's eye and keep them reading till the end.
White Formal Bordered Academic Resume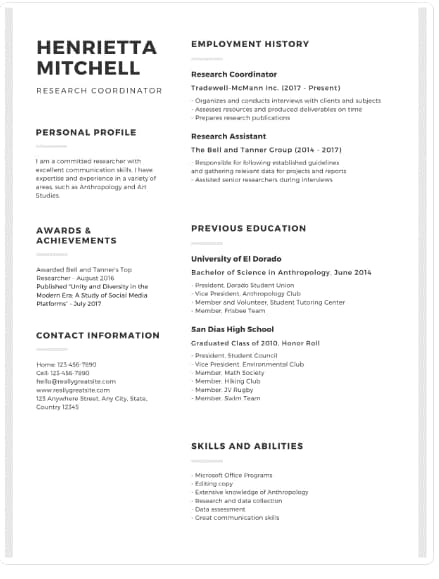 While it's a very minimalist layout, it's very elegant. The light-grey lines bordering the left and right sides add a nice touch to the template, and the capitalized headings help to find information quickly. This two-column layout offers plenty of space to describe the candidate's experience.
Are Canva's templates the perfect choice? Let's think about it:
Resumes to Fill from Canva: Pros
Many resume templates available
Very modern and creative designs
No software needed—just use the online platform for editing
Resumes to Fill from Canva: Cons
Free templates are mixed with premium ones, so browsing can take a lot of time
Many templates use images instead of text, so they aren't scannable by ATS systems
Similarly to other free templates, Canva resumes to fill are a decent choice, but they're not free of disadvantages.
Resumes to Fill from Zety
It shouldn't come as a surprise that Zety also offers blank resumes to fill out! Zety's resume templates have a modern look and clear layouts that are very easy to read. There are 15+ styles to choose from, so anyone can easily find something for themselves.
Let's have a look at a few resume templates from Zety:
Vibes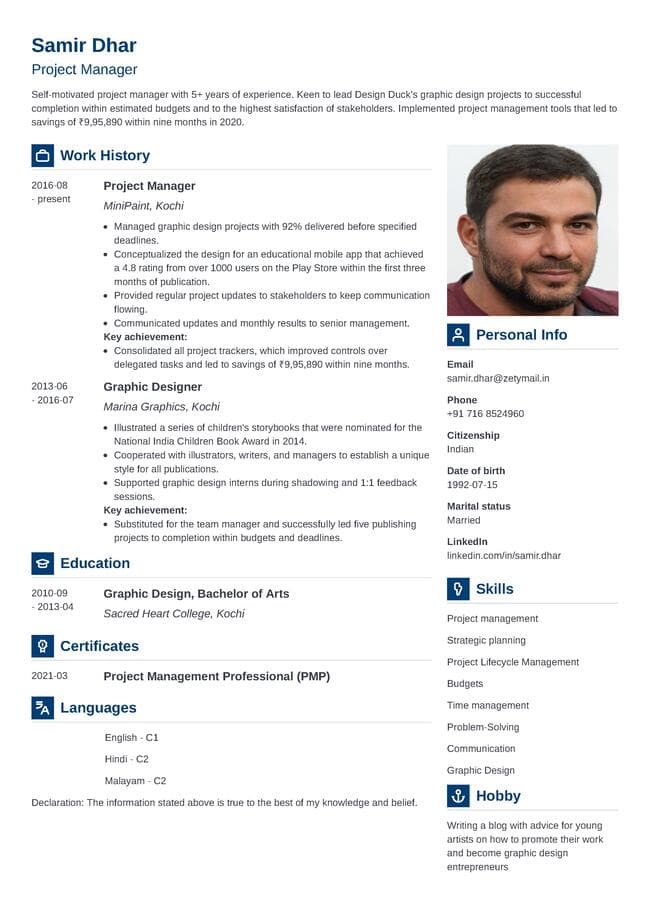 This two-column template offers a lot of space to describe the work experience. Minimalist icons indicate the beginning of each resume section, making this layout easy to follow when printed out or displayed on the screen.
Cubic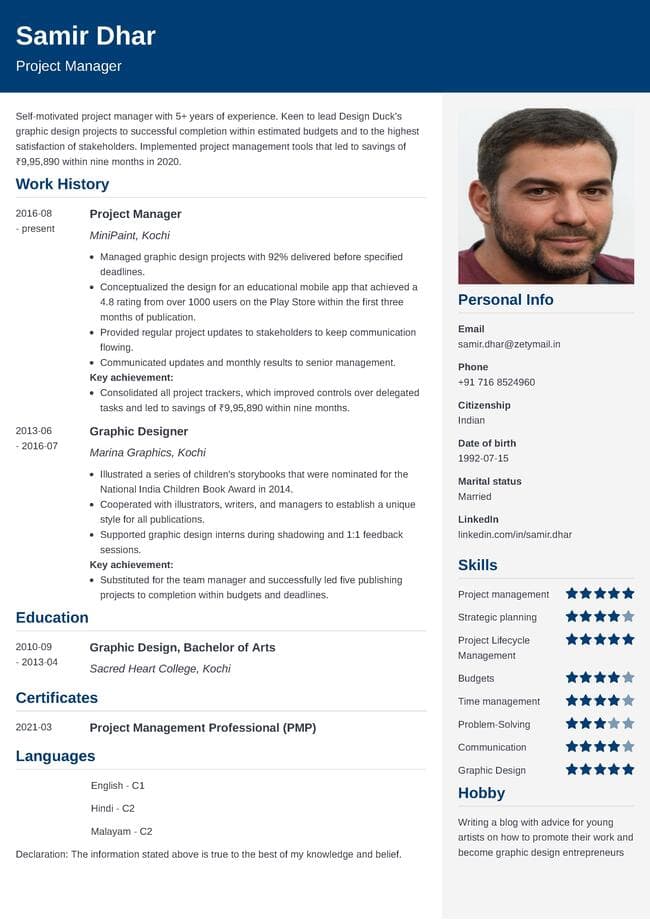 Another two-column layout. This resume template catches the reader's attention with the dark-blue header at the top. The stars in the skill section not only show how the candidate mastered their skills, but also keep the recruiter reading till the end.
Concept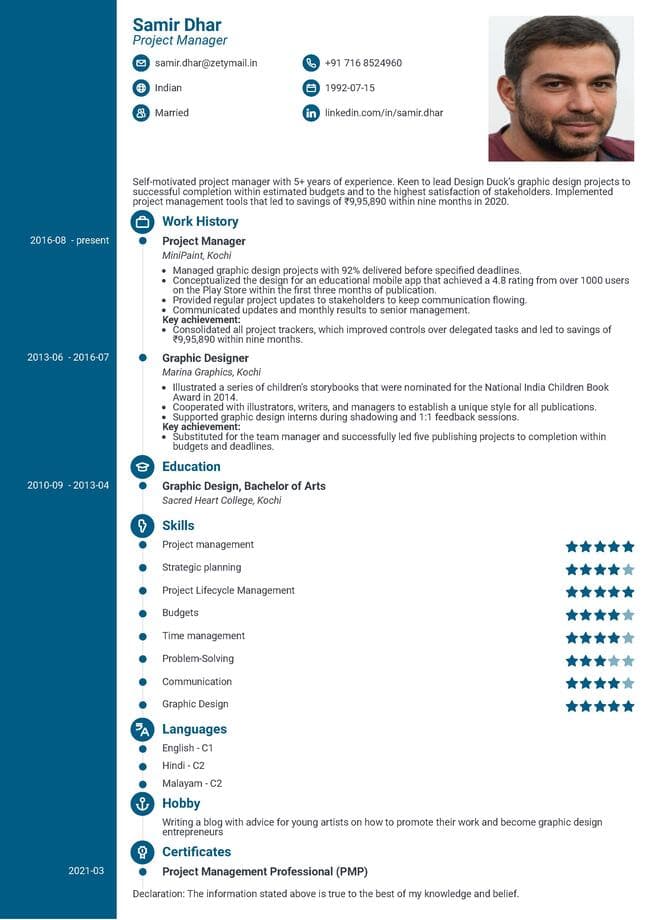 Great resume to fill for candidates tired of black-and-white templates. This one uses colour for headers and icons, as well as the background of the left column that's used to connect the timeline of the candidate's life.
Nanica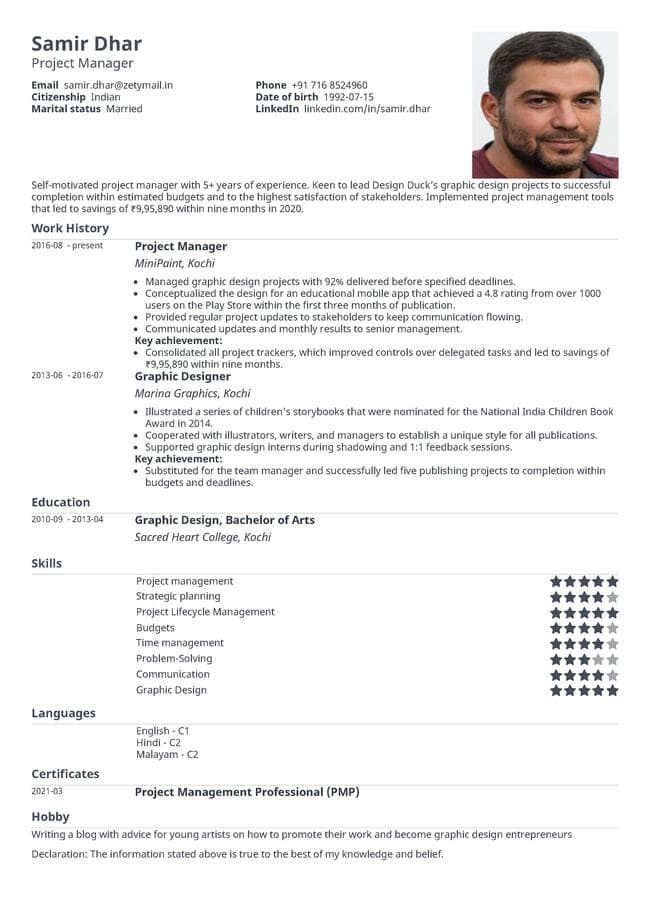 This one-column template keeps the most important information on the upper half. That's where the recruiter can find not only the candidate's personal information but also the resume profile and work experience. To keep the hiring manager reading till the end, the skill section includes progress bars.
Now, let's think of what makes Zety's resumes to fill a great choice for jobseekers.
Resumes to Fill from Zety: Advantages
Over 15+ designs to choose from
No software needed—the templates are edited online
Integrated spellchecker helps to avoid typos
Ready-made content available to make the process faster
Available formats include TXT, PDF, and DOCX
Resumes to Fill from Zety: Disadvantages
Small fee for downloading a printable resume
It might not be perfect, but the pros easily outweigh the cons.
Once you decide on which blank resume to fill out you actually want, there's another task in front of you: adding information to the template. Read on to learn how to make this process as easy as possible.
When making a resume in our builder, drag & drop bullet points, skills, and auto-fill the boring stuff. Spell check? Check. Start building a professional resume template here for free.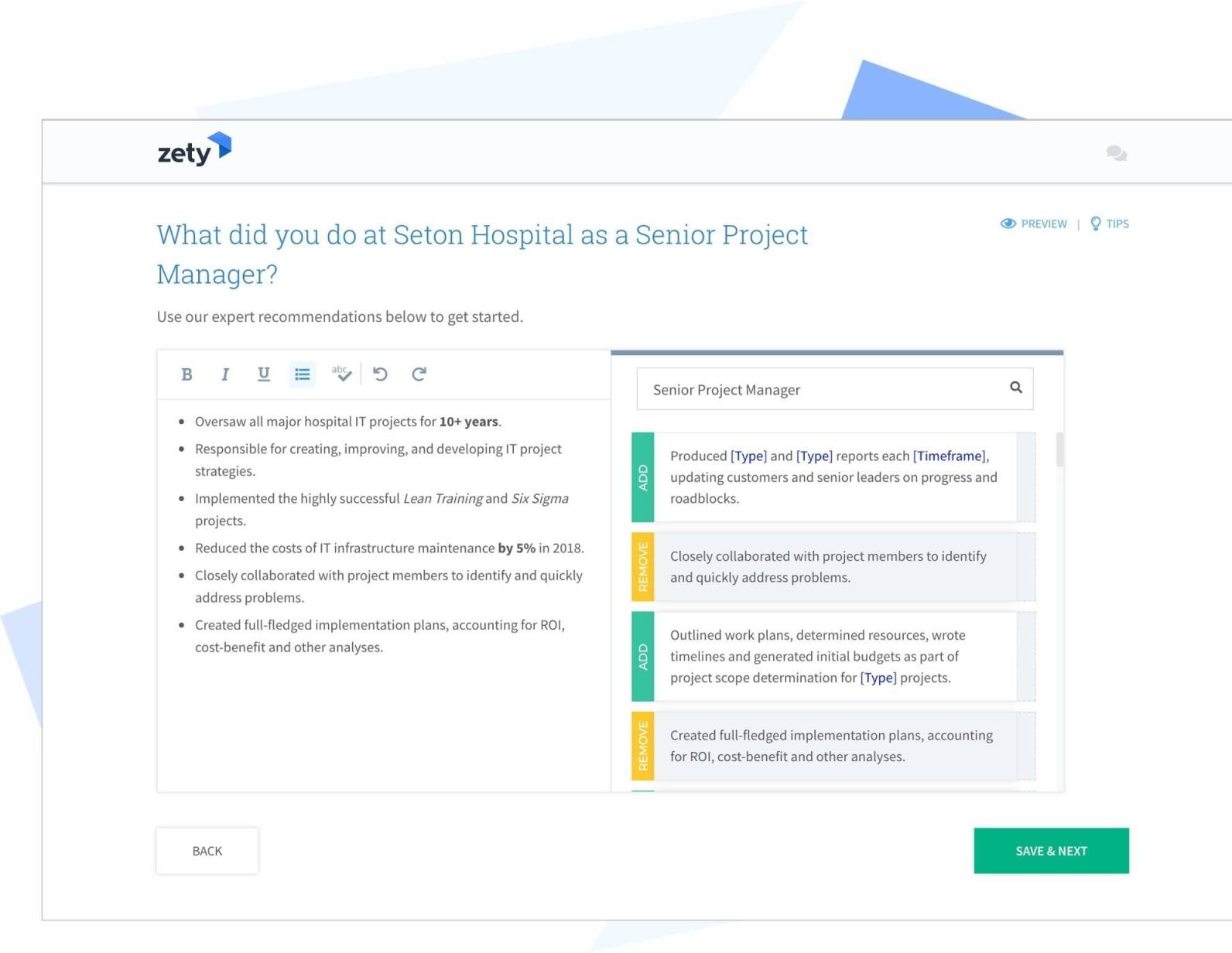 When you're done, Zety's resume builder will score your resume and tell you exactly how to make it better.
2. Learn How to Fill a Resume for a Job
Finding a neat resume template is a great start. But you also need to fill that template out with top-level information. If you already know how to do it—that's great! But maybe you don't. Or you haven't written a resume for a long time, and you're not sure if your knowledge is up-to-date.
Don't worry, just follow our advice and learn how to write a resume for a job quickly!
First, check this sample resume to fill and see what type of info must be included:
Sample Resume to Fill
Name Surname
Job Title
Phone Number
Email Address
linkedin.com/in/yourprofile
Marital status: single / married / divorced / separated / widowed
Date of birth: dd.mm.yyyy
Nationality: Indian / ………….
Summary / Objective
(Adjective + job title/degree + years of experience.) (Keen/happy to support/help/… + company + what can you achieve for the employer.) (Description of your biggest achievement.)
Work Experience
Job Title
Company, City, State
Month Year–Month Year
Key Qualifications & Responsibilities:
Achievement 1
Achievement 2
Achievement 3
Achievement 4
Key Achievement:
Your biggest achievement at this company
Job Title
Company, City, State
Month Year–Month Year
Key Qualifications & Responsibilities:
Achievement 1
Achievement 2
Achievement 3
Achievement 4
Key Achievement:
Your biggest achievement at this company
Education
Your Highest Degree / Level
School / College / University + Location
Year–Year
Skills
Job-related skill
Job-related skill
Job-related skill
Job-related skill
Soft skill
Soft skill
Computer skill
Certifications
Awards
Memberships/Associations
Member of (name) since (year)
Languages
Interests
Declaration: The information stated above is true to the best of my knowledge and belief.
It's getting clearer now, right?
Now, let's have a look at each section in more detail:
1. Add Personal Information to Your Resume to Fill
This might be the easiest step of the process. Simply add your personal and contact information to your resume template.
Here's the info you must add to a blank resume to fill out:
Job title, or your highest level of education
Contact details: email address, phone number
Social media: LinkedIn profile address and additional profiles, for example a professional Instagram account or an online portfolio on Behance
Personal details: Marital status, date of birth, and nationality
Make this section short and to the point—don't elaborate on anything.
Thinking that maybe you need a CV instead of a resume? Check here: Example of a CV with Definition
2. Describe Your Work Experience in a Blank Resume to Fill Out
For many recruiters, the work experience section is the most important one. Put extra effort in filling it out. Think of the jobs you've had. Don't describe what you did in each one. Tell what you achieved.
This is how to fill experience in resumes:
List your job title first.
Add the company name and location.
Mention the work period (years and months).
List your accomplishments in 4–6 bullets.
Highlight one major achievement.
Sounds pretty easy for experienced candidates.
But maybe you're wondering how to fill resumes for freshers?
After you put effort to find a blank resume to fill with your information, you can't become discouraged! Freshers also have good chances of getting their dream jobs. Simply focus on other experiences you've had. Mention volunteer work, freelance jobs, and academic achievements.
Need a guide written with freshers in mind? See here: Best Resume Format for Freshers
3. Mention Education in a Resume to Fill Out
That's another section that simply must appear in your resume. It doesn't matter what type of educational background you've got—you need to list at least your highest level of education in your resume.
This is how to fill education details in resumes:
Start with your highest degree or level of education.
Add the name of the school, college, or university as well as the location.
Include the years of study.
Mention your CGPA.
List the main coursework if you're a fresher candidate.
Highlight your academic achievements.
Freshers who haven't graduated from college or did it pretty recently may also add their secondary school to the education section.
Pro Tip: According to the OECD report from 2019, around 70% of adults in India don't have upper secondary education. This means that job candidates with high school diplomas and college degrees are at an advantage. However, don't be discouraged if you haven't finished secondary school. There are many industries that value skills and practical knowledge much more than education. You can learn new skills using online courses or even YouTube tutorials, and then build a portfolio of your work to prove your knowledge.
4. Pick Skills to Fill in a Resume
If you're wondering how to fill skills in a resume, you're lucky—it's a pretty easy task. What you need to do is think of all the job-related things you can do. I'm sure there are plenty of those. However, don't write a list of 100 skills you own. It's not efficient.
This is how to fill skills in resumes:
Read the job advertisement carefully and underline the requirements.
Think of the job skills you have that match these requirements.
Add a few soft skills you have.
Throw in some software skills to prove you are a modern-day candidate.
Now you know what to fill in 'Skills' in a resume. Easy, right?
Pro Tip: The COVID-19 pandemic had a huge impact on the labour market in India. Many companies had to focus on running their services online and working remotely. As a result, employers seek candidates who aren't afraid of technology, even if they don't work in IT. If you feel that you lack knowledge about industry-related software or can't find your way in online apps, it's a good idea to spend time on mastering those skills.
5. Choose Extra Sections for Your Resume to Fill
It's obvious that you want to stand out from other candidates. Picking a few additional sections to add to your resume is a great way to achieve that. After all, your education and work experience don't say everything about you.
Here are a few extra sections you can add to your resume:
Certifications and Awards: Always list the name, organization that released it, and the year awarded.
Memberships and Associations: Mention how long you have been a member. You can also add any accomplishments related to being a member at those organizations.
Volunteering: Add the name of the organization, location, and the volunteering period, as well as your responsibilities and accomplishments.
Languages: Always add the level of proficiency, such as: Elementary, Intermediate, Advanced, Fluent, Native
Interests: Mention free time activities that are relevant to your profession.
Now you know how to fill a resume for a job with additional sections.
Pro Tip: Many people think that volunteering requires a lot of free time and energy. It's not always the case! There are many ways to volunteer online, and these activities are perfect for trying out a whole range of digital skills. For example, Amnesty Decoders are a network of volunteers who help to expose human rights violations worldwide. Another website is Catchafire which collects volunteering opportunities from various organizations—volunteers can help to edit videos, update websites, translate, and more.
6. Use the Contents of Your Resume to Fill the Summary or Objective
Once you're done with all resume sections, go back to the top of your file. It's time to use all the information you put to create your resume summary or a career objective.
Are you wondering what's the difference between a resume summary and a career objective? It's easy:
Candidates write a resume summary if they have 2+ years of work experience. You can mention your previous professional achievements and show how your expertise can assist the new employer.
Freshers choose the career objective. Here, you can mention your academic accomplishments, the knowledge you gained while at school, and how you can use it to help the employer.
Now, let's move on to the best formula for your resume profile. To create a summary or objective, simply use what you already put in your resume to fill this section.
Here's how to do it:
Write in third-person narrative.
Use a strong adjective, such as meticulous or self-driven.
Add your job title or degree.
Mention years of experience.
State your professional goal.
Brag about your best work or school achievement.
This step-by-step formula will help you to make your resume ready to win jobs for you.
Are you a fresher candidate? Click here: Freshers' Resume with Objective Sample
Now that your resume is finished, remember to pair it with a neat cover letter!
A great cover letter that matches your resume will give you an advantage over other candidates. You can write it in our cover letter builder here. Here's what it may look like: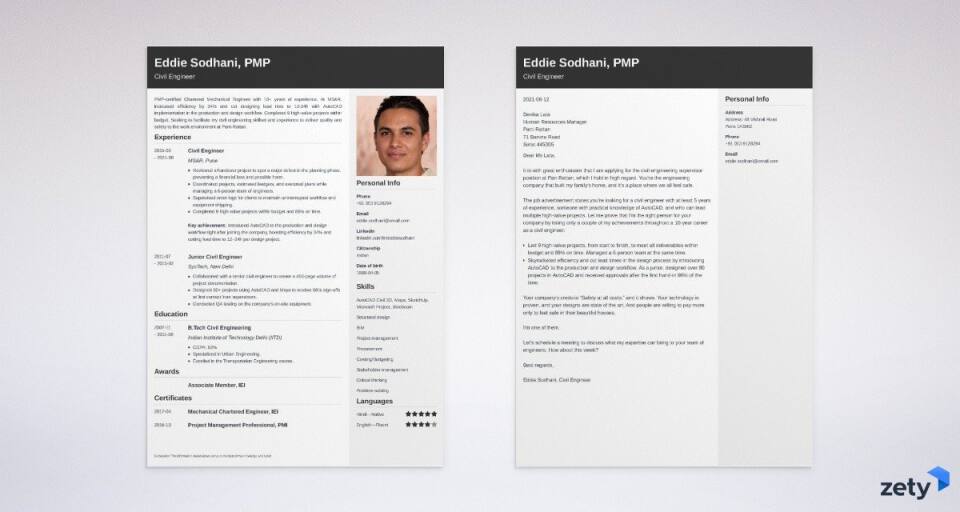 See more cover letter templates and start writing.
Key Takeaway
Here's how to write a resume quickly:
List your personal information and contact details.
Mention your work experience and achievements.
Add educational background to your resume.
Throw in a list of job skills and soft skills.
Select additional resume sections to stand out from the rest.
Finish off with a resume summary or a career objective.
Write a cover letter to ensure your success.
Now you're done! I'd love to hear from you:
- Do you use blank resumes to fill out or do you create your own templates?
- What's the most difficult part of filling out a resume?
Let me know in the comments below!