Our customers have been hired by:
What's the #1 thing to take care of when considering your experienced nurse resume overall?
It's whether your professional seniority is visible plain as day.
If you don't distinguish yourself from regular or entry-level nurses, you'll be getting floated to other units on every shift. Not too exciting.
Let's patch any shortcomings up, shall we?
This guide will show you:
An experienced nurse resume example better than 9 out of 10 other resumes.
How to write an experienced nurse resume that will land you more interviews.
Tips and examples of how to put skills and achievements on an experienced nurse resume.
How to describe your experience on a resume for an experienced nurse to get any job you want.
Want to save time and have your resume ready in 5 minutes? Try our resume builder. It's fast and easy to use. Plus, you'll get ready-made content to add with one click. See 20+ resume templates and create your resume here.
Sample resume made with our builder—See more resume examples here.
Not a senior-level nurse yet? Looking to specialize? We have plenty of articles for you to choose from:
Experienced Nurse Resume Example
Mary M. Ferguson
Experienced RN
330-443-2974
maryferguson@zetymail.com
linkedin.com/in/123mary.ferguson
Summary
Veteran nurse practitioner with 12+ years of nursing experience. Consistently rated as one of the most reliable nurses in charge of the Duke Hospital birthing center newborn nursing unit. Coordinated team of 28 nurses in a unit consisting of 2-floor maternity ward + 4 operating rooms, and 71 beds in total. Averaged 25–30 patients a day. Seeking to apply my expertise towards providing an exceptional standard of care to Pine Hill Health Center's patients.
Experience
Chief Nursing Officer
Duke Hospital, Rochester, MN
May 2014–November 2022
Developed clinical processes and enhancements to facilitate an ever-improving treatment environment for 8,000 yearly patients.
Worked closely with maternity ward supervising doctors to devise plans of unburdening the team and staff during peak periods.
Received a commendation from 95% of patients for respectful treatment, empathy, and health knowledge dissemination.
Trained, promoted, and assessed performance of staff in nursing unit.
Registered Nurse
Onslow Memorial Hospital, Jacksonville, NC
July 2008–May 2014
Performed standard, vital care procedures for patients including IV injections, incisions, drainage, wound repair etc.
Assisted in non-maternity ward/birthing center ORs on a daily basis. Received commendations from doctors from other units.
Trained 15 new grad nursing assistants and entry-level nurses.
Assisted in the pharmacological and non-pharmacological management and treatment of various disorders and diseases.
Education
Bachelor of Science in Nursing
Northeastern University, Boston, MA
2001–2005
Certifications
Registered Nurse, license number #1234567
Electronic Fetal Monitoring (C-EFM), National Certification Corporation (NCC), 2019
Obstetric and Neonatal Quality and Safety (C-ONQS), Association of Women's Health, Obstetric and Neonatal Nurses (AWHONN), 2017
Maternal Newborn Nursing (RNC-MNN), National Certification Corporation (NCC), 2014
Basic Cardiac Life Support (BCLS), American Heart Association (AHA), 2014
Core Skills
Patient Assessment
Training
Compassion & Empathy
Neonatal Care
Critical Care
Developing Treatment Plans
Stress Management
Attention to Detail
Organized Time Management
Memberships
The Organization for Neonatal Nurses (NANN)—Senior Member since 2017
Academy of Neonatal Nursing—Member since 2020
Language Skills
Now, let's walk you through writing a job-winning experienced nurse resume:
1. Prepare Your Experienced Nurse Resume Using the Right Format
As an experienced nurse, you're exceptionally skilled in providing patient care. Your responsibilities include assessing patient health and administering medicine, among many others. Make sure to include those skills, and lots more, if you want to write a successful experienced nurse resume.
But before we dive into complex care plans, we need to address the basic life support-level stuff of your resume.
And that is your resume layout:
Read more: More Resume Formats & When to Use Them
2. Write a Professional Experienced Nurse Resume Summary
As an experienced nurse, you've seen it all. You're tired. Your colleagues are incompetent, and the board of directors doesn't see eye-to-eye with front-line staff.
You've been through this before.
How do you upgrade to a well-managed establishment with nurses and doctors who don't need daily reminders on the proper and sanitary use of a cannula?
With a professional experienced nurse resume summary.
In three to four sentences, state your years of experience, describe your most impressive nursing achievements, give extra context through with numbers, and you're ready.
Pro tip: Not sure how to write your resume profile? Check the one we wrote in the resume sample for this article, and if that doesn't do it for you, we have a bunch more examples in our article on the resume introduction.
3. Write About Your Work Experience as an Experienced Nurse
If you tout yourself as an experienced nurse, you can bet your bottom dollar the recruitment coordinator will want to know if you can walk that walk.
That's why a great work experience section is an essential part of your resume.
What happens if you don't put enough thought and care into it?
We know you applied for the CNO position, but for someone with your experience, we can only offer you the job of a staff nurse.
That's a downright tragedy, and you don't want to let this happen to you.
Here's how to ensure it doesn't:
Include your most recent position first, and then previous ones, in reverse-chronological fashion.
List job titles, names of medical centers you worked at (and for how long) + around 5 or 6 bullet points for each entry.
Older entries become less relevant with time, so use fewer bullet points for those.
Describe your major tasks, important achievements, including any highly-specialized duties you performed.
Don't bother listing irrelevant experience or going too far back on your experienced nurse resume.
Every hospital is unique, and so should be your application. That's why you need to tailor the resume to the job posting, every time.
Pro tip: To keep your reader engaged instead of dosing off as if anesthetized, use action words in your descriptions. This will also make your actions feel more impactful.
4. Make the Most out of Your Experienced Nurse Resume Education Section
The impact of your experienced nurse resume education section certainly won't lead to cardiac arrest, that much is clear.
However—
Not including it could certainly flatline your chances.
And, it's actually much simpler than you might think:
Add the name and location of the school.
State the highest degree you obtained.
Give them the year you graduated.
Read more: How to List Majors and Minors on a Resume
When making a resume in our builder, drag & drop bullet points, skills, and auto-fill the boring stuff. Spell check? Check. Start building a professional resume template here for free.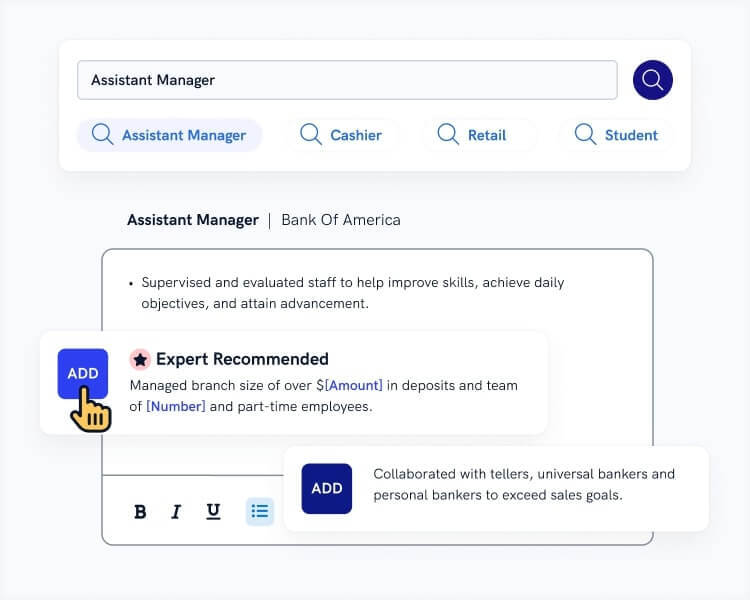 When you're done, Zety's resume builder will score your resume and tell you exactly how to make it better.
5. Prove You've Got the Right Skills as an Experienced Nurse on Your Resume
What are the right skills for an experienced nurse, anyway?
You should know the answer to that question yourself.
Not necessarily from your own experience, but by scouting out what the clinic requires from you.
See, it's always way better (and more impressive) if you can make the hiring director's job easier by picking out the skills they want to see for them.
This is how you go about it:
Create a spreadsheet or list, and write down all of your key strengths in there.
Divide your nursing skills into categories such as soft skills,hard skills, and technical skills.
Then, compare that list of yours with the job ad. It should quite clearly state what kind of experience and skills they seek in an ideal candidate.
Pick out the most relevant skills from your list that match their requirement, and include about 8 of those on your resume.
Now that you've got that out of the way, take a look at the most commonly required skills for an experienced nurse:
Experienced Nurse 20+ Most Common Skills
Working under Pressure
Overseeing CNAs
Organizing Patient Charts
Coordinating Patient Care
Physical Endurance
Dedication & Patience
Compassion
CPR
Taking Vital Signs
Critical Care
Administering Medication
Devising & Following Care Plans
Rehabilitation
Interpreting Patient Information
Pro tip: Some of the best ways to grow your core competencies are through nursing fellowships. Try to find and enlist in one and reap the benefits—it may have a springboard effect on your career.
6. Add Extra Sections to Your Experienced Nurse Resume
Nurse practitioners and other senior-level nursing staff enjoy some of the highest salaries among nursing professionals.
To join that prestigious crowd, your resume will have to inspire awe and wonder. Go beyond the call of duty, and add more resume sections to prove not just your experience, but all the extras that make you stand out.
Nursing certifications on your resume are the best tool in your arsenal for boasting about your additional qualifications, specializations, and completed training programs that allow you to care for patients with particular needs or in special situations.
Another worthy addition to any resume is a language skills section. Communication in a hospital is vital, and language barriers can often get in the way. Circumventing them is worth all the bonus points.
Of course, medical publications or volunteer work are also respectable additions. Think about the things that add the most value.
Read more: What Should a Resume Look Like?
7. Write a Cover Letter to Include with Your Experienced Nurse Assistant Resume
Do you need a cover letter as an experienced nurse?
Definitely. Experience doesn't change the fact that recruiters will expect you to submit one, more often than not.
Fix up your cover letter in a jiffy with our expert cover letter tips, and you're home free:
Read more: How to Address the Cover Letter the Right Way
Plus, a great cover letter that matches your resume will give you an advantage over other candidates. You can write it in our cover letter builder here. Here's what it may look like: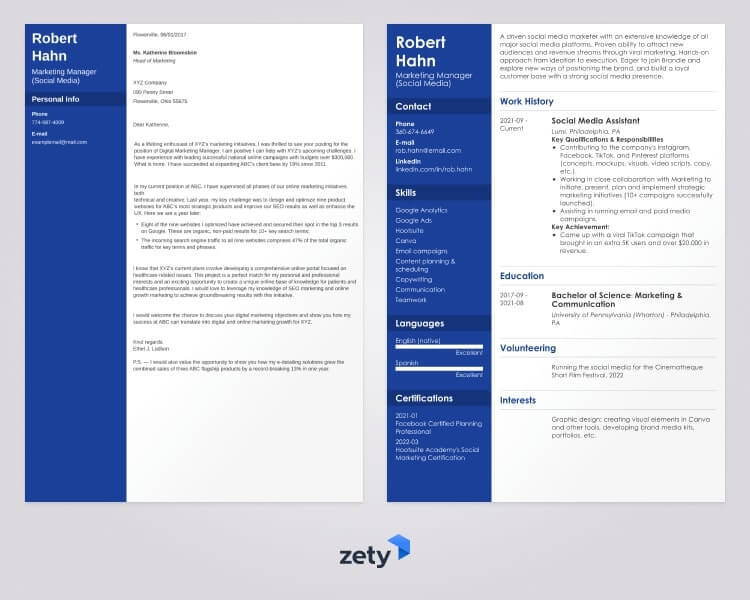 See more cover letter templates and start writing.
Thank you for reading. Do you think we missed anything critical in this experienced nurse resume guide? What are your methods and ways of choosing the right skills for an experienced nurse resume? As always, head to the comments and discuss!
About Zety's Editorial Process
This article has been reviewed by our editorial team to make sure it follows Zety's editorial guidelines. We're committed to sharing our expertise and giving you trustworthy career advice tailored to your needs. High-quality content is what brings over 40 million readers to our site every year. But we don't stop there. Our team conducts original research to understand the job market better, and we pride ourselves on being quoted by top universities and prime media outlets from around the world.