Our customers have been hired by:
You're chomping at the bit to get in there and grow as an FP&A… But you don't have much experience, if any at all. So that means you're doomed, right?
Absolutely not, my friend.
Grab your degree and brush up your knowledge of accounting principles—we're taking this entry-level financial analyst resume to the moon!
This guide will show you:


An entry-level financial analyst resume example better than 9 out of 10 other resumes.
How to write an entry-level financial analyst resume that will land you more interviews.
Tips and examples of how to put skills and achievements on an entry-level financial analyst resume.
How to describe your experience on a resume for an entry-level financial analyst to get any job you want.
Want to save time and have your resume ready in 5 minutes? Try our resume builder. It's fast and easy to use. Plus, you'll get ready-made content to add with one click. See 20+ resume templates and create your resume here.
Sample resume made with our builder—See more resume examples here.
Considering similar positions in the field? See these guides below:
Sample Entry-Level Financial Analyst Resume
Rudolph Z. Steele
Financial Analyst
504-447-7788
rudolph.z.steele@email.com
Objective
Inspired and results-driven finance management graduate with 8 months of experience. At P&L Consulting, managed employee's 401k comparisons, increasing contribution optimization by roughly 20%. Averaged a 98.9% accuracy rating on completed projects. Seeking to join FGP Holding to utilize trend analysis and stock market skills.
Work History
Entry-Level Financial Analyst
P&L Consulting
March 2021–November 2021
Oversaw management of debt obligations up to $300 million in value.
Assisted in performance of 18 financial audits.
Cooperated with senior financial analysts in predicting stock market trends, providing critical value for P&L in preventing potential $750 million losses.
Forecasted company's minor expense needs for periods of 3, 6, and 12 months.
Education
Master's Degree in Accounting & Financial Management
Ross School of Business, Ann Arbor, MI
Graduated: 2020
Relevant Coursework: Strategic cost management, Budget management and control, Stock market and markets, Strategy and Finance, IT tools for optimizing management control, New trends in Finance.
Other:
President of the Student Finance Club in 2017 & 2019.
Regular contributor to "Pretty Pennies," a campus monthly on personal budgeting.
Key Skills
Financial Modelling
Stock Market Trends
Cost Prognosis & Amortization
Financial Auditing
Strong Team Player
Excellent Communication Skills
Memberships
American Finance Association (AFA)
Financial Management Association (FMA)—Honor Society Member
Hobbies and Interests
Personal Finance
Strategic Marketing & Business Development
This is how you write a resume for entry-level financial analysis positions:
1. Pick the Best Format for an Entry-Level Financial Analyst Resume
Entry-level financial analysts analyze the economy in order to accurately model or predict stock market trends, eliminate investment risks, and provide overall guidance. The purpose of your entry-level financial analyst resume is to show you're capable of all of that and more.
But before we jump into that, we have to focus on formatting your resume:
Read more: Clean and Modern Resume Templates
2. Create an Excellent Resume Objective for an Entry-Level Financial Analyst
99% of modern resumes come equipped with a resume introduction statement, called a resume profile.
In your terms, it's like the concept of EBITDA, but in resume writing.
Resume profiles can be divided into two categories: resume summaries and resume objectives. The former are reserved for experienced employees, and as a fresher, you'll write the latter.
Think of it like an elevator pitch, where you devote 3–4 sentences to describe yourself, your knowledge, and transferable skills in superlatives to convince the employer you're Wolf of Wall Street-levels of adept in the financial world.
Pro Tip: The number one performance-boosting tip is always to tailor your resume (including the objective statement) to each job individually. Your model predictions are highly dependent on various factors—why shouldn't your resumes be? For a personal touch, include the name of the company and what you can specifically offer them as a new employee.
3. Write an Entry-Level Financial Analyst Job Description
Research shows that FP&A experts of all levels make mistakes all the time.
Considering that there are so many, it's inevitable that you'll make some yourself. But one crucial mistake to avoid is a poorly composed work experience section—that suggests you'd be a bad investment.
You need to show you're capable of some heavy financial lifting to counteract your entry-level amounts of experience.
This is how to do it:
Remember: the previously mentioned reverse-chronological layout dictates your most recent job goes first.
Each job you list should have your job title, dates worked, and company name stated.
Include up to 6 bullet points that describe your tasks and most of all, your quantifiable professional achievements. Using numbers, power verbs, and the Problem-Action-Result formula is demonstrably the most reliable way to make a good impression on the recruiter.
Once again: tailor your resume! It cannot be stressed enough how much of a difference this makes.
Pro Tip: It's possible that your resume experience section isn't yet robust enough to impress. If that's the case, swap its order with the education section for better results.
4. Craft a Great Entry-Level Financial Analyst Education Section
Alright, rookie. Time to beef up that resume education section.
Why? Allow me to present the following resume profitability model:
You have little to no job experience.
That makes pimping out the education section your next best choice to impress the recruiter.
First, start with the basics: school name and location, degree obtained, and graduation date (or whenever you expect to graduate).
How about high school education on a resume? In accordance with the "highest obtained degree" rule, yes, but only if you're still finishing college.
Next, figure out some academic achievements to put on a resume. A GPA that's high enough to put on a resume (>3.5), scholarships, honors on your diploma, extracurricular activities or FA-related, relevant coursework you liked and were good at. Pick between 4–6 extra items like that, and you're more golden than Fort Knox.
Read more: Listing Your Degree on a Resume: Tips and Examples
When making a resume in our builder, drag & drop bullet points, skills, and auto-fill the boring stuff. Spell check? Check. Start building a professional resume template here for free.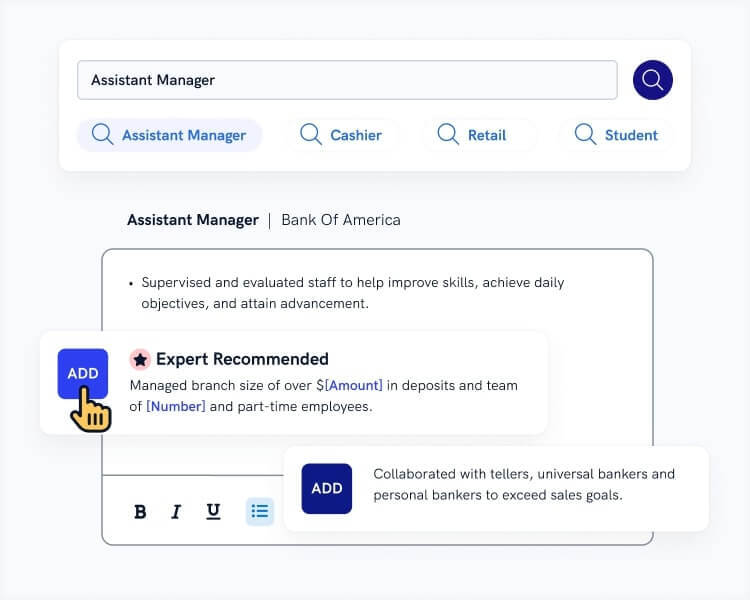 When you're done, our online resume builder will score your resume and our resume checker will tell you exactly how to make it better.
5. Prove Your Financial Analysis Skills
Check out this handy-dandy list of skills:
Best Skills for an Entry-Level Financial Analyst
Business Performance Analysis
Determining Value
Analyzing Industry Trends
Applying Mathematical Models
Advising
Charting Growth
Evaluating Capital
Asset Management
Economics
Data Visualization
Understanding of Stock Market
Future-Proof Investing
Statistics
MSOffice
Patience
This list does a pretty good job of summarizing the core competencies in financial analysis—
But don't be tempted to just paste this list onto your application.
Like with other aspects of your job, you need to do your research first—not blindly rush into an investment only to get left holding the bag and seeing your stocks plummet.
There is a better way to go about this:
Create a master list of all of your skills. Don't worry, you won't be putting them all onto the resume, just, for now, divide them into categories like soft skills, hard skills, and technical skills.
Open the job ad and pick out skill resume keywords from the job description. Select the ones that match what you just put onto your spreadsheet.
These skills are simultaneously what the employer is primarily after, what will help your resume pass ATS checks, and what will let you squeeze the most out of your resume.
Read more: List of Skills to Put on Your Resume with Tips & Instructions
6. Stand out with Extra Sections on Your Entry-Level Financial Analysis Resume
With the field of FA growing at a stable rate, it's crucial to set yourself apart. Otherwise, you're just like a point on a graph without context. Is it good? Is it bad? Nobody knows!
When the recruiter goes through all the resumes the first time, they will inevitably cast a good 80% of them aside. Imbuing your resume with some additional flavor will make your employer more likely to remember you once you're in the second round.
Listing certifications on a resume is a no-brainer, but adding things like foreign language skills, relevant passion projects, or volunteer work can also help make a good impression and show you're passionate about what you do. You can even mention your interests on your resume, as long as they're in some way related to your profession.
Read more: How to List Freelance Work on a Resume: Examples & Tips
7. Send an Entry-Level Financial Analyst Cover Letter
Cover letters are essential. No, that's not advice from the '60s. Every other recruiter believes a good cover letter is crucial for a successful application.
This is especially important if you're writing a financial analyst resume with no experience—the cover letter is your chance to persuade the hiring manager to give you a chance.
If you follow these professional cover letter tips, you'll only make your portfolio that much more attractive:
Address the recruiter by name in your cover letter, and if you can't find that information, search around or Google, LinkedIn, or even call in directly.
Begin the cover letter fully intent on grabbing attention. The more eye-catching, the better. A measurable accomplishment or two will usually do the trick.
When considering what the cover letter should say, talk about more of your achievements and how they reflect your skills. Then proceed to say why the company needs those skills.
Finish the cover letter by making an exciting offer and a call to action.
Stick to the right cover letter length: 3–4 paragraphs on one page.
After you've sent the initial message, you can send a follow-up on your job application about a week later. It's not pestering, it's showing genuine interest in the position.
Read more: How to Write a Cover Letter: Examples & Guide
Plus, a great cover letter that matches your resume will give you an advantage over other candidates. You can write it in our cover letter builder here. Here's what it may look like: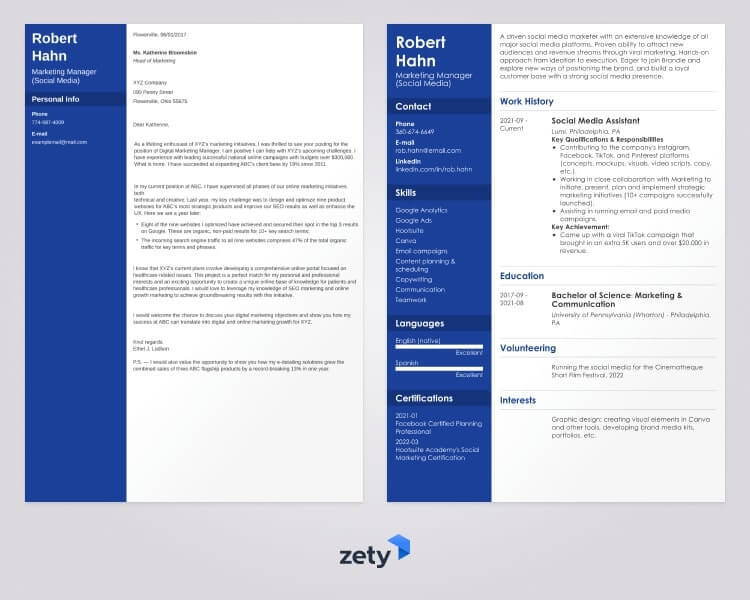 See more cover letter templates and start writing.
We'd love to answer your questions in the comments about any recruitment doubts! Also, feel free to share advice and stories from your own professional career!
About Zety's Editorial Process
This article has been reviewed by our editorial team to make sure it follows Zety's editorial guidelines. We're committed to sharing our expertise and giving you trustworthy career advice tailored to your needs. High-quality content is what brings over 40 million readers to our site every year. But we don't stop there. Our team conducts original research to understand the job market better, and we pride ourselves on being quoted by top universities and prime media outlets from around the world.
Sources