Business Consultant Resume Guide: Sample & Job Description
You're top class in the consultancy business. Your advice is on point, your strategies timely and appropriate. But it's all worth zilch without a proper business consultant resume.
Have you heard those overblown rumors that consultants sit on their butts all day and make top dollar without as much as breaking a sweat? Yeah, right!
And what if I told you that there are jobs like that out there? Maybe not as idyllic as that, but certainly up there in terms of luxury, salary, and work-life balance.
Of course, getting one ain't exactly a cakewalk.
Put in the work to make a fantastic business consultant resume, and you'll be reaping massive profits yet.
This guide will show you:
A business consultant resume example better than 9 out of 10 other resumes.
How to write a business consultant resume that will land you more interviews.
Tips and examples of how to put skills and achievements on a business consultant resume.
How to describe your experience on a resume for a business consultant to get any job you want.
Want to save time and have your resume ready in 5 minutes? Try our resume builder. It's fast and easy to use. Plus, you'll get ready-made content to add with one click. See 20+ resume templates and create your resume here.
Sample resume made with our builder—See more resume examples here.
Here are a few more resume examples related to management analyst jobs:
Business Consultant Resume Sample
Adam Hennig
Business Consultant
509-276-7260
AHennig@zetymail.com
Linkedin.com/in/1Adam.Hennig
Summary
Committed business consultation expert with 7 years of experience in building reliable and trusting business relationships. Emphasized "Best Practice" merchandising at Simplicity Consulting to foster consistent excellence in brand representation with franchisees, exceeding quarterly revenue estimates by 25%. Maintained relationships in good standing with over 10 personally supervised franchisees.
Work Experience
Business Consultant
Simplicity Consulting, San Diego, CA
January 2017–October 2022
Provided 50+ clients with upfront support & complex operational strategizing in regard to developing supplier relations, setting price ranges, and organizing employee training.
Served as personal liaison with over 10 franchisees, establishing best practices and promoting maximum efficiency to increase average y/y profits by 18%.
Consistently met revenue/sales quotas.
Received satisfaction rating of 95%+ from the vast majority of customers.
Junior Business Analyst
West Cap, Dallas, TX
September 2015–January 2017
Successfully identified and executed high-impact projects in 15 global organizations.
Helped set departmental KPIs and monitored progress for 20+ previously low-performing accounts, improving operating leverage.
Identified, researched, investigated, analyzed, defined, and documented business processes.
Education
Bachelor's Degree in Marketing
Pace University, New York City, United States
September 2011–June 2015
Key Skills
Business Management
Workplace Innovation & Efficiency
Professionalism
Interpersonal Skills
PeopleSoft
Teamwork
Business Psychology
Analytical Thinking
Certifications
Certified Business Consultant (CBC), American Institute for Business Management and Communication, 2017
Interests & Activities
Member of the Old San Diego Chamber of Commerce (since 2021).
Author of popular series of LinkedIn blog posts on e-Commerce & Business Consultancy industry best practices—collecting a cumulative 4,800 likes.
Avid fan of tandem kayaking.
Without further ado, this is how to write a glowing business consultant resume:
1. Format the Business Consultant Resume Properly
Business consultants assist companies in identifying any potential room for improvement in any department to optimize the way the business can be run. A successful business consultant resume will show analytical thinking, knowledge of business models and strategies, and a knack for problem solving.
So, time to roll up our sleeves, the first problem is right ahead:
Getting your business consultant resume to shine brighter than that of the 125K new candidates that'll explode all over the market soon!
Now, that's not an easy feat. It'll require some portfolio analysis on your end.
If you're not sure how to write a resume to begin with, there are a few crucial steps to follow:
Pro Tip: Make sure the company allows this, but if they do, submit your resume in PDF format. It's generally more user-friendly.
2. Present a Business Consultant Resume Summary or Objective
When serving as consultant to a company, whether in the SMB or megacorp sector, you're going to need two things:
A plan and a way to present it.
Now, in the recruitment process, things look more or less the same in a way, and presentation is just as important.
To cut down on fluff, use a resume profile.
There are two kinds:
If you've consulted plenty a business, write a resume summary. Mention your most bombastic achievements to showcase yourself in the best light, and back those claims up with numbers to emphasize the real impact of your work.
And, if you're just getting your foot in the door of your first consultancy meeting (or hoping to), a resume objective is your weapon of choice. To write one effectively, focus on transferable skills and knowledge you already have, plus how both parts will put a big smile on your project sponsor's face.
Read more: How to Write a Resume Introduction [+Intro Paragraph Examples]
3. Create a Business Consultant Job Description
You need to write a spotless resume experience section, worthy of the Bain Company, even if that's not where you're applying.
Here are some job description best practices:
Pro Tip: Always write a tailored resume that's personalized for the company you're applying for. That kind of personal touch is exactly the vibe you'll want to give off.
4. Write about Your Education on the Business Consultant Resume
Seniors, juniors, and entry-level candidates all need an education section on their resumes.
Especially since business consultant positions without at least a Bachelor's degree in Business Administration or Development basically don't exist.
Here's what you do:
Start with your school name, your majors and minors, and the date you graduated with your highest completed degree.
Only if you've been at it for less than 5 years since leaving school, generate more interest in your application by adding school achievements and extra information. Relevant coursework on a resume can show your theoretical knowledge, and Latin honors or a high GPA (3.5+) prove your potential.
Writing your resume with no experience? Swap the order of the work experience and education sections. Pimp out the latter, too, to really start with your best foot forward.
Read more: How to List Latin Honors on a Resume
When making a resume in our builder, drag & drop bullet points, skills, and auto-fill the boring stuff. Spell check? Check. Start building a professional resume template here for free.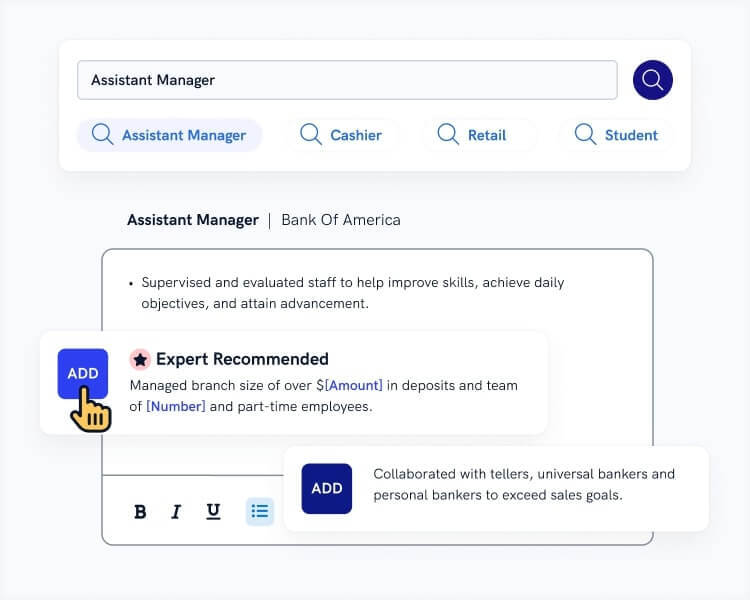 When you're done, Zety's resume builder will score your resume and our resume checker will tell you exactly how to make it better.
5. Demonstrate the Skills They Want to See on a Business Consultant Resume
Business consultants need to be adaptable and able to serve a wide spectrum of clients, depending on business size and sector.
And there's no better way of showing that versatility than with a skills section that hits it out of the park.
But—
If you're tempted to claim you're Bruce the Almighty and flood them with an unending list of skills, I have to dash your hopes once again: bigger doesn't always equal better.
A tailored approach is the way to go:
Look through the job posting and extract resume keywords that hint toward the kind of skill set their ideal applicant would have.
Most likely, the ideal solution is to also draft a master list of your soft skills, hard skills, and technical skills to get a better idea of your skills mapped out.
Then, going back to those keywords, try to match them with ones from your list. That way, the matching skills drastically boost your worth in the recruiter's eyes.
Take a look at this example list of excellent business consultant skills:
Business Consultant Resume Skills
Flexibility
Client-first Approach
Willing to Learn
Reliability & Drive
Business Strategizing
Gathering Information
Developing Roadmaps
Interviewing Skills
Financial Data Interpretation
Finding Solutions & Alternative Practices
Following up with Managers
Inquisitiveness
Negotiation Skills
Business Psychology
Management Consulting
Read more: What Skills to Put on Your Resume
6. Add More Individual Sections to Your Business Consultant Resume
Great job! Your resume now has all the right sections, and you're already likely to perform way better than before.
There's also some not-so-good news here: all the other candidates prepared their applications the same way: header, format, resume profile, experience, education, skills, likely in that order, too.
Best way to stand out from among the generic copycats?
Extra resume sections.
Consider these:
Passion projects
Publications
Memberships in relevant professional associations
Pro Tip: Volunteering and working in a multicultural environment are activities that are likely to score the most points, as cultural awareness and interpersonal skills have been demonstrated to be the core competencies of any business consultant.
7. Write a Business Consultant Cover Letter
Cover letters still play an important role in the business world. Nearly 50% of hiring managers expect to see one, period.
If you're not sure what a cover letter should look like, see this simple checklist:
Start your cover letter with a hook, or in other words, a statement meant to keep the reader engaged. Bring up your experience in an exciting way, and throw in an achievement or two to start with.
In the middle section, shine some light on your accomplishments and add context.
When ending your cover letter, reiterate how motivated you are, mention what exactly excites you about joining the company, and make them a promising offer—one they'd be silly to refuse.
One perfect way to round out a cover letter is a P.S. statement at the end. Keeps you burned in their minds.
Also, a neat cover letter format is another crucial element. Don't submit scrawls on a napkin and call it a job done, that's not in line with protocol.
Read more: How to Write a Consulting Cover Letter (+ Example)
Plus, a great cover letter that matches your resume will give you an advantage over other candidates. You can write it in our cover letter builder here. Here's what it may look like: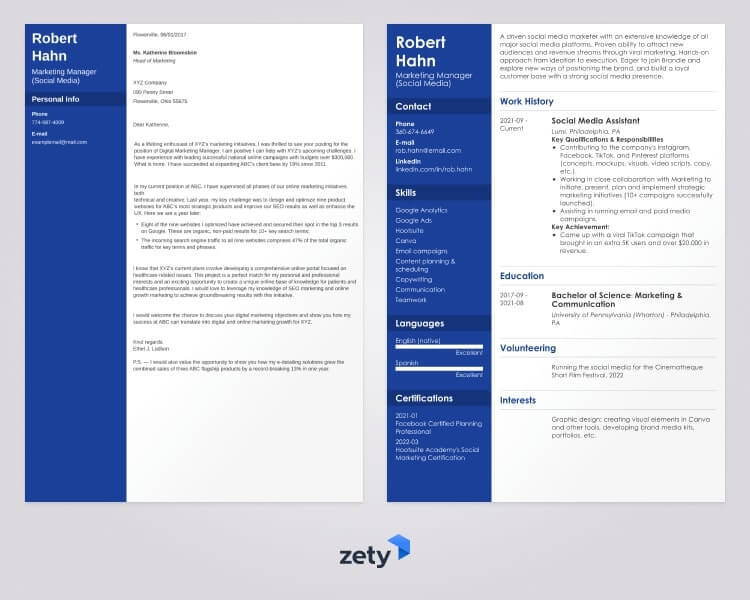 See more cover letter templates and start writing.
Thanks for reading! Did we skip any important details? Maybe you are an experienced business consultant willing to share some knowledge with others? In any case, the comments are always open!
About Zety's Editorial Process
This article has been reviewed by our editorial team to make sure it follows Zety's editorial guidelines. We're committed to sharing our expertise and giving you trustworthy career advice tailored to your needs. High-quality content is what brings over 40 million readers to our site every year. But we don't stop there. Our team conducts original research to understand the job market better, and we pride ourselves on being quoted by top universities and prime media outlets from around the world.