Biomedical Engineering Resume Example & Top Skills
Want to craft a biomedical engineering resume that gets you hired? Learn how to write a biomedical engineer resume and which skills to include.
As a biomedical engineer, you make sure the labs keep running smoothly. There are quality standards to meet and procedures to follow so that things operate the way they should.
The same applies to writing a good biomedical engineering resume. If you know how to execute it right, it will always deliver—and we happen to know the exact steps you should follow and the skills you should feature. We've also included a professional biomedical engineering resume example for your reference.
Want to save time and have your resume ready in 5 minutes? Try our resume builder. It's fast and easy to use. Plus, you'll get ready-made content to add with one click. See 20+ resume templates and create your resume here.
Sample resume made with our builder—See more resume examples here.
Biomedical Engineering Resume Example
Otis Clark
Biomedical Engineer
520-721-0264
otis.clark@email.com
linkedin.com/in/otisclark
Summary
Biomedical engineer with 6+ years of experience specializing in equipment safety and compliance. Developed in-depth educational programs that proved efficient in raising technology awareness and long-term suitability of equipment usage. Proficient in planning and evaluating potential product viability. Eager to join the team at Neurogenesis to devise optimal operational protocols.
Work Experience
Biomedical Engineer
Triptia, Atlanta
June 2019–October 2022
Key Responsibilities:
Researched and developed 5 new products with an ROI of 250%.
Established specifications for equipment purchase and implementation: planning, budgeting, evaluation, and installation.
Delivered on-site consulting to ensure that the equipment was utilized effectively and safely (up to 10 teams monthly).
Key Achievement:
Carried out a major risk assessment and management study that led to an overhaul of the current practices and procedures and resulted in 3x improved equipment safety.
Biomedical Engineer
BioHealth, Atlanta
September 2016–May 2019
Key Responsibilities:
Tested and calibrated a variety of medical equipment systems and resolved over 30 crucial malfunctions.
Investigated incidents and safety alerts to ensure compliance with SMDA requirements.
Conducted the decommissioning of medical equipment per established policies.
Key Achievement:
Provided customized training to 150+ people, including third-party service vendors and student trainees.
Education
B.S. Biomedical Engineering
Georgia Institute of Technology, Atlanta
September 2012–July 2016
Skills
Equipment maintenance
Equipment safety
Time management
Teamwork
Effective communication
Self-motivated
Languages
Chinese—Minimum working proficiency
How to Write a Biomedical Engineering Resume
These instructions will help you write a good biomedical engineering resume:
Choose a suitable format for your resume:
Decide on the resume sections. Mandatory ones include:
You can also utilize additional resume sections after these.
Organize the structure:
A good resume template can help you achieve a coherent look easier and will save time.
Assemble the header. It should feature:
Your name
The position you're applying for
Summarize your career highlights:
Describe your work history:
A targeted resume always works best, so align your statements with the job ad.
Start each bullet with an action verb, include numbers and measurable accomplishments in your bullets, and add a key achievement.


List your education:
Include the final stage of your education; specify your degree, institution, and dates.
For a recent college graduate resume, it's possible to add a couple of bullet points describing your academic successes.


Pick out skills. More on how to choose the skills for your biomedical engineer resume below.
Use extra sections on your biomedical engineer resume for:
Proofread your biomedical engineering resume:
Check for lengthy sentences, reduce a few things for a more concise message.
Opt for a two-column resume if you'd like to fit more onto a page, but don't overload it with information.
Save your resume as a PDF, and don't forget to rename the file.
For more in-depth tips, read this article:How to Write a Resume (General Guide)
Pro Tip: To complete your application and make it more competitive, write a cover letter that develops on the ideas stated in your resume.
What Are the Top Biomedical Engineering Skills for a Resume?
Your job has a great deal to do with technical skills, so study the job description carefully and single out the specific hard skills the employer is looking for (particular types of software, experience with 3D printing, etc.). Keep in mind that you will most likely work closely with people, so good communication skills are crucial. A common denominator of many job postings is soft skills that have to do with planning and resource management, so do mention those.
Here are the top 10 biomedical engineering resume skills:
Managing/maintaining clinical equipment
Record keeping/reporting
Knowledge of safety regulations
CAD software
Strong organizational skills
Pro Tip: There's no one-size-fits-all framework for an efficient biomedical engineering resume. You should always tailor your resume to every position you apply for.
Not what you're looking for? See these guides:
When making a resume in our builder, drag & drop bullet points, skills, and auto-fill the boring stuff. Spell check? Check. Start building a professional resume template here for free.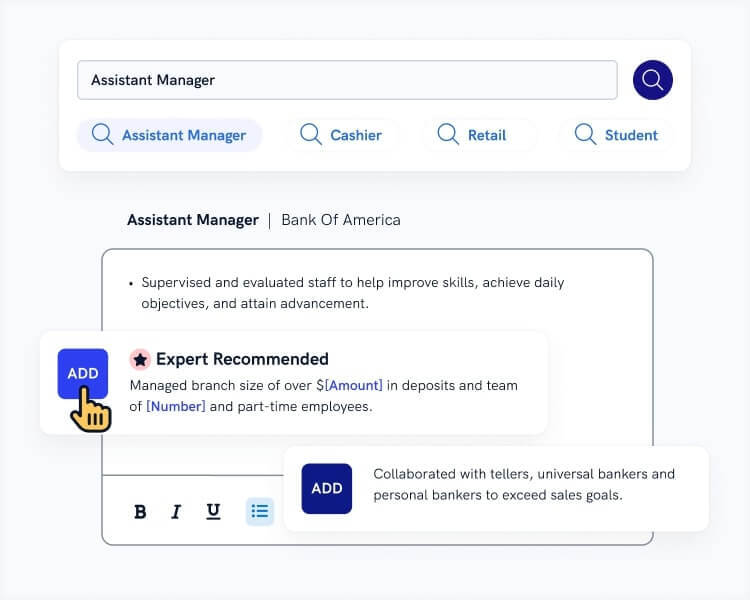 When you're done, Zety's resume builder will score your resume and our resume checker will tell you exactly how to make it better.
Thanks for reading our article on how to write a resume for biomedical engineering jobs. Is there anything you'd like us to add? You're welcome to share your ideas below.