Active Directory Resume: Sample & Writing Guide
Overseeing Active Directory, configuring group policies, administering domains—it's all second nature to you. Prove your competence by writing a perfect Active Directory resume.
10 minutes from now, you'll know exactly what path to take to up your Active Directory resume game up a whole bunch of notches.
With how ubiquitous Microsoft is in the systems and networks of tech companies, you'd think getting an AD job would be easier than beating Wordle with a dictionary.
And maybe it is, but unless you're willing to settle for a "maybe" job, your resume needs to jump through a few more hoops.
The upside is: there's a six-figure salary waiting for you on the other side.
This guide will show you:

An Active Directory resume example better than 9 out of 10 other resumes.
How to write an Active Directory resume that will land you more interviews.
Tips and examples of how to put skills and achievements on an Active Directory resume.
How to describe your experience on a resume for Active Directory admins to get any job you want.
Want to save time and have your resume ready in 5 minutes? Try our resume builder. It's fast and easy to use. Plus, you'll get ready-made content to add with one click. See 20+ resume templates and create your resume here.
Sample resume made with our builder—See more resume examples here.
See our related articles below if this one isn't quite up your alley:
Active Directory Resume Sample
Wesley S. Leasure
Active Directory Administrator
602-360-3734
wesleasure@zetymail.com
Linkedin.com/in/12wesley.leasure
Summary
Efficient Active Directory Administrator with 4 years of experience. Skilled at conducting cross-platform audits for AD objects and user permissions. Standardized the AD domains at Locus Technologies, removing 2000+ obsolete accounts and reducing number of incorrectly assigned credentials by 35%. Provided technical support for 350 total users.
Work Experience
Active Directory Administrator
Lotus Technologies, Oklahoma City, OK
February 2017–Present
Implemented effective procedure to optimize Windows Server architecture.
Managed two separate Windows 2008 servers, eventually planning and executing move to Windows Server 2012, improving efficiency by 15%.
Wrote PowerShell scripts to automate roughly 150 daily server tasks.
Implemented AD best practices and processes to greatly reduce instances of incorrectly assigned credentials.
IT Helpdesk Senior
CapitalThree, Santa Barbara, CA
November 2015–February 2017
Assisted in migrating 300+ users from Windows 7 to Windows 10.
Wrote and updated a 50+ page-long IT troubleshooting manual.
Optimized ticket delegation in the JIRA system.
Education
Bachelor of Science in Information Systems Security
University of Illinois, Springfield, IL
September 2011–June 2015
GPA: 3.6
Relevant coursework: Network Protocols and Security, Secure Programming Essentials, Statistics for Engineering & Tech l, Advanced Networking for Offensive and Defensive Environments, Wireless Security
Key Skills
Windows Server
Microsoft Exchange
Network Security
Identifying Security Threats
Communication & Presentation Skills
GPOs
PowerShell 3.0
SQL, MongoDB
Certifications
Red Hat Certified System Administrator, 2018
Google IT Support Professional, Google, 2016
Programming Languages
Like that? Now it's time you learn to write your own excellent Active Directory resume:
1. Learn How to Format Your Active Directory Resume
As an Active Directory specialist, you manage domains, credentials, and offer technical support to users. Great computer proficiency, identifying potential security threats, and troubleshooting skills—all of that needs to get beamed directly to the recruiter's eyes by your Active Directory resume.
So, let's start at the beginning: your resume's structure.
Its primary function should be to get to the point and fast. Why?
Because the hiring manager has to look through hundreds of applications in at most two days. Doing a deep dive into each and every one is simply not feasible.
If your resume isn't divided into clear sections, with a crisp resume profile, proper spacing and margins, and a nice resume font, you'll get rejected.
First and foremost, your application needs to be skimmable. The reverse-chronological resume format does just that, putting your most recent jobs and greatest achievements front and center. Perfect!
Pro Tip: Lengthy resumes that go over one page get their Windows Server credentials revoked. Two-page resumes are reserved for super experienced AD specialists.
2. Prepare an Active Directory Resume Summary or Resume Objective
So you've formatted your resume in a way that makes it easy to read and navigate. That's great!
Now what needs to happen is the recruiter has to have a good reason to put you on the "Second Read" pile. If they scan your application and it doesn't impress, it'll all have been for nothing.
Enter the resume introduction. It's a lightweight, elevator pitch-esque statement at the top of the page, detailing your career in a scrumptious nutshell.
This is what makes or breaks your resume. Your one shot at the job.
Write a resume summary if you're an Active Directory vet. Create a highlight reel, talk percentages, and impress with quantifiable professional achievements.
On the other hand, for career changers or new graduates, we have the resume objective. Scramble any freelance or volunteer experience you have, present it professionally, demonstrate ambition, and you may well earn yourself a junior position.
Pro Tip: Writing an AD resume with no experience? Consider (power)shelling out some cash for a Microsoft course in Active Directory. It shows drive and commitment and may help you get ahead.
3. Mention Past Work Experience on an Active Directory Resume
95%+ of recruiters will look to your work history to evaluate the projected value you'd bring to their team.
However,
Display it poorly, and it won't count for naught. Not even the fact that 90%+ of companies use Active Directory in some capacity can save you.
This is how to craft a work experience section to result in a command prompt interview /get:
Start with your most recent job, going back in time from there, according to reverse-chronology. For each position, mention what your job title was, where the company was located, and how many years you were with them.
Include up to 6 bullet points (but no less than 3), which describe your duties and noteworthy achievements. Prop those up with numbers, percentages, dollars saved—that's the language the recruiter speaks the best.
Use the Problem-Action-Result formula in pair with action verbs for the best possible chance at getting the credentials to the next recruitment stage
Pro Tip: Do all of your users and groups get the same access? Like hell they do! Apply that same kind of principle to your resume and tailor your resume. Each and every case is different.
4. Outline Your Educational Background on Your Active Directory Resume
Not listing your education on the resume is very much akin to giving elevated access to a non-admin account. And an obsolete one at that.
Just… what?
And yet some people will just skip education altogether.
But not you.
Depending on how long you've been managing AD, you can either add extra elements from your school years or just limit yourself to school name and location, degree obtained, and year of graduation.
The cut-off point is usually somewhere around 5 years. But even if you're over that and you're so proud of the IT courses, a great GPA, or that one time you made the Dean's list, including it may not be a bad idea.
Needless to say, for those of you with less experience, these items are a must-have addition!
Pro Tip: Still very new to the whole career thing? In that case, list your education first, and your work history after.
When making a resume in our builder, drag & drop bullet points, skills, and auto-fill the boring stuff. Spell check? Check. Start building a professional resume template here for free.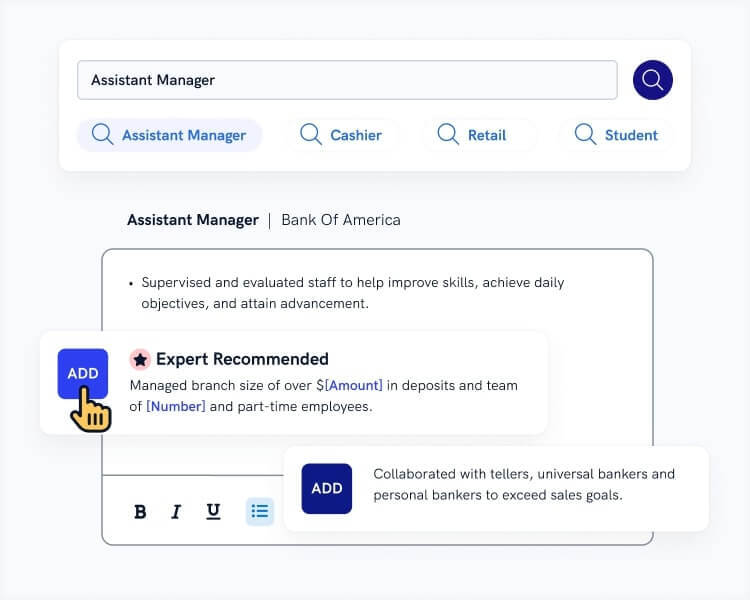 When you're done, Zety's resume builder will score your resume and our resume checker will tell you exactly how to make it better.
5. Demonstrate the Needed Skills as an Active Directory Administrator
It's a sure bet the head of IT department will expect you to show a wide skill set.
But don't worry, there's a way to be prepared:
Take a look at this sample skills list:
Active Directory Resume Skills
Windows Server (e.g. 2008/2012)
Microsoft Exchange
System Administration
Server Maintenance & Control
Linux/Unix
Troubleshooting
Managing TCP/IP, DNS, DHCP, and WINS
GPO Organization
Databases (SQL)
Virtualized Networks
Performing System Backups
Network Security
Remedy
Computer Skills
Read more: Technical Skills for a Resume (List with 30+ Examples)
6. Add More Sections to Your Active Directory Resume
While thus far, your Active Directory resume is quite good, it's not completely unique.
If you were to just call it done at this moment, your application would be a bit featureless.
So—
Adding extra resume sections can help you avoid being seen as a passive directory admin and convince your recruiter you have passion for the things you do, scoring you extra points.
List extras like college activities outside your classes, certificates and licenses,language skills, or maybe your interests that are relevant to your job.
Pro Tip: Out of all the extras, you stand to gain the most out of mentioning your programming side projects.
7. Write an Active Directory Cover Letter
Do cover letters matter in this day and age?
Surprisingly, yes. About 50% of recruiters expect to see one when you send your resume in.
Don't fret, don't close the window, wipe the sweat off your brow. Here's how to write a cover letter in a nutshell:
Plus, a great cover letter that matches your resume will give you an advantage over other candidates. You can write it in our cover letter builder here. Here's what it may look like: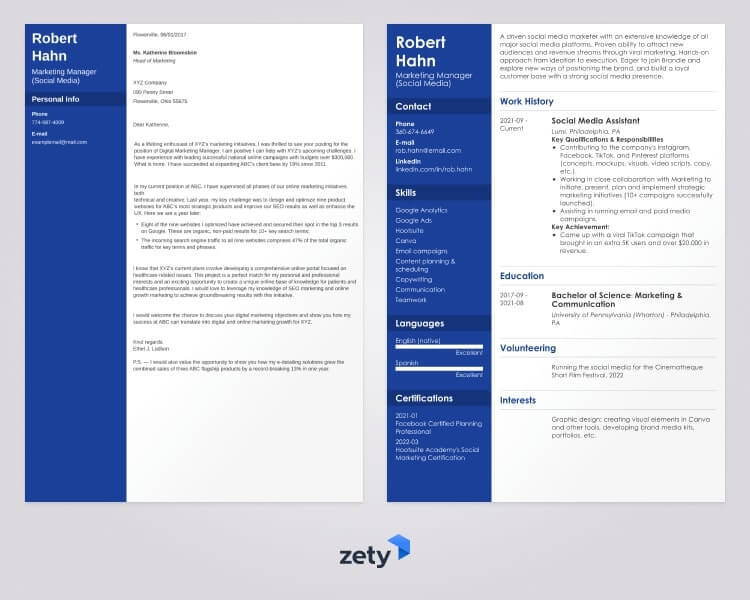 See more cover letter templates and start writing.
Writing an Active Directory resume and not sure how to make it perfect? Do you have veteran advice for the younger applicants out there? The comments section is open to any and all discussion!
About Zety's Editorial Process
This article has been reviewed by our editorial team to make sure it follows Zety's editorial guidelines. We're committed to sharing our expertise and giving you trustworthy career advice tailored to your needs. High-quality content is what brings over 40 million readers to our site every year. But we don't stop there. Our team conducts original research to understand the job market better, and we pride ourselves on being quoted by top universities and prime media outlets from around the world.