Entry-Level Nurse Resume: Sample, Writing Guide & Tips
Worried about getting a job right after finishing school? Time to leave those fears behind, write a perfect entry-level nurse resume, and get your scrubs on!
You're about to step into the world of nursing with our career-guaranteeing entry-level nurse resume guide.
I know, I know. Bold words.
But to make a splash in the industry as an entry-level nurse, you need both those words and a good enough resume to back it up.
So let's get your resume back on its feet, shall we?
This guide will show you:

An entry-level nurse resume example better than 9 out of 10 other resumes.
How to write an entry-level nurse resume that will land you more interviews.
Tips and examples of how to put skills and achievements on an entry-level nurse resume.
How to describe your experience on a resume for an entry-level nurse to get any job you want.
Want to save time and have your resume ready in 5 minutes? Try our resume builder. It's fast and easy to use. Plus, you'll get ready-made content to add with one click. See 20+ resume templates and create your resume here.
Sample resume made with our builder—See more resume examples here.
More experienced in nursing? Already completed your nursing specialization? Whatever your case may be, check out these articles:
Entry-Level Nurse Resume Sample
Marica R. Garza
Nurse
313-228-0383
MaricaGarza@zetymail.com
Resume Objective
Driven and friendly entry-level nurse with 8 months of experience caring for patients. Attended the World Nursing Congress in 2019 and 2021. Achieved 3.9 GPA in University of Utica's Nursing School. Completed Nursing Traineeship at the Stamford Community Health Center, receiving 5 written commendations from senior colleagues. Seeking to gain experience, learn, and broaden horizons while providing highest-possible quality care to patients at Milford Hospital.
Education
B.Sc. in Nursing
Utica University, Utica, NY
2017–2021
Graduated with a 3.9 GPA.
Selected as Head Nurse in school's Nursing Lab
Student Nursing Association (SNA) Officer in 2020–2021
Professional Experience
Nurse Trainee
Stamford Community Health Center, Stamford, CT
October 2021–June 2022
Consistently provided exceptional & attentive patient care to secure new patients.
Received 5 written commendations from senior colleagues, supervising nurses, and lead doctors.
Performed medical procedures, including administration of IV coagulants, respiratory assessments, and vital sign measuring.
Utilized superb organizational & prioritizing skills to reduce daily patient admission waiting time by up to 50 minutes.
Interviewed patients and families to identify needs and design appropriate, optimized therapy and plans of care.
Communicated with supervising team of 5+ doctors, passing on accurate information.
Licenses and Certifications
Registered Nurse – License #1234567
Basic Life Support (BLS), American Red Cross, 2021
Other Activities
Attended World Nursing Conference in 2019 and 2021
Volunteer Carer at Riverview Residential Care Home in New Haven, NY
Without further ado, let's show you the best tricks to writing a great entry-level nurse resume:
1. Use the Best Format for an Entry-Level Nurse Resume
Entry-level nurses assist their colleagues in performing tasks in clinics, hospitals, and other public health institutions. Administering care, and liaising between patients, doctors, and the families are also regular duties. So, an entry-level nurse resume needs to show you excel at all of that.
Clearly, a nurse's plate is full almost all the time. Inversely proportional to your current work experience.
But we'll get to that in a minute.
Some things take priority. It could be checking the patient's pulse or vitals, it could be asking the lead doctor for assistance in reading test results. There's certainly a hierarchy at play.
For you, the #1 top priority for right now is nailing the structure of your resume:
Read more: What Should My Resume Look Like?
2. Prepare a Resume Objective for Your Entry-Level Nurse Resume
While experienced nurses can opt for the more convincing and shinier resume summary, their less experienced counterparts write a resume objective.
The purpose of one is to keep the recruiter/hospital director reading.
Because you see—
About 176 thousand new nursing positions open each year.
That resume stack on the director's desk could get ceiling-high pretty fast.
A good resume objective should make you stand out by highlighting already-possessed knowledge and skills, mixed withsome transferable skills from non-nursing jobs and experience, and a good dose of youthful passion for success. You can lean on internships, externships, shadowing experience, volunteering, academic achievements, and so on.
Read more: How to Start a Resume: Guide with Examples & Tips
3. Write About Your Work Experience as an Entry-Level Nurse
The work experience section can make or break your resume.
The competition is fierce out there, and you only get one shot to prove you're better than the next person's application.
Here's how to write a great job description for entry-level nurses:
This section should come at the top, below the resume profile, to be the first thing the reader notices. But, if you're a complete fresher, place the education section first, as it's likely going to bear more importance.
Read more: How to Write a Certified Nursing Assistant Job Description for a Resume
4. Boost Your Chances with an Excellent Education Section
A bachelor's degree in nursing takes 4 years, typically.
To get your license and become an RN, that's another 3 years.
7 years spent in school—and you thought not mentioning your education was a good idea?!
I hope not!
Especially since for someone in your entry-level position, you could really change their outlook on you if your resume education section is good enough.
First, the basics:
Your degree
Your school name
Years of attendance
After that, time to sweeten the deal a little. Choose between 3 and 5 of the following:
Your GPA (it needs to be reasonably high, though—3.5+)
Scholarships received
Nursing internships or externships
Student club memberships
Even without much nursing experience, you can make up the difference by mentioning the right things from nursing school.
Oh, and assuming you've completed your college degree, avoid mentioning your high school on your resume, even as an entry-level nurse. It's just not relevant anymore, since you have higher degrees of schooling.
Read more: Listing Majors and Minors on a Resume
When making a resume in our builder, drag & drop bullet points, skills, and auto-fill the boring stuff. Spell check? Check. Start building a professional resume template here for free.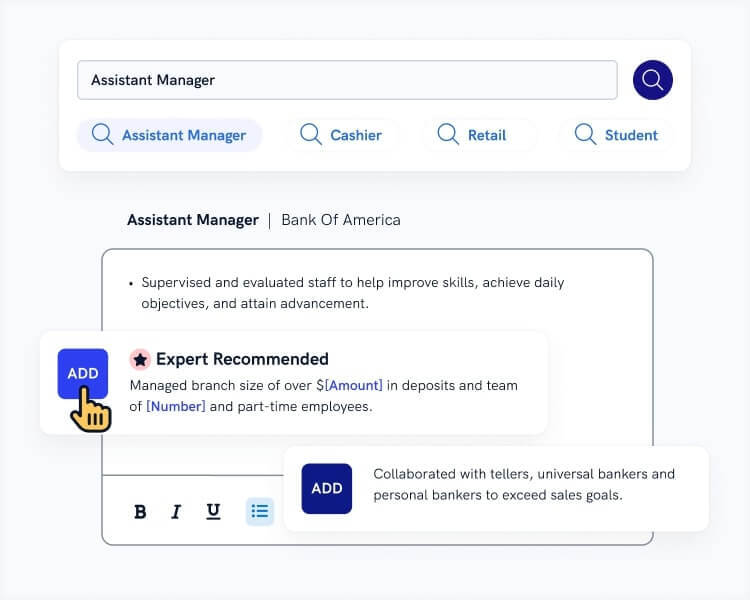 When you're done, our online resume builder will score your resume and our resume checker will tell you exactly how to make it better.
5. Choose the Right Entry-Level Nursing Skills
First, let's show you a good place to start. This is an excellent list of nursing skills:
Entry-Level Nurse Resume Skills
Wound Dressing and Care
Patient Education
Medicine Administration
Blood Pressure Monitoring
Daily Living Tasks
Hygiene Assistance
Glucose Checks
Patient Transport
Specimen Collection
Patience
Stress Management
Pain Assessment
G-Tube Feedings and Care
Patient Rights
Seizure Precautions
IV Therapy
Attention to Detail
Compassion
Adaptability
Taking Vital Signs
Diagnostic Tests
Conflict Resolution
Wound Care
CPR
But remember—
They know you're just entry-level.
You can't have just crawled out of the nursing school crib and pretend to be able to walk it like you talk it.
Instead, select a good mix of soft skills, hard skills, and technical skills that you are really good at.
Match them up with whatever you find to be the most in-demand skill in the job description by looking at the resume keywords they use.
Finally, select about 8–10 skills in total, and your resume is bound to turn heads.
Read more: What Skills to Put on a Resume? 99+ Best Examples
6. Throw in Extra Sections for an Entry-Level Nurse Resume
As we mentioned before, you can expect a lot of competition for any entry-level nursing position.
ICU, L&D, neonatal—regardless of your nursing specialization, the competition gets pretty wild.
As a result, you have to show you're able and willing to go above and beyond the call of duty in your work (and outside of it).
It all sounds very pretty and noble, but what's the best way to come off as exactly that kind of nurse that gets their resume noticed?
You do it through extra resume sections.
First up,nursing certifications and licenses—those are worth their weight in gold, so make sure to add them to your resume! Language skills come in especially handy in any hospital scenario, so mention those, too, if you know any foreign languages.
Any publications, memberships in professional associations, volunteering experience you haven't mentioned elsewhere on your resume—all of these additions can help you stand out.
Lastly, hobbies and interests on a resume can be simply that, but if you play around them well enough and show them off in the right light, they turn out to be so much more. If chosen well, they can show your skills or speak to your personality.
Read more: What Things to Put on Your Resume
7. Write an Entry-Level Nurse Cover Letter
Should you write a cover letter as an entry-level nurse?
Every time.
Yes, not every recruiter or hiring director will read it.
But if you're just that lucky and stumble upon one that does value them… you're in trouble without writing one.
Follow this advice to get yourself to a perfect cover letter:
Format your cover letter correctly to make a good first impression.
Address it to the hiring manager directly—use their name!
Begin your cover letter in an exciting way, so that they're inclined to keep reading.
Roll in with a couple of strengths or achievements to show you're really worth it.
Finishing the cover letter, promise them something you know they'll want to hear.
Keep to the recommended cover letter length: 3–4 paragraphs, all on one page.
Read more: Nursing Cover Letter: How to Write + Examples
Plus, a great cover letter that matches your resume will give you an advantage over other candidates. You can write it in our cover letter builder here. Here's what it may look like: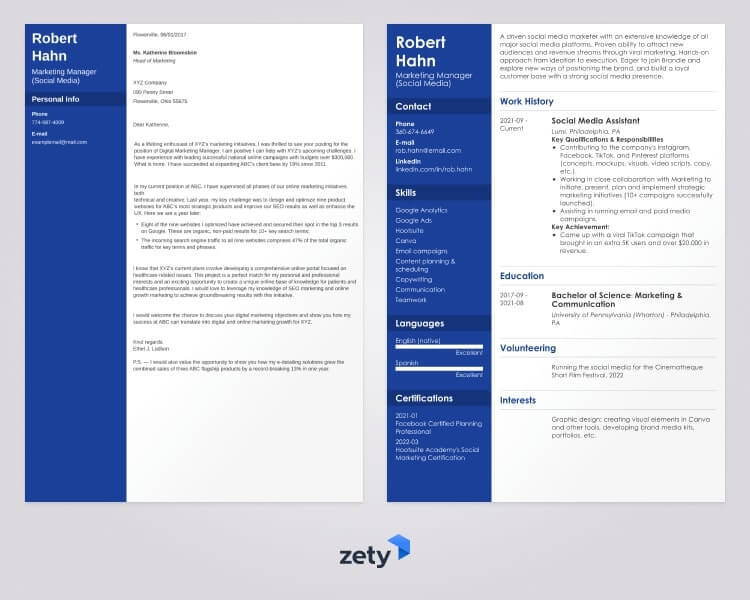 See more cover letter templates and start writing.
That's it!
That's how to write an entry-level nurse resume.
Still not sure your entry-level nurse resume is good to go? Not confident about your nursing experience? Let's talk tips and questions in the comments below!
About Zety's Editorial Process
This article has been reviewed by our editorial team to make sure it follows Zety's editorial guidelines. We're committed to sharing our expertise and giving you trustworthy career advice tailored to your needs. High-quality content is what brings over 40 million readers to our site every year. But we don't stop there. Our team conducts original research to understand the job market better, and we pride ourselves on being quoted by top universities and prime media outlets from around the world.