Social Media Intern Resume: Job Description & Sample
Wondering how to turn your social media career pipe dream into reality? Look no further and engage your digital marketing mind with our social media intern resume guide.
If you were born with a smartphone in your hand and just feel like digital marking and social media management is your dream career, this article is for you.
It's a crazy competitive field out there, and no wonder. We're talking about humanity's most all-encompassing invention since the beginning of the Internet itself.
Those aren't just big words, either. A social media intern resume that doesn't stand out simply drowns among the sea of other candidates.
Read on, and we'll show you how to emerge as the biggest fish.
This guide will show you:

A social media intern resume example better than 9 out of 10 other resumes.
How to write a social media intern resume that will land you more interviews.
Tips and examples of how to put skills and achievements on a social media intern resume.
How to describe your experience on a resume for a social media intern to get any job you want.
Want to save time and have your resume ready in 5 minutes? Try our resume builder. It's fast and easy to use. Plus, you'll get ready-made content to add with one click. See 20+ resume templates and create your resume here.
Sample resume made with our builder—See more resume examples here.
Check out these articles as well:
Social Media Intern Resume Example
Laura Calderone
Social Media Intern
214-242-4944
LCalderone@zetymail.com
Linkedin.com/in/3laura.calderone
Objective
Enthusiastic & passionate social media intern with proven creativity skills and video editing expertise. Creator of self-grown 15,000 subscribers YouTube channel, partnered & monetized. Commended for writing skills by marketing dept. supervisor during 6-month internship at SubZero Entertainment. Seeking to win internship at Peeper Media to develop marketing skill set and grow social media channels.
Education
Bachelor's Degree in Digital Media & Journalism
Lander University, Greenwood, SC
Expected graduation: June 2023
GPA: 3.6
Two-times 2nd place in Lander's 48-hour Amateur Film Jam competition
Favorite subjects: Growth in New Media, Online Media Ethics, Digital Communication
Work Experience
Social Media/Marketing Intern
SubZero Entertainment, Newberry, SC
March 2021–September 2021
Sourced 8 high-potential social media influencers and content creators to create exclusive partnerships.
Assisted with community management across all social media channels. Achieved an average audience growth of 32%.
Commended by department manager for superb writing skills.
Implemented proactive strategies for customer captures based on online ratings, opportunities, and continually monitored U.S./worldwide social media trends.
Key Skills
Great Communication Skills
Familiarity with Social Media
Mapping out Marketing Strategies
Writing Skills
Teamwork
Identifying Growth Opportunities
Positive Mindset
Interests
Creator of self-promoted 15K-subscriber YouTube channel (founded November 2021)
Languages
Let's get to showing you how to write a great social media intern resume yourself:
1. Format Your Social Media Intern Resume Correctly
Social media interns assist senior colleagues in running the marketing/content departments to promote a company's activities on social media. As such, a great social media intern resume has to show a propensity for marketing, creativity, and understanding of various platforms.
Lesson time:
For outsiders, social media may feel like the easiest job in the world. A bit of content here, an update there, and you're good to go.
But it can be hard, grueling work. Building up an audience. Driving engagement. Increasing client outreach, and of course, selling.
If you don't put much thought into the structure of your resume, what's stopping your employer from believing you'll half-ass their online presence?
So, for your social media intern resume, definitely go with a presentable resume format. The reverse-chronological resume layout is your best bet: it'll place your biggest strengths on a podium, like a pinned post.
In the header of your resume, place your current contact information, full name, and optionally, the job title.
Your resume needs to be visually appealing as well, so choose agood font to use on a resume—something that doesn't draw attention to itself, like Calibri or Arial. Set it to 11–12 points for easy reading.
Lastly, keep your resume sections organized and use a modern resume template to increase readability even further. Keep in mind that the only acceptable resume length for an internship is one page.
Pro Tip: Saving the resume as a PDF file is your go-to maneuver—industry standard has decreed it to be the better format, so use it always unless they specifically mention they don't want it.
2. Write a Social Media Intern Resume Profile
The introduction of your resume needs to inform the recruiter of your strengths and career history faster and more clearly than a quick look at a Google Analytics graph.
That's true for two reasons, one of which is that on average, recruiters will only pay attention to you for seven seconds. Talk about a short attention span.
The other reason?
Well, to put it lightly, it'sthe humongous interest in social media across all ages.
Which, in turn, means an equally humongous demand for social media jobs.
You need to stand out from the others, proud and tall.
A resume objective is your likely choice. It's reserved for those with less than 2 years in the social media game. Emphasize your career goals, past successes, and your ideas for using yourtransferable skills to deliver massive success for the company through growing their Twitter, Facebook, and everything in between.
Pro Tip: Save writing the resume introduction for last. It can be daunting to condense yourself down to a mere few sentences, so gather your thoughts and ideas as you keep writing the rest of your resume.
3. Spice Up Your Social Media Intern Education Section
Typically, the work experience section takes precedence over education.
But you have very little work experience, if any. Does that mean you're screwed?
Not at all.
The best resume for any digital media job is one that plays to its own strengths very well. In your case, that's likely your education.
This is how you write a resume education section to get all the shares and likes you want:
Include your school name, year of graduation, the degree you obtained, and your majors and minors on your resume. Those are the basics.
To keep this section looking impressive, you want to add extras. Including your GPA on a resume is a good move, but only if it was remarkably high, say, 3.5 or higher.
Still finishing college or university? You can put unfinished education on your resume. Just make sure to clearly state your expected graduation year.
Next, add any relevant coursework that may interest your employer.
Likewise, mentioning commendations from teachers and professors can go a long way.
Extracurricular activities you've participated in show you're likely to go a little extra. Never enough of that as a social media manager!
Read more: How to Write a Resume With No Work Experience
4. Describe Your Work Experience on Your Social Media Intern Resume
An exemplary social media employee needs to possess a wide variety of skills, as research shows.
And so, your social media intern job description has to be written in such a way to serve as a real testimony of those abilities.
Otherwise…
The 200+ other interns wanting their big break instantly appear to be better than you.
Do this for a proper work experience section:
Write about your most recent job first. Then, go list the older ones, as they become less relevant with time.
Needless to say, your past internship experience is what matters the most here. Squeeze the most out of it, use the same job title as they want for this one, and use action words and percentages to make your achievements pop.
The duties and responsibilities of your past jobs need to pertain only to the relevant stuff. Leave the coffee runs in the past.
Pro Tip: Tailor your resume just like you would tailor a social media post to any given target audience. If they don't feel heard and catered to, you won't grab their attention.
When making a resume in our builder, drag & drop bullet points, skills, and auto-fill the boring stuff. Spell check? Check. Start building a professional resume template here for free.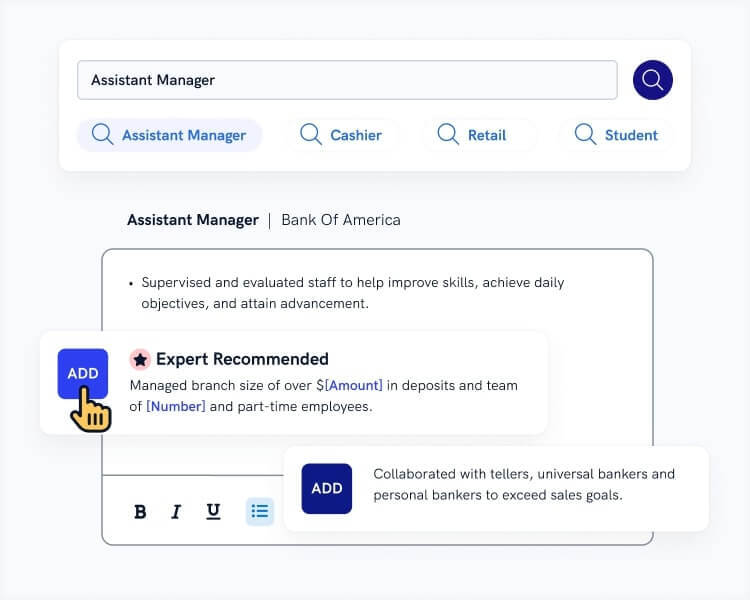 When you're done, Zety's resume builder will score your resume and tell you exactly how to make it better.
5. Display Your Social Media Skills on Your Resume
Even if graphic design is your passion—
A great skills section will require way more effort than those images. You know exactly the kind I'm talking about.
Here is a sample list of skills for a social media intern:
Social Media Intern: Resume Skills
Strategic Planning
Social Media Platforms (Facebook, Instagram, Twitter, TikTok etc.)
Community Building
SEO
Analysis and Research
Market Research
URL Shorteners (e.g., bit.ly)
Engagement
LinkedIn
Google Analytics
Attention to Detail
Brand Marketing
Digital Marketing
Graphic Design
Video Editing/Animation
Adobe Suite
Snaplytics
A skills section like that would give Jack Dorsey a run for his money.
Except—
They know you're an intern. Claiming to be perfect in all of that would definitely come off suspicious.
Instead of spamming their eyeballs with guff, take a more clever and tailored approach.
Brainstorm a list of all your professional skills and abilities. I mean all of them. Even if they're not relevant at first glance.
Then, compare them with the wording on the job posting. It's not random, the company knows exactly who they're looking for.
Seek out whatever skills match what they need, and put only those skills on your resume, no more than 8 or 10.
Read more: What Are Resume Keywords & How to Use Them to Your Advantage
6. Add Bonus Sections to Your Social Media Intern Resume
Remember those 200+ other interns?
Their resumes look exactly like yours.
If we leave it at that, the recruiter might as well just go by the best-sounding name.
How can you make your resume stand out more than a Gary Vee post?
By adding unique sections that add something extra.
Add more sections to your resume that focus on things like foreign language skills, personal projects, your certifications or licenses, or even your hobbies or interests.
They can (but don't have to be) related to the line of work of the company. The general idea is to show the hiring manager that you have passion and are willing to bring and share it in the workplace.
Read more: Internship Interview Questions and Answers
7. Seal the Deal with a Great Social Media Intern Cover Letter
A social media intern will always need a cover letter.
I know, sounds like a big bunch of bull in the modern world of TikTok and DoorDash, but on this front, a cover letter is as solid a tool for securing an interview as it was 50 years ago.
Optimize yours with our cover letter writing tips. Here's how to write a cover letter for social media internships:
Oh, and keep the length of your cover letter trimmed to about 250 words, not more.
Read more: Marketing Internship Cover Letter: Example & Writing Guide
Plus, a great cover letter that matches your resume will give you an advantage over other candidates. You can write it in our cover letter builder here. Here's what it may look like: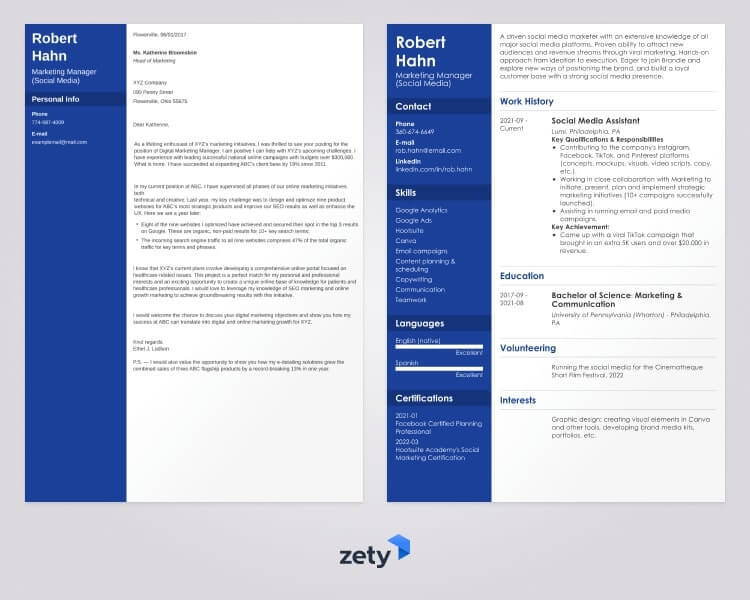 See more cover letter templates and start writing.
Thanks for reading. Got anything to add? Did we miss anything important on our social media intern sample resume? Let us know in the comments below!
About Zety's Editorial Process
This article has been reviewed by our editorial team to make sure it follows Zety's editorial guidelines. We're committed to sharing our expertise and giving you trustworthy career advice tailored to your needs. High-quality content is what brings over 40 million readers to our site every year. But we don't stop there. Our team conducts original research to understand the job market better, and we pride ourselves on being quoted by top universities and prime media outlets from around the world.