Our customers have been hired by:
You take care of the company's billing tout suite. Faster than they can blink, even. You're their insurance. So good with books and billing systems, a true Wunderkind.
And yet your resumes fall flat.
Don't worry. We'll fix up your billing specialist resume in no time and make the hiring manager think you're the namesake for In Touch Biller Pro.
This guide will show you:
A billing specialist resume example better than 9 out of 10 other resumes.
How to write a billing specialist resume that will land you more interviews.
Tips and examples of how to put skills and achievements on a billing specialist resume.
How to describe your experience on a resume for a billing specialist to get any job you want.
Want to save time and have your resume ready in 5 minutes? Try our resume builder. It's fast and easy to use. Plus, you'll get ready-made content to add with one click. See 20+ resume templates and create your resume here.
Sample resume made with our builder—See more resume examples here.
Feeling flexible? Check out these related articles:
Billing Specialist Resume Sample
Michael Blessing
Billing Specialist
832-461-8569
MichaelBlessing@zetymail.com
Linkedin.com/in/1Blessing.Michael
Summary
Precise and reliable billing specialist with 5 years of experience. At Good Oil Company, prepared correspondence and documentation with 100% diligence and compliance with local filing regulations. Assisted in performing 27 freight audits and communicated with carriers to get necessary paperwork prepared on time. Invoiced customers within 24 hours with no delays, every time.
Work Experience
Billing Specialist
Good Oil Company, Winamac, IN
December 2017–August 2021
Scanned paperwork into system and assigned to corresponding orders with 0% error rate.
Utilized excellent teamwork and aptitude for numbers to reduce incidence of billing inconsistencies by 20%.
Reduced overall billing process timeframe by a third, much to the customers' and management's satisfaction.
Assisted in performing 27 freight audits.
Reviewed and resolved billing trouble tickets by handling all inbound calls and email requests from both customers and sales representatives. Handled up to 30 daily disputes.
Tax Intern
Sheppard-Harris & Associates, Bloomington, IN
June 2016–December 2016
Performed detailed audit procedures on financial statement account balances.
Prepared and adjusted work papers from clients' trial balance.
Drafted federal and state & local tax returns.
Education
Bachelor's Degree in Accounting
Indiana University, Bloomington, IN
2010–2014
Key Skills
Reliability
Fiscal Law
Math Skills
Excellent Teamwork
Organizational Skills
Multitasking
Process Optimization
Reporting
Certifications
Certified Financial Planner, CFP Board, 2020
Certified Payroll Professional (CPP), American Payroll Association, 2019
Interests
Running a blog with financial advice for entrepreneurs and new business owners.
1. Choose a Good Billing Specialist Resume Format
Billing specialists handle invoices and ensure smooth operation of all financial matters of a company. Typical duties involve administrative tasks and accounting obligations, meaning a great billing specialist resume will show your proficiency in making sure the numbers are right.
Other than that, another thing your resume needs to do right is the presentation. No five-star establishment like a casino on the Vegas strip would hire someone off their crumpled-up mess of a resume.
So, to prevent submitting a textbook bad resume, you need the right resume structure:
Read more: Modern Resume Templates for Any Job
2. Introduce Your Best Self with a Billing Specialist Resume Profile
Newsflash—
You can't make the recruiter read your entire resume, top to bottom. They simply don't have the time.
So how can you give them a twinkle in their eye when they stumble upon your application?
The answer lies in a catchy resume profile.
In 3–4 sentences, sell yourself and your career thus far to make them interested in reading the rest.
Got over 2 years of billing experience? Summarize your resumeby breaking down note-worthy achievements of your career.
Fresh out of school (or another industry)? A resume objective will do instead. Put extra focus on transferable skills, but don't be shy and say what you hope to learn from this job, and how this knowledge will turn into company profit.
Read more:How to Write the Perfect Resume Introduction
3. Create the Perfect Billing Specialist Job Description
Billing specialist, like an accountant? We already have that.
That's bone-chilling. You don't want to hear that.
You need a great way to introduce yourself as a billing specialist, and to that end, your work experience section needs to come in clutch.
But don't be fooled into thinking that simply writing one is enough. The work experience on your resume needs to be tailored to the job description.
Meaning, if you have experience as a medical billing expert, but you're applying to work for a construction company, you'll need to avoid certain details while shining more light on others.
Let's get back to it, though. As we've already mentioned, stick to the reverse-chronological resume format—meaning, list your most recent experience first, followed by older jobs. Include job titles, company names, and dates worked.
Use bullet points to describe impressive professional achievements and numbered accomplishments. Utilize action verbs to look more impressive than a balance sheet showing only green.
Lastly, emphasize that you solve problems, not create them. Present your experience using the Problem-Action-Result formula, and they'll love you even before the interview.
Read more: How to Write a Targeted Resume
4. Talk About Your Education the Right Way
The education section is a staple of any billing specialist resume, even though a college degree isn't necessarily a requirement for this role.
If you're a seasoned pro and keep all the right accounts payable satisfied and current, limit your education section just to the first three basic details: your highest degree, name and location of the school, and years of attendance.
However, if you're writing an entry-level resume and don't have much billing experience, fill in the extra paperwork. Add bullet points with interesting school wins like scholarships, relevant coursework, or extracurricular activities. List your GPA on the resume only if it was 3.5 or higher.
Read more: How to Mention Your Degree on a Resume
When making a resume in our builder, drag & drop bullet points, skills, and auto-fill the boring stuff. Spell check? Check. Start building a professional resume template here for free.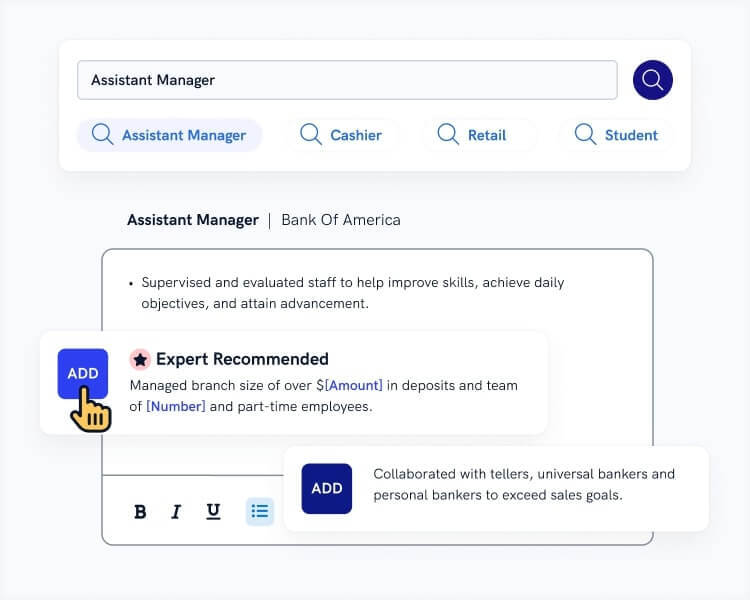 When you're done, Zety's resume builder will score your resume and our resume checker will tell you exactly how to make it better.
5. Show off the Right Skills for a Resume for Billing Specialist Jobs
Take a look at this general list of skills for billing specialists.
Billing Specialist Resume Skills
Accounting Skills
Math Skills
MS Office
Preparing & Sending Invoices
Processing Payments
Clerical Skills
Regulating Past Due Balances
Writing Bills
Detail-Oriented
Fiscal Skills
Knowledge of Tax Law
Updating Accounts Receivable
Reporting
First off—
Your skills section matters. It's what's going to get you hired, so a lot rides on this.
Here's the best approach to designing your billing specialist resume skills section:
Divide all your professional skills into hard, soft skills and technical skills, too.
Take a look at the job ad and see what skills they mention in there.
Try to spot any matches—those are the resume keywords that will score you the most points on your resume.
Don't fall into the trap of listing everything. Go for about 6 to 8 skills, and demonstrate them in the job description section and your resume profile, too.
Read more: What Are Hard Skills? Definitions and Examples for Any Resume
6. Take Things to the Next Level with Extra Sections on Your Billing Specialist Resume
Why should they hire you? Bit of a harsh question, but truth be told, you still haven't given them much of a reason.
An exemplary skill set, a strong profile, and experience to back it all up—that's great and all, but your resume isn't just about what you do during work hours.
It's also what you do after, and before.
Showing some flair and uniqueness to your life can make the difference in getting hired or trashed.
Need help coming up with what to add? Try some of these:
Read more: Full Guide to References on a Resume
7. Attach a Cover Letter to Your Billing Specialist Resume
Cover letters are crucial for one simple reason: they boost your chances of landing an interview. And that's what this is all about, right?
If you know what a cover letter should look like, congrats. Knowing is half the battle, after all.
We've compiled the rest of the cover letter tips for you below. Here's how to write a great cover letter:
Use the right cover letter format to make your document professional and readable.
Write an engaging cover letter introduction, stating the position you're applying for and listing a couple of your most impressive achievements to grab their attention.
In the middle section, include plenty of detail and strong evidence pointing to you being the ideal candidate for the job.
Finish up by making a call to action, and promising to deliver results unlike they've ever seen before.
Reserve one final career win to include in a postscript.
Aim to write 3–4 paragraphs in total. The best length for a cover letter is under one page, after all!
Read more: How to Address a Cover Letter the Right Way
Plus, a great cover letter that matches your resume will give you an advantage over other candidates. You can write it in our cover letter builder here. Here's what it may look like: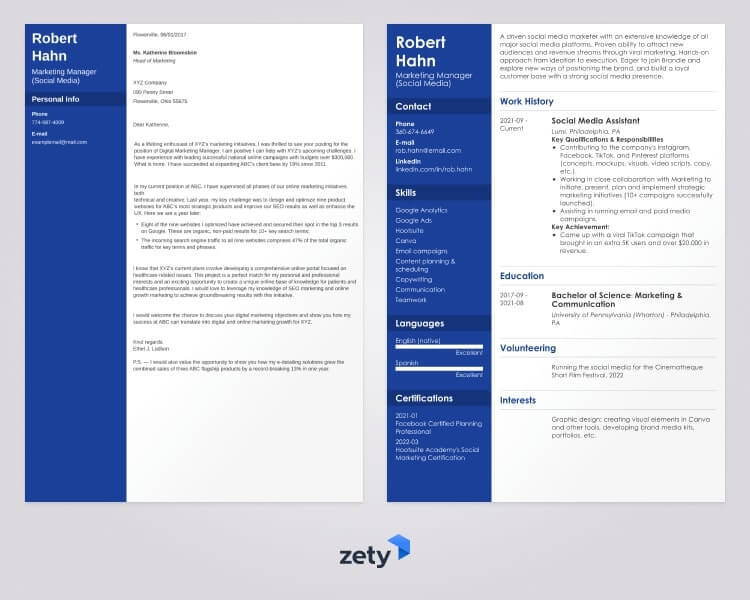 See more cover letter templates and start writing.
So, that's how you write a killer billing specialist cover letter!
Got questions? We have answers! If you're still not clear on any details regarding your billing specialist resume, let us know in the comments below!
About Zety's Editorial Process
This article has been reviewed by our editorial team to make sure it follows Zety's editorial guidelines. We're committed to sharing our expertise and giving you trustworthy career advice tailored to your needs. High-quality content is what brings over 40 million readers to our site every year. But we don't stop there. Our team conducts original research to understand the job market better, and we pride ourselves on being quoted by top universities and prime media outlets from around the world.