Content Creator Resume: Example, Job Description & Guide
If you think you have what it takes to become the next viral sensation, kudos to you. Beef up your content creator resume to ensure you don't fade after your one Internet hit.
Anybody holding a smartphone can become a viral hit virtually overnight. You've seen it happen time and time again, I'm sure.
But what about partnerships? High CPM? Sponsor deals? Influencer parties?
For that, my friend, you need to show you're more committed to the grind than Bo Burnham was when solo-making Inside.
And the key to that? A stellar content creator resume.
This guide will show you:

A content creator resume example better than 9 out of 10 other resumes.
How to write a content creator resume that will land you more interviews.
Tips and examples of how to put skills and achievements on a content creator resume.
How to describe your experience on a resume for a content creator to get any job you want.
Want to save time and have your resume ready in 5 minutes? Try our resume builder. It's fast and easy to use. Plus, you'll get ready-made content to add with one click. See 20+ resume templates and create your resume here.
Sample resume made with our builder—See more resume examples here.
Looking to become the next Charlie D'Amelio in other ways? See these articles for help:
Content Creator Resume Example
Maurice Sachs
Content Creator
925-237-8072
MauriceSachs@zetymail.com
linkedin.com/in/1maurice.sachs
Summary
Passionate and engaging content creator, well-versed in online media with 5+ years of professional experience. Created 80+ high-fidelity pieces of short-form video content for individual customers to a 100% satisfaction rate. Seeking to leverage experience in videography and organized social media management skills to boost outreach at KnoxTech.
Work Experience
Freelance Videographer/Marketer
June 2017–present
Shot, produced, and edited 80+ short-form video content for weddings, amateur film projects, and marketing campaigns using the Adobe Creative Suite, Blender, and more.
Advised clients on topics related to online brand development, boosting their social media presence, outreach, and engagement by an average of 12–17% after 3 months.
Set up and captured interviews for local municipality. Emphasized importance of storyboarding and script writing before shooting day.
Created and managed online personal portfolio of my work with roughly 30K monthly unique visitors.
Script Writer
Internews, Idaho Falls, ID
May 2014–July 2017
Created relevant scripts in multiple formats: text, audio, video, etc.
Ensured alignment of produced content with the information ecosystem produced by project team.
Collaborated with bloggers and Instagram influencers to source information and network.
Education
Bachelor's Degree in Marketing
College of Idaho
2010–2014
Key Skills
Brand Development
Adobe Suite (Photoshop, Lightroom, After Effects, Premiere Pro, Illustrator, InDesign)
SEO
Social Media Growth Strategies
Excellent Writing Skills
Motivated Attitude
Great Communication & Teamwork
Achievements
Owner & creator of YouTube channel with 1.2 million subscribers.
Co-Host of "Fix it in Pre", a videography & editing-focused podcast with 12,000 monthly listeners.
Creator & producer of 7 Skillshare/Udemy classes focused on video editing, social media, and related topics.
Conferences
VidCon 2019 – Attendee
VidSummit 2018 – Attendee
Let's get to it. This is how you write a perfect resume for content creators:
1. Format Your Content Creator Resume Properly
Content creators utilize their skills in marketing and writing to create content for brands. Their duties also include storyboarding ideas and commissioning work. A strong content creator resume will show affinity toward all of the above plus time management, creativity, and social media aptitude.
"Hey, that's what I do!", you might say.
But—
In this field, even if you have all the right skills in all the right places, that won't instantly let you transition to your new career.
Like I said, everybody with a smartphone can get 100K YouTube subscribers by the end of the month if they have a successful idea.
We need to iron out all the details. And we're starting with the structure of your resume:
Pro Tip: How long should your resume be? More than likely you only need one page and not a word past that.
2. Prepare a Content Creator Resume Objective or Summary
A resume profile essentially serves the purpose of being the intro to career.
You know the drill—you briefly explain who you are and what you do to entice people to tune into your show before they've actually had a chance to watch any of your stuff.
If you want to take your content creation to the next and slightly more corporate level, your resume profile needs to grab attention better than 2012 PewDiePie did.
Here's how you do it:
If you've been creating content for more than 2 years, prepare a great resume summary to, well, summarize your experience thus far. Include achievements and numbers (big subscriber counts make great impressions), and highlight your strongest suits.
However, if you're new to the grind, a resume objective will allow you to shine a light on other, transferable skills that could help you (and them) succeed. Focus on achievements from other jobs, your education, or volunteering experience.
Pro tip: This section may indeed be located at the top of your resume, but it doesn't necessarily have to be taken care of first. Often it's better to take a step back and focus on the other critical sections first before diving into your resume intro.
3. Include the Right Content Creator Job Description on Your Resume
Worked in a marketing agency?
Maybe you're a complete self-starter and have been grinding it out on YouTube or Twitch for the past 7 years.
Whatever it is, your prospective employer needs to hear the best of it, so prepare a highlight reel for your work experience resume section that will leave them subscribing and hitting notification bells like crazy.
At the top, list your latest position, then followed by the second latest, and so on. That's the reverse chronology we mentioned.
Then, for each job, include your professional title, name of the company (content house, organization), and the years/months you spent there.
In about 5 efficient resume bullet points, describe your biggest accomplishments and most relevant experience.
Include real numbers once again to make the effects of your social media work more tangible.
Action words keep your reader engaged and less likely to switch off the content you've produced, which in this case is a resume. Viewer retention is crucial, even more so in this case.
Pro Tip: Tailoring your resume to the job is the #1 tip that most people don't realize. Use the job posting to your advantage, and no bad algorithm luck like the ATS resume scan can ever stop you.
4. Make the Most out of Your Education Section
Right now, there isn't a school for content creators. Maybe in the future.
So, the obvious conclusion to draw is that there is no point in listing your education, right?
Wrong.
Have a relevant degree like marketing or communications? Or perhaps you pursued content creation because you were tired of a retail job and had an epic idea for an Instagram page? Either way, education on a resume is a must-have feature.
If you have a couple of years' experience in broadcasting and making content on a professional level, mention your degree without going into detail. School name, location, and your graduation year will be enough.
With less experience than that, mention extra school wins like extracurricular activities or relevant coursework. Just remember to keep it as on-point as possible.
No university/college degree? No problem! High school education also belongs on a resume, so slap that on!
Read more: How to Put Your Degree on a Resume
When making a resume in our builder, drag & drop bullet points, skills, and auto-fill the boring stuff. Spell check? Check. Start building a professional resume template here for free.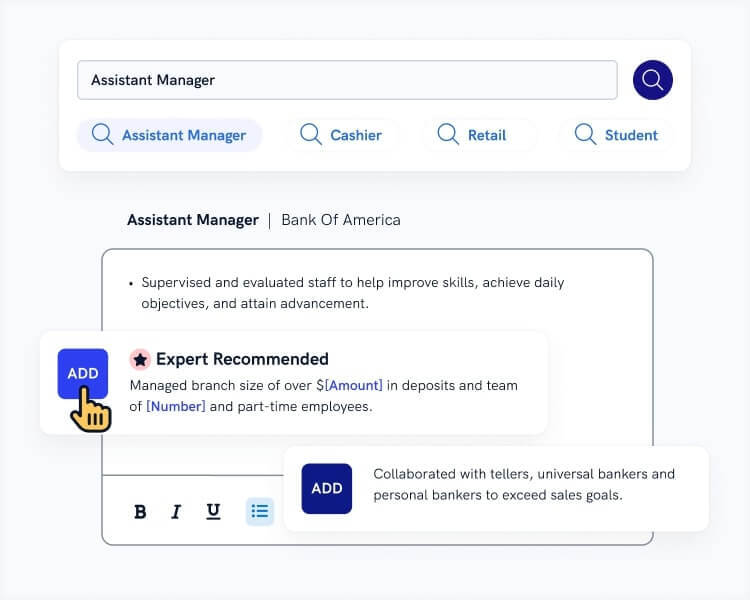 When you're done, Zety's resume builder will score your resume and tell you exactly how to make it better.
5. Create the Right List of Skills for Content Creation
In 2017, roughly 3 billion people were active social media users.
That's a lot of potential watch time to optimize for.
It'll take a lot of skills to get the bag, and even more to convince your future employer of them.
So, first let's take a closer look at an ideal skills section for content creators:
20+ Best Skills for a Content Creator Resume
Editing Skills
Creativity
Thinking Outside the Box
Understanding Sales Funnels
Planning & Scheduling
SEO
Promotion
Data Analysis
Directing
Technical Skills
Video Production
Fanbase Interaction
Writing Skills
Design Skills
Building Audience Trust
Research Skills
Brand Development
Photography
Social Media
CRM
Efficiency
Networking
A list like that looks too good to be true, though, and recruiters aren't likely to fall for scams.
If you want to become their next media content managing guru, you need to leave no doubt about being able to handle the operation better than any other candidate.
Tailoring the skills section to the particular content creation gig is always better, so draft a list of hard skills, technical skills, and soft skills that you have.
Then, compare it with what is mentioned on the job posting. It's possible they outright say what kind of skill set they need from their hire. Choose up to 8–10 matching skills for a targeted skills section.
Read more: Best Skills to Add to Your LinkedIn Profile
6. Prepare Extra Sections for Your Content Creator Resume
Content creation often requires thinking outside the box.
If you don't improvise and vary your content, people will get bored and jump ship.
The top content creators on platforms like TikTok or YouTube didn't get popular because of their 652-episode-long Minecraft Let's Play, did they?
What you need to do to stand out is to add extra resume sections. They can be virtually anything, from hobbies and interests, other professional achievements, through licenses or certificates all the way to volunteering experience or your personal passion projects.
The overarching goal here is to convince the recruiter you're a lively, passionate individual who aims for the stars and beyond.
If you can capture that vibe, recruiters will be all over you, so be smart about what you decide to write!
Pro tip: A lot of the time, content creation is about eliciting emotion from your audience. Really try to pour some real heart into the extra sections to expose that side of you.
7. Write a Content Creator Cover Letter
Are cover letters necessary in this day and age? More to the point, do content creators need cover letters?
Yes. They absolutely do.
If you're anything like a typical content creator, you've got a lot of passion and drive for what you do. Otherwise, you wouldn't be doing it because you know how much time and regular effort it takes to keep your social media channels growing.
But a resume is only so long, so where are you going to convey all of that passion?
Precisely in a cover letter!
Here's how to write a cover letter that's sure to grow your fanbase:
Choose a good-looking cover letter format that's easy on the eyes.
Get your reader hooked and interested to read more by writing a clever cover letter introduction.
Demonstrate actionable examples of your work, numbers swoop in to save the day once again, so use them to your advantage.
Close out the cover letter not by being needy, but rather by stating how you know you're the right person to hire and request a meeting.
Read more: More Cover Letter Tips and Examples
Plus, a great cover letter that matches your resume will give you an advantage over other candidates. You can write it in our cover letter builder here. Here's what it may look like: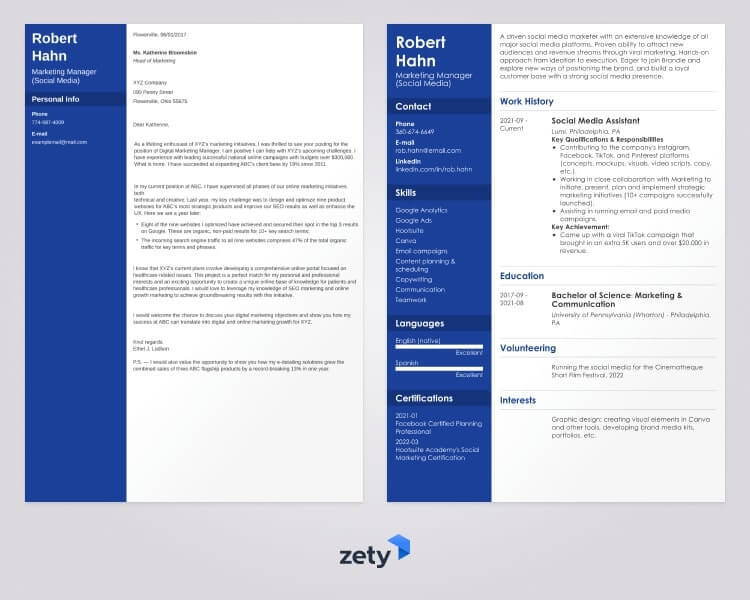 See more cover letter templates and start writing.
Thanks for reading. What did you think of our content creator template resume? Got any questions about writing a content creator job description for your resume? Are you an experienced content creator who's got tips to share with the up-and-comers? Direct them and any questions to the comments below!
About Zety's Editorial Process
This article has been reviewed by our editorial team to make sure it follows Zety's editorial guidelines. We're committed to sharing our expertise and giving you trustworthy career advice tailored to your needs. High-quality content is what brings over 40 million readers to our site every year. But we don't stop there. Our team conducts original research to understand the job market better, and we pride ourselves on being quoted by top universities and prime media outlets from around the world.