Resume for GameStop: Sample, Skills, and How to Make
Want to work at GameStop? Learn how to make a resume for GameStop sales associate jobs. Read the sample and check our list of skills for a GameStop resume.
Working at GameStop sounds like a gamer's dream. But your passion for video games might not be enough to convince the company you're not a noob.
You've come to the right place—this short guide will show you how to make a resume for GameStop with maximum XP and zero bugs.
Want to save time and have your resume ready in 5 minutes? Try our resume builder. It's fast and easy to use. Plus, you'll get ready-made content to add with one click. See 20+ resume templates and create your resume here.
Sample resume made with our builder—See more resume examples here.
GameStop Resume Sample
Bill C. Smith
High-School Senior
(262) 945-0337
billy.c.smith@zetymail.com
linkedin.com/in/billy.c.smith
Objective
Personable high-school senior with customer service experience and a passion for gaming. Eager to join GameStop as a sales associate to provide customers with up-to-date knowledge about offered products and help them make informed purchasing decisions. Knowledgeable about the video game industry and gaming equipment.
Education
High School Diploma
Brookfield Central High School, Brookfield, WI
Expected graduation in May 2023
Extracurricular achievements:
President of the STEM club since November 2021
Collaborated with local college students to organize two coding boot camps for high-school freshmen
Work Experience
Visitor Experience Associate
Waukesha Information Center, Waukesha, WI
May 2022–September 2022
Key responsibilities:
Handled customer queries and provided information about available products and services in a professional and friendly manner.
Operated the cash register, including processing credit card purchases and gift card orders.
Arranged stocked items on shelves and displays to keep inventory in order.
Assisted with inventory management and new product data entry.
Key achievement:
Created and maintained the Instagram page of the organization to help spread awareness about Waukesha's cultural heritage.
Skills
Customer service
Video game knowledge
Effective verbal communication
Patience
Positive attitude
Time management
Adaptability
Languages
French—C1 (Advanced)
Spanish—B1 (Intermediate)
Volunteer Work
Raised over $1,000 by organizing a gaming marathon to support the United for Waukesha Community Fund in March 2022.
Helped to sell baked goods during Salvation Army's bake sale in December 2021.
Interests
Participating in national eSports competitions
Reviewing video and computer games on TikTok
This GameStop sales associate resume example ain't lagging. Now, continue reading to learn how to write your own:
How to Make a Resume for GameStop?
If you want to make a resume from scratch, you need to understand the basics first. Start by choosing the best resume format for you—it's recommended to use the reverse-chronological resume, even for teenagers and college students without much work experience. Then, consider a template—do you want to use a free resume template for Word, or do you prefer to make a resume layout yourself? Now, you can start thinking about what to put on a resume for GameStop.
Follow these guidelines to make a resume for GameStop:
Don't rage-quit when you get stuck while writing your GameStop resume. Think of getting a job as your main quest, and treat writing the perfect resume as one of the side quests! If you're applying for the first job, your resume should highlight your education, skills, and extracurricular activities that prove you're a good fit for the job.
Pro Tip: Thinking about respawning an old resume you used to apply for a different job? Not a good idea. Hiring managers expect to see a targeted resume written specifically for the advertised position. Even entry-level jobs, such as a GameStop sales associate, require brand-new resumes that use resume keywords that reflect the job description.
What Are the Key Skills for a GameStop Resume?
Being knowledgeable about video games is one of the requirements for a job at GameStop. However, it's not the only requirement. Sales associates at GameStop serve as game advisors for clients, which means they need to possess good customer service skills. The skill section of your resume must reflect that—it should include soft skills and job-related hard skills.
The top 10 skills for a GameStop resume are:
These are some of the main skills that employers want to see on a resume.
Bad news—if you send a job application without a cover letter, hiring managers will think you're a noob. Spend some extra time on writing a good cover letter that will help you level up in the eyes of employers. See more: Write a Cover Letter in 8 Steps
See Other Resume Samples Below:
When making a resume in our builder, drag & drop bullet points, skills, and auto-fill the boring stuff. Spell check? Check. Start building a professional resume template here for free.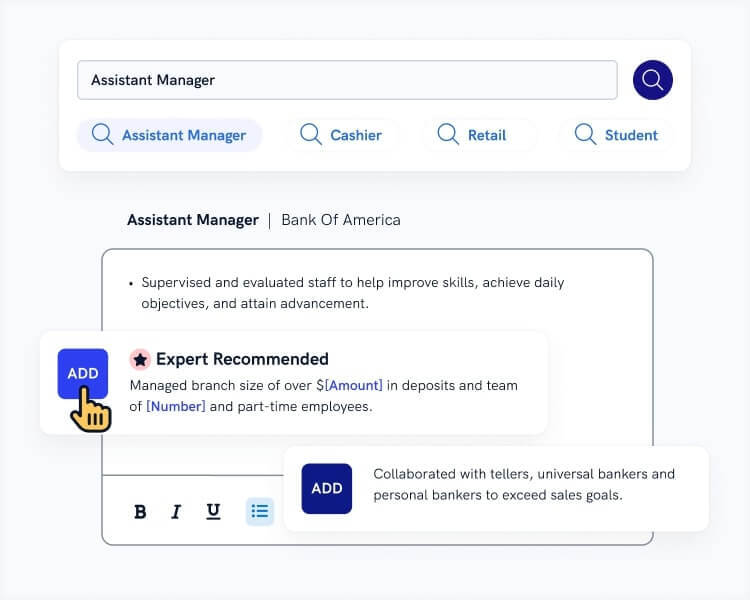 When you're done, our online resume builder will score your resume and our resume checker will tell you exactly how to make it better.
Thank you for reading this short guide about making a GameStop resume. Do you have any tips for candidates applying for a job at GameStop? Would you like clarification of the points made in this article? Let me know in the comments below!
About Zety's Editorial Process
This article has been reviewed by our editorial team to make sure it follows Zety's editorial guidelines. We're committed to sharing our expertise and giving you trustworthy career advice tailored to your needs. High-quality content is what brings over 40 million readers to our site every year. But we don't stop there. Our team conducts original research to understand the job market better, and we pride ourselves on being quoted by top universities and prime media outlets from around the world.