Disability Support Worker Resume Sample
You're willing to go the extra mile to make the lives of others better. Would you like to know how to reflect that on your disability support worker resume? Find out below!
Yours is a job not many people could do. It involves great responsibility, requires endless compassion, and calls for unyielding commitment and desire to help.
If you're thinking of writing a disability support worker resume that would represent all your skills and personal qualities, you're at the right place.
Once you're done with this article, you'll know where everything should go on your resume—and how to approach it to ensure you get an interview after you send it.
This guide will show you:
A disability support worker resume example better than 9 out of 10 other resumes.
How to write a disability support worker resume that will land you more interviews.
Tips and examples of how to put skills and achievements on a disability support worker resume.
How to describe your experience on a resume for a disability support worker to get any job you want.
Want to save time and have your resume ready in 5 minutes? Try our resume builder. It's fast and easy to use. Plus, you'll get ready-made content to add with one click. See 20+ resume templates and create your resume here.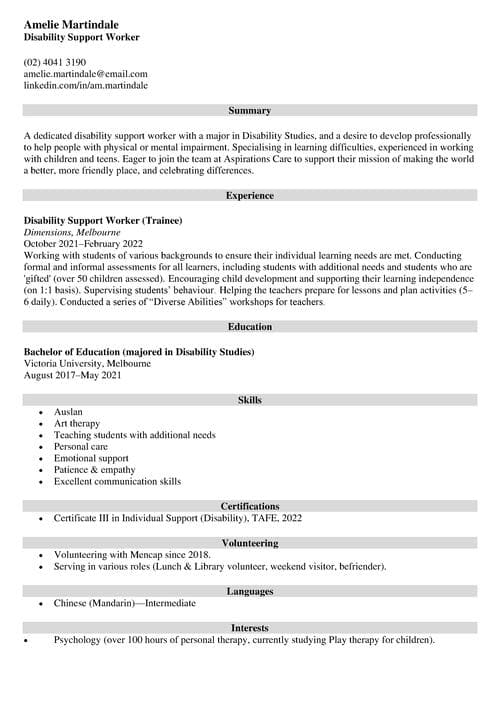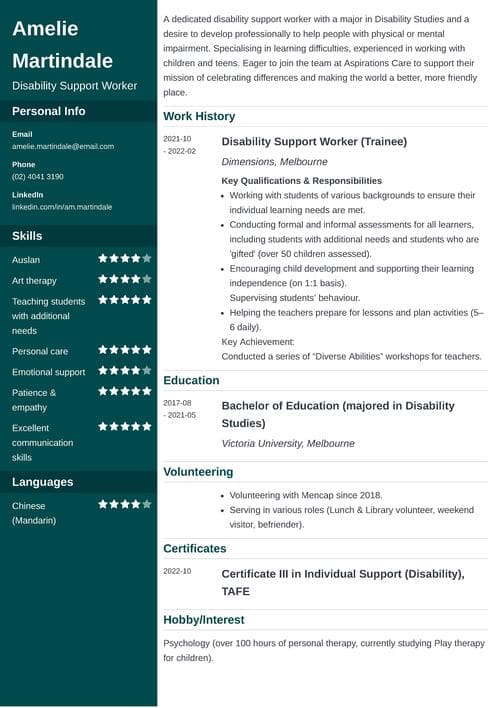 Sample resume made with our builder—See more templates and create your resume here.
Considering other jobs in similar professions? Check the resume samples below:
Now, let's see a professional disability support worker resume sample:
Disability Support Worker Resume Example
Amelie Martindale
Disability Support Worker
(02) 4041 3190
amelie.martindale@email.com
linkedin.com/in/am.martindale
Summary
A dedicated disability support worker with a major in Disability Studies and a desire to develop professionally to help people with physical or mental impairment. Specialising in learning difficulties, experienced in working with children and teens. Eager to join the team at Aspirations Care to support their mission of celebrating differences and making the world a better, more friendly place.
Experience
Disability Support Worker (Trainee)
Dimensions, Helena, MT
October 2021–February 2022
Key Qualifications & Responsibilities
Working with students of various backgrounds to ensure their individual learning needs are met.
Conducting formal and informal assessments for all learners, including students with additional needs and students who are 'gifted' (over 50 children assessed).
Encouraging child development and supporting their learning independence (on 1:1 basis).
Supervising students' behaviour.
Helping the teachers prepare for lessons and plan activities (5–6 daily).
Key Achievement:
Conducted a series of "Diverse Abilities" workshops for teachers.
Education
Bachelor of Education (majored in Disability Studies)
Syracuse University, NYS
August 2017–May 2021
Skills
ASL
Art therapy
Teaching students with additional needs
Personal care
Emotional support
Patience & empathy
Excellent communication skills
Certifications
Disability Inclusion and Accessible Design, University of Michigan, 2022
Volunteering
Volunteering with Mencap since 2018.
Serving in various roles (Lunch & Library volunteer, weekend visitor, befriender).
Languages
Chinese (Mandarin)—Intermediate
Interests
Psychology (over 100 hours of personal therapy, currently studying Play therapy for children).
Write a disability support worker resume by following our tips:
1. Choose a Disability Support Worker Resume Format
Disability support workers help people with disabilities live a better life, by looking after their well-being and fostering their independence. The purpose of a disability support worker resume is to show that the candidate possesses the right personal and professional skills to perform this challenging job.
To make sure your resume reaches maximum potential, it is important that the document is outlined well.
These easy steps will help you get the format right:
Plan the resume out to occupy 2–3 pages max.
Choose a neat resume font that's easy to read (Helvetica, Verdana, or Arial).
Go with 11–12 pts in terms of the font size.
Keep it tidy with 1" resume margins on all sides and 1–1.15 line spacing.
Structure your resume with headers and bold type.
Usually, resumes are written in reverse-chronological order, meaning that the most recent jobs/education go first. However, you might want to explore other resume formats if you'd like to shift the focus to your skills, or if you're making a career transition.
Pro Tip: It's quite easy to get the formatting right on your disability support worker resume, but if you're looking for a more time-efficient solution, you may want to use a professional resume template, choosing from the ready-made options available online.
2. Prepare a Disability Support Worker Resume Summary or Objective
The first thing the recruiter will see on your disability support worker resume is your professional statement. This statement should come in the form of a resume summary or a resume objective, and it's vitally important to get it right.
The difference between the two lies in your background: a disability support worker resume with no experience calls for a good resume objective (i.e. what you'd like to accomplish), and you compose a resume summary if there's prior experience to describe.
A disability support worker resume objective focuses on:


Your education and academic accomplishments.
Volunteering, apprenticeships, or any other ways in which you acquired the necessary qualifications or practical knowledge.
Soft skills and strong suits you possess.
A resume summary may include:


Your most significant skills and some great achievements that those skills resulted in.
Numbers to back those accomplishments up with.
In any case, this section should be around 3–4 sentences in length, and be very concise and to the point. If you'd like to describe yourself in greater detail, you can do it with the help of a cover letter.
Pro Tip: This section can be written last, once the whole resume is ready. This way, you'll be able to see which info you've highlighted already and avoid repetition.
3. Maximize Your Disability Support Worker Resume Job Description
Now, we're moving on to another key section: this is where you describe your professional background and show the recruiter you're a perfect candidate for the job you're applying for.
While you most certainly possess a wide variety of important qualifications, not all of them should necessarily land on your disability support worker resume. For example, if you'd like to get a job assessing children with special needs and helping them learn, it will make sense to bring out any experience directly connected with education first (and not, say, the fact that you can administer medication).
The rule of thumb is to tailor each entry on your resume to the description of the position you seek to fill in. Arrange it the following way:
Mark your job title, name of the company you worked for, and the time frame.
Compose up to 6 bullet points describing your experience (3–4 for older jobs).
Choose one key achievement and place it separately.
Start each bullet point with an impactful action word.
Support your successes with numbers (if possible).
The idea is to show the recruiter how result-oriented you are, how well you understand their needs, and how ready you are to meet those needs.
4. Mention Education on Your Disability Support Worker Resume
Because every support worker position is unique, there may be different requirements and expectations in terms of education on a resume. Still, having a university degree is always a good thing to mention, no matter the specialization.
List it this way:
Go in reverse chronological order if you have multiple degrees.
Add the name of your degree and uni, plus years of enrolment/graduation.
You can also add extra courses or certifications, or you can single them out in a separate section (which will be covered in Chapter 6).
If you're a fresh grad writing a disability support worker resume with no experience, this section may be the most important one, so:
Place it right after your resume objective.
Highlight your academic achievements, projects, research you did, etc.
Mention any occasions that allowed you to gain relevant skills (like uni practice/apprenticeships/internships).
When making a resume in our builder, drag & drop bullet points, skills, and auto-fill the boring stuff. Spell check? Check. Start building a professional resume template here for free.
When you're done, Zety's resume builder will score your resume and tell you exactly how to make it better.
5. Highlight Skills on Your Resume for Disability Support Workers
Depending on your specialisation, your list of skills can differ greatly from those of other disability support workers.
The key is to mention what's specifically required in the job description. And don't forget about your soft skills!
Here's a sample of what could go on your disability support worker resume:
Disability Support Worker Resume Example: Skills (With/No experience)
First aid
Administering & monitoring medication
Crisis situation response
ASL
Teaching students with special needs
Facilitating community participation and social inclusion
Personal care
Transportation
Meal preparation
PEG feeding, PEG care
Art therapy
Ability to work well under pressure
Positive attitude
Emotional support
Patience & empathy
Excellent communication skills
Start with hard skills, then transition to your personal strong suits.
6. Include Other Disability Support Worker Resume Sections
You may wish to include things that do not fit into the above-mentioned categories, or really deserve extra attention.
Additional resume sections of your disability support worker resume work great for:
Publications
Conferences you attended
Memberships
And pretty much anything else you think is relevant. Because these sections stand separately, they are sure to get some attention—so choose wisely and only add what matters.
Pro Tip: According to the Caring for the Future report, an additional 1.3 million workers will be needed across the sector by 2028. Making an inventory of your skills and qualifications now and learning to highlight them on your resume will ensure that have what you need to find the best employment opportunities.
7. Compose a Disability Support Worker Cover Letter
Your disability support worker resume gives the recruiter a great overview of your background, but usually does not have enough space for the details. This is when a cover letter comes in handy.
These are the tips and tricks to a successful cover letter:
Arrange a good cover letter format (or use the same kind of template you've used for your disability support worker resume).
Go for around 1 page, 3–4 paragraphs.
Open with a strong statement, talk about why you're interested in the job.
Use the middle part to tell the recruiter more about your qualifications, your most prominent achievements, some stories from your experience.
Close the cover letter with a call to action, explicitly saying you'd be very interested to answer all the additional questions during an interview.
Would like more insights on writing a cover letter? Read more: How to Write a Cover Letter
Plus, a great cover letter that matches your resume will give you an advantage over other candidates. You can write it in our cover letter builder here. Here's what it may look like: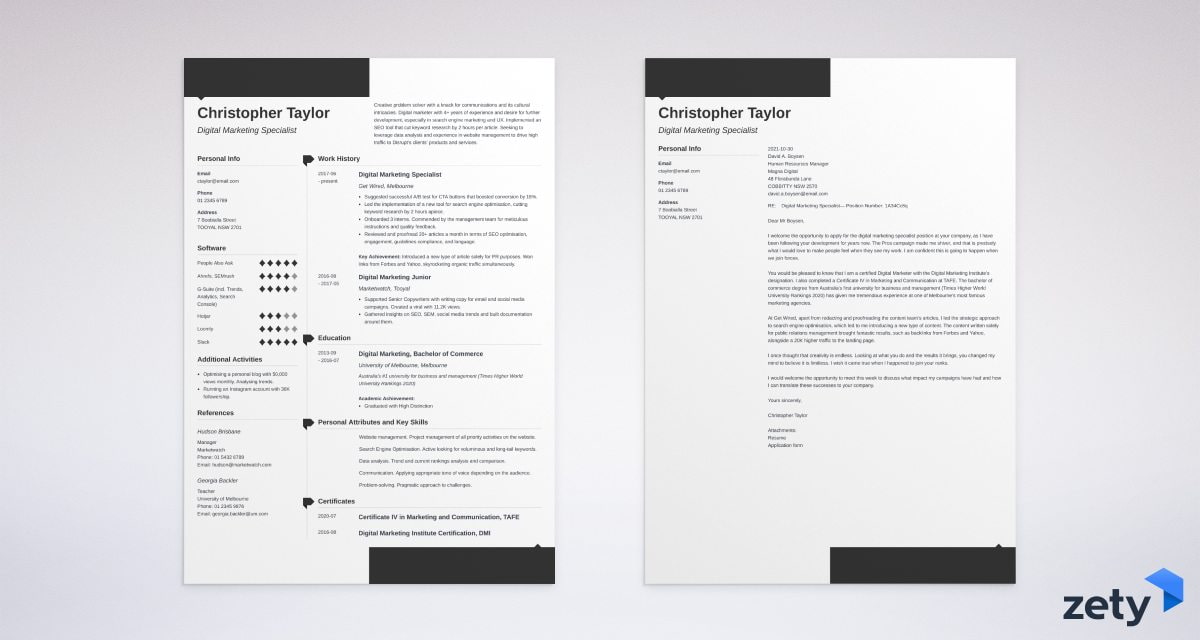 See more cover letter templates and start writing.
And that's how you write a disability support worker resume.
Thank you for reading our disability support worker guide. Hope it has all the answers you were looking for! Did you enjoy the tips on writing a disability support worker resume with no experience? Let us know in the comments.
About Zety's Editorial Process
This article has been reviewed by our editorial team to make sure it follows Zety's editorial guidelines. We're committed to sharing our expertise and giving you trustworthy career advice tailored to your needs. High-quality content is what brings over 40 million readers to our site every year. But we don't stop there. Our team conducts original research to understand the job market better, and we pride ourselves on being quoted by top universities and prime media outlets from around the world.