Patient Care Assistant / PCA Resume Sample & Job Description
Those under your care can sleep safe and sound. But if you're encountering career nightmares, it might be time to look after the state of your PCA resume.
Your job is no walk in the park. Being responsible for the emotional and physical health of another person can be draining. Since you already give so much to society, it's time to do a little taking.
We've got you covered with a PCA resume guide that will help you land that well-paid job you deserve. Let's get started!
This guide will show you:
A PCA resume example better than 9 out of 10 other resumes.
How to write a patient care assistant resume that will land you more interviews.
Tips and examples of how to put skills and achievements on a PCA resume.
How to describe your experience on a resume for a patient care assistant to get any job you want.
Want to save time and have your resume ready in 5 minutes? Try our resume builder. It's fast and easy to use. Plus, you'll get ready-made content to add with one click. See 20+ resume templates and create your resume here.
Sample resume made with our builder—See more resume examples here.
Looking for other ways to help? See these articles below:
PCA Resume Sample
Jakob Krauser
Patient Care Assistant
605-793-5500
DougNash@sample.co
Summary
Empathetic patient care assistant with 3 years of experience and a background in physical therapy. Provided excellent levels of assistance to 20+ residents in Athena Home, encouraging basic levels of physical activity and ROM (range of motion) training. Obtained National Association for Home Care & Hospice (NAHC) certification. Frequently commended by elderly patients for friendly attitude, patience, and helpfulness.
Work Experience
Patient Care Assistant
Athena Home, Torrington, CT
April 2019–September 2021
Key Qualifications & Responsibilities
Assisted 20+ senior residents daily with basic tasks such as hygiene, grooming, and washing.
Liaised between patients, families, and on-call medical professionals to facilitate communication and reduce miscommunication occurrences by 75%.
Ensured 100% required prescription medicine uptake by patients.
Maintained friendly attitude and a positive outlook in the face of terminal diagnoses, earning frequent commendations from residents.
Escorted residents in and around the building when asked.
Organized daily group walking sessions to promote outdoor activity.
Junior Caregiver
Wynnfield Crossing, Rochester, IN
December 2018–April 2019
Prepared accurate documentation for in- and out-bound home residents.
Adhered to residents' dietary needs.
Assisted with filling in shifts/other staffing functions as needed.
Education
Clinical Doctorate of Physical Therapy
College of Staten Island, City University of New York
2015–2018
GPA: 3.6
Relevant Coursework: Anatomy and Physiology, Geriatric Physical Therapy, Advances in Exercise for the Aging Adult, Medical Health Assessment, Emergency Care
Key Skills
Empathy & Patience
Physical Therapy
Elderly Care
CPR/First Aid
Activities of Daily Living
Time Management & Excellent Organization
Certifications
National Association for Home Care and Hospice (NAHC) Certification, 2018
Personal Interests
Co-running a local improvised comedy group.
Real-life & digital accessibility trends, NGOs, and efforts.
Language Skills
German: Native
English: Bilingual
This is how to write a 10/10 PCA resume:
1. Know How to Format Your PCA Resume
Patient care assistants ensure that patients take their medication and assist them with activities of daily living, either in their home or in hospital or hospice environments. Your PCA resume needs to show you're ready to go above and beyond the call of duty.
Before we get to your skills, work history, and all that good stuff, we need to talk about formatting.
There are several resume formats to choose from, and it's easy to get lost. If you don't structure your resume properly, the agency/hospital will assume you treat your patients with just as much reckless abandon.
Here are the steps necessary to get your resume design in order:
Lastly, file format—save your resume as a PDF file, unless the job ad specifically asks for a .docx or another format.
Read more: What Should a Resume Look Like?
2. Start with a PCA Resume Objective or Summary
Resume objectives and summaries are two sides of the same coin, and that coin is called the resume profile.
It serves as an introduction to your resume meant to capture the recruiter's attention. Usually, you do this by bringing up your background in patient care,most notable achievements from previous jobs, or any skills you excel in.
The catch is—it needs to be brief. Lightning-fast. A typical recruiter will only look at it for a few seconds, and decide if you're in or you're out.
You're also faced with a decision here: are you writing a resume summary or a resume objective? The former is for candidates with at least 2 years of experience who want to state their biggest strengths and achievements in a nutshell.
The latter, on the other hand, comes in handy when you haven't worked as a professional caregiver before. Focus on applying knowledge from past occupations and think of ways they could apply to this one.
Pro Tip: Regardless of whether it's a career summary or objective, definitely include numbers next to your achievements. They draw the eye and make your accomplishments more concrete and believable.
3. Write a Perfect PCA Job Description
Learning how to properly list PCA job duties on your resume can make or break your chances.
These are our recommendations for writing a great resume work experience section as a PCA:
Read more: How to Write a Targeted Resume
4. Make the Most out of Your PCA Resume Education Section
Becoming a PCA doesn't require specific education as a be-all-end-all qualification.
But—
Listing nothing will quickly worsen the vital signs of your PCA resume.
Try this:
Pro Tip: Adding education onto your resume works the same way as work experience does: reverse chronology is king. But there's no need to list your high school diploma on your resume if you have completed a higher degree.
When making a resume in our builder, drag & drop bullet points, skills, and auto-fill the boring stuff. Spell check? Check. Start building a professional resume template here for free.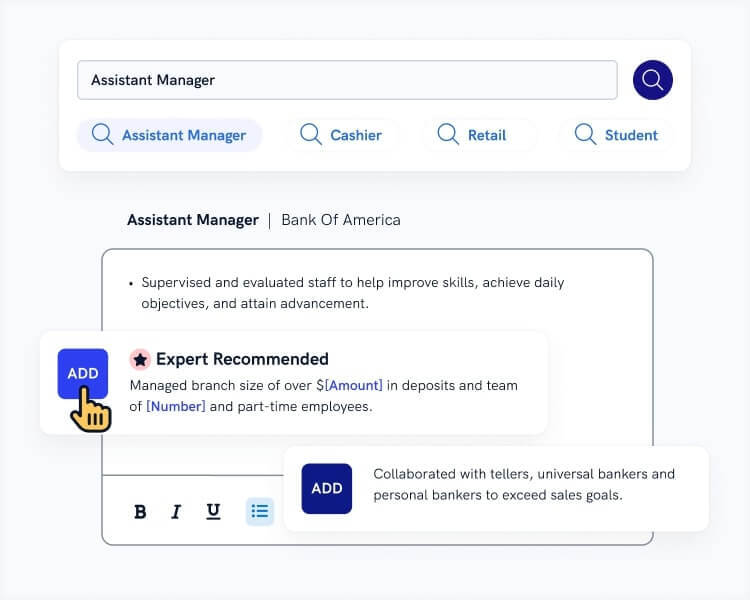 When you're done, our free resume builder will score your resume and our resume checker will tell you exactly how to make it better.
5. Mention the Right Skills for a PCA Job
Let's start by showing you a list of the most sought after skills for a PCA:
PCA Resume Skills
Medical Terminology
Vital Signs
Physical Strength
Driving
Housekeeping
Basic Medical Training
Food & Nutrition
Meal Preparation
Cleaning
First Aid Qualification
Patience
Working with Disabled People
Safety & Injury Prevention
Personal Care
Working with the Elderly
Empathy
Don't just stick them all on your resume thinking that it's the best way. That'll put the recruiter comatose.
There's a specific procedure we need to follow here.
The job ad's "Requirements" section will include specific phrases—think the Da Vinci Code, just out in the open—that should point you in the right direction.
Write down all the hard skills,technical skills and soft skills they want to see, then compare with your own PCA skills.
The ones that match are your golden ticket, business class. Destination: job interview. Put 6–10 of those on your resume.
Read More: What Skills to Put on Your Resume to Get an Interview
6. Add More Sections to Your PCA Resume
Your employer will want to find someone who can take proper care of their patients. That requires empathy and character.
Coincidentally, you may have always thought that mentioning your passion for baking, or being a passionate birdhouse painter doesn't have a place on your resume.
Extra sections, like hobbies and interests on a resume, help you stand out from among other, blander applications. That's 100% a good thing.
Here are a few examples of great additions to consider for your PCA resume:
Read more: What to Put on a Resume: Best Things to Include
7. Write a Cover Letter to Send Together with Your Patient Care Assistant Resume
Is a cover letter necessary these days?
Yes, definitely.
Nearly every other recruiter rejects applications that don't include one.
So ask yourself this:
Why run the risk, especially when the process of writing a modern cover letter is way easier than most people think?
Here are a few key cover letter writing tips:
Get your cover letter formatting in order before starting.
In the cover letter opening, name the position you're applying for and mention how your experience would make you a great fit.
In the body, capitalize on the attention you won over by bragging about more of your achievements. Use numbers to make them stand out.
Then, end your cover letter by making an enticing offer, and requesting to meet in person for an interview.
Include a P.S. (postscript) to capture their attention one last time.
Read more: How to Write a Successful Cover Letter for Any Job
Plus, a great cover letter that matches your resume will give you an advantage over other candidates. You can write it in our cover letter builder here. Here's what it may look like: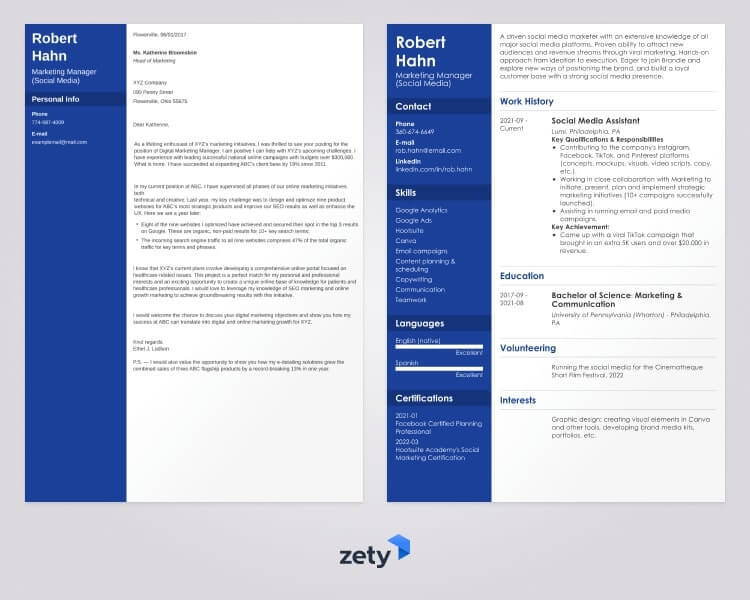 See more cover letter templates and start writing.
A PCA resume like that will have you drowning in offers!
Thanks for reading. If you have any questions about writing a PCA resume or feedback, leave us a comment in the section below and our experts will gladly respond!
About Zety's Editorial Process
This article has been reviewed by our editorial team to make sure it follows Zety's editorial guidelines. We're committed to sharing our expertise and giving you trustworthy career advice tailored to your needs. High-quality content is what brings over 40 million readers to our site every year. But we don't stop there. Our team conducts original research to understand the job market better, and we pride ourselves on being quoted by top universities and prime media outlets from around the world.