Pre-Med Resume: Sample, Guide & Writing Tips
A pre-med student such as yourself is well aware of the road ahead, laden with medical challenges. Take extra care of your pre-med resume, and you'll land a job earlier than most.
You've spent some time in pre-med school, and now you're ready to gain some real experience. You head to your career center, drop off your resume, get back home and start preparing answers to the inevitable interview questions.
Except—The phone is deader than a morgue. And since it's unlikely people have stopped needing medical assistance all of a sudden…
The devil's probably in your pre-med resume.
Today, you're going to learn how to chase him away.
This guide will show you:
A pre-med resume example better than 9 out of 10 other resumes.
How to write a pre-med resume that will land you more interviews.
Tips and examples of how to put skills and achievements on a pre-med resume.
How to describe your experience on a resume for pre-medical students to get any job you want.


Want to save time and have your resume ready in 5 minutes? Try our resume builder. It's fast and easy to use. Plus, you'll get ready-made content to add with one click. See 20+ resume templates and create your resume here.
Sample resume made with our builder—See more resume examples here.
Looking for more specific medical guides? We've got those right here:
Pre-Med Resume Sample
Letty Winch
Pre-Medical Student
402-757-9702
letty.winch@samplemail.com
Linkedin.com/in/123letty.winch
Objective
Friendly and competent pre-medical school student specializing in radiology. Spent 18 months assisting in radiology practice, seeing roughly 300 patients a month. Commended by supervising doctor for exhibiting understanding, empathy, and good-heartedness towards patients. Averaged an MCAT score of 513.
Education
B.Sc. in Applied Sciences
University of Minnesota, Minneapolis, MN
2019–2023 (expected)
GPA: 3.9
Relevant Coursework: Mathematics, Biochemistry, Biochemistry II, Biological and Biomechanical Foundations of Living Systems, Chemical and Physical Foundations of Biological Systems
Founding member of school's "New in Radiology" discussion club.
High School Diploma
Cherry Hill High School, Rochester, MN
2015–2019
Work Experience
Radiology Assistant
Med-X Clinic, Minnesota, MN
June 2020–December 2021
Assisted in admitting approximately 300 monthly patients.
Pre-diagnosed incoming patients and their readings with 89% accuracy.
Received 3 commendations from supervising doctor for friendly attitude and empathy shown toward patients.
Drew up statistical reports to analyze the number of patients coming in for different procedures and categorize them accordingly.
Skills
Operating radiological equipment
Performing image readings
Empathy
Statistical knowledge
Biotechnological expertise
Biochemistry
Excellent communication
Listening skills
Certifications
Applied Medical Image Analysis, University of Edinburgh (online course), 2021
Volunteering Activity
Medical assistant: 2019 Saskatoon Festival of Trees during special blood drive event
This is how to write a great pre-med resume:
1. Organize Your Pre-Med Resume by Using the Right Format
Pre-med students are usually in the process of completing their first degree before applying to med school. Whether you're applying for an internship, shadowing practice, or a part-time job in the medical field, your pre-med resume has to show compassion, patience, and communication skills on top of knowledge of your specialization.
And, furthermore, one other quality you need to have plenty of is organization.
Hospitals can often be as hectic as war zones, and showing composure through the use of proper resume formatting will give you an edge over the other applicants.
Pro tip: Should you use Word or PDF format to send your resume? The short answer is: use PDF unless stated otherwise.
2. Write a Pre-Med Resume Objective
The top section of your resume proper, also called a resume profile, clues the reader in on your biggest accomplishments. Those that you could brag about while strolling around the ward.
While resume summaries are reserved for applicants with over 2 years of experience, as a fresh pre-med student, you'll be more inclined to write a resume objective.
Mention the skills you've got already (even if they are skills transferred from unrelated fields), show your dedication, and prove you're ready to face any challenge thrown your way.
And if you're really short on relevant experience to boast about, using the resume introduction to slip in a few academic achievements won't hurt either.
Pro tip: It's recommended to not focus on this section right away, as coming up with the perfect 3–4 sentences can be a huge time sink. It's better to come back here once you've written everything else.
3. List Education on Your Pre-Med Resume
At this stage, you're likely not the top-publishing researcher at Johns Hopkins University, nor the department head of your local hospital.
This means that, unlike in the traditional resume, the way you list your education takes priority over your work experience.
Don't know what to focus on? Here are a few pointers:
Start off by adding the name of your school, its location, and graduation year—projected or actual.
Then, in up to 6 bullet points, detail your accomplishments. Your pre-med majors, MCAT score, relevant coursework you were exceptionally great at, honors on your diploma, et cetera.
If you're still finishing your first degree, include information about your high school at the bottom of this section.
Alright, but what about GPA on your resume?
In general, the rule of thumb here dictates you should only include it if it's higher than 3.5 or so. And since some med schools say 60% of your time should be devoted to working on your GPA, then yeah, include it, since it's surely above that threshold.
Read more: How to List Education on Your Resume the Right Way
4. Summarize Your Existing Work Experience on a Pre-Med Resume
This section is crucial, whether you're writing it with no experience or not. Fail here, and your resume will flatline in a flash.
As established, the reverse-chronological format means you will arrange your work history by listing the most recent job first, going back in time from there.
Each one should state the company name, years worked, and your job title.
Use a concise bulleted list to describe your actual duties.Utilize action language, like increased, performed, and optimized.
Use the Problem-Action-Result (PAR) formula when providing detail to show proactivity score extra points.
Read more: How to Write a Resume With No Work Experience at All
When making a resume in our builder, drag & drop bullet points, skills, and auto-fill the boring stuff. Spell check? Check. Start building a professional resume template here for free.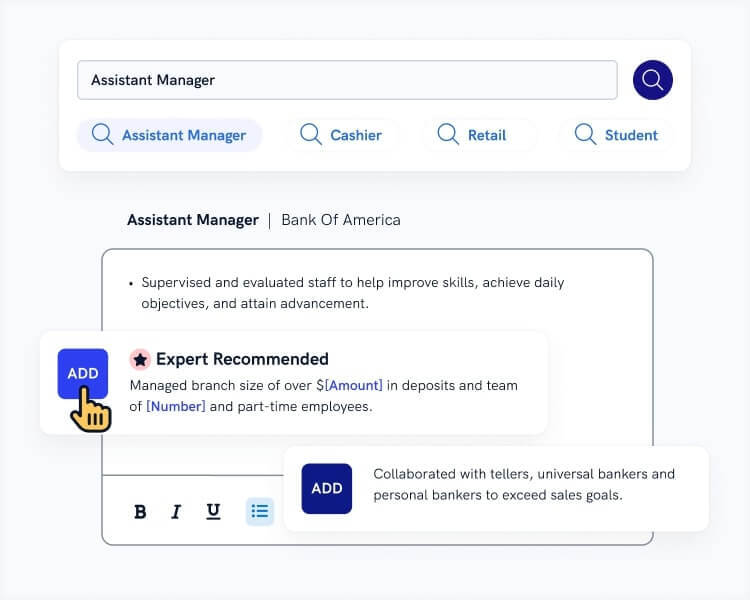 When you're done, our free resume builder will score your resume and our resume checker will tell you exactly how to make it better.
5. Demonstrate Your Skills on the Pre-Med Resume
Whether you're gunning to be the next emergency medical technician, phlebotomist, or certified nursing assistant, the truth is simple—
You're not getting there without a believable skills section.
Many applicants try to stretch the truth on their resume and make up for their lack of experience by stuffing their skills section with guff. This leads to bloated, and dubious skills sections.
To save yourself that embarrassment, instead, come up with a list of resume keywords. You can do it by scanning the job posting for the requirements you'll need to meet.
Then, create a spreadsheet and fill it with your soft skills, hard skills, and technical skills. When done, compare the two. Whatever matches will pass ATS resume checks, and should thus constitute your resume's skills section.
Here's a sample list of skills to get inspired by:
Pre-Med Resume Skills List for Students
Empathy
Biology
Biochemistry
Commitment & Tenacity
Collaboration Skills
Patient Assessment
Injections
Performing CT Scans
Documentation
Office Skills
Basic Patient Care
Triage
Taking Vital Signs
Recording Patient Medical History
Administering Injections
Remember: target your skills section, depending on the kind of specialization/institution you're applying for. There's no one size fits all solution here.
Read more: Top Employability Skills for Any Industry
6. Include Extra Sections on a Pre-Med Resume
Good, good. Your resume's vital signs appear stable.
You've reached a point where you're mostly even with all the other applicants.
That's right. Even. They probably structured their resume roughly the same way.
To stand out, add some extra resume sections. Think about what makes you unique, such as your hobbies and interests, passion projects, foreign language skills, or volunteer work.
Read more: 50+ Resume Tips for Candidates from All Levels & Industries
7. Wrap up by Including a Pre-Med Cover Letter
Do cover letters actually matter?
Believe it or not, they do. A lot, actually—to about half of all recruiters.
If you want to succeed, writing one is crucial.
Here are a few easy steps to help you write the perfect cover letter:
Pro tip: Don't write a detailed medical report. Cover letters have an ideal length of 3–4 paragraphs, or around 250 words, all on one page.
Plus, a great cover letter that matches your resume will give you an advantage over other candidates. You can write it in our cover letter builder here. Here's what it may look like: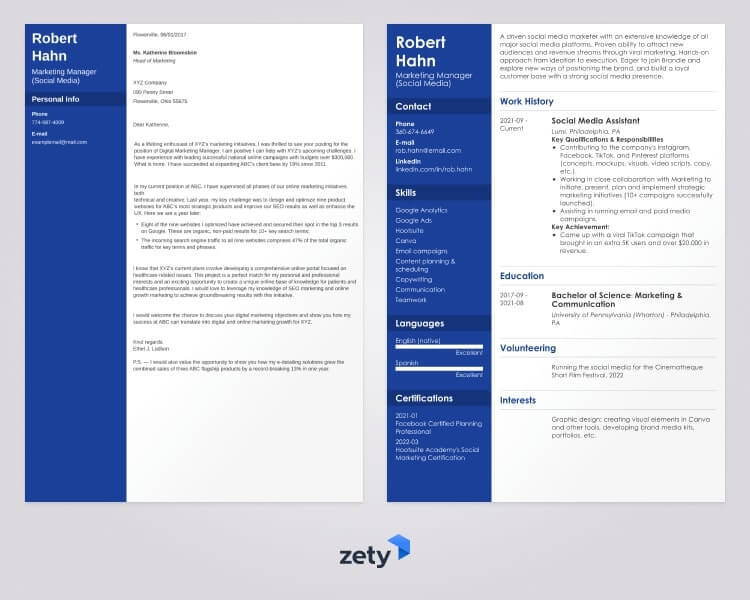 See more cover letter templates and start writing.
So that's it!
You just learned a super reliable way to score a phenomenal pre-med resume.
If you still are unclear about any aspect of writing a pre-med resume that will get you the job, hit us up in the comments. We've got you covered!
About Zety's Editorial Process
This article has been reviewed by our editorial team to make sure it follows Zety's editorial guidelines. We're committed to sharing our expertise and giving you trustworthy career advice tailored to your needs. High-quality content is what brings over 40 million readers to our site every year. But we don't stop there. Our team conducts original research to understand the job market better, and we pride ourselves on being quoted by top universities and prime media outlets from around the world.