Pastry Chef Resume: Examples & Writing Guide
Elbow grease, some butter, and a little bit of love—that's how you make 'em so delicious. Prove your skills on paper with our pastry chef resume guide.
Baking puffy, delicious goodies is your art and your calling, whether it's a fine dining dessert menu or a local hipster shop with homemade pastry.
But you can't exactly email the recruiting staff a portfolio (or pastryfolio, if you will) of your work to taste test and make their decision.
No, my friend, it comes down to a good old-fashioned pastry chef resume. Minus the old-fashioned part.
So grab your coffee or any other inferior dunking beverage, and we'll take care of the rest.
This guide will show you:
A pastry chef resume example better than 9 out of 10 other resumes.
How to write a pastry chef resume that will land you more interviews.
Tips and examples of how to put skills and achievements on a pastry chef resume.
How to describe your experience on a resume for a pastry chef to get any job you want.
Want to save time and have your resume ready in 5 minutes? Try our resume builder. It's fast and easy to use. Plus, you'll get ready-made content to add with one click. See 20+ resume templates and create your resume here.
Sample resume made with our builder—See more resume examples here.
Is the job you're looking for in another castle? Try some of these articles instead:
Pastry Chef Resume Example
Karen Hund
Pastry Chef
559-842-9483
KarenDHund@zetymail.com
Summary
Responsible and versatile pastry chef with 5+ years of experience in a high-volume kitchen. At Marriott International, continuously monitored food & pantry stores, reducing occurrence of emergency resupplies by 90%. Trained 3 junior chefs in food safety and French-style pastry making.
Work Experience
Pastry Chef
Marriot International, St Thomas, VI
March 2018–present
Recognized products of superior quality and successively replaced 60% of ingredients in kitchen, phasing out inferior counterparts.
Managed day-to-day operations & pastry preparation shifts to ensure a basic stock of good is ready on short notice.
Reduced waste in the kitchen, cutting down expenses and saving $1,200 per month.
Communicated with co-workers and supervisors to notify about potential safety hazards in the kitchen.
Helped in restructuring food menu of hotel restaurant after departure of Head Chef, introducing 3 new customer-favorite items.
Line Cook
Sportello's, Boston, MA
November 2016–March 2018
Revised dessert menu to include Italian desserts, increasing dessert menu sales by 24%.
Maintained a clean and organized kitchen at all times, even during peak hours with up to 140 customers.
Reduced occurrence of hazardous incidents by half through proper safety procedure observation.
Education
Associate's Degree in Culinary Arts
The Culinary Institute of America, Hyde Park, NY
2013–2015
Relevant Coursework: Pastry Arts, European Desserts
Key Skills
Efficient Baking
Vast Knowledge of Recipes
Decorating
Curiosity & Creativity
Kitchen Organization
Storage Management
Food Safety
Great Teamwork
Awards & Certifications
1st place in 2013 Arlington Fusion Bake-Off
Advanced Pâtisserie Certificate – William Angliss Institute, 2017
Language Skills
French: Advanced
Italian: Intermediate
Let's show you how to write a yummy pastry chef resume:
1. Choose the Best Format for a Pastry Chef Resume
As a pastry chef, your tasks will include baking sweet and savory goods, taking stock of inventory, and being very attentive and efficient in your turnover. Your pastry chef resume needs to show you're ready to work under pressure in a jammed kitchen without cracking like an egg.
So, what's the first thing we do?
We get our mise in its place. In the world of professional resume writing, that means you start the resume by sorting out your resume format first:
Final formatting decision to make: one- or two-page resume? If you can, keep it down to a page. Go over to a second one if you have 10+ years of relevant experience to put on your resume.
Read more: Best Resume Writing Tips from Career Experts
2. Lead With a Pastry Chef Resume Profile
What's a resume profile? Is it like a dough profile, hydration, windowpane test, the like?
Completely different, actually. A resume profile, also known as a resume introduction, actually works much like an elevator speech. It's a speedy presentation with the goal of highlighting the most delicious morsels about you to keep their eyes from turning away to look at anyone else.
Depending on your expertise, you can choose between two flavors:
Resume summaries leverage your experience in the kitchen to establish you as a strong possibility for their new pastry chef. To write one, use a positive adjective about yourself, state your years of experience plus a win or two from past pastry-crafting shenanigans.
Resume objectives are best for newcomers/aspiring pastry masters. When writing one, mention any knowledge and transferable skills you've already perfected (e.g. from culinary school), and explain how you'd use those to crank out the best baked goods in the area.
Read more: How to Describe Yourself on a Resume
3. Demonstrate Your Baking Experience with a Pastry Chef Job Description
If you want a job as a pastry chef, you have to show what you're made of. The world of culinary arts can often be demanding, as you've no doubt seen on Kitchen Nightmares or Hell's Kitchen. Sheesh.
Well, with a well-written resume work experience section, you eliminate a lot of room for error on your application. Roll up those sleeves, chef!
Lead with the most recent job experience you have, listing past positions subsequently after.
Remember to add details including your job title, name of the company, years spent working there, and up to 5 or 6 bullet points describing your most important duties.
Now, those duties cannot just be descriptions like Prepared dough or Decorated cakes. That's duller than unsauced lamb!
The better way is using action words, and numbers next to achievements. That makes everything much more lively and engaging to read.
Pro Tip: Everyone has a different palate. Likewise, every resume needs to be tailored to a specific job. Make sure yours is, too.
4. Perfect Your Education Section on Your Pastry Chef Resume
Can you make a pastry without adding any flour?
Well, you can, but it's not the real thing.
The same principle applies to your pastry chef job application—a resume education section is a must, even though it's technically possible to write a resume without one.
Fortunately, this section has more of a Great British Bake Off vibe rather than Gordon Ramsay's shows.
If you've been coating work surfaces with flour for more than 5 years, stick to the education basics—school name, year of graduation, and your degree or majors/minors if you have them.
Otherwise, you'll want to use some of these ideas to really rile their taste buds:
Relevant coursework/workshops you excelled at and enjoyed.
School or academic achievements show that you're committed and not an underachiever.
The same thing goes for a high GPA—"high" being the operative keyword here. Only include your GPA on your resume if it was 3.5 or higher. Otherwise, feel free to skip, and instead, go for…
Listing extracurricular activities on your resume! These can be anything, from helping out in the school's kitchen, to participating in a culinary club, to volunteering at the food bank.
Pro Tip: A degree isn't always required for pastry chef positions. However, be prepared that those with an Associate's or Bachelor's degree in pastry arts will have a leg up on you.
When making a resume in our builder, drag & drop bullet points, skills, and auto-fill the boring stuff. Spell check? Check. Start building a professional resume template here for free.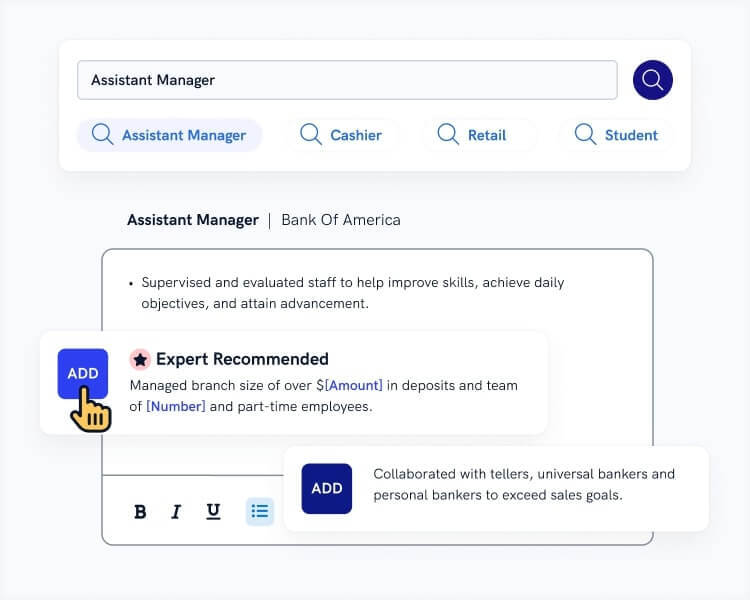 When you're done, our free resume builder will score your resume and our resume checker will tell you exactly how to make it better.
5. Present Your Pastry Chef Skills Adequately
First, let's show you a sexy list of skills for a pastry chef:
Pastry Chef Resume Skills
Baking
Measuring
Working under Pressure
Kitchen Organization
Knowledge of Recipes
International Cuisines
Fusion Cooking
Patience
Culinary Art
Food Safety
Decoration & Presentation
Finesse
Physical Fitness
Customer Service
Using Kitchen Equipment & Tools
Culinary Skills
But—
You can't just plop all of that in a bowl, mix, and expect a triple-decker cake to emerge.
No, you have to exhibit self-control, which just so happens to be one of the most desired skills for a pastry chef.
Rather than copy-pasting, take the smart approach: what specific resume keywords does the job posting use? Are they looking for a pastry chef or a baker? Do they need someone who has "attention to detail", or is "detail-oriented"?
Whatever it may be, you always want to use the same phrases as the advertisement. Do that, and you'll get your resume past ATS checks.
Read more: What Skills to Put on Your Resume
6. Include Other Sections on Your Pastry Chef Resume
The recruiter doesn't want their new pastry chef to have less personality than a ball of unproofed dough. They want their very own Chef John or Alton Brown.
You can add extra flavor to your resume by including one (or more) sections that don't quite fit the other criteria.
Include some of these ideas below to help you get ahead of your competition:
Read more: How to Improve Up Your Resume: Expert Advice & Examples
7. Attach a Cover Letter to Your Pastry Chef Resume
Do you need to write a cover letter for pastry chef positions?
Yes, every time. Not doing so is like not observing food safety in your kitchen. You'll end up paying the price at some point.
Here's a few key cover letter writing tips:
Read more: What Should a Cover Letter Look Like?
Plus, a great cover letter that matches your resume will give you an advantage over other candidates. You can write it in our cover letter builder here. Here's what it may look like: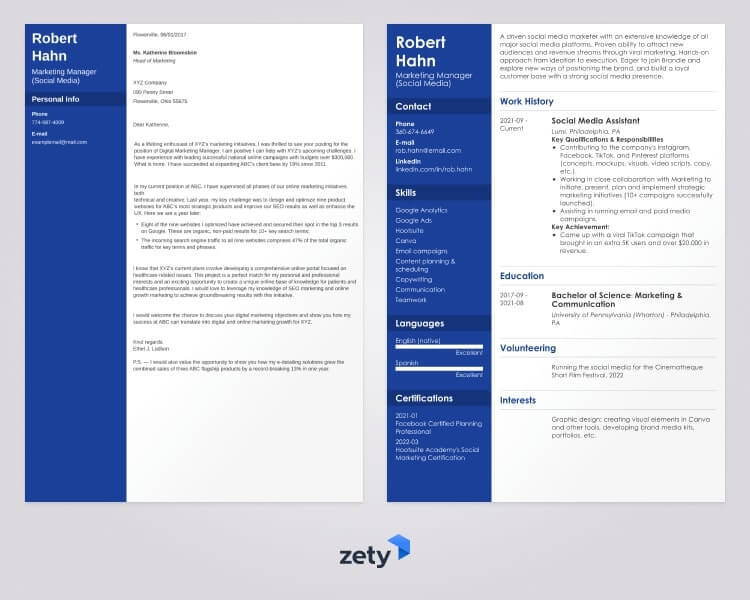 See more cover letter templates and start writing.
That's a delicious pastry chef resume!
Did we not cover the full recipe? Do you think our pastry chef resume guide is missing some key ingredients? Let us know in the comments below!
About Zety's Editorial Process
This article has been reviewed by our editorial team to make sure it follows Zety's editorial guidelines. We're committed to sharing our expertise and giving you trustworthy career advice tailored to your needs. High-quality content is what brings over 40 million readers to our site every year. But we don't stop there. Our team conducts original research to understand the job market better, and we pride ourselves on being quoted by top universities and prime media outlets from around the world.