Assistant Project Manager Resume: Example & How to Write
You're ready to get hired and with the right skills, mindset, and a bit of flair—you can, for sure! But you'll need a proper assistant project manager resume to prove it.
So, you think you have what it takes to get into project management.
Good for you! It's a field with loads of opportunities and rife with challenges requiring sleight and flexibility. The benefits of a clear career ladder and specialization options are for sure nice, too.
But don't get too far ahead of yourself. Let's narrow the scope of this project for a second. Your first task is perfecting your assistant project manager resume.
This guide will show you:
An assistant project manager resume example better than 9 out of 10 other resumes.
How to write an assistant project manager resume that will land you more interviews.
Tips and examples of how to put skills and achievements on an assistant project manager resume.
How to describe your experience on a resume for assistant project managers to get any job you want.
Want to save time and have your resume ready in 5 minutes? Try our resume builder. It's fast and easy to use. Plus, you'll get ready-made content to add with one click. See 20+ resume templates and create your resume here.
Sample resume made with our builder—See more resume examples here.
See these articles if you're interested in other positions:
Assistant Project Manager Resume Example
Vincent M. Lozano
Assistant Project Manager
870-904-3849
vinnylozano@zetymail.com
Resume Objective
Passionate & driven assistant project manager with superb abilities in teamwork, time management, and adaptability. Completed 6-month-long internship at the Burry Municipality Library, and received commendation from library director for implementing book sorting/distribution methods that proved 33% faster than the previous system.
Education
Bachelor's Degree in Communication – Public Relations
Anderson University, Anderson, South Carolina
Expected graduation: 2024
GPA: 3.8
Relevant coursework: Interpersonal Communication, Social Media Management, Connections, Corporate Video Production, Media Law, Communication Theory
Other:
Dean's list nomination: Fall 2020 & Spring 2021 semesters
2-time VP of the Student Government Association
Member of the "Active Showmen" performance/talent club
Work Experience
Project Management Intern
BeeRate Translation Agency, Anderson, SC
April 2021–July 2021
Prepared meeting minutes, status reports, and maintained files for due diligence and financials with 100% deadline adherence.
Assisted in compiling project scopes, budgets, and schedules.
Shadowed three separate senior team members in execution of projects up to $150K in revenue, and the implementation of Agile and Scrum methodology in real, professional settings.
Established and maintained client focus through setting performance goals and deliverables.
Library Intern
Burry Municipality Library, Burry, AL
April 2019–October 2019
Performed ongoing general assistance including shelving, processing new books, processing returns, and in- and out-bound shipments.
Interfaced with multiple department members daily to keep order in the entire library.
Awarded the director's commendation for increasing efficiency of sorting methods by 33%.
Key Skills
Communication
Teamwork
Project Scopes & Lifecycle
Flexibility & Adaptability
Risk Management
People Skills
Maximizing Efficiency
Hobbies & Interests
Member of 6-man juggling live performance group
Organizing local speed dating & quiz night events
Passionate rock climber
Language Skills
Portuguese (Portugal): Intermediate
Spanish (Mexico): Advanced
This is how you write an assistant project manager resume:
1. Choose the Best Assistant Project Manager Resume Format
As an assistant project manager, you'll be tasked with the planning and execution of projects. While your more experienced colleagues will handle the big picture decisions, an assistant project manager resume still has to show communication, multitasking skills, plus knowledge in the relevant field.
To get started, you'll have to prepare the scope of the project.
And that is to get the format of your resume sorted out:
Read more: How to Start a Resume
2. Write an Assistant Project Manager Resume Objective or Summary
Preparing a resume profile is an absolute must-do.
It's not even stage 1 of project planning, it's stage 0.
Why?
Because it takes the average recruiter about seven seconds to decide if you're "maybe in" or "definitely out."
Your task is to end up in the first batch by giving them a big reason to smile and say "Yup, that's the one."
So—
If you have prior experience in project management, a resume summary will help you get noticed. Write about your most impressive career achievements and dress them up with exciting numbers.
Otherwise, if you are still a student (or just out of college) and have virtually no experience, a resume objective will help convince the recruiter of your non-PM merit, with an extra twist of added ambition and drive.
Pro Tip: No matter your choice, do yourself a favor, and don't sweat it if you're drawing a blank. It's actually a good idea to ignore the order we present here and come back to this section later, maybe even leave it for the very end.
3. Add Past Work Experience to Your Assistant Project Manager Resume
For assistant project managers, optimizing the resume work experience section is all the more important, seeing as you may not have spent much time in the industry yet.
Even if you can get just inches ahead of the rest, it could mean success.
Pro Tip: Always tailor your resumes. It may be tedious if you're pulling an all-nighter and mass-sending applications, but recruiters can tell at first glance if you spent 2 minutes throwing your resume together, or 2 hours crafting a meaningful application.
4. Mention Your Education on the Assistant Project Manager Resume
Since you're applying for a rookie position, it's pretty safe to say you've been working as a project manager for less than 5 years.
In that case, your resume's education section needs to do some heavier-than-usual lifting.
Now, there are many ideas a project management Padawan may include on his or her resume:
Student club memberships
University activities
Other academic achievements (scholarships, program admissions etc.)
But it's not entirely in the what, it's also about the how.
Once again, being relevant is absolutely crucial, so study the context.
For example, if you're a computer science major applying for a position as an assistant construction project manager, there's little connection between the two.
But if it's a software house? Don't tell them about it, shout it at them!
Take extra care to take into account the little things and optimize the rest of your resume, and watch your inbox blow up.
Pro Tip: If you're writing a resume with no work experience at all, consider swapping the order of your work experience section and the education section. Just to emphasize the one with more exciting stuff.
When making a resume in our builder, drag & drop bullet points, skills, and auto-fill the boring stuff. Spell check? Check. Start building a professional resume template here for free.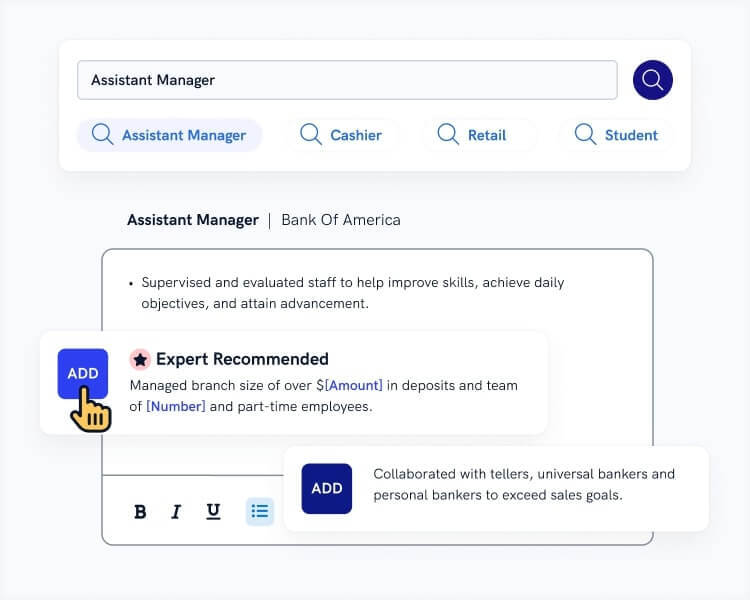 When you're done, Zety's resume builder will score your resume and our resume checker will tell you exactly how to make it better.
5. Prove You Have the Project Management Skills They Need
Check out these skills for assistant project managers:
Assistant Project Manager Resume Skills
Project Scheduling
Subject Matter Expertise
Project Lifecycle Management
Business Development
Business Case Writing
Lean Thinking
Performance Tracking
Microsoft Project
Strategic Planning
CRM
Adaptability
Meeting Facilitation
Financial Modelling
Kanban
Forecasting
Budgeting
Scrum, Scrumban, Agile, XP
That's a list that would get anyone excited.
But—
They know you're just an assistant. They know you can't possibly have all of those skills!
Slamming 20 skills onto your resume is definitely not risk-averse: it's a classic mistake to make.
Instead, brainstorm a list or spreadsheet of all of your skills, and compare it to the job advertisement. You should be able to spot certain matches, and when you do, those are the keywords for your resume that will make it perform better than others!
Read more: Detailed List of Project Management Skills
6. Include More Sections on Your Assistant Project Manager Resume
Here's the thing:
Nobody likes a passionless co-worker.
And seeing as, according to the Project Management Institute, growth in the field will keep rising much faster compared to other fields…
If you're a bore, you don't score.
If you can't show passion for things, work-related or not, they'll think you're a party pooper.
One idea to help prevent that is by adding extra sections to your resume that help you stand out just a touch:
Some things should be avoided, though. Read more: What Not to Put on a Resume: Things You Shouldn't Include
7. Finish the Assistant Project Manager Application with a Cover Letter
Cover letters help secure the bag.
Why?
Because almost half of recruiters say they reject applicants that don't submit one.
Not sure how to write a cover letter? We've got your back:
Read more: Project Management Cover Letter: How to Write + Examples
Plus, a great cover letter that matches your resume will give you an advantage over other candidates. You can write it in our cover letter builder here. Here's what it may look like: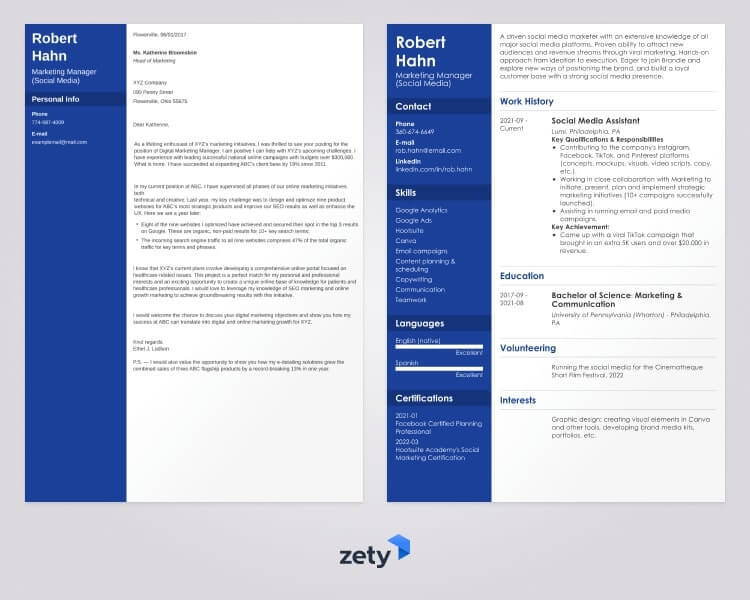 See more cover letter templates and start writing.
Thanks for the read. If you have any burning questions you'd like to ask more experienced PM's (or ourselves), let us know in the comments. Let's chat!
About Zety's Editorial Process
This article has been reviewed by our editorial team to make sure it follows Zety's editorial guidelines. We're committed to sharing our expertise and giving you trustworthy career advice tailored to your needs. High-quality content is what brings over 40 million readers to our site every year. But we don't stop there. Our team conducts original research to understand the job market better, and we pride ourselves on being quoted by top universities and prime media outlets from around the world.