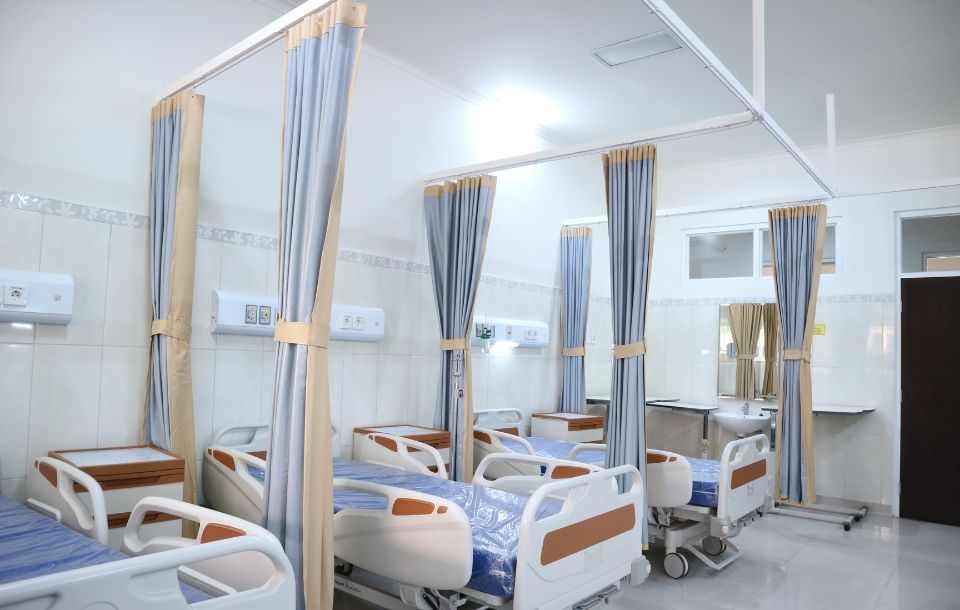 Hospital Volunteer Resume Examples for 2023
You've got a good heart, and that's great. However, hospitals won't hire anybody off the street, even as a volunteer. That's why you need 20 ccs of great hospital volunteer resume.
Hospitals often work understaffed and under severe patient load. Going head-first into the fray while demanding no compensation is pretty bold, to state the obvious.
What's less obvious is that boldness alone won't get you in scrubs once you're through the door. Paid or unpaid, a hospital volunteer resume needs to show you both care and know how to provide care to others.
Ready to learn?
This guide will show you:


A hospital volunteer resume example better than 9 out of 10 other resumes.
How to write a hospital volunteer resume that will land you more interviews.
Tips and examples of how to put skills and achievements on a hospital volunteer resume.
How to describe your experience on a resume for a hospital volunteer to get any job you want.
Want to save time and have your resume ready in 5 minutes? Try our resume builder. It's fast and easy to use. Plus, you'll get ready-made content to add with one click. See 20+ resume templates and create your resume here.
Sample resume made with our builder—See more resume examples here.
Check out our other non- and for-profit guides below:
Hospital Volunteer Resume Sample
Michael M. Mendoza
Hospital Volunteer
303-265-6850
mikemendoza@zetymail.com
Resume Objective
Cheerful and helpful nursing student with a penchant for elderly care. Consistently scored A's in subjects related to histopathology and morphology. Assisted neighborhood clinic in yearly blood drive, collecting samples from donors in a sanitary and orderly manner. Seeking to volunteer at Woodcross Hospital to learn while maintaining the highest standard of patient care and relieving staff workload.
Work Experience
Waiter
Odorous Hors d'Oeuvres, Backwater, MS
May 2017–October 2018
Greeted up to 100 customers daily on their way in to the restaurant with a friendly attitude.
Excellently handled multitasking of orders, payments, seating etc. even during most chaotic rush hour periods.
Proposed introducing vegan and vegetarian options to food menu, increasing recorded visitor numbers by 25% and Google review score by 0.6 over 3 months.
Trained 4 junior staff members/waiters.
Education
B.Sc. in Nursing
UC San Francisco (UCSF) School of Nursing
Scheduled to Graduate: 2023
Relevant coursework: Nutrition, Essentials of Pharmacology, Adult Medical-Surgical, Senior Seminar, Complex Care, Human Physiology, Public Speaking in the Health Profession
GPA: 3.8
Dean's List: Placed in 4 semesters (100%)
High School Diploma
Cherry Hill High School, Sacramento, CA
2015–2019
Skills
Caring for Elderly
Multitasking & Stress Resistance
Oral Communication
Tech-Savvy
Nutrition
Friendly Attitude
Empathy
Volunteer Work
Assistant Nurse during the 2016 Annual Broad Oaks blood drive initiative
Volunteering at Central Mississippi Dog Shelter (2017–present)
This is how to write a hospital volunteer resume:
1. Choose a Good Hospital Volunteer Resume Format
The tasks of a hospital volunteer will depend on the unit they get assigned to, but in general, office work, basic patient care, and assisting with clerical work in the hospital are the standard here. To succeed, your task, for now, is writing a hospital volunteer resume that shows excellence in all of that.
Achieving that effect requires a neatly formatted resume, like so:
Alright, and how about resume length? Two-page resumes are a thing, yes, but unless you can fill them up with fully relevant experience, then you're better off just sticking to one page.
Read more: What Does a Job-Winning Resume Look Like? Full Guide
2. Create a Hospital Volunteer Resume Profile
Optimizing your resume for the recruiter shows you've got your wits about you. An easy way to prove it is through the resume introduction, also known as the resume profile.
In three or four sentences, you describe briefly your strength and achievements, anything that would ultimately convince the hospital director to pick you to add to their ranks, and not the candidate next to you.
Now, you have a choice:
Writing a resume summary statement works best when you have some years of experience under your belt, and can show off your best points at a moment's notice.
Resume objectives are the other choice, and they are best suited for fresh graduates, career changers, or when you're writing the resume without much experience. Focus on transferable skills and back them up with numbers.
In short, whichever you pick, you need to be quick and concise. Nobody on the front lines in the hospital wants to faff about with a volunteer who can't apply themselves, which, according to reports from the UK, is one of the biggest challenges when organizing their work.
Read more: How to Start a Resume
3. Write a Professional Work Experience Section on a Hospital Volunteer Resume
Volunteer or not, working in a hospital can be difficult and stressful. You need to prove you're up for the challenge of performing tasks under duress, and a strong work experience section on your resume is one way to get there:
Following reverse chronology, put your most recent work first and go back from there.
Each entry needs to be equipped with a job title, company name, and the dates you worked for them.
Add up to 6 bullet points describing your tasks and accomplishments. Fewer points for less relevant (older) positions.
Use resume action words for an enhanced effect that will prevent the recruiter from having to hit the snooze button.
To add to that last point, avoid listing irrelevant experience on your resume for that same reason.
Tailoring your resume works best, always. Do not send copy-pasted generic applications. Modern resume templates should begin and end within the visual layer, the content has to be unique every time.
Read more: How to Target a Resume for More Effective Job Applications
4. Capitalize on Your Education in Your Hospital Volunteer Resume
While volunteering in your local hospital likely doesn't require education, listing it nonetheless can make a big impact on your success.
If you have more than 5 years of professional experience, simply list just your school name and location, years spent in school, and obtained degree.
However, if you're not at that stage of career advancement yet, provide extra information about past school years' successes. These can come in the form of relevant coursework or diploma honors. Just don't exceed about 4–6 of these, similar to the work experience section.
Pro Tip: Listing unfinished college on your resume? Go ahead and include your high school on your resume, too. Your education section should always contain your highest completed level of schooling, in addition to anything that's still in progress.
When making a resume in our builder, drag & drop bullet points, skills, and auto-fill the boring stuff. Spell check? Check. Start building a professional resume template here for free.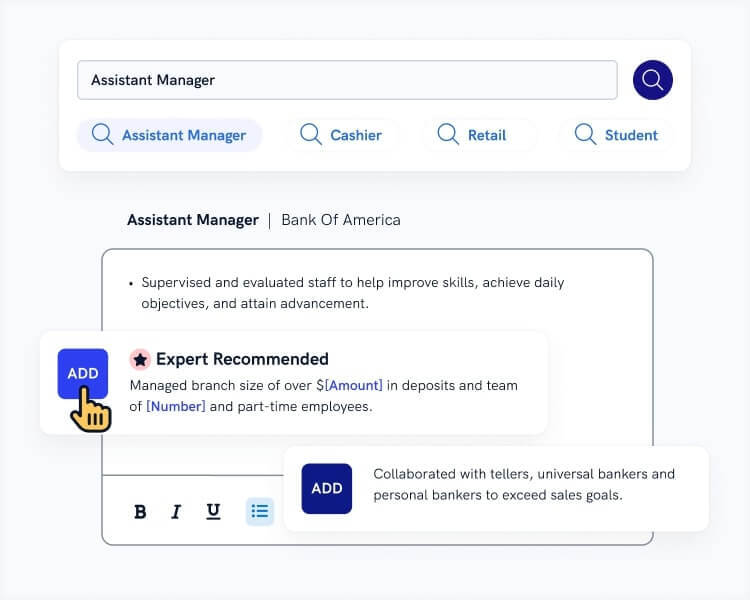 When you're done, our online resume builder will score your resume and our resume checker will tell you exactly how to make it better.
5. Emphasize Your Skills on Your Hospital Volunteer Resume
No doubt, the skills needed will depend on the exact area of the hospital you get assigned to and your volunteering role.
But irrespective of that, there's a better way of crafting an apt skills section than just putting them in haphazardly.
Create a singular list of all skills you have, including in it your hard skills, soft skills, and technical skills.
Compare the list with the job ad, and select those that the hospital seems to require most from its volunteers.
For bonus points, put those skills in the work experience and education sections as additional proof of your abilities.
Hospital Volunteer Resume Skills
Cleaning & Maintenance
Filing Reports
Organizing Documentation
Empathy
Directing Patients
Clerical Skills
Keeping Inventory
Answering Calls
Assisting Hospital Medical Staff
Read more: Traits Employers Look for When Hiring
6. Impress Your Recruiters with Extra Hospital Volunteer Resume Sections
To stand out or not to stand out? That is… not the question, because the answer should be obvious.
This extensive report proves that hospital volunteers make the most impact when they burst through the door, full of energy and productivity.
There's no benefit in being "just another candidate" wanting to help with patient care.
Include some of these ideas below to help you get ahead of your competition:
And, of course, the best thing to put onto a volunteering resume is your other volunteer work!
Read more: How to Improve Your Resume in a Few Easy Steps
7. Finish Your Hospital Volunteer Resume With a Cover Letter
Cover letters are surely passé.
Except they're not.
They're a necessary addition to any successful hospital volunteer application.
Follow these steps to write a great cover letter:
Use a professional cover letter format before you get in over your head.
The best way to start a cover letter is to create an engaging opening statement. Clearly state which department you want to volunteer for, too.
Elaborate on your work experience and skill set, and how it'd improve the situation in the hospital.
Close the cover letter right by making an irresistible call to action.
The ideal length for a cover letter should not cross 4 paragraphs, fitting comfortably on a single page.
Read more: Volunteer Cover Letter: Full Guide with Examples & Tips
Plus, a great cover letter that matches your resume will give you an advantage over other candidates. You can write it in our cover letter builder here. Here's what it may look like: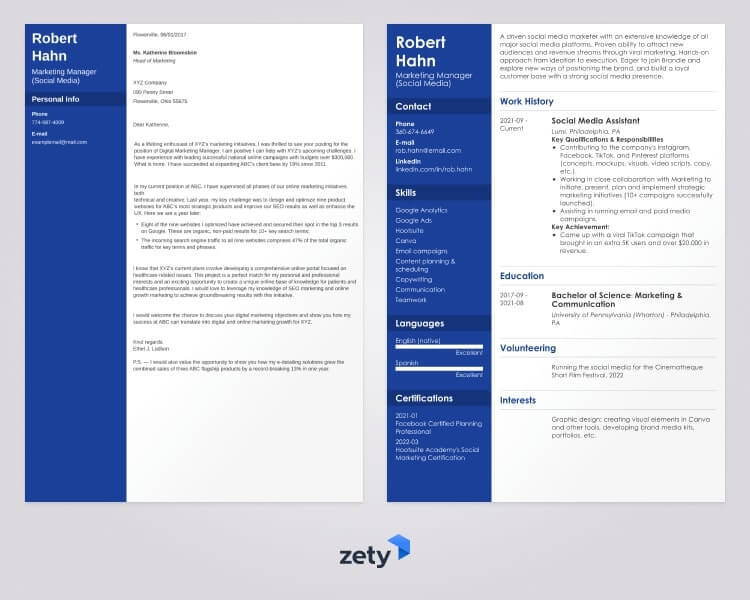 See more cover letter templates and start writing.
Done!
An excellent hospital volunteer cover letter.
Do you have any questions that remain unanswered? Still not sure about something to do with writing your best-yet hospital volunteer resume? Head to the comments section! We'll volunteer the knowledge.
About Zety's Editorial Process
This article has been reviewed by our editorial team to make sure it follows Zety's editorial guidelines. We're committed to sharing our expertise and giving you trustworthy career advice tailored to your needs. High-quality content is what brings over 40 million readers to our site every year. But we don't stop there. Our team conducts original research to understand the job market better, and we pride ourselves on being quoted by top universities and prime media outlets from around the world.