Our customers have been hired by:
Over the next 10 years, jobs for bill collectors are forecast to shrink by 9%. 20,000 positions down the drain. That's like seeing red all the way down. Hurts to even think about.
To maintain your employment, you need to equip yourself with more than just perseverance and unrelenting resolve. You have to keep that collections resume razor sharp at all times.
And we'll teach you how.
This guide will show you:

A collections resume example better than 9 out of 10 other resumes.
How to write a collections resume that will land you more interviews.
Tips and examples of how to put skills and achievements on a collections resume.
How to describe your experience on a resume for a collections representative to get any job you want.
Want to save time and have your resume ready in 5 minutes? Try our resume builder. It's fast and easy to use. Plus, you'll get ready-made content to add with one click. See 20+ resume templates and create your resume here.
Sample resume made with our builder—See more resume examples here.
Are you after a different position? See these guides:
Collections Resume Example
Alice C. Patrick
Collections Specialist
484-605-1050
alicepatrick@zetymail.com
Linkedin.com/in/1alice.patrick
Summary
Highly-skilled collections specialist with 3 years' experience. Performed as top agent for 6 consecutive quarters, bringing on average 20% more accounts current compared to other agents. Designed more appropriate and revised process to reduce number of aged accounts by 30%.
Work Experience
Collections Specialist
Paragon Revenue Group, Concord, NC
March 2016–October 2018
Lowered total delinquency rate down to 1.8%.
Performed as top agent for 6 consecutive quarters.
Analyzed account characteristics and negotiated with customers with individualistic approach to improve effectiveness of the process of bringing accounts current.
Created and updated billing process manuals for over 750 customer accounts.
Call Center Representative
DialAmerica, Gray, TN
September 2015–February 2016
Utilized off-script improvised techniques to upsell products to customer 10% more frequently than other representatives.
Handled approximately 120 inbound calls a day.
Negotiated better deals and opportunities for every individual customer.
Education
High School Diploma
Goodsprings High School Goodsprings, NV
2009–2013
GPA: 3.75
Obtained 2 merit-based Dean's scholarships.
President of School Fundraising Club.
Key Skills
Negotiating
Familiarity with Federal Debt Collection Regulations
Interpersonal Skills
Empathy & Understanding
Excellent Customer Service
Skip Tracing Tools
Repossession Procedures
Courses
Dealing with Difficult Customers: Business Training Works, 2017
Negotiation and Conflict Resolution: Business Training Works, 2016
Certifications
Certified Customer Experience Professional, CXPA, 2016
This is how to write a great collections representative resume:
1. Prepare Your Collections Resume Using the Right Format
Collections representatives' responsibilities involve collecting arrears from individuals and businesses via phone calls, emails, and in-person visitations. Your collections resume needs to show you excel in that, as well as present writing, negotiation, and people skills as your strong suits, too.
But as we mentioned a moment ago, the demand for collectors is decreasing, with a 9% decline expected by 2030.
That's going to take more than a little of anything.
A good first step is learning how to format your resume appropriately:
Read more: Full Guide to Resume Types: Expert Advice & Examples
2. Lead with a Collections Resume Objective or Summary
Your calls may begin with a standard-issue company script. But can your resume?
No, sending generic, copy-pasted, and unoriginal resumes without any rhyme or reason is definitely not the key to your success.
And the resume profile specifically is one part that has to stand out.
It comes in two flavors: resume objective and resume summary.
Create a resume objective if you're new to collections, you're writing a resume with no experience, or have just graduated. Focus on outlining the ways you'd apply yourself andyour transferable skills attained elsewhere to bring about company success.
Write a resume summary for when you've been tracking delinquents like the Eye of Sauron himself, bringing up quantifiable achievements and relevant experience as you go to show off your prospective value.
Read more: How to Start a Resume: Expert Tips
3. Write an Outstanding Collections Job Description
Fifty applications sent, not one human response back, only standard "Thank you for applying" messages.
Sound familiar?
That certainly doesn't feel very fulfilling.
Pair that up with the fact that this 2015 Pew report claims 8 out of 10 Americans have debt, meaning there really is work out there for you.
Something just doesn't add up.
You need to turn the table on them by writing about work experience on your resume the right way:
List your current job along with your business title.
Add past jobs in reverse-chronological order.
Include company names and working dates for each entry, as well as up to 6 bullet points.
Refrain from adding irrelevant experience just to pad. Instead, use action words, numbers, and percentages.
Use the PAR (Problem-Action-Result) formula to demonstrate your value in a tangible way instead of just using bland, robotic descriptions.
Pro Tip: By far the best tip to give here is this: tailoring the resume to each job you apply to individually will improve your chances by a mile. Don't sleep on this solution and put in the extra work instead, it pays off!
4. Create a Great Education Section
Listing your education on a resume is easy enough. Doing it right is the hard part, like getting aged accounts to pay out.
As an experienced collections representative, with over 5 years in the industry, you'll want to summarize your education briefly by listing your degree, school name and location, and graduation year.
Otherwise, if you're just starting out, include additional things to plug the holes in your work history. Relevant coursework,academic scholarships or extracurricular activities all help in elevating your chances.
Does high school belong on a resume? If it's your highest completed degree and/or you're still finishing a college or university degree, go ahead.
Pro Tip: What about talking about your GPA score on a resume? The rule of thumb here is no GPAs lower than 3.5.
When making a resume in our builder, drag & drop bullet points, skills, and auto-fill the boring stuff. Spell check? Check. Start building a professional resume template here for free.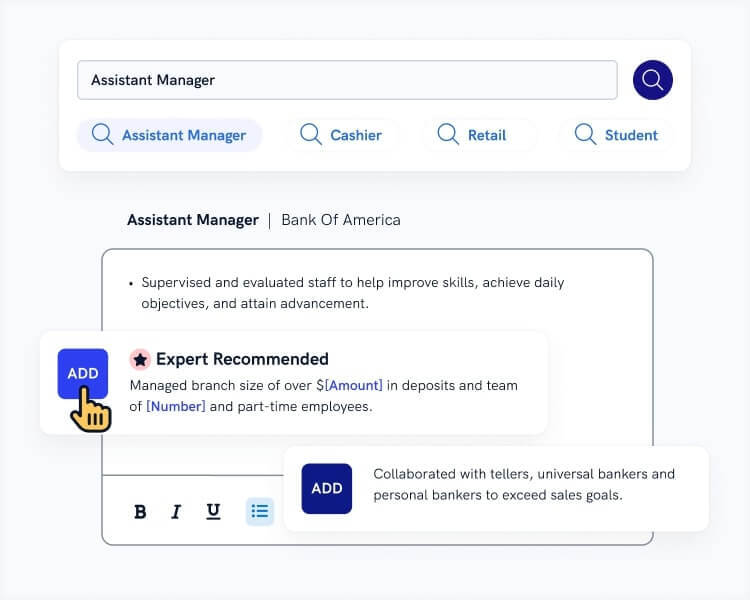 When you're done, Zety's resume builder will score your resume and our resume checker will tell you exactly how to make it better.
5. List the Right Professional Skills for a Collector
How would you talk about your skills?
I mean, they want their collections specialists to be the best of the best, so you just slap a bunch of skills onto your resume, and you're done, right?
Wrong.Tempting, but very wrong.
Remember: an attractive collections resume is tailor-made, not all-purpose.
The easiest way to a skills section at a better than pennies on the dollar price is to scan the job posting itself.
Hiring managers make it really obvious what they need in a candidate, you just have to know where to look.
The "Requirements" or "Duties" section will likely include resume keywords. If you extract them and compare with a brainstormed list of all of your hard skills,soft skills, and technical skills, you're going to launch yourself way ahead of the other applicants.
Below is a sample list to reference when thinking about your skills:
Collections Resume Skills
Customer Service
Knowledge of Payment Plans
Monitoring Accounts
Accounts Receivable
Investigating Account Data
Processing Payments & Refunds
Updating Account Status
Resolve Billing Issues
Familiarity with Debt Collection Regulations
Negotiating
Patience
Working Under Stress
Read more: Picking the Best Skills to Put on a Resume
6. Add Extra Sections on Your Collections Resume
So far, your resume is quite good. Well-structured, ticks all the boxes…
But it's lacking that X factor.
Including some extra sections can help you stand out from the crowd and breathe extra life into your collections resume.
Here's how to make your application look like it's not way past due:
Read more: What Should You Avoid on a Resume?
7. Send a Cover Letter with Your Collections Resume
Are cover letters necessary for collections specialists?
Yes, absolutely. Almost half of all recruiters don't bother opening an application when they don't see a cover letter.
That kind of investment is simply too risky.
This is how to write a professional cover letter:
Pro Tip: Ideally, your cover letter length shouldn't exceed one page. That keeps it most effective.
Plus, a great cover letter that matches your resume will give you an advantage over other candidates. You can write it in our cover letter builder here. Here's what it may look like: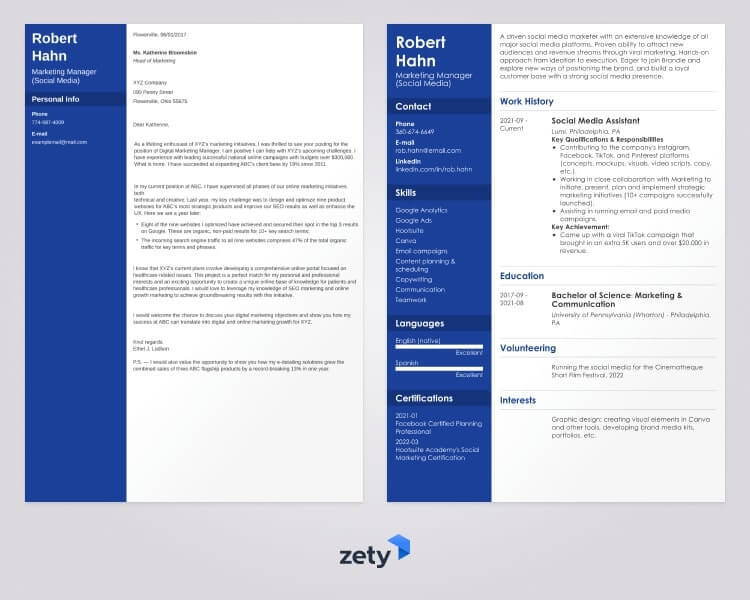 See more cover letter templates and start writing.
Do you have questions on how to write a great resume for a collections specialist? Not sure how to describe your skills or achievements? Give us a shout in the comments!
About Zety's Editorial Process
This article has been reviewed by our editorial team to make sure it follows Zety's editorial guidelines. We're committed to sharing our expertise and giving you trustworthy career advice tailored to your needs. High-quality content is what brings over 40 million readers to our site every year. But we don't stop there. Our team conducts original research to understand the job market better, and we pride ourselves on being quoted by top universities and prime media outlets from around the world.
Sources