Our customers have been hired by:
Backend developers are responsible for many things: from the application logic, through databases, to API. With so many on your plate, you might find creating a perfect backend developer resume challenging.
That's why we're here. To show you some examples, give you some tips, and guide you through the entire process of developing a job-winning resume for a backend developer. So without further ado, let's get right to it!
This guide will show you:
A backend developer resume example better than 9 out of 10 other resumes.
How to write a back-end developer resume that will land you more interviews.
Tips and examples of how to put skills and achievements on a backend developer resume.
How to describe your experience on a back-end developer resume to get any job you want.
Want to save time and have your resume ready in 5 minutes? Try our resume builder. It's fast and easy to use. Plus, you'll get ready-made content to add with one click. See 20+ resume templates and create your resume here.
Sample resume made with our builder—See more resume examples here.
Looking for another career in development? See our guides:
Backend Developer Resume Sample
Mitch Collins
Backend Developer
mcollins@gmail.com
565-463-8374
Summary
Results-driven backend developer with 5+ years of experience designing and implementing robust and scalable systems. Skilled in Java, Python, and HTML. Improved the API response time by 75% by implementing caching mechanisms and optimizing database queries. Currently looking for increasing skills in a SaaS startup.
Work Experience
Backend Developer
UtilizeIT, Atlanta, GA
October 2022–Present
Supported the development of 10+ mobile app features for both client and business versions.
Improved the API response time by 75% by implementing caching mechanisms and optimizing database queries.
Optimized SQL queries, which reduced overall website maintenance costs by 15% in the first quarter of implementation.
Education
Bachelors in Paralegal
The Technical College System of Georgia, Atlanta, GA
September 2016—July 2021
President of The Developers' Club (2019-2021)
Skills
Python
Java
PHP
SQL
Git
HTML
CSS
JavaScript
Communication
Publications
How Backend Saves the Day (EVERY Day), Scientific Report, 01/2022
Languages
American English—Native
Colombian Spanish—Conversational
What an amazing backend developer resume example. Time to develop your own!
1. Format Your Back-end Developer Resume Perfectly
If you're a backend developer, we do not need to explain the importance of choosing the right resume format. It's like its logic. Without it, the content of your resume (or its front end, if you please) won't work well. So let's get right to it!
How to format a perfect back-end developer resume example?
Find out what template to choose in 2023: Best Resume Templates
2. Create a Superb Backend Developer Resume Objective or Summary
Before listing your backend experience and explaining how Python is your first language (even before English), you should write a short resume introduction that will captivate the reader immediately.
To do it, choose one of these two:
A professional resume summary if you're a candidate with more than a year of backend or other relevant experience.
An objective for a resume if you're a candidate who writes a resume with little or no experience.
There's a formula so simple we're not sure if we should even call it "a formula" when speaking to a backend developer.
How to write your summary statement for a backend developer resume?
Adjective + Job Title + Years of Experience + Achievements + Skills + What You Want to Do for the Employer
How to write an objective for a resume for a backend developer?
Adjective(s)/Certificate(s) + Your Job Title or Degree + seeking employment as + Position Name at + Company Name + to apply my + Your Relevant Skills + to help + What Do You Want To Help The Company Achieve
Great way to keep your reader reading. But what should you put next?
3. Develop the Outstanding Back-end Developer Work Experience Section
According to the U.S. Bureau of Labor Statistics (BLS), the overall employment of web developers and digital designers will grow by 23% by 2031, which is much faster than the average for all occupations. That also means you! But it also means more competitors in the market. That's why showing your work experience is so important.
How to make a great work experience section on a back-end developer resume?
You might wonder if you should include irrelevant work experience on a resume. But when it comes to our next sections, there's no room for wondering. It's a must!
Pro tip: If you don't have much relevant experience, don't worry. Selecting skills and achievements from your irrelevant work experience might still do the trick!
4. Impress the Recruiter with a Great Education Section
Another great way of impressing a hiring manager is with your education. It's part of a resume you cannot miss.
How to write a job-winning education section for a backend developer resume?
Pro Tip: Sometimes your education can be more impressive than your experience section, i.e., if you're only starting your developer career. In that case, put this section above your work history.
When making a resume in our builder, drag & drop bullet points, skills, and auto-fill the boring stuff. Spell check? Check. Start building a professional resume template here for free.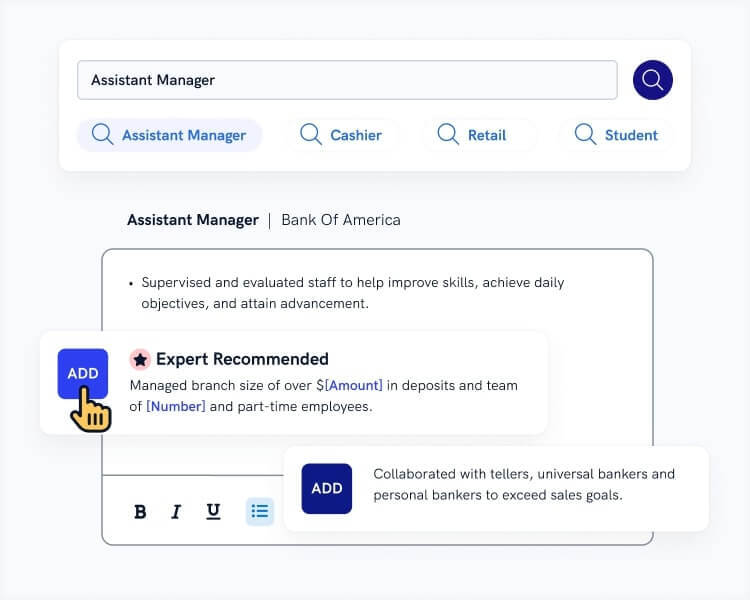 When you're done, Zety's resume builder will score your resume and our resume checker will tell you exactly how to make it better.
5. Show You've Got the Skills Needed on Your Back-end Developer Resume
Columbia Engineering Boot Camps list 9 skills that make a great backend developer. They contain the languages that might be required for the job you're after and one soft skill that seems crucial for your complex role. After all, without great communication skills, moving things forward might be slightly tricky in your position, won't you agree?
So let's take a closer look at what are some great skills for your resume!
Back-end Developer Resume Skills
Python
Java
PHP
SQL
STOMP
Gradle
Git
Ruby on Rails
Flask
Express
Django
HTML
CSS
JavaScript
Debugging
Wireframing
Visual Editing
UI & UX Design
Teamwork Skills
Communication
Time-Management
Project Management
Database Management
Technical Analysis
Problem-Solving
Critical Thinking
Your backend developer resume is almost ready. But you should add some more to it. In this case, the next chapter is just for you!
There are even more skills that will impress the hiring manager: Top Skills For in 2023
6. Add Some Extra Sections to Your Backend Developer Resume
Having additional sections on your resume is an excellent way of proving some of your skills. So let's see how you can do it!
What should you put in additional sections on your backend developer resume?
Need more space on your resume filled with impressive skills, great education, and jaw-dropping experience? There's a way you can put more information in your application. Let's find out how!
7. Attach a Cover Letter to Your Backend Developer Resume
A good cover letter is like a perfectly set up API. It's how you make communication between you and your recruiter error-free and engaging!
How to write a cover letter for a backend developer?
Pro tip: Writing an application follow-up email every week for a month is a good idea if you haven't heard from your recruiter after your first email.
Plus, a great cover letter that matches your resume will give you an advantage over other candidates. You can write it in our cover letter builder here. Here's what it may look like: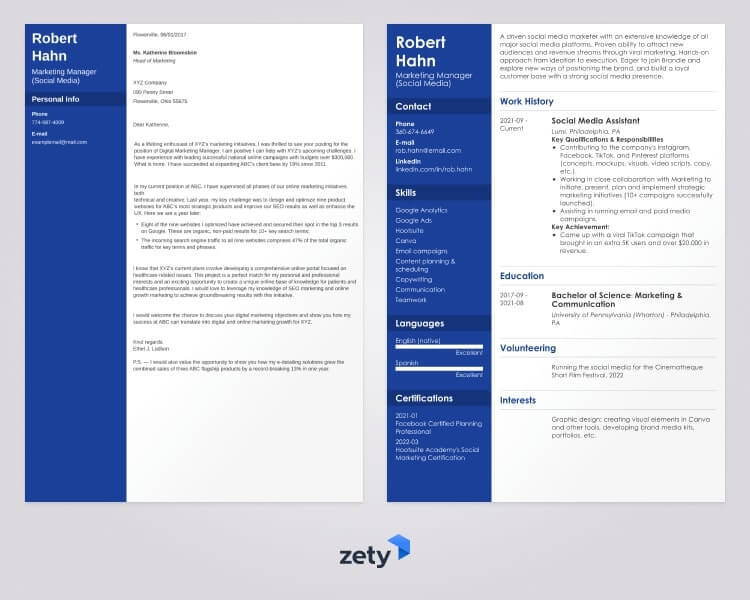 See more cover letter templates and start writing.
Now you know all there is to know about writing a great backend developer resume. Now it's time to start developing yours. Good luck!
Thanks for reading! Have you got any questions about the backend developer resume? Let's talk in the comment section below!
About Zety's Editorial Process
This article has been reviewed by our editorial team to make sure it follows Zety's editorial guidelines. We're committed to sharing our expertise and giving you trustworthy career advice tailored to your needs. High-quality content is what brings over 40 million readers to our site every year. But we don't stop there. Our team conducts original research to understand the job market better, and we pride ourselves on being quoted by top universities and prime media outlets from around the world.